UFC Vegas 76 Betting: Three Best Moneyline Picks
UFC VEGAS 76 BETTING: THREE BEST MONEYLINE PICKS. You've already seen my call for the main event, which went live yesterday. Now it's time to look at the best moneyline UFC Vegas 76 betting prices across the rest of the fight card.
Alexander Romanov (16-2) vs Blagoy Ivanov (19-5)
Coming off a bad loss to Alexander Volkov, Romanov is looking to return to his deadly old self. Undeniably, his undefeated pre-UFC days show what he's capable of when it is his night. However, some would say that he relies too heavily on wrestling, and the chance to slam and get on top.
Anyone with the ability to deny him that privilege usually has a good shot at winning. But Romanov still has plenty of time to grow, as he's still 32 years old. Improving his game at the heavyweight division will therefore be his main focus in the short term.
More specifically, Romanov should spend time practicing how to pace himself, and let the takedowns come. Without a diverse style to deploy, forcing takedowns at this level without working on striking is asking for trouble.
Ivanov is coming off a close decision loss to Marcin Tybura, the first fighter to hand Romanov a loss. I personally thought Ivanov did enough to win the first two rounds, but the judges thought otherwise, and added to his personal loss column: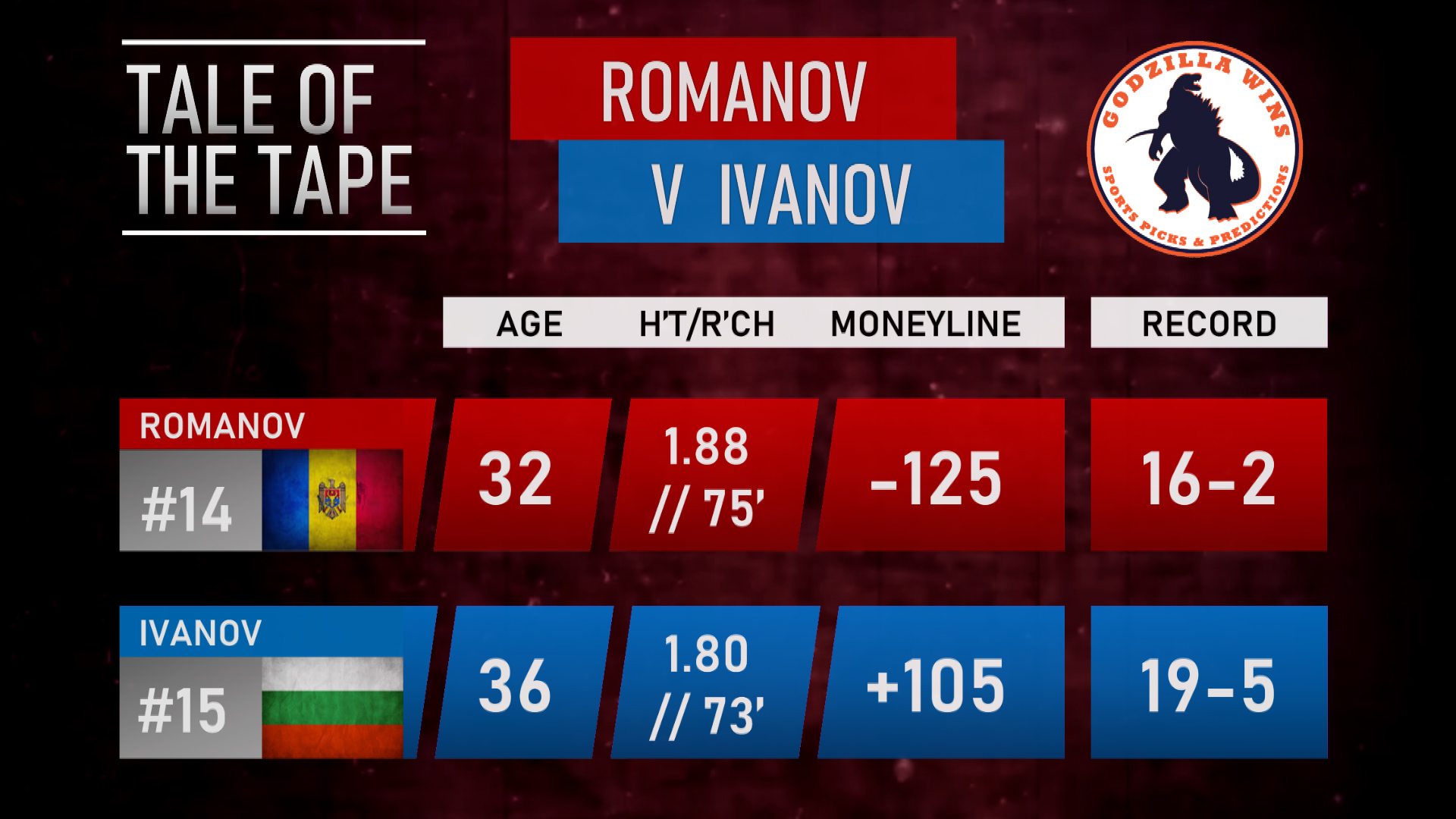 Regardless of that setback, Ivanov is a tough and tested veteran who has competed all over the world and has had his fair share of main event experience. His UFC debut was a main event spot against Junior dos Santos, a fight that he got out-struck in.
Ivanov also has a slick boxing game of his own that he likes to mix with body work. He doesn't just head hunt, but additionally looks to drain his opponent's gas by working the body often. He has a sneaky clinch and wrestling game he can rely on, powered by his sambo experience.
I was a bit caught off guard that people weren't giving Ivanov's grappling, cardio, and experience advantage more love. It obviously isn't a great visual seeing Ivanov get grinded out late the way he did against Tybura, but I'd be surprised if Romanov can get away with doing the same past the first round.
The Pick: Blagoy Ivanov +120
Ivanov should survive the early onslaught from King Kong and roll in the second and third rounds to win via decision. Let's cash a dog to start the card!

Ariane Lipski (15-8) vs Melissa Gatto (8-1-2)
Though she is looking to get a solid winning streak going here, Lipski has had a flat run in the UFC thus far. She is yet to truly tap into the potential many expected of her when she transitioned over from KSW.
But we saw her in prime form against JJ Aldrich last time around, and I think that it had to do with the stylistic matchup she had that night. Most noticeably of all, she was able to set the pace and let go with her combinations at her own leisure.
There was an early shot that cracked Aldrich, and seemed to demoralize her right off the bat, putting Lipski in the driver seat. At her best, that is her game. Combination striking, kicks, and dictating where the fight takes place will be the Brazilian's key to victory.
Yet, Lipski can be sure her opponent Gatto learned a lot of lessons in her defeat against Tracy Cortez. It was 1-1 going into the final round, but Cortez had that extra gear to get the fight into her wrestling realm. As maiden UFC losses go, it wasn't a night of humiliation, but certainly one of frustration.
Gatto is a very aggressive fighter that rarely settles for bad positions. On the feet she marches her opponents down and batters them with power punches and kicks. On the mat, she is actively seeking submissions, reversals, or ways to get back into an advantageous position. She has a great gas tank to fuel that type of style too.
Consistently throwing output, keeping Lipski on the back foot, and mixing in takedowns, I think Gatto can win this fight no matter where it goes. I'd be surprised if there is anything that Lipski hits her with that will detract her from implementing her game as she normally does.
The Pick: Melissa Gatto -215
Although Lipski looked great last time around, I wouldn't let the recency bias kick affect my own UFC Vegas 76 betting picks. I expect Gatto to take full control in this fight and set the pace.
It's chalky, but I think this line is a steal.

Grant Dawson (19-1-1) vs Damir Ismagulov (24-2)
Coming off back-to-back third round finishes, Dawson is starting to shut up detractors that say he has a cardio issue. I will be the first to admit that I was amongst that crowd. I believe as he continues taking steps up in competition, though, he will maybe feel those cardio issues again. Especially when takedowns aren't so easy to come by.
Dawson is a tremendous grappler, don't get me wrong. After all, just look at what he did to an Olympic wrestler last time around in Mark Madsen:
His striking is slowly coming along. But I also think the move down to American Top Team has been super helpful for his confidence and skill. This is the most important fight of his career thus far, and will be a clear indicator as to whether or not he's ready to break through.
As for Ismagulov, he saw his 19-fight winning streak snapped last time around. The result also marked his first ever UFC loss.
But it's tough to blame him for coming up short against a high-level fighter like Arman Tsarukyan. Ismagulov gave up 7 takedowns on 21 attempts. It's not too shabby, but also gave up close to 10 minutes of control time. That left insufficient time for him to impress the judges with an effective offense of his own.
He has made a career of keeping Russian grapplers off him while implementing his elite-level striking game. Ultimately, he is one of the best strikers the UFC has ever seen, in my opinion, when you take technique and skill into consideration.
The experience from the last fight should help him fill the gaps between the wrestling and capitalize on his striking advantage.
At pick 'em odds here and with someone who we know has good enough takedown defense, a great gas tank, and a ton of high-level experience, I feel Ismagulov could look like one of the best spots on the card this weekend.
The Pick: Damir Ismagulov -110
This is a great redemption spot for Ismagulov who takes on another high-level grappler, just like Tsarukyan last time around. I feel he is up to task here to shut down the wrestling of Dawson and get off enough on his own striking.
See also: If you're enjoying this exploration of UFC Vegas 76 betting markets, why not also take a look at Trent's three best prop bets for the main event?