UFC Vegas 69: Three Best Moneyline Bets
UFC VEGAS 69: THREE BEST MONEYLINE BETS – UFC Vegas 69 begins this Saturday on ESPN+ and is sure to offer some of the most intriguing fights of the season thus far.
We made our predictions for the main event between Jessica Andrade and Erin Blanchfield a few days ago, so now it's time to look at three moneyline bets for the undercard. This fights offer the most value for the savvy bettor.
Be sure to check out Trent Conner's best prop best for the main event as well, by clicking here. 
Let's get to the fights.
Jamall Emmers (18-6) vs Khusein Askhabov (23-0)
Seeming to still be finding his groove in the UFC, Emmers is returning after nearly 1.5 years away from the Octagon.
In his last fight he had great success on the feet by hurting Pat Sabatini, but allowed Sabatini to recover and proceeded to play the leg lock game against someone who is better than him in that realm. He made a vital mistake there and paid for it.
There have been other occasions where Emmers has shown some questionable fight IQ, but he has all the tools to be successful at this level. He's a smooth striker who uses speed, range, and combination striking to assert his dominance.
If he feels he has you beat on the ground, he has a great takedown game where he can grind you from the top position. He's pulled off quality wins even on the regional scene against guys like Alexander Hernandez and Cory Sandhagen.
It's just all about honing in on his fight IQ issues, if he can correct those he will be a tough out for anyone.
Askhabov's Debut
Askhabov makes his long awaited UFC debut this weekend after being out of competition for just under three years.
He has been highly touted for a long time. How can you not be with a shiny 23-0 record?
He has been training all over the world to hone his craft. He looks to be a very solid grappler who can rely on controlling his opponents from top position when his striking isn't getting it done.
His striking is a little reckless at times with most of his offense coming from wide winging blitzing attacks. His cardio doesn't look too shabby, but I wonder what it looks like against someone that will provide legit resistance.
It's very weird that he faced someone that was only 3-0 in his last fight, where he has over 20 fights of an experience advantage. His level of competition isn't horrible by any means, but there will be a clear step up in competition for him when he makes his debut this weekend.
Emmers on Defense
Emmers provides the perfect resistance to test a fighter like Askhabov. The defensive grappling of Emmers will allow him to keep this fight upright where he can establish his long striking game.
As long as he can anticipate the blitzes from Askhabov correctly and stuff the inevitable takedowns that are coming his way, he can keep this competitive on the feet and pull away as this fight goes longer. Askhabov will soon realize the difference in skill from the regional scene to the biggest stage in the world.
I like Emmers as an underdog in this spot. Here's to hoping he doesn't make any bozo fight IQ moves.
The Pick: Jamall Emmers +135
Marcin Prachnio (15-6) vs William Knight (11-4)
Looking to avoid a two-fight losing streak, Prachnio hopes to bounce back after losing to Philipe Lins last April.
Prachnio seemed to be destined to be cut by the UFC after starting his run with the promotion 0-3. He wasn't just 0-3, but he lost in the first round of each of those fights.
He managed to save his job by putting on a clean performance over Khalil Rountree, someone everyone expected to dust Prachnio similar to his prior fights.
Prachnio uses a karate-type stance to utilize a persistent kicking game from range. That is best for him so he can stay away from the big power his opponents attempt to put on him. At 34, he still has a couple wins left in him in the UFC, especially with the level of opponent they are giving him.
The Pink Slip Fight
Knight is looking to avoid his third straight loss and a potential pink slip out of the UFC.
It seems like the blueprint is out there to beat him: stay away from his big power early and you should be able to pull away the deeper the fight goes.
It's wild that he picked up that decision win over Alonzo Menifield, the biggest of his career, so I won't give him too much credit for having a win like that on his record.
Jung, Clark, and Grishin all found ways to nullify the big power of Knight and drain him of his energy so he couldn't use his power to get his hand raised. I'm surprised he is still in the UFC, although I don't expect him to last much longer.
Wager at Your Own Risk
This is a very risky fight to bet on, but to fade William Knight at underdog money needs to be considered. If Prachnio can utilize his range, movement, and kicking game from distance similar to what he was able to pull off against Rountree, he should be live to win this fight.
Prachnio's durability is a huge question mark and it's possible Knight could end him within the opening minute of this fight, but the longer it goes you have to believe it favors Prachnio.
A better way of approaching this fight would be to get on Prachnio through live betting going into round two. Regardless, I wouldn't mind a small poke on Prachnio at this number as he has more ways of winning this fight. It will be a huge sweat in that first round, that hopefully pays off with Prachnio remaining discipline.
The Pick: Marcin Prachnio +100
DISCLAIMER: Godzilla Wins is for entertainment purposes only. Must be 21 or older, and reside in states where sports wagering is legal only. If you or someone you know has a gambling problem, call the Problem Gambling Helpline at 888-532-3500.
CLICK HERE NOW TO GET FREE MONEY NOW!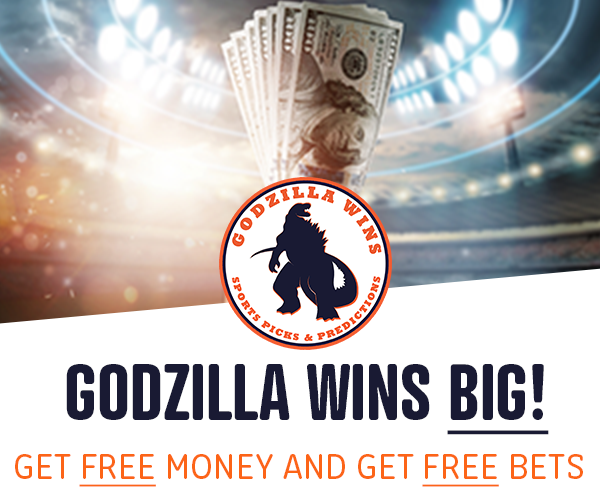 Jamal Pogues (9-3) vs Josh Parisian (15-5)
After earning his UFC contract on a second attempt on the Contender Series, Pogues is hoping to make up for lost time with a win in his debut.
Pogues has long believed he's worthy of fighting at this level and the UFC has matched him up well to see if he is right. In his first attempt on the Contender Series, Pogues used 7 takedowns and a vast amount of control time to get the win. Unfortunately, the UFC brass decided against him because of his boring approach.
He went 1-1 in his next two fights before earning another opportunity on the Contender Series that he made the most of. This time he didn't shoot at all. Instead, he used a disciplined striking game to pick apart his opponent from distance. That was enough for the UFC to bring him on board.
Although that's not the best gameplan to stay safe with, it was comforting to know that Pogues could use that style to outwork his opponents.
However, the best way for him to get a win would be to utilize that wrestling game and dominate his opponents from the top position as he has been able to do in the past.
I'm not sure how high his potential is, only time will tell, but I think this is a solid launching point for him in the UFC.
What's the Deal with Parisian?
I am still astonished that the betting public continued to back a guy like Parisian at heavy chalk earlier in his UFC career.
Parisian is a plodding heavyweight who likes to get flashy with his striking at times. He has an average wrestling game if he needs it, but his cardio is a big question mark as well.
He's alternated wins and losses through his four UFC fights and, if the pattern holds up, he's due for another loss this weekend. I don't believe in trends like that as it has no bearing on the stylistic matchup between the two fighters.
I am not at all impressed with Parisian but I expect him to only get wins over the Roque Martinez and Alan Baudot's of the world. That's his ceiling.
Takedowns Are Key
I fully expect this fight to play out similar to Parisian's fight with Mayes. Mayes utilized solid striking combinations to set up takedowns where he was able to dominate Parisian from top position.
I think we'll see Pogues go to the takedowns a little earlier than Mayes did, but I think we end up with the same result. Either Pogues finding the opportunity late to posture up and find a TKO finish, or grind it out and get his hand raised by decision. This price tag is a little chalky on Pogues, but I think he is more than worthy of it.
The Pick: Jamal Pogues -240