UFC Las Vegas: Three Best Moneyline Bets
UFC LAS VEGAS:  THREE BEST MONEYLINE BETS – This week's fight card promises to be an exciting night, as the UFC returns to Las Vegas. Headlining the fight card will be top bantamweight contenders Petr Yan and Merab Dvalishvili. The main card will start at 6 p.m. EST on ESPN+. You can click here to read my main event predictions. 
While the top of the card offers great value, I've identified three fights in the undercard that should be both terrific entertainment and an opportunity to cash some tickets. Even if you haven't already, go check out Trent Conner's three best prop bets for the main event. 
Let's get to my picks.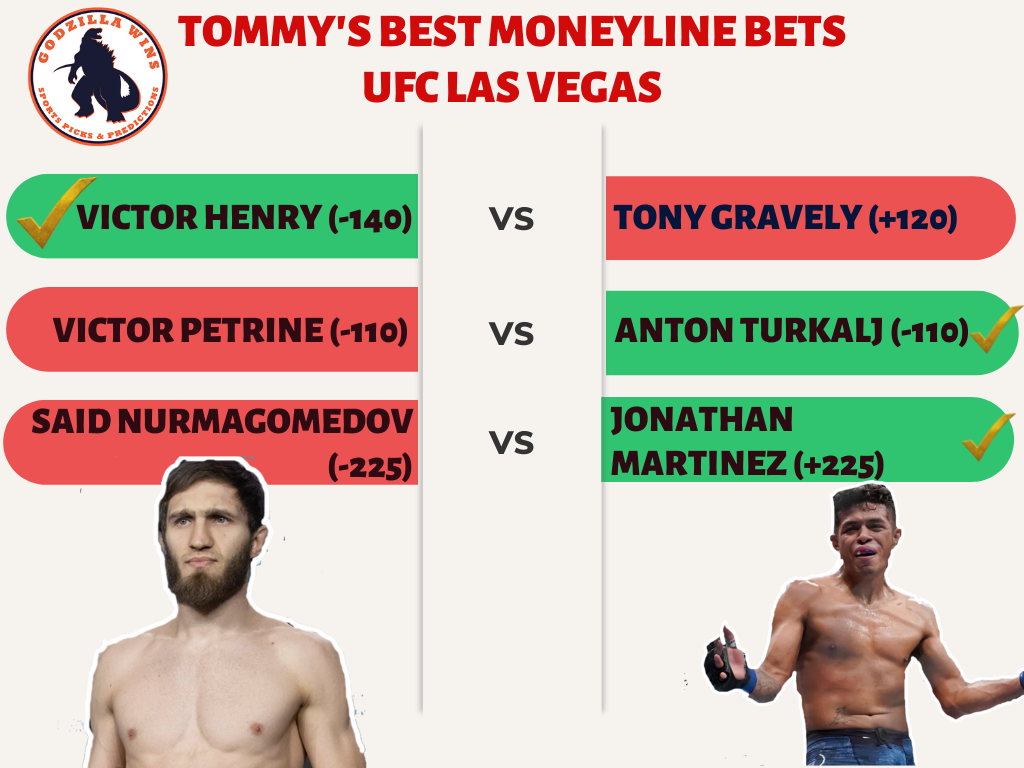 Tony Gravely (23-8) vs Victor Henry (22-6)
Looking to bounce back from a September loss to Javid Basharat, Gravely is still finding his footing at the UFC level.
Gravely was a highly touted prospect coming into the promotion. His combination of wrestling and top control has allowed him to beat most opponents.
However, when fighters can stop takedowns or work back to their feet immediately, Gravely's confidence starts to drop, which is when his opponents can start opening up on him with strikes. Recent examples like the Nate Maness and Javid Basharat fights drive that point home.
Henry's Experience Edge
Henry brought in 26 fights worth of experience to the UFC. He was highly tested and experienced from fighting in all corners of the world against various levels of talent.
Pressure, output, and cardio are normally the name of the game for Henry. Those attributes are exactly what allowed him to pick up a major victory in his first fight in the UFC as a massive underdog to Raoni Barcelos.
He slipped up in his second trip to the Octagon as he had no answer for the technical counter striking of Raphael Assuncao. That loss doesn't send Henry too far down the ladder as he is still very talented and worthy of being in the top 15 of this division.
Henry by Decision
What spoke to me the most in this fight is Henry's ability to nullify top control from his opponents. He is always looking for submission opportunities off his back and, if he doesn't pull it off, he uses it to roll out of a bad position to get back to his feet.
On the feet, his forward pressure and constant output breaks fighters and frustrates them. I expect that to be Henry's calling card in this fight after dealing with the initial hot start from Gravely. Look for Henry to start pulling away late and either secure a decision victory or a late stoppage.
The Pick: Victor Henry -140
Vitor Petrino (7-0) vs Anton Turkalj (8-1)
Not often do we see regional rematches take place on the Contender Series. That's exactly what Petrino benefitted from when he was able to notch another victory over former foe Rodolfo Bellato by knockout.
The first time was a lot quicker than the rematch, but the result was the same. Petrino is an explosive power puncher, who has benefitted from beating up on the lackluster offerings from the regional scene. We always find out that these guys only have a shiny record because they aren't facing the level of competition the UFC provides.
Turkalj
Turkalj was initially rejected on the last season of the Contender Series. However, he put on a dominant performance in the Contender Series, where he landed 11 takedowns and accrued 12 minutes of control time.
It was not impressive enough for Dana, so they passed on him. Luckily when Shamil Abdurakhimov pulled out against the feared prospect, Jailton Almeida, Turkalj answered the call and found another way to make it to the big show.
Although he got steamrolled in that fight, Turkalj is much better than that performance indicated and will be a good addition to this UFC light heavyweight roster.
Recency Bias
I think we are benefitting from some recency bias with these odds. Petrino has a flawless 7-0 record and is coming off a spectacular knockout victory while Turkalj just got demolished in his UFC debut.
However, if you look deeper into their footage, you see a reliable grapple-heavy approach from Turkalj and Petrino will likely struggle in that regard.
Petrino is dangerous early, but as Turkalj wears on him and slows him down, he will open up finishing opportunities for himself as this fight gets dragged into deeper waters.
I originally got Turkalj at +125 earlier this week and it seems like the public is coming around to him as he now sits around a pick 'em price tag.
The Pick: Anton Turkalj -110

Said Nurmagomedov (17-2) vs Jonathan Martinez (17-4)
If you are expecting to see a dominant, grapple-heavy style from Nurmagomedov because of the same last name as Khabib, you are mistaken.
Said prefers the striking realm where he throws flashy, spinning strikes, and a lot of them coming in the form of kicks. His power is exaggerated by the speed and precision in which he strikes.
He has a nasty guillotine choke that has resulted in a couple victories for him at the UFC level. However, things get a little shaky for him when he has to go the distance with his opponents.
His lack of output at times allows opponents to have more competitive matchups with him than odds normally suggest.
Many believe he deserved to lose his UFC debut to Justin Scoggins due to this reason. Even in his most recent fight that went the distance against Douglas Silva de Andrade, two judges gave de Andrade a different round on their scorecards.
In another circumstance different judges would have scored that in de Andrade's favor. It's when Nurmagomedov quickly dispatches his opponents that he looks worthy of his consistently-chalky price, always tough to predict when that will happen.
Martinez's Confidence
Martinez has really evolved since making his UFC debut. He is riding his own UFC best four-fight winning streak, which most recently had him finishing UFC legend, Cub Swanson.
Martinez is growing in confidence every time out and it seems he's patched up the holes in his striking defense, which was the cause of his last defeat.
Patience, discipline, and a heavy kicking game has allowed Martinez to stay safe at distance while operating at a comfortable pace. With a high level head coach like Marc Montoya, Martinez is realizing his potential and making the most of it.
The Dog
This is a scary one to invest in considering the danger that Nurmagomedov provides; however, at the price tag and the threat Martinez injects into this matchup, this seems like a no-brainer spot to pull the trigger on the underdog.
The output and range fighting Martinez thrives in will be crucial for him in touching up Nurmagomedov from distance and out-pointing him.
Martinez needs to be very weary of the speed advantage that Nurmagomedov will have, but if he can stay safe and avoid the majority of power strikes coming his way, Martinez can out-volume Nurmagomedov on route to a decision victory.
The Pick: Jonathan Martinez +215