UFC 292: Sterling vs O'Malley Main Event Prediction
UFC 292: STERLING VS O'MALLEY MAIN EVENT – The UFC finally has an opportunity to cash in on their cash cow and they are running with it.
Sean O'Malley has been getting a push from the UFC ever since he earned his contract through the Contender Series. This weekend, he gets a chance to strap gold around his waist, as he goes up against bantamweight kingpin Aljamain Sterling.
Sterling is looking to add a fourth title defense to his legacy after defeating Henry Cejudo just three months ago. Meanwhile, O'Malley brings a four-fight winning streak into this championship fight, hoping to showcase that he has reached his ultimate form.
Will Sterling successfully use his grappling to get his hand raised once again? Or will O'Malley spring another trap and provide another highlight reel finish? Read on to see how this classic striker vs grappler matchup will play out…
Tale of the Tape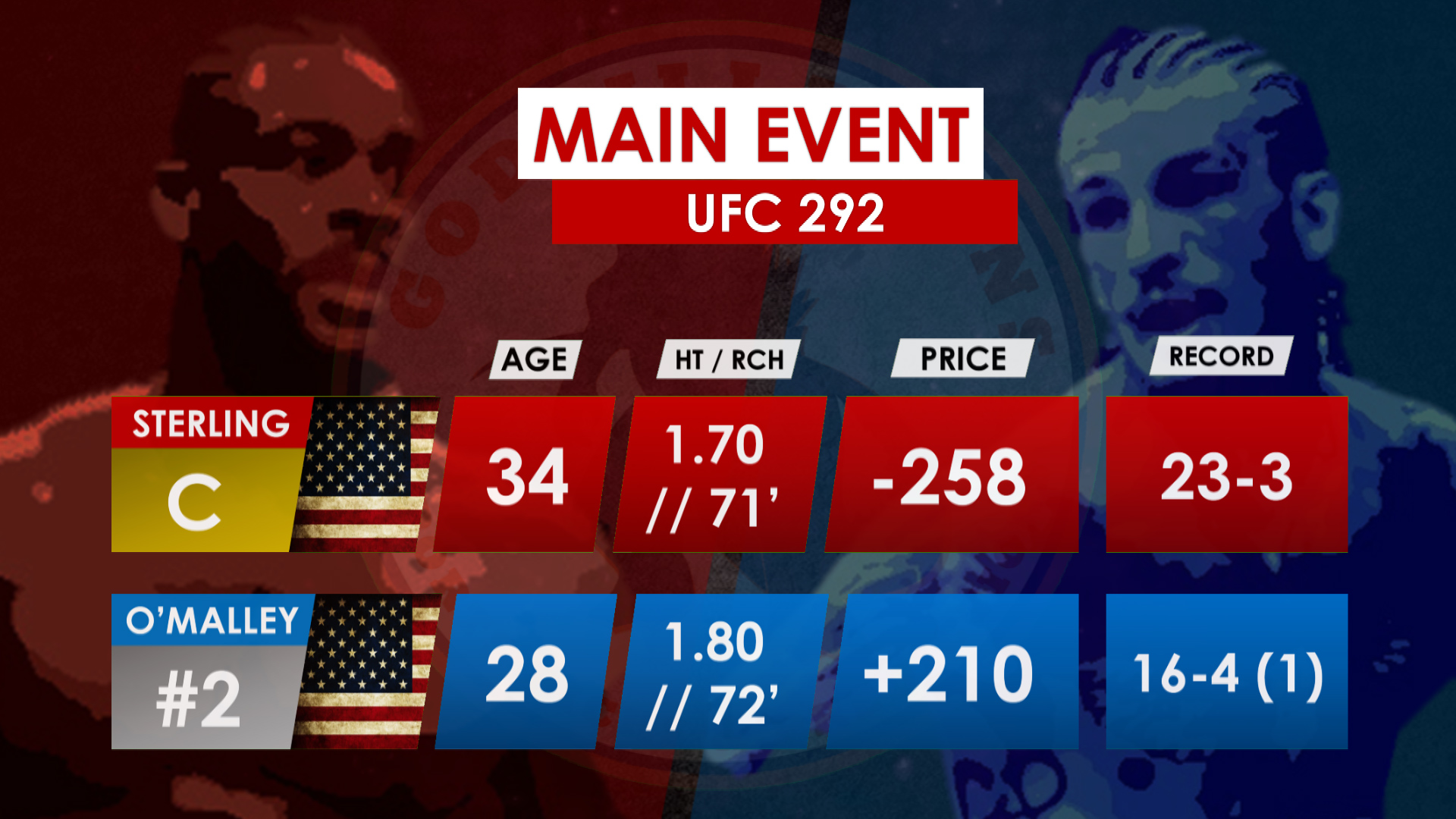 Odds courtesy of DraftKings. Table provided by editorial staff.
Aljamain Sterling
It's been a real rollercoaster watching Sterling's career, since he entered the UFC as an undefeated 8-0 prospect back in 2014.
He rattled off four straight wins to fight out his initial contract, and had a Lebron style "The Decision" moment on The MMA Hour. He revealed he would ultimately resign with the UFC but ended up losing his next two fights. Since then, he has gone on an 11-1 run, while capturing the bantamweight title and defending it three times.
Going through the tough times during the Petr Yan saga in his career, that's where the fan base really turned on him. He went out and beat Yan in their rematch, but still doesn't seem to be getting respect from the fans. All he can hope to do is continue winning and let that speak for itself.
What makes Sterling so dominant is his control while grappling. He is very diligent when he gets the back of his opponents, never overextending looking for finishes, but rather letting the finishes come to him or just grinding his opponents out at his own pace. His striking sees him use a lot of movement and kicks from range so opponents can't effectively counter him.
The flaw in his game in the past has been his cardio, but he is doing a great job of using gameplans to work around that. He is one of the best Brazilian jiu jitsu players in the UFC and just watching his fight against Corey Sandhagen will show you that.

Sean O'Malley
A lover of cannabis with an unassuming physique, O'Malley isn't exactly what the imagination conjures when the word 'warrior' springs to mind.
Yet, since being co-signed by Snoop Dogg, he has grown in confidence in skills, while exploiting his fame in other revenue streams. From running one of the most popular YouTube channels around to having a successful gaming stream, O'Malley has tapped into his fanbase to a degree even Conor McGregor would admire.
O'Malley went on a four-fight winning streak to start his career before running into Marlon Vera. However since then, he's won another four fights while showcasing his high level striking skills and delivering on highlight reel knockouts. At his best, O'Malley is able to dictate the pace and range of a fight.
This allows him to set up traps and spring them on his opponents when they are least suspecting. The way he dismantled and finished Eddie Wineland within two minutes was a glimpse of him at his best. The flaw in his game, however, has been his takedown defense and lack of work off his back.
But he is intelligent enough to consistently work on that aspect of his game, so he can exploit the advantage he normally has over his opponents, namely his striking. He is a wizard from range and not many opponents have found success in that realm against him.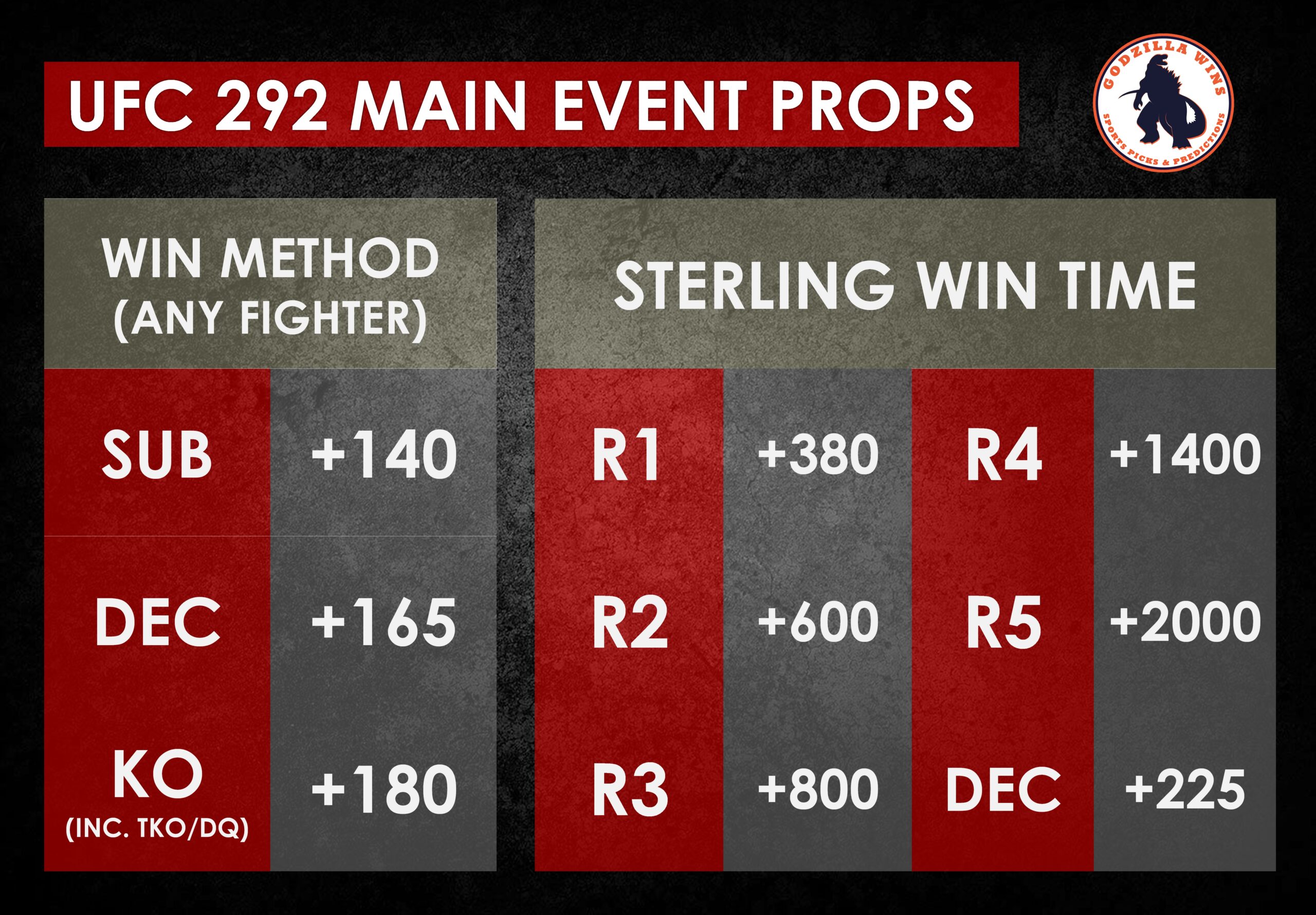 The Pick
Usually in striker vs grappler matchups, it's smart to go with the grappler. Strikers have a lot to battle against in terms of stuffing takedowns as well as being pin-point accurate with their strikes to fully exploit their advantage. On the flip side, grapplers just need to land a takedown and the optics of them on top of their opponent already plays a big role in scoring a fight.
Sterling has found such a great recipe of mixing his striking behind his grappling so he can get fights to the mat and be effective from dominant positions. Seeing O'Malley's improvements in his grappling has been impressive, but Sterling is the best that this division has to offer in that realm, and I feel O'Malley will struggle to get much of his own success off.
I'd rather target O'Malley by knockout to get the most juice out of his number, but I'd only look at that as a hedge. I'm going to pick Sterling to win this fight but rather than taking the chalk on him, I'm going to hone in on the over 3.5 as well as him to win by decision.
I feel O'Malley will stay safe enough in the grappling realm to not get submitted, while Sterling enjoys a bunch of control time either on the back of O'Malley or from the half guard/side mount position.
The Pick: Sterling via DEC +325 & Over 3.5 +125