UFC 292 Main Event: Three Best Prop Bets
Two titles are on the line come Saturday night under the lights at TD Garden in Boston. Zhang Weili puts her strawweight belt on the line against Amanda Lemos in the co-main event, and Aljamain Sterling will defend his bantamweight title against Sean O'Malley in the  UFC 292 Main Event.
The early prelims start at 6:30 p.m. EDT on UFC Fight Pass. The prelims kick off at 8 p.m. on ESPN, and the night concludes on pay-per-view at 10 p.m.
O'Malley to Win by KO/TKO +330
Aljamain Sterling has defended his belt three times, with the latest being a split decision victory over Henry Cejudo in May. He is 23-3, with his last loss coming in 2017 via knockout to Marlon Moraes. Sean O'Malley is 16-1 with one no-contest in his career. His loss came against Marlon "Chito" Vera in 2020 via knockout.
His most recent fight was a split decision victory over Petr Yan in October 2022: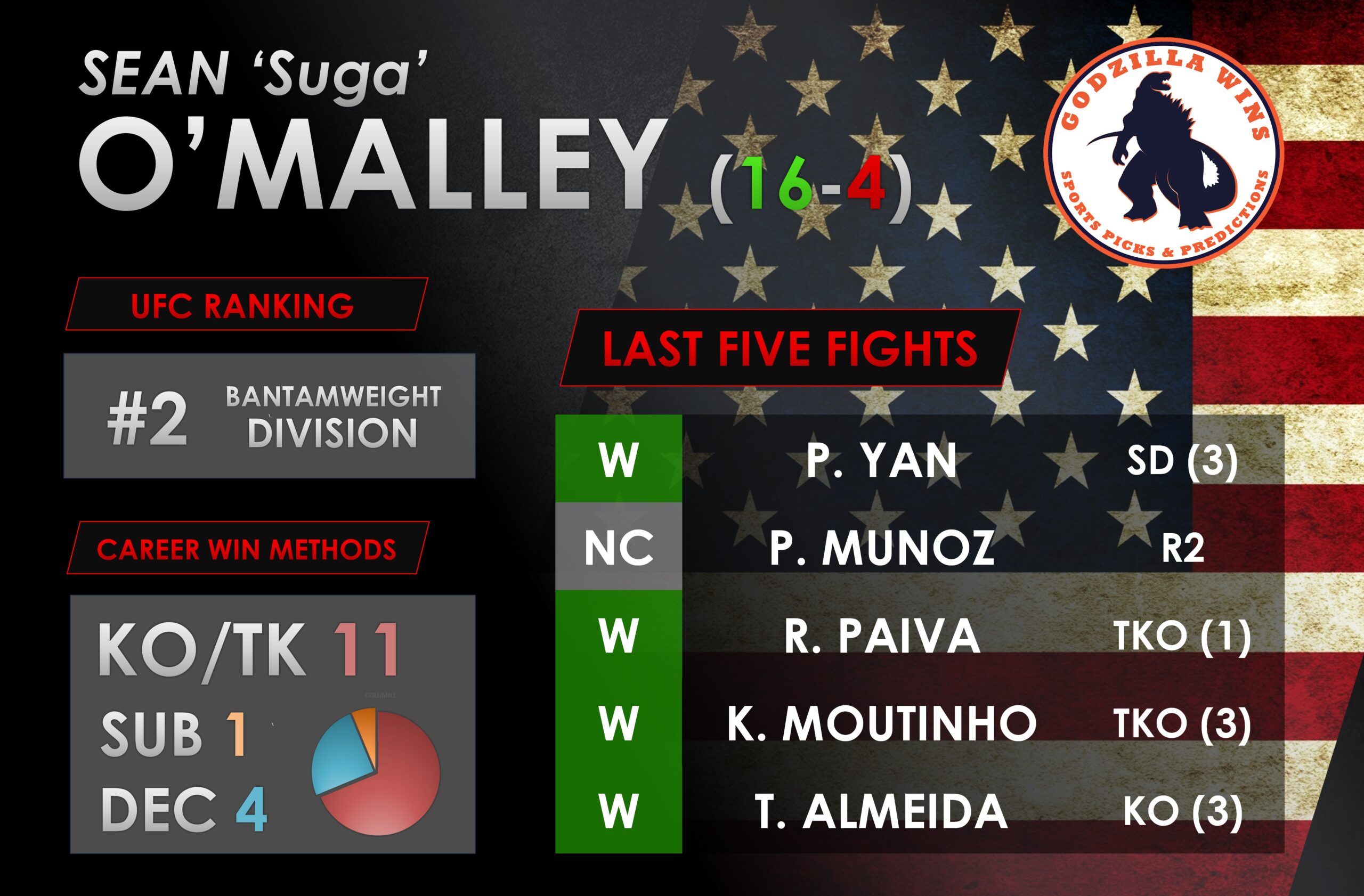 O'Malley was taken down six times in his fight against Yan, but he defended seven of his attempts. He did not accept being on his back and used the fence to return to his feet. He will have a more difficult time against Sterling, a tactician on the mat. O'Malley has had plenty of time to prepare for Sterling's takedown attempts, which should help him stay upright on fight night.
'Suga' is the clear favorite if this fight remains on the feet. Sterling has solid striking but relies on his ability to change levels to keep his opponents off guard. O'Malley is accurate and one of the better knockout artists in the promotion. He has more of a chance than people realize to upset Aljamain Sterling.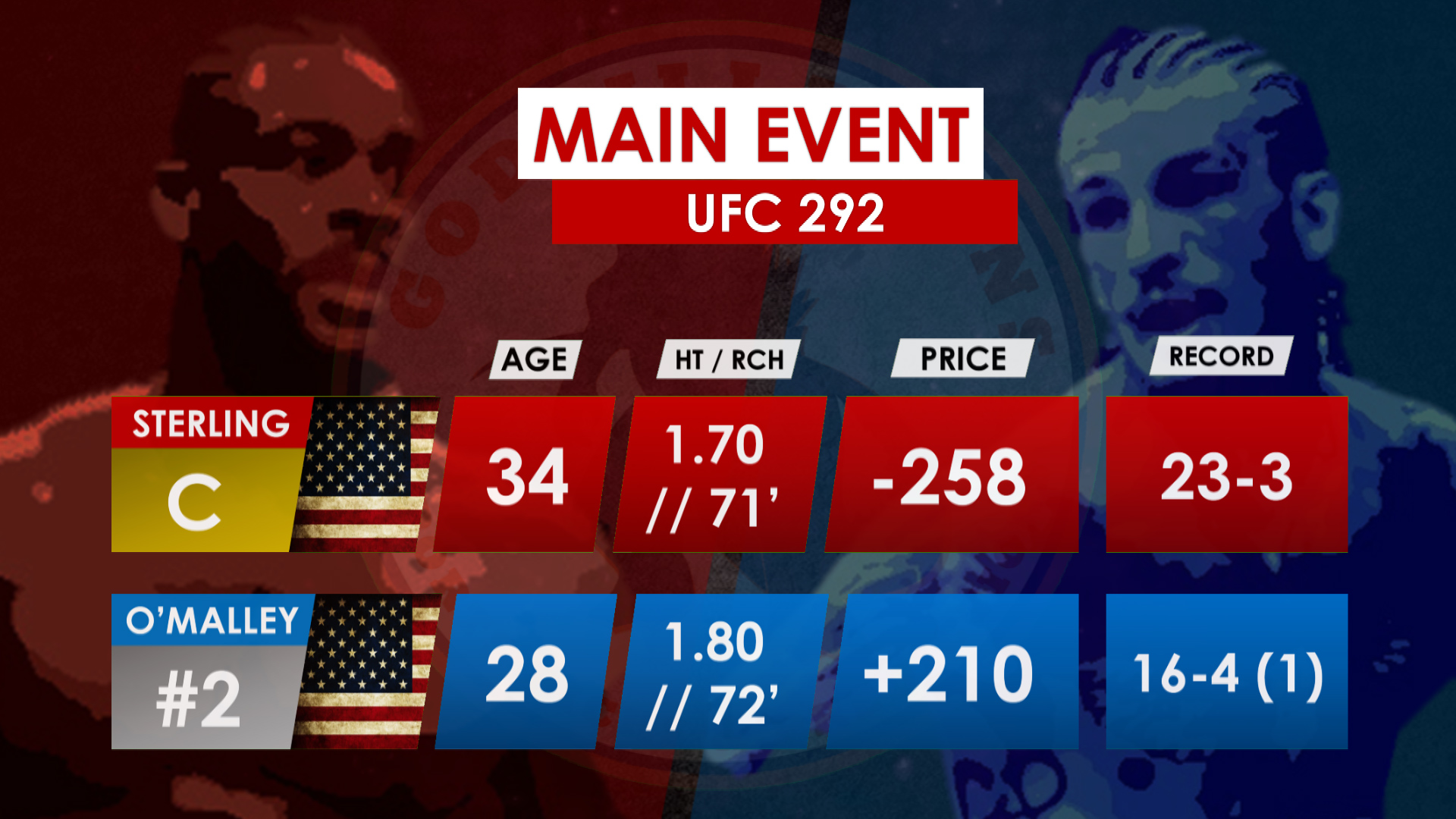 As Manpreet said a couple of days ago, this fight is a classic matchup of grappler versus striker. Aljamain Sterling became champion via disqualification against Petr Yan but has defended his title with his wrestling. He landed four takedowns on Henry Cejudo and defended enough to outstrike him while standing.
Sterling is a big frame for the division and has long arms, which allows him to threaten with chokes. He is also a master at taking his opponent's back. O'Malley has to keep the fight standing and keep Sterling off his back to win.

Under 2.5 Rounds +105
We will learn who has the advantage in the bout within the first round. If Sterling gets him to the mat and holds him there, it will not be long until he finds O'Malley's back and gets a choke. If O'Malley can counter Sterling's wrestling, then it is only a matter of time until O'Malley lands enough damaging shots to finish him.
In both scenarios, the fight should be over fairly quickly. The oddsmakers would agree, pricing it odds-on (-225) not to go to decision.

O'Malley to Win by KO/TKO in Round 2 +1400
This prop has much longer odds than the others, so treat it accordingly when unit sizing. Sterling was knocked out cold by a Marlon Moraes' knee that landed flush with his chin. O'Malley can replicate that if he gets the timing of Sterling's takedown attempts.
Sterling sometimes panics when he gets hit and will shoot without setting it up. That is a big mistake against O'Malley, who will not miss the opportunity to inflict damage. O'Malley should be able to find his timing in the first round and return with the combination to end it in the second.