UFC 292 Draft: DFS Lineup
There are two mainstays to play DFS for MMA; DraftKings and FanDuel. Each has its own scoring rules and variations, but they are similar. Here are DraftKings' scoring rules and FanDuel's scoring rules. I will always list fighters I think should be selected as MVP at the top and will use DraftKings budget to model my projections.
MVP Pick
Sean O'Malley $7,300
O'Malley is a solid candidate for the MVP slot. He is a big underdog, but has a much better shot to win the fight than the odds reflect. Despite the narrative surrounding his takedown defense, he is far better than people realize. Petr Yan landed six out of his 13 takedown attempts and could not hold O'Malley on the mat. He also struggled to land any offense when he did have O'Malley on his back.
'Suga' does not accept the position and finds the side of the octagon to use to stand up. He has a striking advantage and can finish the fight after defending Sterling's takedowns.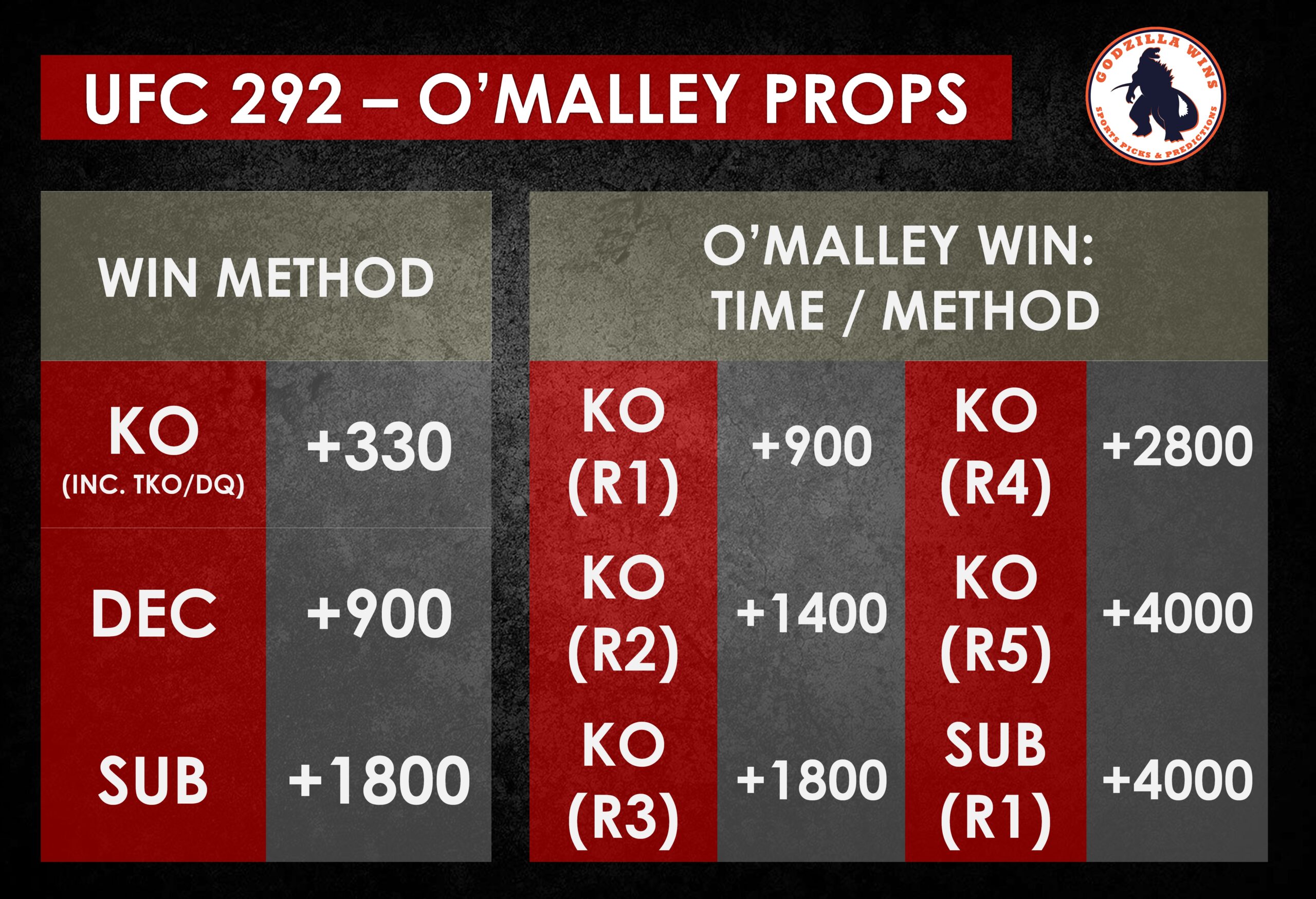 Other Picks
Gregory Rodrigues $9,500
Gregory "Robocop" Rodrigues will fight Denis Tiuliulin, which should make for an entertaining matchup. Rodrigues is a massive favorite at -355, which makes sense. He has an advantage on the feet and is much better on the mat should he choose to take the fight there. Tiuliulin has been submitted twice in his three UFC fights. Rodrigues has the wrestling to take him to the mat and the jiu-jitsu skills to finish him there.
Zhang Weili $9,200
Zhang made quick work of Carla Esparza to earn the strawweight belt and has a good matchup in her first title defense. Amanda Lemos is a powerful striker with solid jiu-jitsu but is not as physically strong. She is a solid kickboxer with good calf kicks but does not have the grappling or the cardio to keep up with Zhang. It will take a perfect knockout strike for Lemos to find victory, which is not likely.

Andre Petroski $8,800
Petroski will fight Gerald Meerschaert in a middleweight bout as the third fight of the night. Meerschaert is a submission artist with 27 victories via submission in his career. He has made a living off choking guys but may have trouble against Petroski. Petroski has the better striking but will likely use his wrestling. He lands 5.43 takedowns per three rounds but must be cautious of Meerschaert's guillotine choke.
Marlon Vera $8,600
Marlon "Chito" Vera will face Pedro Munhoz in the opening fight of the main card. Vera is typically a slow starter who gets better as the fight progresses. He lands damaging strikes and uses all his weapons to be an effective striker.
Munhoz has turned into a boxer lately and has not used his wrestling or kicks as much as previously. He is also 36, old for the bantamweight division where speed is king. Vera should be able to win a couple of rounds with his five-inch reach advantage.

Neil Magny $6,600
Magny is one of the biggest underdogs on the card, mainly because he is replacing Geoff Neal on short notice. He is facing Ian Machado Garry, who is undefeated. Magny is an experienced fighter with a decade of fights in the octagon. He is a solid all-around fighter and can make a fight ugly. Garry is undefeated but has had some troublesome moments in the past.
His chin has looked shaky, and he has got taken down before. Magny has the wrestling to get him down and a six-inch reach advantage to keep him at range on the feet. He is a long shot but is much more capable of winning the fight than the odds suggest.