UFC 286: Three Best Moneyline Bets
UFC 286:  THREE BEST MONEYLINE BETS – UFC 286 will feature the third fight between familiar foes, Leon Edwards and Kemaru Usman. This fight promises to be a terrific bout and we have both your main event prediction and your best prop bets for the Edwards vs. Usman fight.
While the undercard seems to be a lot of chalk, I've identified three moneyline bets that offer theist value at UFC 286. You can check out my graphic for my picks and read my analysis below.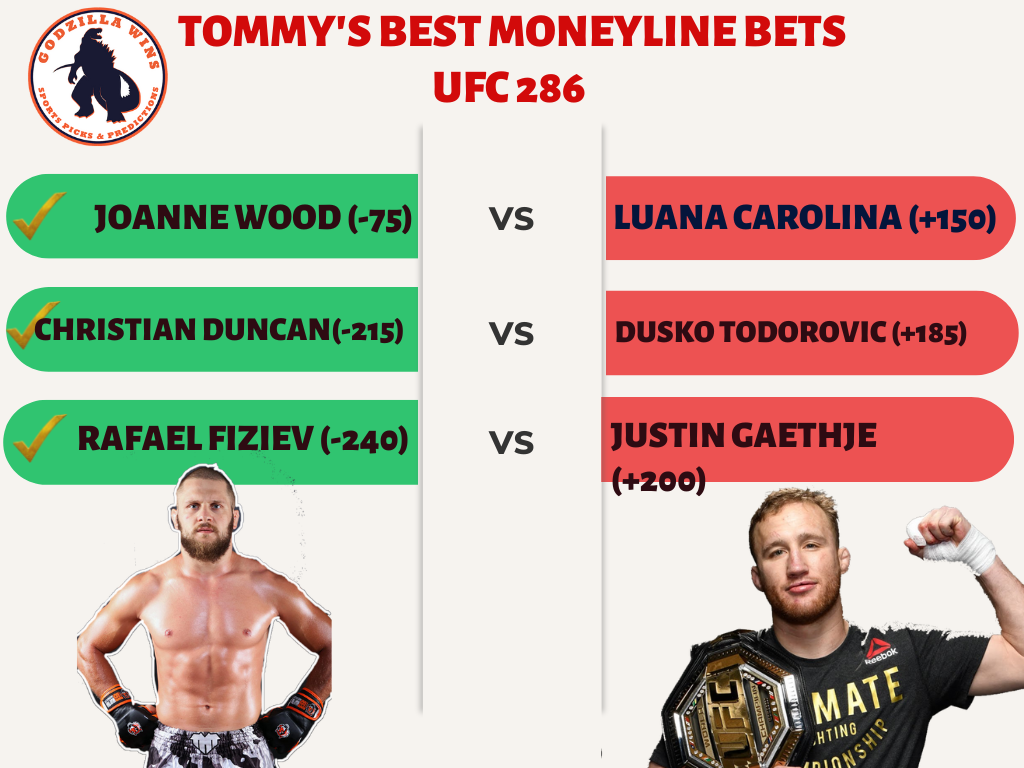 Joanne Wood (15-8) vs Luana Carolina (8-3)
Riding a pretty rough 0-3 run, Wood returns exactly a year after her last fight in hopes of finding success. This time she fights closer to her homeland of Scotland and hopes to draw energy from the crowd to get her hand raised.
She has not felt victory in over two years, when she defeated Jessica Eye by decision on the Poirier vs McGregor 2 card on Fight Island. At her best, she is a volume striker that enjoy implementing her knees and elbows whenever she can engage in the clinch.
Her ground game still needs a bit of work as we've seen that's where she struggles most. However, when she is given the right opponent, she can do what she does best.
Questions Surrounding Carolina
I think most would be surprised that Carolina still has a spot on the roster, but favorable stylistic matchups have allowed her to get her hand raised a three times at the UFC level. She is coming off of a devastating loss to Molly McCann, almost a year to the date.
She is also returning to the same arena that she suffered that scary knockout loss. Maybe she feels she has something to prove to herself here. She also uses a distance combination striking approach to get her hand raised, albeit maybe with not as much efficiency as her opponent this weekend.
Wood's Style
This is the perfect stylistic matchup for Wood to get back to her winning ways. Carolina will oblige in a distance striking matchup, but I think Wood is far more suited for that style of fight.
She will be more effective with the shots she lands and she will be more devastating in clinch positions.  If Carolina looks to attack a grapple-heavy approach, I don't think it will work out well for her nor do I expect her to have as much success as post Wood opponents have had. Look for Wood to get back to her old ways and out-point Carolina to a decision victory.
The Pick: Joanne Wood -175
Christian Leroy Duncan (7-0) vs Dusko Todorovic (12-3)
This card is riddled with chalky favorites, but there are bound to be landmines waiting to explode on unsuspecting bettors.
One of those favorites who is at a safe spot with decent odds is the former Cage Warriors middleweight champion who makes his UFC debut this weekend. Flashy striker and undefeated through seven professional MMA bouts, Duncan has made a name for himself with the British fans.
From spinning elbow and flying knee knockouts to securing submissions, Duncan has evolved into a standout fighter that could make some noise at the UFC level.
His takedown defense is always improving, but his get up game has always been top notch. He uses minimal effort to work back to his feet where he is able to get back to his handy work which normally results in him finding a knockout against an exhausted opponent.
Todorovic's Professional Hopes
Todorovic is still finding his footing in the UFC after coming off of the Contender Series as a highly touted prospect. He has put together a 3-3 record under the bright lights and is trying to get his first UFC winning streak going.
Last time out he knocked out an exhausted Jordan Wright after a lot of back and forth grappling.
Todorovic is comfortable in the grappling realm, but usually does his best work when he can get comfortable at range, bouncing on the balls of his feet, and darting in and out of range while throwing big strikes. He has a solid kicking game as well.
Get to the Mat
I suspect Todorovic will look to drag this fight to the ground, as have all of Duncan's previous opponents. Although Todorovic will be the toughest challenge Duncan has faced to date, I don't think it will matter as Duncan will defend well enough in the grappling realm to eventually get back to his feet and find the knockout.
I think Todorovic's striking style leaves too many openings for a striker like Duncan to take advantage of. Similar to how Soriano was able to find the button on Todorovic, I expect Duncan to find it after some grueling grappling sequences.
The Pick: Christian Leroy Duncan -220
Justin Gaethje (23-4) vs Rafael Fiziev (12-1)
Gaethje looks to earn his 9th bonus out of 11 UFC fights this weekend as he takes on a hot prospect. Gaethje may have already cemented himself as the most entertaining fighter in UFC history. We can always depend on his fights being a barnburner. No matter who the opponent is.
His willingness to take damage to dish out his own is unbelievable, especially when he has a wrestling background he can lean on. He just refuses to do so and prefers to drag his opponents into a war.
Sometimes it works out for him where he can get his hand raised, other times he pays for it and loses. Usually the guys he loses to are the ones that are able to keep their composure and dish out their disciplined approaches to overcome the fire that Gaethje brings.
Fiziev's Success 
After dropping his UFC debut, Fiziev came back with a fire and has rattled off six straight victories. The victories have helped him get to this big opportunity, which could earn him a title shot if he gets the win this weekend.
Fiziev is a dangerous striker who throws with heat, but also stays disciplined and exploits his opponent's striking defense deficiencies.
Many questioned his cardio after the Bobby Green fight be he followed that up by finishing his next two opponents in the last round of their fights. I think he is very dangerous, especially with the takedown defense and get ups he shows. If you can't get him to the mat, you will likely be in for a bad time.
Fight of the Year
This fight has "fight of the year" written all over it. However, as I laid out in Gaethje's background, I think the disciplined striking approach of Fiziev will prevail in this fight.
I think Fiziev will be able to nullify the kicking game of Gaethje and counter effectively. I don't think Gaethje's attempts of getting his wrestling going will work out either.
I expect the cleaner, crisper, and more technical strikes of Fiziev to land on Gaethje over and over. I understand people wanting to take the underdog shot on Gaethje due to his past level of competition, but Fiziev has been at the mercy of the matchmakers and passed every test with flying colors. I suspect he does the same this weekend.
The Pick: Rafael Fiziev -220