Toby's Week Five NFL Betting Recap and TNF Pick
TOBY'S WEEK FIVE NFL BETTING RECAP AND TNF PICK – Well, that didn't go so well: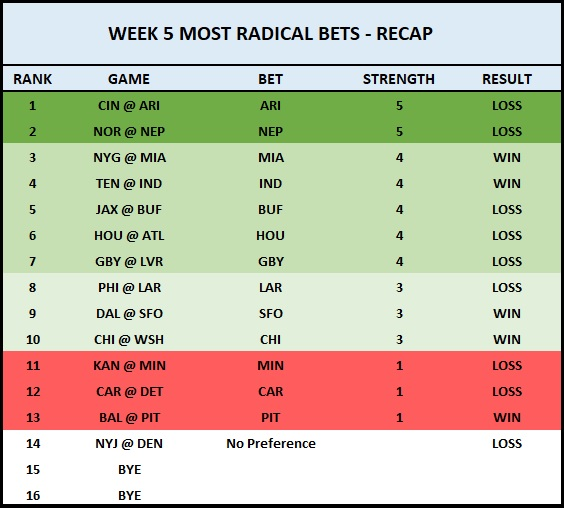 A sparkling 5-8-1 overall and 2-5 (!!!) on my highlighted picks. Hope your internet was down last week.
Week 5 All Games:       5-8-1
All Season Total:            41-36-1
Week 3 Green Games: 2-5
All Season Total:            19-17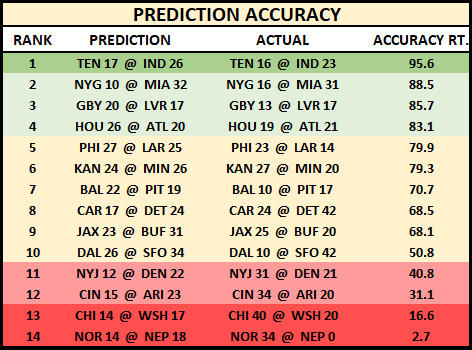 What happened?
Well, I was kind of right on one of them? With Green Bay was driving in the Monday Night game with a chance to bring my week back to respectability, I was hoping they would cap that drive off with a TD to win the game 20-17. Instead, Jordan Love threw up a duck falling backwards on 2nd down and the Raiders were able to seal the game with a pick. It was vintage "last year at Utah State" Jordan Love.
It's going to be tough to bet on Green Bay if you don't know what you're going to get each week from the QB.
These games were a mess
Houston giving up the last second field goal to push that game was a killer, as was Baltimore just….I have no idea how Baltimore lost that game. Yes, I was on Pittsburgh because this is how these games often turn out, but how did they lose that game? That was my survivor pick last week so I hope you ignored me and took the Dolphins or Lions.
Cincinnati decided to show up for the first time this season, which seems to be their M.O. in recent years. I don't know why they insist on paying homage to the 1997 Bengals every September but they should (*Joey Gladstone impression*) cut it out.
Minnesota looked like they would cover the spread in their game, but this is a Kirk Cousins-lead team so it really shouldn't be too surprising that they did not. His decision to look for a sack on the game's final play was perfect vintage Kirk C. Now with Justin Jefferson out there's really no good reason to watch this team.
Sunday Night Snooze
I had San Francisco as a better team than Dallas but not by this margin. That was an absolute shellacking put on the Cowboys on Sunday Night and the "game of the week" quickly turned into a laugher. Now for some odd reason the Niners are only giving 5.5 points in Cleveland against who, PJ Walker?
Bet that now. They're gonna win by 100.
So wrong
But of all these wrong predictions nothing was more surprising than New Orleans going into Foxboro and just absolutely pasting New England back into the 1970s. 34-0!!
I am stunned at that result. I realize the Pats don't have a great roster, but if Belichick is such a genius who can do more with less and all that, how do you explain the last two weeks? Brady is gone and this team falls to pieces.
I'm just sayin'.

TNF Pick
Week 6 preview to follow tomorrow. If I don't get it up in time (lolz), for the record, I'm taking Kansas City to barely cover by a final of 38-27. It will not be one of my top picks due to the spread.
Denver actually has very good offensive efficiency metrics but Russ Wilson is channeling Kirk Cousins better than Kirk ever could and that defense is just — it's the worst defense on planet Earth. Denver's defensive line is a literal open border. What happened to this team?
Not that I care, any day I can watch Sean Payton lose and melt down is a good day.