Toby's Week 11 NFL Picks and Previews for Every Game
TOBY'S WEEK 11 NFL PICKS AND PREVIEWS FOR EVERY GAME – Can you believe it? We're already 64.7% of the way through the season! I always like to sit back and reflect one we hit the 64.7%-point.
Who are the undervalued teams?
Who are the teams that you couldn't waterboard me into betting on? 
How long can one watch the Kenny Pickett/Matt Canada Steelers and not swear off of the NFL altogether?
Week 11 Power Rankings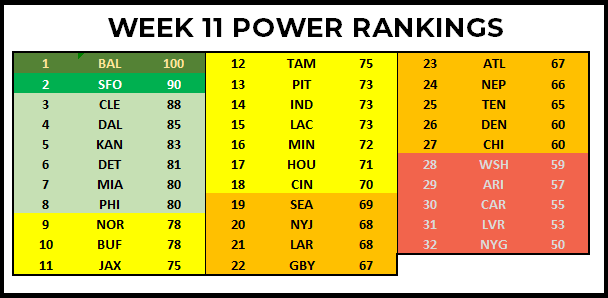 I still have Baltimore as my number one team so far going into Week 11, though the gap has closed after that second half performance last week. Note once again that this is not a prediction for future weeks, only a representation of how they've played to date.
For example, Cleveland remains in the third slot, however given the season-ending injury to Deshaun Watson I would not have them as my 3rd best team going forward. I know Watson hasn't been playing well but I still think there's a massive difference between the Browns offense with him and the Browns offense with PJ Walker.
Also uh — don't know look now — maybe Denver doesn't suck anymore. They previously had a 30+ spot on lock, however they've been playing kind of well recently. Like quasi-goodish. The defense is not the absolute trashfire that it was in September, and the offense is legitimately decent. I have them as the 12th best offense in the league right now. They are giving tremendous 2022 Lions vibes.
Week 11 Projections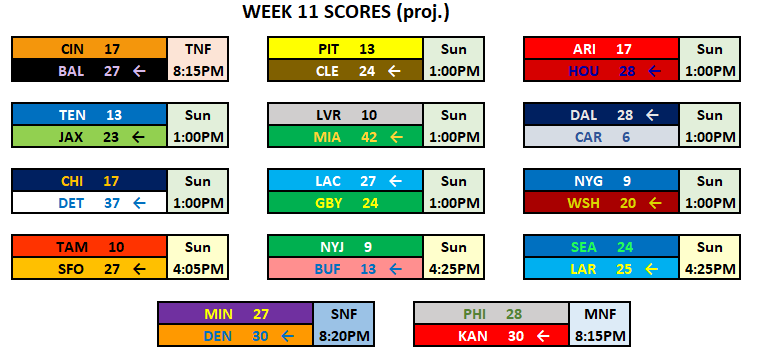 Upset Alert
BUCS @ 49ERS –

I didn't want to put a lot of stake into this one, but then again the 49ers have been playing strangely recently. I'm still not predicting that the Bucs go across the country and pull off a win, despite them being better than a lot of people may think.

COWBOYS @ PANTHERS –

I'm not taking the Panthers, I'm not even entertaining this, I'm just passing on what the numbers are telling me.

JETS @ BILLS –

Not focusing much on this one as I have the Jets covering the spread but if you want throw down a moneyline prayer bet, there are worse options. Dang I might actually parlay Jets and Bucs moneylines just for kicks. Live dangerously!

VIKINGS @ BRONCOS –

Not a major upset, but given my revelation about Denver above, combined with this, I have to make Denver +2.5 my number one bet this week. There is no reason Minnesota should be getting points playing the Broncos on top of a mountain this week. It might snow! It might be 80 degrees!
Alright I looked it up and it's going to be a nice day but…it's thin air! The air is so thin!
Week 11 Bets Ranked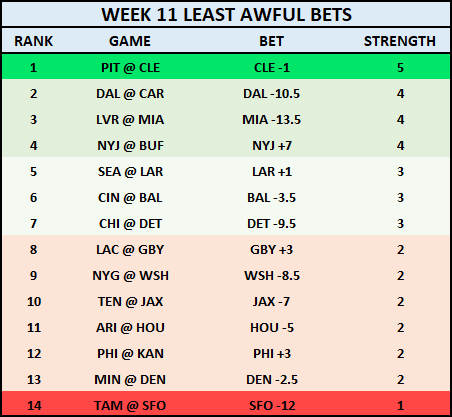 TIER ONE GAME
PITTSBURGH @ CLEVELAND -1
Projected Result: Cleveland blasts the Steelers back into the Jock Sutherland era
As I mentioned above, I know Deshaun Watson is out for the season. Even though Watson has been heisting money from the Browns, I think the Browns with PJ Walker are a much lesser threat to do anything of consequence this season. Beating the sad-sack Steelers, however, is not a significant accomplishment.
This team cannot continue being beaten around on both sides of the ball and managing to find ways to win these games.
Sure, the Steelers won the first matchup, but it took them multiple acts of God just to squeak that one out. The Browns are orders of magnitude better than the Steelers. Even with PJ Walker they should manage to stifle the Kenny Pickett/Matt Canada "offense."
This spread was initially Cleveland -3.5 before the Watson injury news hit, and I was scared to bet on it then given both the hook and the weird things that happen when these two teams play. But at basically a pick 'em? I don't care if they had Johnny Walker at QB, this is value that I can't pass up.
It's the lesser of 14 evils!

TIER TWO GAMES
DALLAS -10.5

@ CAROLINA
Projected Result: Dallas by 14+
I know I have this one on upset alert, but that doesn't mean I think it will be an upset. It just means my numbers have Carolina better at all the weird things like 4th down conversions and punt returns that can lead to weird swings.
That being said, the Panthers are a bad team. Dallas generally trounces bad teams. This is a simple application of the transitive property of mathematics.
Stay in school, kids!
LAS VEGAS @ MIAMI -13.5
Projected Result: Miami by 100 points
Speaking of potentially fraudulent teams that stomp bad teams: the Dolphins. Unlike the Cowboys, they get to play this bad team at home. The spread would need to get into the mid-20s before I'd even consider taking the Raiders.
NEW YORK JETS +7
@ BUFFALO
Projected Result: The Bills win unimpressively
Unless Josh Allen decides to bet on his own team* this week, I can see him throwing three picks, fumbling a ball and accidentally kicking the ball into space in a three-point win. Or the Jets might hand the ball off on every single play and win this one outright. I want nothing to do with the Bills right now.
*Disclaimer: I don't actually think Josh Allen is betting on his own games
TIER THREE GAMES
There are a few games this week that I like a little bit but not a ton.
SEATTLE @ LOS ANGELES RAMS +1
Projected Result: Rams in a nail-biter
From all indications, Matt Stafford will be returning this week and the Brett Rypien experiment is over. Even if he doesn't, we'll get *checks notes* Carson Wentz. The NFL just couldn't quit you, Carson!
This is mainly a bet on the Rams seemingly having Seattle's number in recent years.
CINCINNATI @ BALTIMORE -3.5
Projected Result: Baltimore wins comfortably
Baltimore is still my number one team and my numbers have them cruising at home against an up-and-down Bengals squad. We all know that it doesn't usually work like that and that the Bengals have owned the Ravens much like the Rams have owned the Seahawks. So I would bet on the Ravens if I had to pick a side here but given the division rivalry, the hook, and this being a Thursday game which opens this up to the random middle-of-the-week weirdness.
I'm probably just going to stay away from this one.
CHICAGO @ DETROIT -9.5
Projected Result: Detroit in a blowout
Justin Fields should be back. While Tyson Bagent has won some games, he's also been objectively bad throwing the ball. Yes, worse than Fields.
Fields has also been bad over his career. As long as the Lions can tackle him, I can't see the Bears scoring nearly enough to keep up in this game. Detroit is legitimately good, so I'll take the legitimately good team playing at home.
I don't love it enough to recommend it but I do like it enough to potentially bet on it.
THE REST
I suggest that you save your money. However, if you think it's too environmentally unfriendly to simply burn it, feel free to bet it on these games. Gun to my head picks are in green text.
LOS ANGELES CHARGERS @ GREEN BAY +3
I hate the 2023 Packers and life is too short to bet on teams you hate. Weather shouldn't be a major factor, but I still don't want to bet on them. I also don't want to bet on the Chargers as a favorite almost ever.
So yeah, saving my money.
NY GIANTS @ WASHINGTON -8.5
Washington should blow out this atrocious Giants team, but for whatever reason I have this one as a low-scoring affair and it's scaring me away from it. I do, however, feel like this is a bit of a gift and I'll probably just suck it up and bet on the Commanders to take command.
TENNESSEE @
JACKSONVILLE -7
Another divisional game I hate between a bad team in Tennessee and a team I cannot stand betting on in Jacksonville. I have a weird feeling that Will Levis breaks out in this one while Trevor Lawrence goes off for 196 yards and a pick everyone makes excuses for him on Monday.
ARIZONA @ HOUSTON – 5
This is one where my numbers say Houston, but my head says Arizona covers. Houston really has no homefield advantage to speak of. While they have been much better than expected thus far, five points is still a lot for them to cover.
PHILADELPHIA +3
@ KANSAS CITY
Nope. Next.
MINNESOTA @ DENVER -2.5
I was hoping for a bargain here. Initially, I read this as Denver +2.5 and was all lined up to make this my game of the week.
Then I re-read it a day later and fell into a deep depression. I'm staying away from this one, but hoping that Denver manages to lose and gives us a value spread next week.
TAMPA BAY @ SAN FRANCISCO -12
I don't really know which Niners team we're getting week to week now, so I'm going to stick to the other games.
Good luck bettors and may you fade me on your road to riches.