RB Leipzig Title Odds – Red Bulls to get their Wings?
RB LEIPZIG TITLE ODDS – RED BULLS TO GET THEIR WINGS? – Welcome to part five of this team-by-team guide to the 2023/24 Bundesliga season. Last week, I looked at a group of three clubs that included a relegation favorite. No team falls into that category here though, and one of them in particular will again be fizzing when going on the attack.
I am, of course, talking about RB Leipzig. They are no strangers to opening up an almighty can of 'Whoop Arsch' on many a luckless visitor to the Red Bull Arena.
Once again, they will combine Bundesliga battles with UEFA Champions League duties. However, it's a double-edged war that typically bursts their bubble, with neither of the corresponding trophies yet gracing Leipzig's cabinet.
Corny fizzy drink-related puns aside, Leipzig will get their turn in the spotlight soon enough. But first, we have a team that once ruled the league with an iron fist many years ago…
Borussia Mönchengladbach
While America was still picking up the post-Vietnam pieces under Gerald Ford's presidency, 'Gladbach' were busy smashing everyone to pieces over in Germany. Their greatest moment came in 1975, when they won the first of three successive Bundesliga titles. A UEFA Cup trophy – the pre-2009 predecessor to today's UEFA Europa League – arrived alongside it: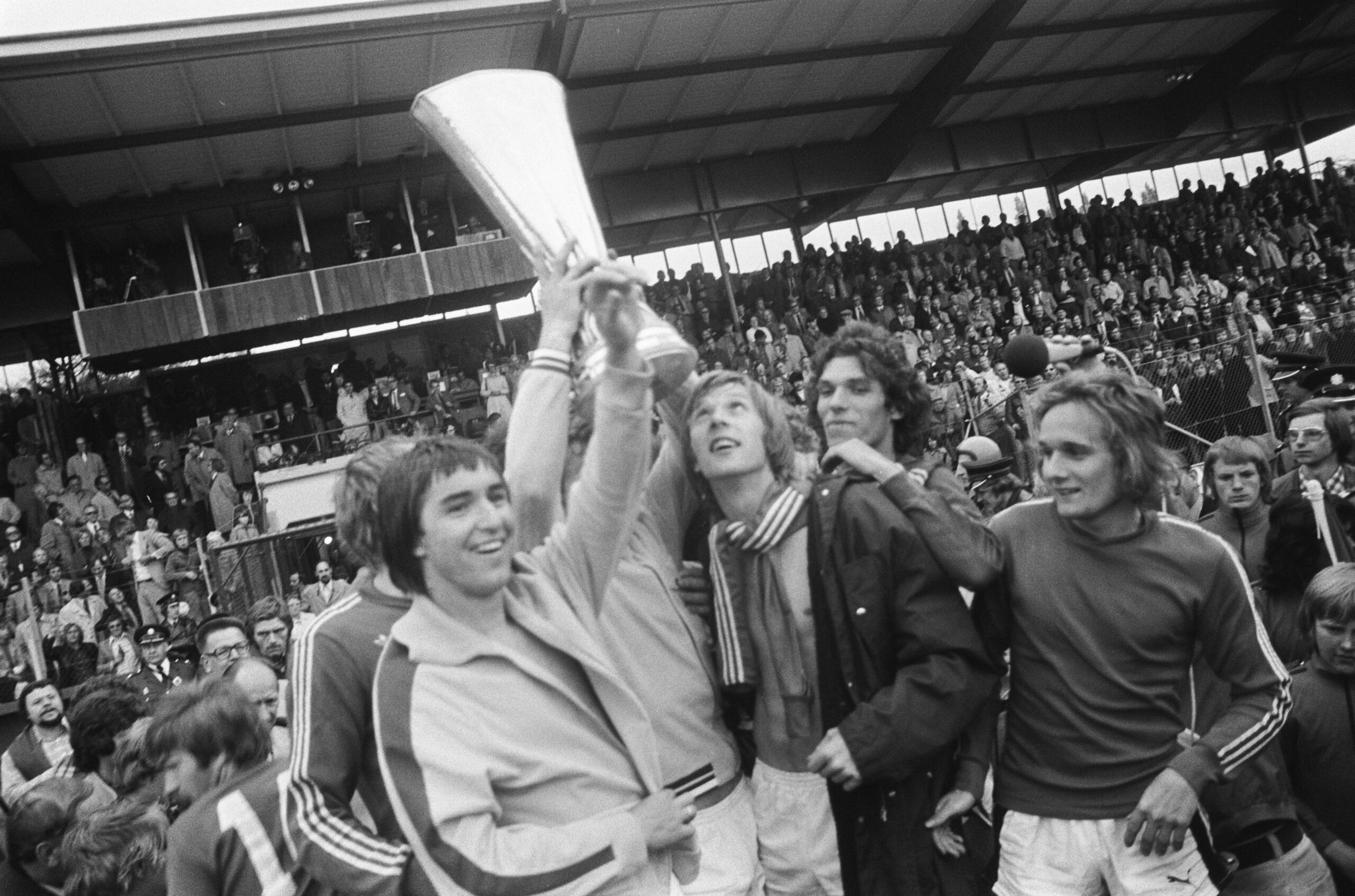 But the present generation of fans has been starved of success. Last season was no different, with Gladbach suffering a successive bottom-half finish for the first time since 2010.
Gladbach also failed to chain together consecutive league wins last term, though their longest losing streak was just two games. In a nutshell, the Foals are a tough team to gauge. But with their latest top-four finish dating back only three years, they still have the potential to be a surprise package.
Club info
Founded: 1900
Stadium: Borussia-Park
Notable honors: Bundesliga (x5), DFB-Pokal (x3), UEFA Cup (x2)
Nickname: Die Borussen (The Prussians) / Die Fohlen (The Foals)
Last season: 10th
Mönchengladbach title odds: +15,000
Key player
The only Gladbach players to net double figures last term were Marcus Thuram and Jonas Hofmann. But both have since departed. Their direct replacements are winger Franck Honorat and forward Tomáš Čvančara, for a reported combined total of 19.5m euros.
Having been a Ligue 1 regular for the past decade over in France, Honorat is no stranger to the demands of playing for a club in any of Europe's five biggest leagues. He has Hofmann's same sense of versatility across a midfield three.
Meanwhile, his excellent top speed should prevent another burnout in their pressing game. It should also be a helpful asset to fellow newcomer Čvančara, who leaves Sparta Prague after posting 24 goals in 42 games.
Predicted finish: 8th
A two-place improvement on 2022/23 is feasible, but only if Gladbach's two main newcomers can hit the ground running. However, even if Čvančara has trouble making the sizable leap from Czechia's top division, any lead they can get generally has a good chance of surviving.
That's particularly the case at home, as of the 11 teams to have led a Bundesliga home league game at the break on six or more occasions, Gladbach were notably the only ones to win every time (8-0-0).

RB Leipzig
Leipzig are on a high, having retained the DFB-Pokal first won in 2022 thanks to goals from Christopher Nkunku and Dominik Szoboszlai. But in a twist straight from Gladbach's book, they are now with Premier League giants Chelsea and Liverpool respectively.
Nkunku will be missed in particular, as his tally of 16 Bundesliga goals was a joint league high last term. Yet, with 130m euros generated from those departures, Leipzig have wasted no time in flexing their new assets.
For the princely sum of 43m euros, Belgian hitman Loïs Openda made the journey from Ligue 1 on Bastille Day. A fantastic 2022/23 season saw the 23-year old fire Lens to second place (and Champions League football) behind serial champions Paris Saint-Germain.
That is dreamland for a side promoted from Ligue 2 just three years ago, showing the full extent of his fearlessness.
Club info
Founded: 2009
Stadium: Red Bull Arena
Notable honors: DFB-Pokal (x2)
Nickname: Die Roten Bullen (The Red Bulls)
Last season: 3rd
RB Leipzig title odds: +1,000
Key player
All the talk will obviously be about Openda. But there are no prizes for guessing who his main enabler will be. That man, of course, is playmaker and provider-in-chief Emil Forsberg.
Much like the aforementioned Hofmann, Forsberg knows the role of a Bundesliga attacking midfielder inside out. Assuming he stays fit and in-situ, the Swede will hit the 250-game milestone for Leipzig sometime in early 2024.
Admittedly, he's never struck more than eight goals in a single Bundesliga term. However, Forsberg has not dipped below 0.19 goals per league game over the past five years either.
Being a consistent 'one-in-five' scorer over such a long period is admirable for anyone who is primarily instructed to deliver balls, rather than knock them in.
Predicted finish: 3rd
With five top-three finishes in seven prior seasons of Bundesliga membership, RB Leipzig are no strangers to having Bayern in their sights. That said, an average deficit of 12.2 points behind Bayern across those five podium campaigns fuels great skepticism over their title chances.
For those who habitually explore the OVER markets on sites like DraftKings, Leipzig are a regular go-to side. They aren't ones for half measures either, having drawn just two Bundesliga games since the start of November!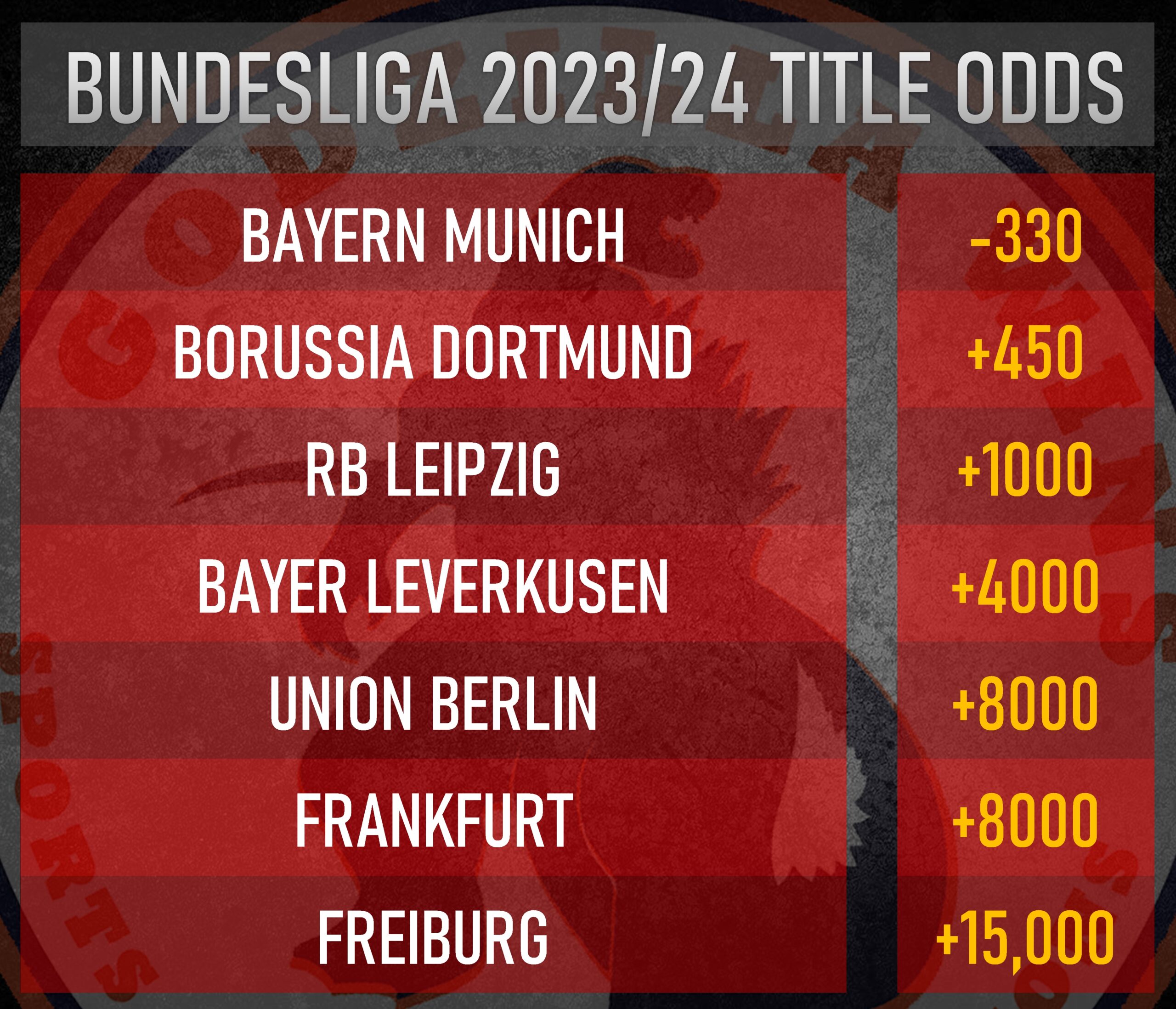 Stuttgart
As far as wakeup calls go, surviving a relegation playoff is as big as it gets. In the end, Stuttgart overcame challengers Hamburg by a much more comfortable margin than expected in the picks.
But it flatters to deceive all the same, and only a run of just one defeat in the last seven rounds ultimately prevented a direct drop. Stuttgart's last clean sheet in the regular season also still dates back to February 18.
Additionally, Stuttgart's final tally of 12 draws was a joint-league high alongside Cologne. While every point helps, there's only so long any club can live off simply avoiding defeat.
Club info
Founded: 1893
Stadium: MHPArena
Notable honors: Bundesliga (x3), DFB-Pokal (x3)
Nickname: Die Schwaben (The Swabians)
Last season: 16th
Stuttgart title odds: +25,000
Key player
Ventures into the transfer market for permanent deals have been sparse, following Serhou Guirassy's loan deal becoming permanent. As of the weekend just gone, Jeong Woo-yeong's arrival from Freiburg (3m euros) is the only other notable addition.
Unplayable at times for French side Rennes during their high-scoring 2021/22 campaign, Guirassy scored in four of the final five Bundesliga rounds last term. That included a precious winner at Mainz:
As it stands, Stuttgart desperately need Guirassy to start 2023/24 as he ended last term. The alternative may mean more reliance on a strong finish to avoid further relegation drama.
Predicted finish: 14th
Based on their endgame to 2022/23, there's enough to suggest that Stuttgart will avoid another relegation playoff. But they're a very long way off recapturing the spirit of their 2006/07 title-winning squad.
To put the Swabians' plight into context, anything other than top-six in the late 2000s was a huge disappointment. And with modest expectations often comes a poor pull factor. So getting the right players in what remains of this summer will be a steep task indeed.
All key players featured were on the active roster at their respective clubs as of July 17, 2023.