Ohio State vs. Notre Dame: Expert Pick and Prediction – September 23, 2023
OHIO STATE VS. NOTRE DAME: EXPERT PICK AND PREDICTION – September 23, 2023 — Is Notre Dame ready to finally justify the hype? The Fighting Irish have once again drawn a lot of hype and attention, which has them ranked ninth in the nation going into this matchup. They've not yet been scratched, yet it's hard to rank them appropriately because they've not played any name opponents to this point.
That changes in a big way this week, as the Irish host Ohio State in what could be an elimination game for the playoff. The Buckeyes also haven't played much of a schedule, but they also haven't looked that good in trying to handle it. Ohio State's best win came at Indiana, and the Buckeyes only won that game by a 23-3 scoreline.
That makes this game a proving ground for both of these teams, as both still have several questions surrounding them. Whichever can get more out of the offense is likely to take a big step forward.
The Odds
Matchup
Open
Spread
Points
Moneyline
Ohio State

(3-0 SU, 1-2-0 ATS)

-1.5

-3

O55.5

-150

Notre Dame

(4-0 SU, 3-1-0 ATS)

U55

+3

U55.5

+125

Kickoff
When:
Saturday, September 23rd at 7:30 p.m. EDT
Where:
Notre Dame Stadium, South Bend, Ind. 
TV:
NBC
Public Bets:
68% on Notre Dame
Public Money:
63% on Notre Dame
Odds courtesy of DraftKings, as of September 20th, 2023.

Ohio State vs. Notre Dame In-Season Trends
Early struggles have become the norm for Ohio State, which has scored seven or less in the first frame in three of its past four against FBS opponents. The one exception was the Michigan game, where the Buckeyes went the other way by starting quick and then collapsing over the last three quarters. Notre Dame has five first-quarter touchdowns to its name, and they've led after one in three straight games at home.
The Irish haven't exactly put up big numbers against FBS competition under Marcus Freeman. Last year, Notre Dame played out 10 games against FBS opponents, and six of them saw under 50 points scored. The Irish don't always put up great attacking numbers, but they usually rise to the occasion on defense.
Weather
It's likely to be a fine day for football. The temperatures should stay in the high 70s with the evening kickoff, and rain won't be a factor at all. With wind at just eight miles an hour, neither team should get thrown off by the weather.
The Difference-Makers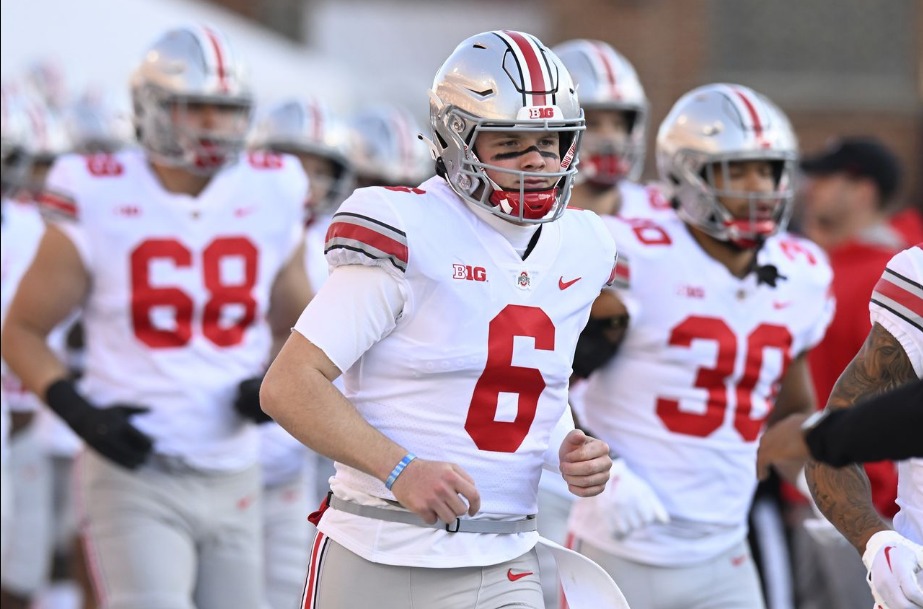 Can Kyle McCord handle a hostile crowd and a good defense? He faced part of that equation in the season opener against Indiana, and the results weren't encouraging. McCord didn't play well against the Hoosiers, who aren't exactly known for their pass defense. Notre Dame's secondary leads the nation in pass defense efficiency and has held quarterbacks to the second-lowest completion percentage nationally.
On the other side, Sam Hartman came to Notre Dame to play in a game like this. Hartman was a four-year starter at Wake Forest, granted an extra year of football by the COVID year. He's looked very good so far leading the Irish attack, but he also hasn't faced anyone of Ohio State's caliber since leaving the ACC.
The Pick
Notre Dame has the home game and the better quarterback play. Ohio State has yet to prove it can do anything away from Columbus, and the Buckeyes didn't inspire confidence when they visited Indiana earlier this season.
Plus, the Buckeyes can afford a slip here and still work their way back into the playoff because they have Michigan and Penn State still to play. Notre Dame doesn't have anyone like that on its slate except USC, as it won't see Florida State this year. There's far more on the line for the Irish, and they've got experience on their side. That makes them the far more attractive pick in this situation.
Dan's Picks  

 Notre Dame +3    

 Under 55.5

 Notre Dame ML 1Q