Nuggets vs. Heat NBA Finals Game 4 Preview and Prediction
NUGGETS VS. HEAT NBA FINALS GAME 4 PREVIEW AND PREDICTION – JUNE 9, 2023 — Good morning basketball fans, and welcome back to our NBA Finals playoff coverage here at Godzilla Wins. Tonight the No. 8 seed Miami Heat will take on the No. 1 seed Denver Nuggets. It is a pivotal game for the Heat because another loss puts them in a 3-1 hole heading back to Denver for Game 5. 
That said, here's a look at which team has the edge going into Game 4 and why.
The Odds
Matchup

 

Open

 

Spread

 

Total

 

Moneyline

 

Denver Nuggets

(2-1 SU in Series)

 

O211

 

-3.5

O211

 

-165

Miami Heat

(1-2 SU in Series)

 

+3

+3.5

U211

+140

Tipoff
When:
Friday, June 9, 2023 at 8:30 PM ET
Where:
FTX Arena, Miami FL
TV:
ABC
Public Money: Nuggets, 81%
Public Bets: Nuggets, 72%
Odds courtesy of
DraftKings
as of June 9, 2023
How We Got Here – Series Recap
The two teams split the first two games in Denver. This meant that for the fourth straight playoff series, Miami stole one of the first two games on the road. The big question was could they duplicate their performance from Game 2 on their home court? The answer was a resounding no.
Miami managed to keep pace with Denver for most of the first half. But once the road team took a 45-44 lead (and a 53-48 edge at halftime), it never looked back. Thanks to a 29-20 scoring edge in the third quarter, the Nuggets essentially put the game out of reach and cruised to a 109-94 victory. And given the stats I am about to provide; the final margin should have been more than 15 points. 
I'll get the obvious out of the way first by pointing out that Nikola Jokic (32 points, 21 rebounds, and 10 assists) and Jamal Murray (34 points, 10 rebounds, and 10 assists) had their way against Miami's defense. They became the first duo to record a 30-point triple-double in NBA history. That goes for both regular season and playoff games as well. They shot a combined 24-43 from the field, which equates to a .727 conversion rate. It's difficult to beat any team if you allow their top guys to play that efficiently.  
The next glaring stat has to do with that battle on the backboards, or lack thereof in this case. Denver enjoyed a 58-33 edge on the glass. And if that wasn't bad enough, they manhandled Miami in the paint to the tune of 60-34. It was the first time in 25 postseasons that a team beat its opponent by 25 or more in both statistical categories. For good measure, let's also remember that Miami was held to 37 percent shooting from the floor and 31.4 percent from beyond the arc. It's hard to win games when your team struggles so mightily on offense. 
Miami will need to find a way to be competitive or it will find itself one game away from elimination in what has been an improbable playoff run. 
Here are my betting trends for Game 4. 
The Picks
Over/Under
The projected over/under total opened at 211 points, with the over attracting 62 percent of the cash and 73 percent of the tickets. At the time of this writing the line has not moved. 
The two teams are scoring a combined 224.7 points per contest while surrendering 214 total points per outing. But for the first three games of the series, the 211 total has hit just one time. That took place in Game 2 when the Heat came out on top 111-108. Despite this trend, here's why going with the OVER is the right play. 
The OVER has a 5-1 record for the Heat in their last six games that were played on a Friday. The OVER is also 5-1 in Miami's last six games against teams with a losing road record. Denver was 19-22 on the road during the regular season. 
In Miami's last 18 games, the OVER has hit 13 times following games in which the team lost by a double-digit margin. Denver prevailed 109-94 in Game 3. 
The OVER is 11-3 for Denver in its last 14 games against teams with an overall winning record. Miami was 44-38 during the regular season. 
The OVER is 6-2-1 for the Nuggets in their last nine road games against teams with a winning home record. Miami's regular season home record was 27-14. 
Lastly, the OVER has prevailed six times in the last eight meetings between these two teams. Additionally, the OVER has a 5-2 record in the last seven times these two teams have faced off against each other in Miami. 
Prediction: OVER 211 points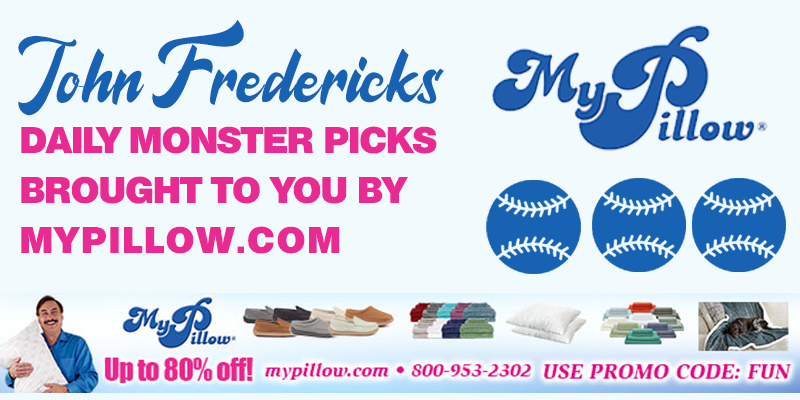 The Spread
Despite overwhelming Miami in nearly every statistical category in Game 3, the Nuggets are a modest 3.5-point favorite. That line has not moved.
While it pains me to say as much, here is why I'm going with Denver to cover in this one. 
The Nuggets have a 4-1 mark against the spread in their last five games overall. And they are 4-0 ATS in their last four road games. 
Denver is 4-1 ATS in their last five games when they have scored 100 or more points in their previous contest. They produced 109 points in Game 3. 
The Nuggets are 5-2 ATS in the last seven instances in which they won their previous game by more than 10 points. The final margin victor from Game 3 was 15 points. 
In the head-to-head competition between these squads, the Nuggets are 27-10 ATS in the least 37 meetings and they are 5-0 ATS the last five times these teams have played in Miami. 
Prediction: Denver Nuggets (-3.5)
Player Prop Bet
My key player to watch in Game 4 is Denver's big man Nikola Jokic. He currently has -125 odds to score more than 30.5 points and -105 odds to score less than that total.
During these playoffs, Jokic has had seven games in which he's scored more than 30 points. Not only that, but he is also averaging 33.3 points per outing in this Finals series. 
For a little extra flavor, if you're considering betting on the rebounding total, Jokic's current odds are -140 to grab more than 12.5 rebounds and +100 odds to grab less than the projected total. He's averaging 14 boards per game against the Heat. 
Prediction: Nikola Jokic OVER 30.5 points
James's Picks

Over 211 points

Denver Nuggets (-3.5)

PPB: Nikola Jokic OVER 30.5 points