Well, here we are: Finally, NFL playoffs. Wild-Card Weekend. 14 of 32 teams made the dance. 18 are playing golf, thinking about the upcoming draft.
So let's get in the game and get some winners!
Here's an easy winner: At Draft Kings, new customers can bet just $5 on any football game this weekend and get $200 IN FREE BETS INSTANTLY—WIN OR LOSE!  Plus, EVERYONE can combine multiple bets for a bigger payout with DraftKings SAME GAME PARLAYS! Download the DraftKings Sportsbook appNOW, use promo code GODZILLA, new customers bet just $5 on  football and get $200 IN FREE BETS INSTANTLY! That's promo code GODZILLA—only at DraftKings  
Sportsbook.  Must be 21 or older. Bonus issued as free bets. Eligibility and deposit restrictions apply. If you or someone you know has a gambling problem, call the Problem Gambling Helpline at 888-532-3500. 
Hawks at 'Niners
The Seahawks defense has gotten worse as the season progressed. Juxtapose that with San Francisco, whose defense just gets more ferocious every week.
Forget Brock Purdy. He is indeed irrelevant to this game. If he doesn't turn the ball over three times, the 'Niners win this game.
Seattle has been fading every week while the Forty Niners have looked more and more like a Super Bowl contender. Candidly, I can see SF shutting the Seahawks down to no more than 10 points, so the 9.5 is not a factor.
Pick: 'Niners -9.5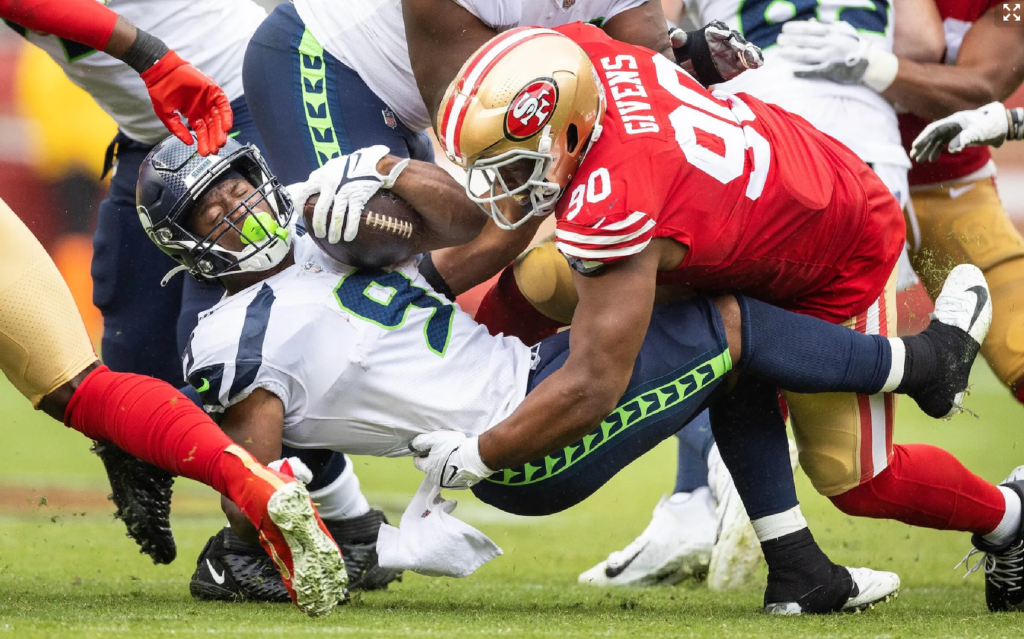 Bolts at Jags -2.5  
I love the Chargers in this spot. Bottom line, Jacksonville should not be here. They were about to lose to injury-riddled Tennessee last week at home playing against a practice squad quarterback.
If the Titans got one more first down, they win that game. The fluke scoop and score punched their dance ticket.
The Bolts offense has been hampered all season with a plethora of injuries to key offensive weapons.
Absent gold star receiver Mike Williams, most are now back. The Chargers pass defense is better than advertised of late, and Justin Hebert has just too many weapons. The Jags are a year away, and it will show today.
 Pick: Bolts -2.5