NFL Week Three Projections and Betting Preview
NFL WEEK THREE PROJECTIONS AND WEEK TWO BETTING RECAP – In the name of brevity, I'm combining the week two recap and week three preview today.
Obviously, given that we had week one results as supporting data, every prognosticator should have easily gone 16-0 with their picks. Let's see if I was able to go undefeated.
Week 2 Betting Recap: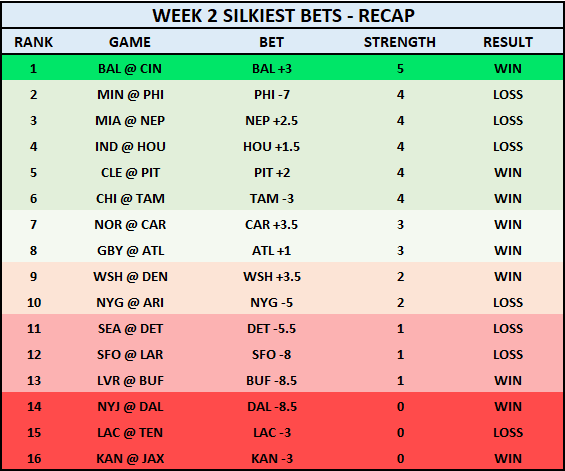 ---
Week 2 All Games: 9-7
All Games Season Total: 17-15
---
Week 1 "Green" Games: 3-3
Green Games Season Total: 8-4
---
The Sublimity of NFL Handicapping
Looks like a resounding no! I did hit my top bet again *hits griddy dance* but lost the next three before rounding out the greens with wins.
To be fair, the Philly game was down to -6 when I took it and so it became yet another "backdoor push," but the same thing happened with New Orleans and Carolina in the opposite direction, so it's pretty much a wash.
I was WAY off on Indy/Houston, but I should have trusted my Chicago @ Tampa prediction as the Bucs controlled that one throughout.
I put a ton of weight on home games in Florida in September, as it seems like a massive advantage for the home teams and always seemed to boost the Dolphins teams even in the lean years. How'd I do with the Saints/Panthers game?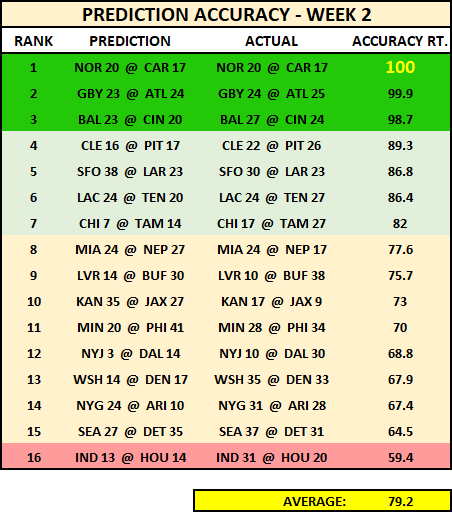 Saint vs. Panthers Exact Score Hit
Nailed it! Turns out it was a push, so my most accurate prediction ever won nothing no matter what, but it's nice you know? Just let the people know that once every season or two, Toby Wreathway's going to hit you with an exact score.
I still need to work on my accuracy rankings, but, if I don't mind saying so myself, I think they are relatively accurate.
And you shouldn't mind saying so yourself, come on man no one else is going to do it for you. Get that self esteem up! Can't afford to make this a Terrible Self-Esteem Thursday.
Wait where was I?
Oh yeah, writing a column. Before we get to week three's projections, can I talk about Kirk Cousins? Of course I can.
Kirk Cousins
Kirk Cousins loves nothing more than to throw for 374 yards and two TDs in a losing effort, and he did it yet again last week, waiting until the Vikes were down 27-7 before he really got going.
Has he usually been saddled with a bad defense? Yeah, it seems like he usually has been. Did he take them right down the field at the end of the 2nd half only for Justin Jefferson to fumble the ball away into the end zone? Yeah, he did.
I like Kirk! He seems like a cool enough dude and he's clearly got some ability even if he isn't elite, but this ALWAYS happens to him.
Some of it has to be on him. I was thinking about this during the game and it hit me – Kirk Cousins is like the Final Boss version of Tommy Maddox.
Steelers Agony
Growing up as a Steelers fan in Pittsburgh, the turn of the century was a relatively meager time for the franchise.
At least by Steelers standards, as this team has generally been good pretty much for my entire life. But outside of that random 2001 season, the Steelers were kind of listless and most games were 13-10 slogfests where Jerome Bettis would have 37 carries for 102 yards.
Then Tommy Maddox arrived. And Tommy Maddox was a revelation, especially given what we were used to.
THEY HAD A KENT GRAHAM YEAR. Man, this feels like therapy….Bubby Brister was starting games for this team. Bubby Brister! Anyway, Tommy Gun comes in and he's just flinging it around the yard and even though the team wasn't really all that good, it was exciting.
Maddox threw for like 450 yards in a 34-34 tie, ending with a Hail Mary completion to the one yard line. The Steelers had 645 yards of offense in that game!
We had NEVER seen anything like that. This franchise hadn't even had a 500+ yard output since 1995.  He threw for over 300 in the absolute dumbest game of all time, a 24-6 LOSS to the expansion Texans.
The Steelers outgained the Texans 422-47 and lost by 18 points. Houston had 10 passing yards. TEN! TEN YARDS MAN HOW DID THIS HAPPEN??? We should have had a Congressional inquiry into that game.
Tommy Gun
Tommy Gun turned that season around, took the Steelers to the playoffs and outdueled another one of these types in Kelly Holcomb, who threw for over 400 in the wild card game and would have won it if Dennis Northcutt didn't drop a three yard out.
Maddox then played reasonably well against a good Tennessee team in a narrow loss where a running into the kicker penalty prevented Joe Nedney from becoming Blair Walsh.
Tommy didn't burn nearly as long or as bright as Kirk Cousins but it was fun while it lasted and I have to imagine that this is what it feels like for Vikings fans.
Anyway here's my projections for week three: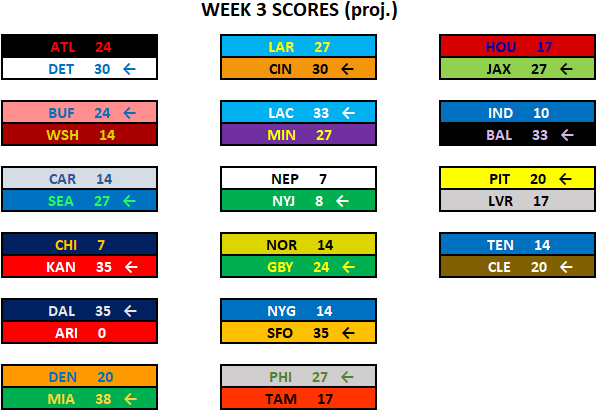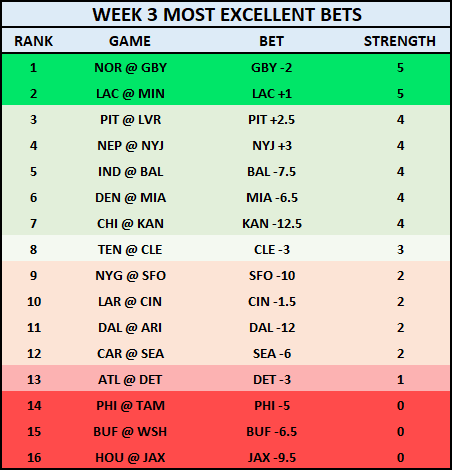 Looks like I have two bright neon favorites this week.
While I don't really love Green Bay -2 in my head, I do like the Chargers getting a point. I know that Brandon Staley is coaching like he's trying to tank the franchise's value and buy it on the cheap, they just seem to me like a much better roster than that of the Vikes.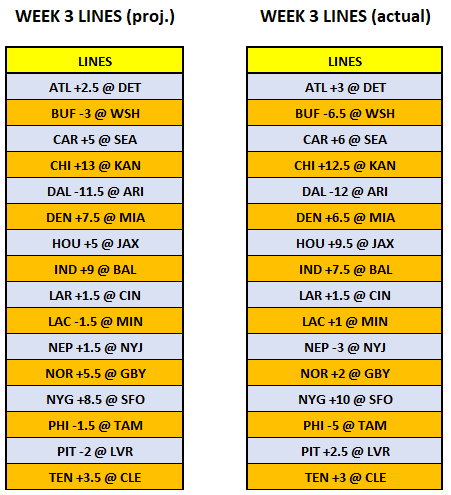 Philly -1.5 as a projected line seems way lower than it should be, but, as I mentioned, I put a ton of stock in September games in Florida.
The forecast calls for 92 degrees on Sunday, and 92 in Florida feels like it's somewhere on Venus. And let's be honest, Philly hasn't looked like a juggernaut through two games. In general, no lines really stand out this week as gross miscalculations by the massive glistening casinos in Vegas. 
TIER ONE GAMES
NEW ORLEANS @ GREEN BAY -2
Projected Spread: Green Bay -5
Projected Result: Green Bay 24 – New Orleans 14
So uhhh yeah I guess I still like Green Bay. This is probably more not liking the Saints, who, under no circumstances, should be allowed to march into a primetime slot like they did last week.
Hopefully this game will kick off at 5 am.
Derek Carr almost certainly puts The Club on his steering wheel when he parks his minivan.
LA CHARGERS +1
@ MINNESOTA
Projected Spread: Los Angeles -1.5
Projected Result: Los Angeles 33 – Minnesota 27
I've already discussed both of these teams. It will be fun to watch Big Kirk go against air and put up 493 yards in a loss. Justin Herbert continues to be so good that he's too good – he needs a bit more Matthew Stafford in him.
F it, I'M GOING DEEP!

TIER TWO GAMES
PITTSBURGH +2.5
@ LAS VEGAS
Projected Spread: Pittsburgh -2
Projected Result: Pittsburgh 20 – Las Vegas 17
The Steelers are atrocious, so I don't know why I am so confident in them as an underdog on the road this week. I guess it's because Las Vegas is more atrocious, but, like, are they? Are they really worse than the Steelers?
This is Steelers-Raiders, Chuck Noll vs. John Madden! But in this case they both tried heroin before the game.
NEW ENGLAND @ NY JETS +3
Projected Spread: New York -1.5
Projected Result: New York 8 – New England 7
This score was so hilarious that I decided not to adjust it. Usually I adjust scores toward common numbers (you know, like 3, 7, 10, 21 etc.) but this one stays. Jets get four safeties to edge out New England at home.
Zach Wilson is the anti-Kirk Cousins. This game may violate the Geneva Convention.
INDIANAPOLIS @ BALTIMORE -7.5
Projected Spread: Baltimore -9
Projected Result: Baltimore 33 – Indianapolis 10
I don't know why I like Baltimore so much here at -7.5, which is an objectively terrible spread. I'd wait until Sunday and hope it gets to 7 if I really wanted to bet on it.
That being said, Baltimore's offense is coming along much faster than I expected so I'll have faith in my blowout prediction.

DENVER @ MIAMI -6.5
Projected Spread: Miami -7.5
Projected Result: Miami 38 – Denver 20
This one boils down to Miami being good and Denver being bad. And now the Broncos have to play at sea level, in the middle of a tropical rainforest! Well, right off of a turnpike through a tropical rainforest.
This city can't flood soon enough.
Plus, the extra 0.5 in the spread is really nice.
CHICAGO @ KANSAS CITY -12.5
Projected Spread: Kansas City -13
Projected Result: Kansas City 35 – Chicago 7
My strategy this season has essentially boiled down to "bet against Chicago."
The scheme is an absolute disaster, as they continually have receivers running the same route to the same place. Justin Fields is seeing ghosts and regressing to the point that he may be playing a bit further north.
Not in Minnesota or Green Bay – he'll be playing next year for the Saskatchewan Roughriders if this continues. The defense has to improve just to be merely "bad." Chase Claypool is going to be grounded.
It's not good, man.
Kansas City hasn't been good either but they'll be good enough to stomp all over Chicago.
THE REST
I suggest that you save your money. However, if you think it's too environmentally unfriendly to simply burn cash, feel free to bet it on these games. Gun to my head picks are in green text.
TENNESSEE @ CLEVELAND (-3)
I don't know why I like Cleveland here. No one should.
NY GIANTS @  SAN FRANCISCO (-10)
New York saved themselves the embarrassment of getting absolutely blown off the field by the Cardinals last week, furiously rallying to narrowly defeat a team that is not trying to win. Good job Giants.
Oh, they also stayed out west after that game due to the quick turnaround before this one, which is this week's Thursday game. They are going to get blasted.

LA RAMS @  CINCINNATI (-1.5)
The Rams might be for real, and Cincinnati might be terrible.
Plus Joe Burrow might not play, in which case Cincinnati starts their backup, a man by the name of Joe Burrow's Backup. All the uncertainly makes me want to stay away. 
DALLAS (-12)
@  ARIZONA
I'm predicting a 35-0 Dallas victory this week.
That sounds like an absurd prediction and I was going to adjust it, but I decided not to. I'm going to plant my flag on this. The Cardinals do not score a point this week. Now watch them win by 15.
CAROLINA @  
SEATTLE (-6)
Carolina is bad on offense. Like, real bad. Mythical pixie Bryce Young has the arm strength of a three-year-old, and he's throwing to receivers with AARP cards.
Plus they have to travel across the country to play in the artificially engineered noise of whatever Seattle is calling their stadium now. Geno magic is back!
ATLANTA @  
DETROIT (-3)
I am now afraid that Detroit's defense is not for real, and they have to play the NFL's only service academy this week as the Falcons come to town.
Maybe Atlanta will be tired out after spending all day Saturday seeing the sights around Detroit.
I'm still going to ride with Detroit because as anyone from Detroit will annoying tell you, it's Detroit vs. Everybody (and Everybody is usually winning), and because FedEx has a better chance of delivering a ball to an Atlanta WR during a game than Desmond Ridder does.
PHILADELPHIA (-5) @ TAMPA BAY
I've gone over it, but it's hot down here, man. I don't want any part of this game.
BUFFALO (-6.5) @ WASHINGTON
I'm not sure why my model doesn't like this one – I guess -6.5 is a big spread for a road team – but it's not a long trip, it's not a tough place to play, and I'm taking Buffalo in survivor this week.
HOUSTON @ JACKSONVILLE (-9.5)
I could see this game going either way, and while it is a road game in the Florida heat, it's hot in Houston too. I know they play indoors but they are used to living every day in stifling heat in ways that people in Philadelphia are not. But this game could be fatally boring. Like people might die.
SURVIVOR PICK
Jacksonville
San Francisco
Not using Buffalo last week means I get to use them this week when they are no longer a consensus favorite.
Washington is a slightly difficult matchup but the Bills really should be able to handle it.
Plus, they love to blowout bad teams. Consensus favorites to avoid this week are Jacksonville, Dallas, Kansas City and San Francisco. Jacksonville in particular seems to be quite reckless – hopefully they lose and take out a quarter of your pool with them.