The Week 4 Itch
Your favorite sad sack analyst is on a real scorcher. As of Saturday night, I'm 4-2 for college this week and confident that NC State will cover and I'll move to 5-2. I'm looking to crush Week 4.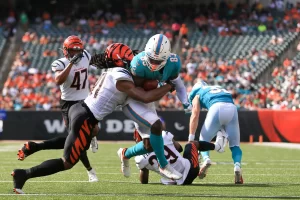 I'm 1-0 for the week after a terrific call with the under bet on Thursday Night Football. 
I'm getting hot with my best plays against the spread tomorrow. 
I don't need any more wins, but I'm going to hand out a few more for those who need to scratch that proverbial itch before they watch Jameis Winston throw six interceptions by 2:00 pm. These are the fun bets. The money wagers. The my-spouse-doesn't-really-know-about-this-bank-account picks. These takes are scarier than Halloween. Let's hit it. 
Alert: Hammer Time!
DraftKings lists the Week 5 odds for Lions at Patriots as PK (pick 'em). 
The writers on this website do not trust the Patriots to provide accurate and responsible information to the media. They have been dodgy with the Mac Jones injury, but that man has a high ankle sprain. That's an injury that sidelines a QB for 3-5 weeks. We don't think Mac will be back in time for Week 5 so go ahead and hammer this line. It's bound to change by next Wednesday and you'll have to lay points if you like the Lions. 
We love looking at lines a week ahead of time. ABC: Always. Be. Cooking. 
— Detroit Lions (@Lions) September 29, 2022
Point Totals
Jacksonville Jaguars at Philadelphia Eagles: O/U 1st Half Points Total +/-23
I picked a bunch of NFL Week 4 point totals for our best plays column, so I thought I would find something fun for you here. I talked myself into this bet as I was researching it and now it's my favorite play of the day. Let's take a look.
Along with betting point totals for the entire game, you can bet them for halves and quarters. 
According to teamrankings.com, the Eagles are averaging 24 points per game in the first half. This team starts fast and then slows down. The Jags are averaging 12 points per game in the first half and have been known to start fast as well.
Here's another fun stat. Our friends at Football Outsiders look at the pace of play by tracking how many seconds each team takes between snaps.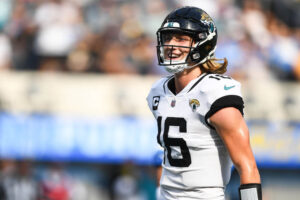 Check this. The Eagles are 1st in secs/play (24.25 seconds) in the first half. The Jags are 7th in secs/play (27.24 seconds) in the first half. Here's another nugget: the Jags shoot up to 4th in seconds/play (21 seconds) when they're down by more than 7.
Point totals are all about pace of play. How quickly does a team want to move? How fast do they want to score? In the first half, both the Eagles and the Jaguars want to go fast and then slow it down after halftime. I love this bet so much. Pick: O/U 1st Half Points Total 
Parlay
Moneyline Parlay: Jags/Falcons/Cowboys (+979)
We don't recommend parlays. Ever. I'm not sure why we even write about them. Here's what we do not want you to do:
Go to DraftKings;

Begin picking random props like anytime touchdowns or passing yardage or +2 TDs;

Get fooled by 30/1 odds;

Put $200 on it and dream about buying a new riding lawn mower; and

Lose
Don't do that. The odds are crazy because they rarely hit. We've discussed this over and over and we'll continue to do so. 
However, we do like moneyline parlays. This is a good way to find nice odds on games that you feel very confident will go one way. 
We love the Jags this week and you get terrific odds when you add them in a parlay. The Falcons are at home and, while you can take the point with the spread, the odds are nice if you think they'll come away with a win. 
The Cowboys feel like another lock, as the Commanders look for answers on both sides of the ball. Some places are giving that parlay out at 10/1. Throw $10 on it and see what happens. Pick: Moneyline Parlay: Jags/Falcons/Cowboys to Win
Prop Bets
Nick Chub O/U 90.5 Rushing Yards
I hit my Mariota prop bet last week, but I'm not sure I feel as confident about the Falcons ability to pass the ball against the Browns. But what about the run?
I had a ton of sexy statistics on Cordarrelle Patterson for you and then realized you can't get odds on him for Week 4 because he's listed as questionable for the game. No matter. We're Nick Chubb fans here too. 
Chubb is averaging 113 yards per game. In both wins for the Browns, he's carried the rock over 20 times a game. 
Football Outsiders have Chubb ranked 2nd in DYAR (Defense-adjusted Yards Above Replacement). This basically means that Chubb is the second most important RB to his team. (Patterson is ranked #1, by the way.) 
The Falcons aren't great against the run. They rank 27th in rushing DVOA (Defense-adjusted Value Over Average). All this means is that when the Falcons face a good running back who has a lot of value in the opponent's offense, they suck. 
Chubb is a safe bet to rush for over 90.5 yards in this game. It doesn't mean if this hits that the Falcons can't still win. They can. But Chubb is going to eat. Pick: Nick Chubb Over 90.5 yards rushing. 
Nick Chubb powering through the Steelers for a 36-yard gain!#PITvsCLE pic.twitter.com/HilhQI9upy

— TSN (@TSN_Sports) September 23, 2022