The Standings
| | | | | |
| --- | --- | --- | --- | --- |
| Thru Week 12 | Wins | Losses | Push | Winning % |
| Jack | 56 | 40 | 1 | 58% |
| Nate | 45 | 44 | 1 | 50% |
| John | 76 | 85 | 7 | 45% |
The Word
Your crack team of crazed analysts is back for Week 13 of the NFL season. The college football conference championship week is over and we are here to feed the beast with our three best picks for the 1:00 pm slate of NFL games.
Nate and Jack will give you a slew of early games to watch out for as you settle down for some early NFL action. Storylines abound. Did anyone go to Russell Wilson's birthday party? Are the Eagles a fraud? Do the Falcons hate defense? Are the Jets feeling saucy? Can the Lions please win an easy one? We're here to answer all your questions and more! Be sure to check back for our analysis of the late games. 
All odds courtesy of DraftKings, as of 12/3
Jack's Best Bets
The Vrabel Factor
Tennessee Titans at Philadelphia Eagles (-4.5, o/u 44.5)
This line opened at -2 and immediately shot up to -4.5 as the big money coalesced around the Eagles. The line then settled and most of the public money and bets favor the Titans. The Eagles come in as a powerhouse, but they haven't looked as dominant lately and their struggles against the rushing attack put them at a huge disadvantage in this Titans game.
The Eagles rely heavily on the run in order to control the game clock and get in the end zone. This could be a huge problem for Philly this week, as they go up against one of the best defensive fronts in the league. Jeffrey Simmons is rated as the fifth best defensive tackle by Pro Football Focus and the Titans allow less than four yards per rush. This is an incredible feat and one of the reasons the Titans have continued to win games.
The Eagles rank 24th in DVOA against the rush, but that number is actually much worse with the absence of Jordan Davis, who is still recovering from an injury. The Eagles have an achilles heel and it's run defense. They like to keep their offensive on the field. They feast against poor passers. But they struggle to get their offensive back on the field when a team can run the ball. 
That's how the Commanders beat them. It's how the Colts came from within a point two weeks ago. 
The one trend you have to like in this game is that Jalen Hurts is 5-1 ATS at home. But we all love the Vrabel trend better. He's 21-7 ATS when catching a field goal or more. That's nuts. He's 22-17 SU when catching points. Take a hard look at the moneyline here too. 
Jets Got the Juice
New York Jets at Minnesota Vikings (-3, o/u 44)
The Vikings remain one of the luckiest teams in the league. Nobody believes Minnesota is as good as their record, but they keep winning games so what gives?
The Vikings are the kind of team that finds themselves on the winning end of close games time and again. They have a functional quarterback and a game changing receiver. But they don't do much particularly well and the advanced metrics are not encouraging. Action Network has the Vikes ranked as one of the luckiest teams in the league. They have a point differential of +5 after a screwy win against the Pats on Thanksgiving. The team will start to regress towards the mean and that starts this week against the Jets. 
New York is getting a ton of respect from Vegas this week. Part of the reason for this is because the Jets have the edge in every DVOA category. Check out this graphic from Action Network.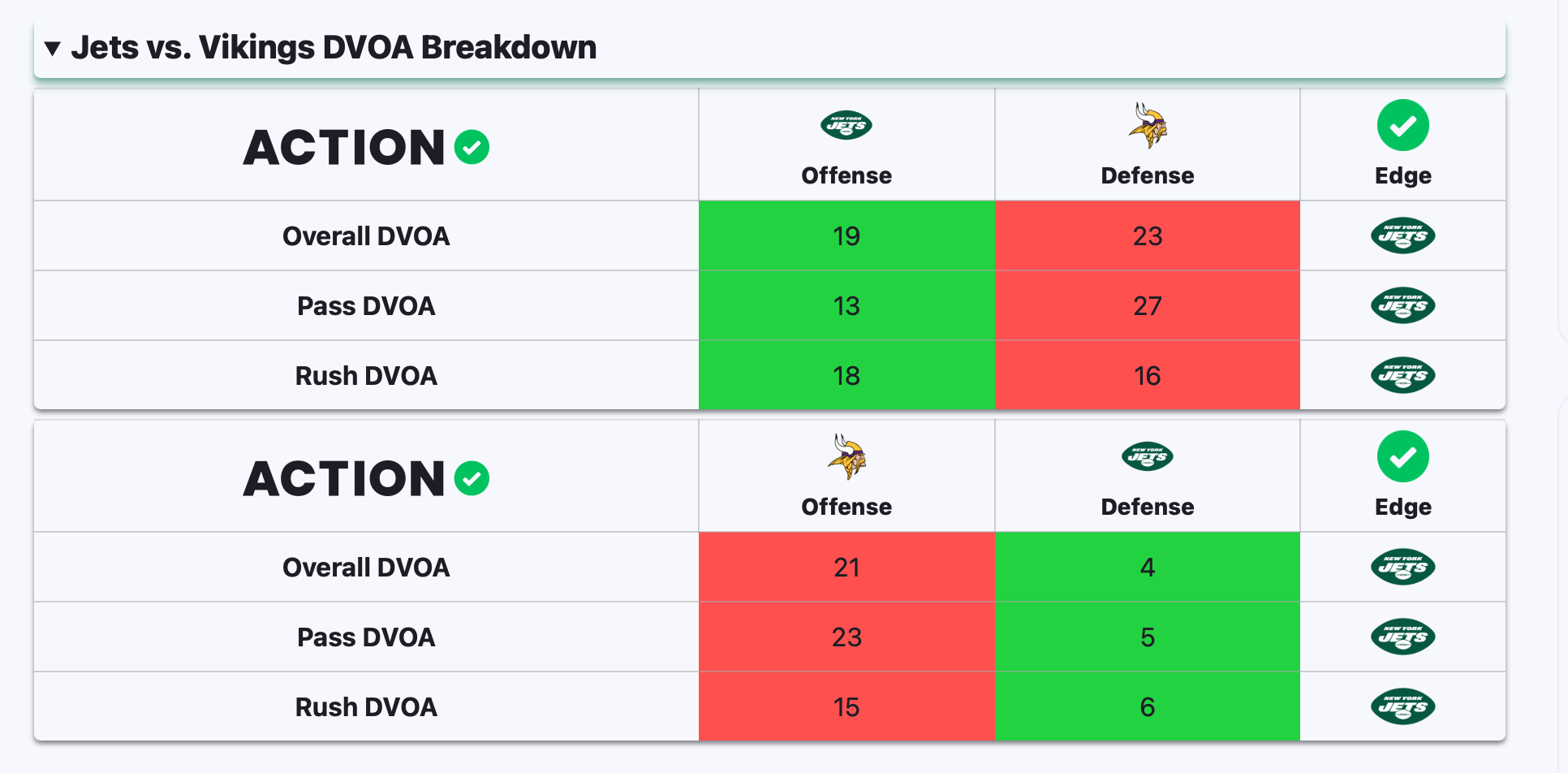 The biggest question mark with the Jets is the quarterback. Sure, Mike White played well last week, but QBs like White tend to be backups for a reason and I worry he could make a ton of unforced errors and throw this game in the wrong direction for the Jets. 
I still have to like the Jets here. It is impossible to shut down Justin Jefferson, but Sauce Gardner can limit his explosive potential. The Vikings defense doesn't do anything particularly special, so White has a good chance of playing well. The Jets might not be a Super Bowl contender, but I like a top five defense with shut down corners against a Vikings team that might be fooling us into thinking they're good. 
Nate's Best Bets
Broncos Under Water
Denver Broncos at Baltimore Ravens (-9.5, o/u 40.5)
This is going to be ugly, folks. I'm sorry that I think there's value in this, and to encourage you to wager your hard-earned dollars on a game involving the horrid Broncos.
We are trying to pick some games this week where we can find multiple angles to attack these games. Sort of a choose-your-own adventure approach.
We know that the Broncos have been a disaster this season. Russell Wilson does not look like the player he was in Seattle. And the Nathaniel Hackett Experience has been difficult to watch as both game-management and playcalling have been, to be kind, subpar.
They have the very strange distinction of having an incredible defense (3rd in points allowed), and an incredibly bad offense (last in scoring), which makes them nearly historic as there's only one team in the 32-team era to have been last in scoring offense while allowing the fewest points scored. The last and only time we've witnessed it was the 1946 Steelers. 
The Broncos are like the Halley's Comet of NFL teams. They occur once every 75 years or so; everyone makes a big deal out of them; and when you finally see them, it's a little underwhelming. 
The Ravens haven't been much better lately. I'd been optimistic about the aggressive move they made in trading for Roquan Smith, as a move that could shore up a shaky defense. They still look vulnerable, and have tremendous trouble closing out games. Jacksonville last week being another example.
Bottom line is that Lamar Jackson has cooled off after a hot start, and this is a team that has not proven they can blow anybody out. The Broncos lose often, but the game doesn't get out of hand often because their defense battles to the end. 
One other trend of note, Broncos games have gone 10-1 under the total, including seven straight unders. Dating back to the start of last season 79% (22.6) of their games have gone under the total. Quite simply, the Broncos are an under machine.
Nate's Pick

Under 40.5, Broncos +9.5

And if you're feeling frisky, parlay them together...




Fade Atlanta
Pittsburgh Steelers at Atlanta Falcons (+1, o/u 43)
I am backing away from some things I said earlier in the season when I was a Falcons true believer. The defense is just beyond horrible and Mariota is regressing weekly. They are no longer fun to watch, and are instead exasperating. 
The Steelers have been playing better lately, the defense rates out as middle-of-the-road at 14th in overall DVOA, but they are improving with T.J. Watt back on the field after an early-season injury. Their offense hasn't been great, but Kenny Pickett keeps improving, which is all you can really hope for when you have a rookie quarterback who was thrust into the starting role four weeks into the season. 
I just cannot bet this Falcons team in a spot like this. Not only is their secondary horrible, but they generate absolutely no pass rush which should allow for Kenny Pickett to have some time to find his wide open receivers.
The Falcons offense is too one-dimensional to generate many opportunities for this team on that side of the ball.
I love the Steelers here to get another win here.
**If you have access to alt-lines, you could sprinkle a bet on anything up to -6 at improved odds.
Don't Overthink It
Jacksonville Jaguars at Detroit Lions (-1, o/u 51.5)
I was a big fan of the Jags going into the season, and had high hopes for them to make a sneaky playoff run. Alas, that's not going to happen. If the Jags don't have a wild comeback capped off with a 2-pt. conversion against a Ravens team that can't close anyone out, this line would likely be the Lions as a FG favorite, maybe more. 
I watched the entire game against Baltimore, and I'm not sold that the Jaguars are very good, even after that win.
I have been impressed with the Lions recently as they are a young team that seems to be improving every week. The offense is coming together with Amon-Ra St. Brown back from injury, providing Jared Goff with a reliable downfield option. 
And the defense has been quietly improving, so it isn't the absolute catastrophe it was early in the season. 
Lions are another team that feels like it's on the rise. The Jags are still just way too erratic.