NFL Over/Under Team Win Totals Predictions
NFL OVER/UNDER TEAM WIN TOTALS PREDICTIONS – Greetings, Godzilla Wins readers. My name is Toby Wreathway and I'm going to be sharing some of my favorite wagers with you going forward.
First and foremost, if you haven't been betting on the Miami Heat, you should be. And if you have been, you should continue to do so, at least as long as they keep getting absurd lines. If the Heat are going to be +8.5 in every game, then I am going to continue to throw money at it.
That's about as deep as I will get into the NBA, as I am far and away most interested in NFL wagers. Given that we are heading into June, that leaves futures bets as the only option. So let's look at some good old Regular Season Win Total Over/Unders. I'll be using DraftKings lines as my reference here.
DraftKings gives a bunch of O/U options as various payouts. For example, you can take the Giants Over 3.5 wins at -5000 all the way up to Over 11.5 at a +750 payout. When I cite a total in my table below, I'm choosing the one with payout closest to +/- 100.

Every year, I rank the teams subjectively for the upcoming season. Yes, I'm going to be right on some teams and way off on some others, but that's essentially what we do every time we make a bet, isn't it?
2023 Projected SOS (Hardest to Easiest):

I also run some numbers from the previous season based on actual data but this is a new season and it just doesn't carry over like that.
I use these to get an idea of schedule strength ("SOS"), which arguably matters for win totals almost as much as how good the team actually is. My ranks are Z-scores, i.e. based on standard deviations.
In general, I'm projecting the Easts (both AFC and NFC) to have very difficult schedules.
The AFC East teams in particular have brutal schedules, at least given current expectations. That's generally a universal projection so nothing new here.
On the easy end, we have the NFC South (as usual with this trash division), NFC North and AFC South teams.
Feels like the AFC South has been a garbage fire since the Taft administration and that trend doesn't look like it's going to stop anytime soon. Good for the Jags, I guess.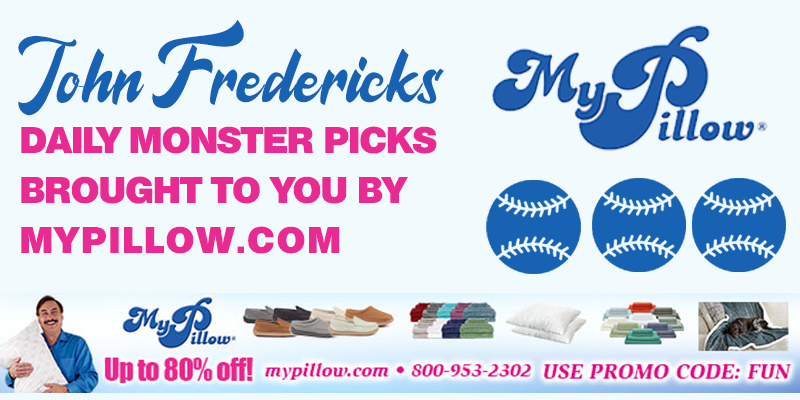 Projected 2023 Regular Season Standings
These are my projected 2023 Regular Season standings, at least as of today: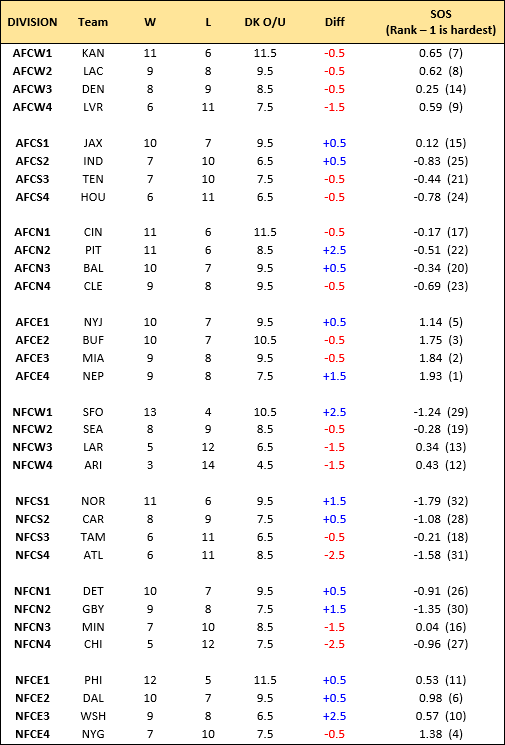 Alright, that's enough of the spreadsheets, nobody goes to a betting site to play Microsoft Excel. These are eight bets that I'm planning to take barring major changes over the next few months.
The Picks
PITTSBURGH OVER 8.5 (-135)  – Projected finish 11-6 / Strength of Schedule: -0.51 (22nd hardest)
Disclaimer: I am a Pittsburgh Steelers fan, so if you want to take this with an industrial-sized grain of salt, I don't blame you. But I do try to be impartial and I did think this team would be a quagmire of suck last season.
I don't love the -135 here, but the Steelers famously have not had a losing season since the the Siege on Gettysburg (I think) and they have what looks to be a relatively easy schedule in 2023.
They get their toughest team at home right off the bat when they host San Francisco in Week 1. If I had to play the Niners this year, I'd prefer to do so at 1:00 pm on the East Coast in a game where they might be starting Sam Darnold.
They get the Raiders, Texans, Rams, Titans, Cardinals, and Colts as well this season. Both their offense and defense will be better than they were last season. (The offense won't be good, it will just be less of an embarrassment, but that's still improvement). They weren't great last year but after they got Mitch Trubisky as far away from the field as possible and got to the weak part of the schedule, they just started winning. I'm taking a chance that they do the same thing this season.
The Steelers are +225 to go over 10.5 wins, but given that I'm probably injecting some bias here, I'm going to stick to the over 8.5 bet. Heed the advice of the renowned philosophers TLC and do not go chasing waterfalls.
SAN FRANCISCO OVER 10.5 (-120)  – Projected finish 13-4 / Strength of Schedule: -1.24 (29th)
I know they may be starting Sam Darnold or Trey Lance for a few weeks, but this team is still stacked at just about every position and they also have a cakewalk of a schedule to boot. This is largely because they don't have to play themselves.
If you do want to ignore Chili, T-Boz and Left Eye you can bet them to go over 12.5 at +240; however, there is enough uncertainty around the QB position that I wouldn't want to risk it. 10.5 wins gives a lot more wiggle room to allow for some bad breaks.
WASHINGTON OVER 6.5 (-120)  – Projected finish 9-8 / Strength of Schedule: 0.57 (10th)
Given the hilariously on-brand failure to trademark their own name, the Commanders may have yet another new moniker in the near future. Hopefully this doesn't hurt team morale, because I like them to beat their measly 6.5 win projection this season if they don't get sidetracked by management incompetence.
I do kind of like the DC Incompetence as a team name now that I think about it.
I don't think this team is particularly good, but they are lead by Ron Rivera, aka Mr. 7-9. Rivera has done a remarkable job carrying the torch from Jeff Fisher and I'm sure he has one last 3rd place in the NFC East run left in him before he gets canned by new Washington Antelopes management after the season.
Every year it seems like people predict four wins for Washington and every year they are average enough to double that. I also kinda like Sam Howell and, even if he flops, Jacoby Brissett will probably be a massive upgrade from the years of starting Wentz and Taylor Heinecke.
If you are truly bullish on this team for some insane reason, you can live life on the wild side and get over 8.5 at +275. On a bet of $100 that will likely pay out $0 * 2.75, or $0 total! LET'S GO FIGHTIN' BUREAUCRATS!

ATLANTA UNDER 8.5 (-120)  – Projected finish 6-11 / Strength of Schedule: -1.58 (31st)
I realize that this is a team with the 2nd easiest schedule in the entire NFL according to my projections, and that they were actually somewhat decent last season, and that even if I didn't like Desmond Ridder coming out it will be tough for him to be worse than Marcus Mariota was in 2022, and that handoff-savant Arthur Smith turned Cordarrelle Patterson into Eric Dickerson, et cetera et cetera.
I just don't think this team is going to be very good and I'm sticking to my guns on this one. O/U 8.5 is a high total for a shit team to be getting regardless of their schedule.
I actually kind of like under 10.5 wins at -330 odds. Ideally it would be closer to -250 or something but I am having a very hard time seeing the Atlanta Falcons playing 1996-style offense and getting to 11 wins.
CHICAGO UNDER 7.5 (+110)  – Projected finish 5-12 / Strength of Schedule: -0.96 (27th)
For whatever reason, I have watched a healthy portion of Chicago Bear football over the past two seasons. Let me tell you a secret, it's not very good.
At best, it is uncertain if Justin Fields can effectively play QB at the NFL level and when he actually does, the WRs generally let him down.
Is DJ Moore going to be worth like four wins? I can't see that happening. Is Chase Claypool going to stop being Chase Claypool? Chances are he will remain Chase Claypool. Can Darnell Wright effectively block 4+ pass rushers at a time as a rookie offensive tackle? Doubtful.
Can we get a season where Fields takes a massive step forward, the Bears field a competent OL, and the Eberflus defense makes a leap in year 2? Yeah it's possible but if I can bet against it and get +110 odds to do so, I'm gonna do it. 
GREEN BAY OVER 9.5 (+275)  – Projected finish 9-8 / Strength of Schedule: -1.35 (30th)
I am not saying that Jordan Love is better than Aaron Rodgers.
Aaron Rodgers is the patron saint of just spinnin' it and Jordan Love threw 17 picks during his last season at Utah State.
He had a somewhat impressive showing last season, but it was only a few attempts in the 4th quarter of a loss to the Eagles. But I think it did show that he will probably be competent. Between that and the Packers unquestionable burning hot desire to stick it to Aaron Rodgers, that might be enough to get to 10+ wins against one of the league's easiest slates.
I could have taken the Packers at -110 to go over 7.5 wins but I just have a good feeling about them being decent this year and I think this one is worth the risk to nearly triple the payout.
Arguably, it may be worth it to bet a bunch of teams at 1 unit to win/lose double digit games rather than risking 3 units at +/- 7.5.
In a vacuum, Christian Watson and Romeo Doubs would probably rather catch passes from late-career Aaron Rodgers than from the Drew Bledsoe of the Mountain West Conference. But they also might prefer to not receive a month-long silent treatment after running the wrong route.
I'm throwing money at morale here which maybe isn't the smartest play, but at least losing my money on dumb bets is more environmentally friendly than simply stacking it in a pile and burning it. I'm making a difference, are you?
NEW ORLEANS OVER 9.5 (+105)  – Projected finish 11-6 / Strength of Schedule: -1.79 (32nd)
As much as I tried to avoid this one, I just can't ignore the peripheral numbers any longer. I have been down on New Orleans for years. Their season-long under was my second favorite pick last year behind Seattle's over (I am a long-time Geno Smith truther and I have the receipts to prove it).
I don't like how this team drafts and builds their roster. I don't like their constant "this is our year" self-evaluations. Oh hell, I don't like how they play in that boring dome. Watching a Saints home game is torture; right down to their bland uniform colors. I think their primary color is bland. I don't really like Derek Carr either.
But that's why you run some numbers, to try and if not remove, at least minimize, the impact of emotion and "gut feeling" on decision-making.
Last year they had the transition away from the Sean Payton-era that people seemed to be ignoring. This year they don't. Andy Dalton played really well by Andy Dalton standards. Even though Derek Carr is a perennial disappointment, that's mainly due to the high expectations that come with his raw talent.
He should be able to play at an Andy Dalton level, no? Chris Olave looks like he'll be a star. Michael Thomas might play more than 3 games (though I wouldn't bet on it). Their defense still has high-end talent. And that schedule…to call it favorable would be a massive understatement. Easiest in the league according to my projections. They get:
Atlanta x2

Carolina x2

Tampa x2

Houston

Indy

Chicago

Tennessee

NY Giants

LA Rams
They will likely be favored in 11 of those 12 games, and maybe in all 12 if the Giants season goes the way I expect it to.
The other games are not against juggernauts, either – Minnesota, Green Bay, New England, Detroit and Jacksonville. So not only do they get the easy teams, they don't get any of the truly elite teams either. If the Lions or Jags are the toughest teams on your schedule then you have a very favorable schedule.
KANSAS CITY CHIEFS OVER 9.5 (-500)  – Projected finish 11-6 / Strength of Schedule: 0.65 (7th)
I just look at this one as "Will Pat Mahomes be injured for the entire season? (-500)". Tough division, tough schedule and low return on the bet, but in my opinion there are very few scenarios in which KC wins less than 10 games. 
Avoid
A few teams I'm avoiding at the moment:
New England

– I have them projected at 9-8, because their defense will be strong, but I can't ignore that they have the most difficult schedule this year. I also can't ignore that their offense is an affront to our sense of football enjoyment as a nation. No matter what I come up with in my projections, I just don't think this team will be good.
NY Jets

– Similar to the above, the schedule/division is brutal and while Aaron Rodgers will presumably be highly motivated, you usually can't just drop a QB into a new situation and expect immediate chemistry. 

What will Garrett Wilson do when he's basically running cardio out there, because Rodgers just wants to throw to his friends? I have them at 10-7 and winning that division but I don't think they will go 10-7 and I don't think they will win that division.
LA Rams

– They should suck, but I also can't see McVay just letting them suck. If Stafford is not permanently broken and Kupp doesn't get old this year (he's older than a lot of people think and will be 30 this season), they'll probably be annoyingly average.
Detroit Lions

– Everybody's darling but they're still the Lions and last season's success was in part to beating the lesser teams on their schedule last season, so I want to take the under. However there are no bets that I like for them and they should have a much easier schedule this season. I'm just staying away. Not going to slag on their draft like a lot of people have but I will say that anyone who compares Jack Campbell to Luke Kuechly should be tried at The Hague.
NY Giants

– I really, really wanted to be under on the Giants' total this season but Vegas is Vegas for a reason and they set it at 7.5. This is the most annoying O/U total ever and I don't want to go anywhere near it.
I will track these faithfully unless they start losing, in which case I will forget that I ever wrote this column.