The Pick
Brooklyn Nets at

Philadelphia 76ers

(+7) (o/u –)

Nets -7
The Details
Tipoff: Tuesday, November 22nd, 2022 7:30 pm EST
Where: Wells Fargo Center, Philadelphia, PA
Odds: Philadelphia 76ers +7, -- o/u
Odds courtesy of DraftKings, as of 11/22
The Word
The Brooklyn Nets take the train to Philly to face a hobbled Sixers bunch who is coming off a close loss to the Minnesota Timberwolves Saturday night.
Philadelphia is without James Harden, Tyrese Maxey, and Joel Embiid tonight. They will look to some key role players like Jaden Springer to provide a boost in this midweek matchup.
Nets star Kyrie Irving continues to face a plethora of controversy over an antisemitic movie recommendation. He returned to action Sunday night against the Grizzlies, where he scored 14 points over 26 minutes. Ben Simmons will also return to Philadelphia, where he so famously demanded a trade 2 years ago after a playoff series where he got the yips.
The public money is split 50/50 so far on the spread. Embiid's foot injury is baked into the line, as the Sixers continue to work through a slew of key injuries. Embiid will most likely miss the next two games.
Storylines abound in this Tuesday night game. Too bad we're only here to make money. Let's take a look at some of the best angles for tonight.
Injury Bug Gone Viral
I decided to play a stupid prop parlay in the MNF football game, so I'm trying to take my mind off that loser ticket by perusing the NBA lines for Tuesday's slate.
Let's dive into the Nets/Sixers game and see if we can't fall backwards into a winner.
The Sixers are 3-2 in their last five games with an impressive victory over the Bucks last Friday night. The team is 4-1 ATS in that timeframe and the under has hit in 3 of those games.
If you're thinking the line is a little wonky, you're right. It has to do with Philly's announcement that Joel Emibiid will miss the next two games with a foot sprain. The Sixers are already without Harden and Maxe. They're playing with half a team right now. Yikes.
Nets Nonsense
Can the Nets take advantage of a Sixers team that's missing many of their key pieces?
Brooklyn seems to be trending in the right direction. The team is 4-1 in their last five games. Kevin Durant is averaging 30.4 ppg. Simmons is finally getting involved and leads the team in assists with 5.7 apg.
The Nets are averaging 48% from the field this year and 83% from the line. They can score quickly and often and spread the love with an average of 26 assists per game.
Nic Claxton has been a serviceable big for the Nets this year and should have a big game without Embiid there to challenge him. Claxton is averaging 8.3 rebounds per game. Durant and Simmons aren't far behind Claxton at 6.8 rebounds per game.
The common narrative with this team is that there isn't much help for Durant and Irving, but the Nets have been playing much better on the performance of guys like Simmons and Claxton. These guys will eat without Embiid in the middle.
Matchup Mania
One of the things I love about this game is that these teams are so evenly matched. The Sixers are missing their biggest pieces and the Nets have everyone back and healthy. Take a look at the matchup, courtesy of ActionNetwork.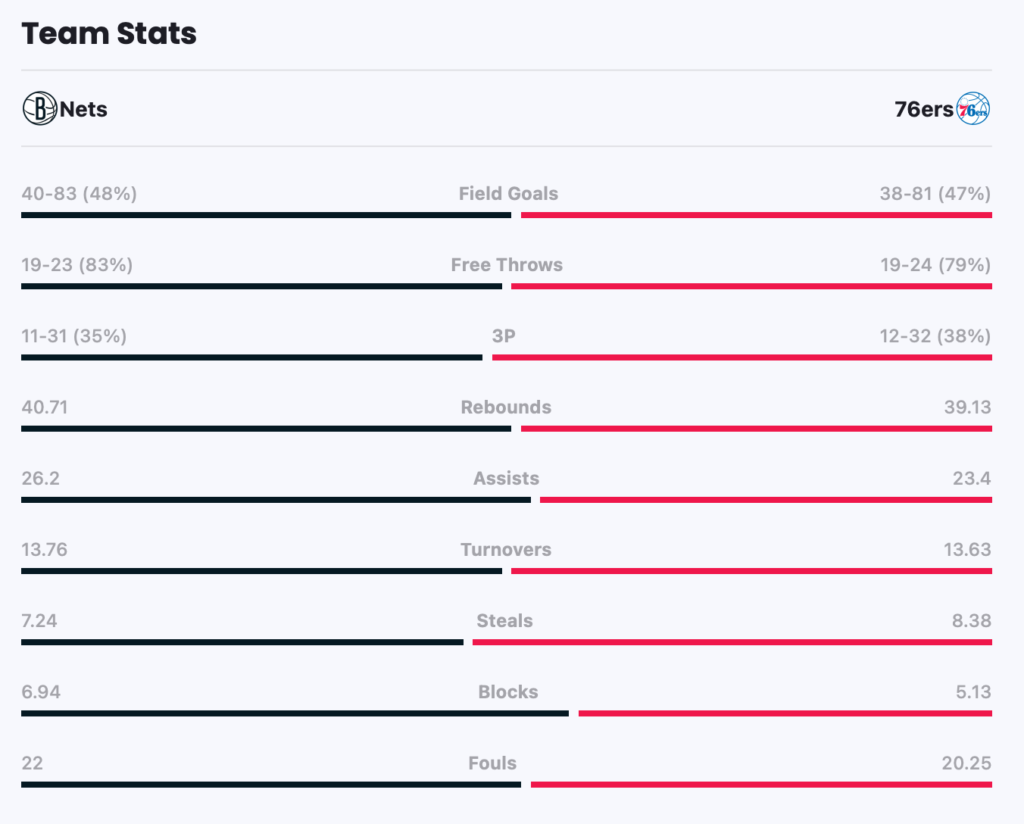 I love this graphic because it tells me that the team with its starters should cruise to an easy victory. Look for Ben Simmons to find more motivation than usual as he visits his old team.
The over might be worth a look here as well, once the oddsmakers set it. The Nets hate playing defense and they should see big nights from all Durant and Irving. They've hit on the over in 3 of their last 5 games as well.
Nets roll.
PICK: NETS -7