Las Vegas Aces vs Minnesota Lynx: Expert Pick – July 22, 2023
LAS VEGAS ACES VS MINNESOTA LYNX EXPERT PICK – JULY 22, 2023 – Happy Saturday basketball fans. Welcome back to our weekend coverage of the WNBA here at Godzilla Wins. After our earlier look at the Sun vs Dream, the second game we will preview is the Las Vegas Aces (20-2) taking on the Minnesota Lynx (10-12).
This matchup certainly appears to be a mismatch on paper. Read on to find out which team has the edge heading into this contest and why.
Tipoff
When: Saturday, July 22, 2023 at 3:00 PM ET
Where: Target Center, Minneapolis, MN
TV: ESPN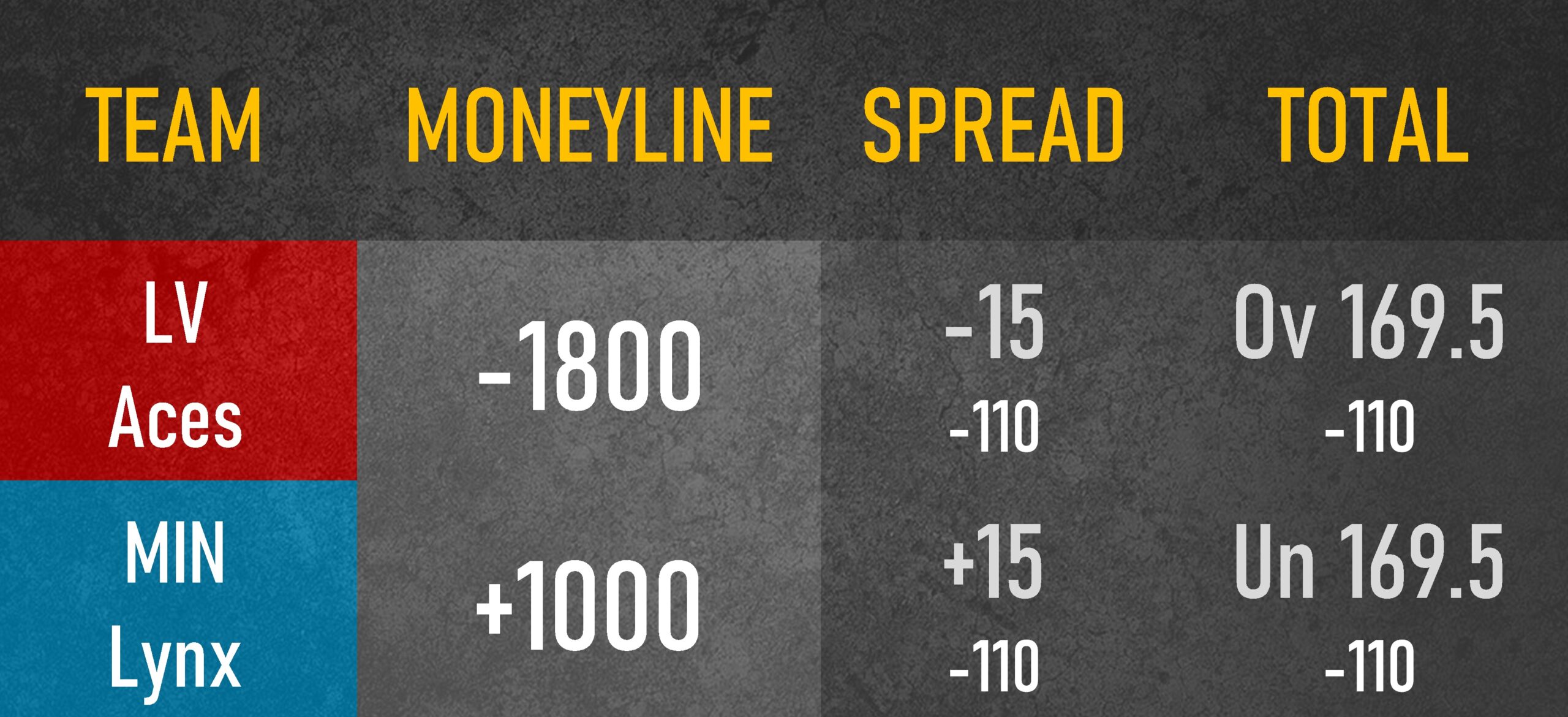 Odds courtesy of DraftKings as of July 22, 2023. Table provided by editorial staff.
Las Vegas Aces vs Minnesota Lynx – Season Trends
Why The Las Vegas Aces Are the Favorites to Repeat
Las Vegas has compiled winning streaks of seven and nine games this season. And following a recent 80-78 setback against the Dallas Wings on July 7, Las Vegas has rattled off four consecutive double-digit victories. But the story does not end there.
Las Vegas is ranked first in both scoring (93.3 PPG) and efficiency. Not only that, but the Aces also have the best scoring defense (allowing 77.9 PPG) and the best defensive rating in the association, giving up just 96.6 points per 100 possessions.
Here are a few other noteworthy stats about the defending champs.
Overall shooting: 50.2 percent (1st)
3-Point shooting: 38.2 percent (2nd)
Rebounds per game: 35 (5th)
Assists per game: 22.2 (2nd)
Steals per contest: 8.1 (3rd)
Blocks per contest: 5.4 (1st)
Point differential: +15.4 (1st)
Simply put, the Aces are head and shoulders above the rest of the playing field. And because of how dominant they have been, anything short of a championship would be considered an unsuccessful season.
Minnesota Lynx Struggling as Of Late
The good news is Minnesota has improved since its dismal 1-7 start. The bad news is despite going 9-5 since that time, the Lynx have dropped three of their last four contests, including a 113-89 loss to the Aces on July 9.
Fortunately, Minnesota got back into the win column with a 73-70 win against the Los Angeles Sparks on Thursday night. Napheesa Collier posted a game-high of 22 points to go along with eight rebounds.
Minnesota also got solid contributions from its rookies as well. Dorka Juhasz scored 16 points and pulled down 10 rebounds. Diamond Miller added 13 points, nine assists, and eight boards, handing the Sparks their seventh straight loss.
While the Aces are good at just about everything, the narrative is not the same for Minnesota. This team has the fifth-worst scoring offense (79.1 PPG) and efficiency rating. From a defensive standpoint, Minnesota is ranked ninth in points allowed (84.6 PPG) and they have the third-worst defensive rating in the league. In other words, the Lynx are going to need a miracle to pull out a win in this matchup.

The Picks
The Spread
The Aces are 15-point favorites in this matchup. While I don't care for large spreads, here is why I'm believing the Aces will cover.
Minnesota is 1-3-1 ATS in its last five contests.
The Lynx are 1-4 ATS in the last five games against the defending champs.
In three head-to-head meetings this season, the Aces defeated the Lynx by 21, 31 and 24 points, respectively.
Prediction: Las Vegas Aces (-15)
Over/Under
The projected over/under total is 169.5. Here are a few trends that suggest why going with the OVER is the smart play.
The OVER total has prevailed six times for Minnesota in its last nine games.
In the Lynx's last six home games, the OVER cashed in four times.
The OVER has hit nine times in Minnesota's last 13 games against Las Vegas.
The total has gone OVER 12 times in the Aces' last 16 road games.
The OVER total has cashed in nine times for Las Vegas in its last 13 games against Minnesota.
In the last six road games against the Lynx, the OVER is 5-1 for the Aces.
The average point total per contest for Las Vegas and its opponents is 171.2 points, which is slightly higher than the projected scoring total.
Prediction: OVER 169.5 points

Player Prop Bet
My key player to watch in this matchup is Las Vegas Aces guard Kelsey Plum. She currently has -110 odds of scoring more than 19.5 points and -120 odds of scoring less than 19.5 points.
In her fifth year with the Aces, Plum is averaging 19.1 points per contest, which is slightly lower than the projected point total.
However, in the team's 79-63 win over the Seattle Storm on Thursday, Plum posted her second straight 20-point outing. This was the fifth time she eclipsed the 20-point mark across her previous six contests.
And during this impressive stretch, Plum is averaging 24.0 points, 4.2 assists, and 3.7 rebounds on shooting splits of .580/.470/.920, while playing 31 minutes per outing.
Prediction: Kelsey Plum OVER 19.5 points
James's Picks
Las Vegas Aces (-15)
OVER 169.5 points
Kelsey Plum OVER 19.5 points