John Fredericks: MLB Moneyline Wagers – Monday, May 1st
Godzilla MLB Record 2023 
58-36
+$644 for the Season
JOHN FREDERICKS: MLB MONEYLINE WAGERS – MONDAY, MAY 1st –Yikes! We went a dismal 2-5 yesterday, spitting up -$530 on the day. That leaves us up +$644 going into May!
Let's get back on track! 
*Based on all wagers at $100 per game at money or run line odds as specified in Draft Kings. Note: If money line is –$150, we are laying $150 to win $100, etc.  If we take +$130 and we win, we win $130 for our $100.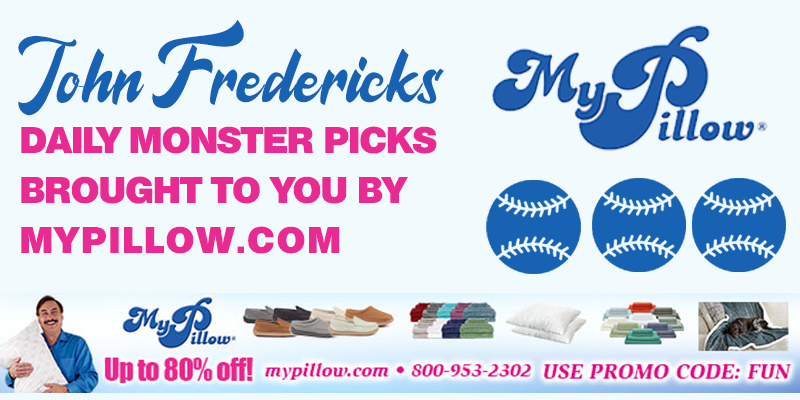 Cubs (-135) at Washington 
The once promising Cubbies need a win to get back on track after being swept over the weekend by the upstart Marlins.  
I love Drew Smyly! He's the Cubs new stopper, like back in the old days of Dennis Eckersley or Bill Hands. Remember them?  
He's been a beast in his last four starts, giving up just four earned runs over 23 innings. And the Nats are downright pitiful, despite their win on Sunday.  
Get this: Chicago is 11-3 in their last 14 games against left-handed pitchers. Hello MacKenzie Gore!  
The Cubs need to shake the Miami blues.  
Pick: Cubbies (-135) 
Blue Jays at Boston (+145) 
Don't look now but the Red Sox are on a modest roll! Winners of two straight–maybe they get hot at Fenway?  
Corey Kluber is coming off a great start against Baltimore — giving up just one run in six innings. He got torched in Minnesota (Twins players dubbed it: "Land of a 1,000 Rakes"), so maybe he's found his groove. Who knows? He's worth the value price at home.  
Meantime, I have lost on Jose Berrios three straight games. No, this is not a revenge bet! Ok, maybe a little. Berrios has been a pea-shooter on the road so far: 14 earned runs in 16.2 innings! Beam me up Scotty (actually back to Toronto).  
Pick: Boston (+145)