John Fredericks: MLB Moneyline Wagers for Wednesday, June 14
JOHN FREDERICKS: MLB MONEYLINE WAGERS FOR WEDNESDAY, JUNE 14 – Back in the black! I went 4-1 yesterday, giving me plus+$340 on the day! More importantly, that puts us back in black! We are about to go on a nice run before July 4. As you know I don't troll many pitchers, and we play the turns. The Royals, Tigers, Brewers and Rangers and Mets are losing. Fade away!
Here we go, fasten your seat belts
June 14, 2023
2023 MLB Godzilla Season Stats
135-105, +$205
*Based on all wagers at $100 per game at money or run line odds as specified in Draft Kings. Note: If money line is -$150, we are laying $150 to win $100, etc.  If we take +$130 and we win, we win $130 for our $100. 


Atlanta (-1.5 Runs, -110) at Tigers – GAME 1 
Spencer Strider got smoked last start and this is redemption day. The Tigers are not hitting as it is, without having to face Strider. They've lost nine of 10 and going nowhere! Braves need to get hot.
Pick: Atlanta (-1.5 Runs, -110) – Game 1
Atlanta (-160) at Tigers – Game 2 
I love the smell of WAMPUM in the afternoon. Tigers get swept!
Pick: Braves (-160)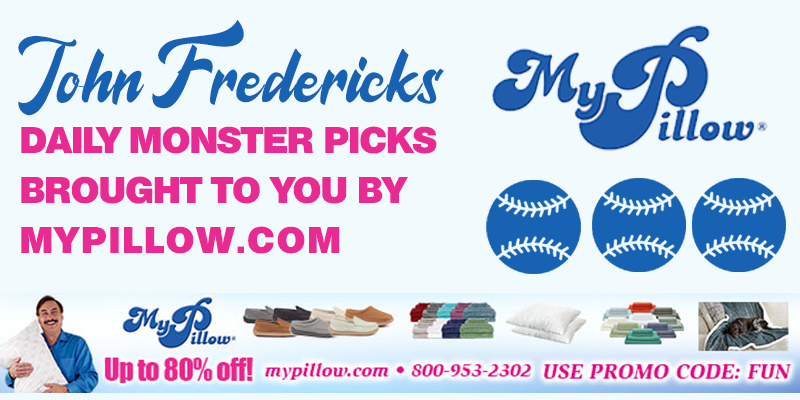 Brewers at Twins (-160) 
Milwaukee is puking up the place, the former worst 1st place team in history (now a game back of the Pirates). They've lost five straight.
Twins are a .500 team. I like Bailey Ober and his 0.97 WHIP.
Pick: Twins (-160) 
Yankees (EVEN) at Mets 
Cole vs. Verlander. Yankees vs. Mets. Lots of intrigue! LOL, Mets coughed up another hairball last night and have now lost two straight and nine of 10. Hey Steve Cohen, you dumb-ball, how's that Verlander $80 Million contract look now? Hahaha. Loser.
Pick: Yankees (EVEN) 
Angels (+130) at Texas
Don't look now but the Angels have a three game win streak! Wait a minute, the Rangers have a three game skid? The "fours" have it!
Pick: Angels (+130) 
Reds (Even) at Royals 
Reds have won four in a row and seven of 10. Royals have lost eight straight and dropped nine of 10. That's the only stats I need. Vegas wise guys are clue-less.
Pick: Reds (EVEN) 
Marlins at Mariners (-180)
I'm going to finally catch the M's on a hot streak. Luis Castillo is worth every penny of his contract! WHIP is 0.99 with 92 K's in 76 innings.
Pick: M's (-180) 
Pittsburgh (+135) at Cubs 
Pittsburgh has averaged 5.3 runs per game against lefty starter's this season hitting .276 as a team with an on-base percentage of .355. They love the lefty's! 
Chicago is coming off a big win yesterday…the thing about baseball with two basically .500 teams playing each other: things even out. 
Pick: Pirates (+135)