John Fredericks: MLB Picks for Tuesday, July 18
JOHN FREDERICKS: MLB PICKS FOR TUESDAY, JULY 18, 2023 – First I want to thank one our readers for pointing out my error yesterday on one of my games. I went 3-5 (not 3-4) and lost minus -$105 Vs. +$95. Thanks for the heads up! Transparency is paramount. This adjusts our season totals after last night (we went 1-1 and broke even with one game suspended) to 208-170-1 and plus +$520 on the season. We are really going to get a fire hose of winners started!
2023 MLB Godzilla Season Stats
208-170-1-1, +$520
*Based on all wagers at $100 per game at money or run line odds as specified in Draft Kings. Note: If money line is -$150, we are laying $150 to win $100, etc.  If we take +$130 and we win, we win $130 for our $100.
Gambling Problem? Call 1-800-Gambler


Giants at Reds (Suspended Game, 2-2)
Draft Kings has not graded this game so we will keep on the board for today. We bet the Giants last night at -145 so this holds until the suspension is completed.
Pick from Last Night: Giants (-145)           
Rays at Texas (-135)
The Rays are now playing good teams—and losing. Nathan Eovaldi is the Ranger's ace and he has been stellar this season, with an ERA of 2.83, a WHIP of 1.00 with 109 K's.
On the other side, Taj Bradley has stunk up the joint recently and a lot of Tampa's early season magic has dissipated. In his last four starts, Bradley has been a puke ball: opponents hitting .316 with an ERA of 8.29. Time to fade the Rays.
Pick: Texas (-135)
San Diego (-130) at Toronto
This is the last time I'm betting San Diego if they don't win tonight. I keep waiting for the streak that never comes! Tonight, however they face Alek Manoah, who has been horrific this season. This kid came to camp overweight, got hurt, and was in rookie ball three weeks ago after getting hammered early on. He was equally as pitiful in the minors. He got smoked like a Thanksgiving turkey by single-A hitters. How long can Manoah go on this way? One good start last week doesn't cut it for me!
Joe Musgrove has bounced back from his lousy start, and has been lights-out of late.
I'm on the PODS for the last time: when will they win? If they lose against Manoah tonight, you can stick a fork in this team—and indict the whole brain trust!
Pick: PODS (-130)
Dodgers (+110) over Birds
The Orioles are a really exciting team and could end up going deep in the playoffs. They have been feasting on some weak sisters of late – but good teams have to beat the bad teams over 162 games to be elite (see Astros over the last six years).
The Dodgers are getting hot, and they snapped the O's winning streak with a win last night. The Dodgers have won seven of eight and outscored their opponents 50-22 while averaging 7.14 runs a game in that span.
Icing on the Dodgers cake: Baltimore's Tyler Wells is due for a fall. I can feel it coming.
Pick: Dodgers (+110)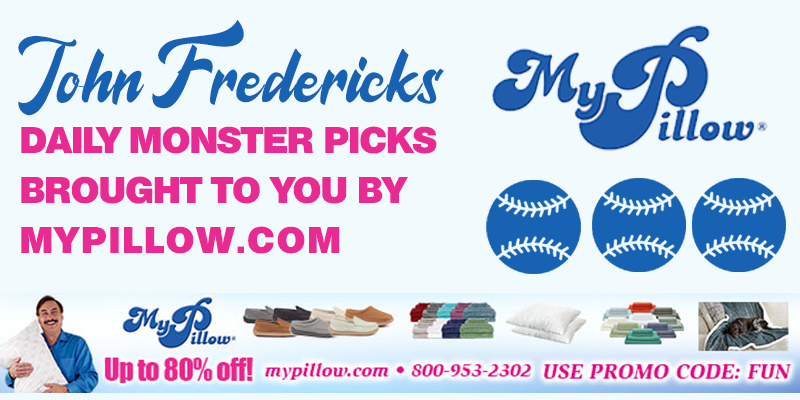 Cleveland at Pittsburgh (-115)
The Pirates got smoked last night 11-0. Time the turn the tables with their ace Mitch Keller. Teams that get blown out often come back and win the next day.
Pick: Pittsburgh (-115)