John Fredericks: MLB Moneyline Wagers for Thursday, July 6
JOHN FREDERICKS:MLB MONEYLINE WAGERS FOR THURSDAY, JULY 6, 2023 – Boom! We are on a roll now: 6-3 yesterday and winning plus +$420 makes us 18-7 and plus +$1,000 over the last four days. We had a big dog yesterday at Oakland +210 in a laugher over Detroit. On another note, I have not won a single over-under run game this season so I am DONE with that, having blown two last night, both by one run.
Our season now looks better: 184-155-1 and minus -$610.
Let's keep it going!


2023 MLB Godzilla Season Stats
184-155-1, -$610
*Based on all wagers at $100 per game at money or run line odds as specified in Draft Kings. Note: If money line is -$150, we are laying $150 to win $100, etc.  If we take +$130 and we win, we win $130 for our $100.
July 6, 2023
Reds (+110) at Nats
Cincinnati is the hottest team in baseball. The Reds Brandon Williamson pitched five strong innings against San Diego before the bullpen coughed up a hairball. Washington's Gore got blasted last week and is 1-4 at home. Why not stay with the red hot Reds?
Pick: Reds (+110)
Cubs (+110) at Brewers
I am going with Marcus Stroman not to lose two in a row. That's all the analysis I need for one of best starters in baseball in 2023.
Pick: Cubs (+110)
Blue Jays (-125) over Chisox
No different from yesterday's rainout.
Chicago's Lance Lynn has struggled mightily this season and can't seem to get it going. He lives and dies with the fastball, and he's going against one of the best fast-ball hitting teams in the MLB. Lynn's home ERA is 7.22 with opponents hitting .292 against him.
I have made a decent amount of money on Jose Berrios this season for good reason. Opponents have hit just .230 against him in his last five starts and he was lights out last start. Chicago is just not a winning ball-club right now, having dropped two of three to Oakland.
Pick: Blue Jays (-125)
Cards (+120) at Fish
The sad-sack Cardinals are a bust this season. The team is old and needs a complete re-tooling.
The one bright spot has been Jack Flaherty, who goes today in his last start prior to the break. He has his best start of the season last time out, throwing six innings of two-hit shut-out ball.
It's tough for any team to sweep a four game series. The baseball Gods even things out.
Pick: Cards (+120)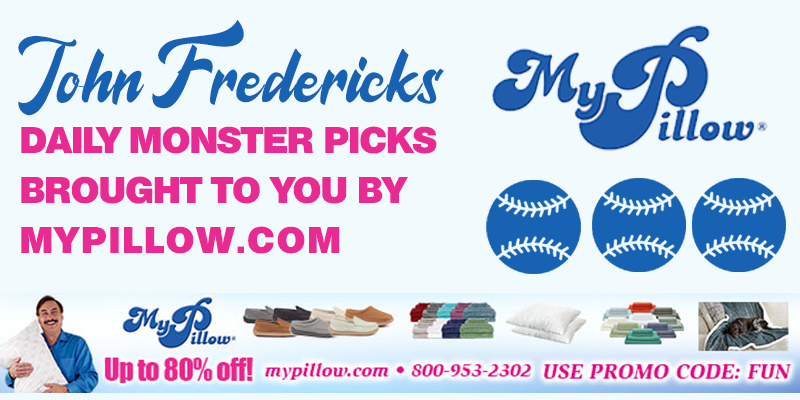 M's at Houston (Even)
The Astros are defying all logic and are the second hottest team in baseball. I'm going with their momentum here. They are winning with half a team and no pitchers.
 Pick: Houston (Even)