John Fredericks: MLB Best Bets for Saturday, June 3
JOHN FREDERICKS: MLB BEST BETS FOR SATURDAY, JUNE 3 – Not a bad night as we went 3-2 and increased our winnings by +$40. I'll take it. We are losing some tough games, but that's baseball. Keep the faith! Remember: don't bet only your best bet of the day (you will lose big over 162 games– and don't troll all pitchers. Both of these strategies will drain your account. Onward! We are now a clean 30 games over .500 at 117-87 and up plus +$530 on the season.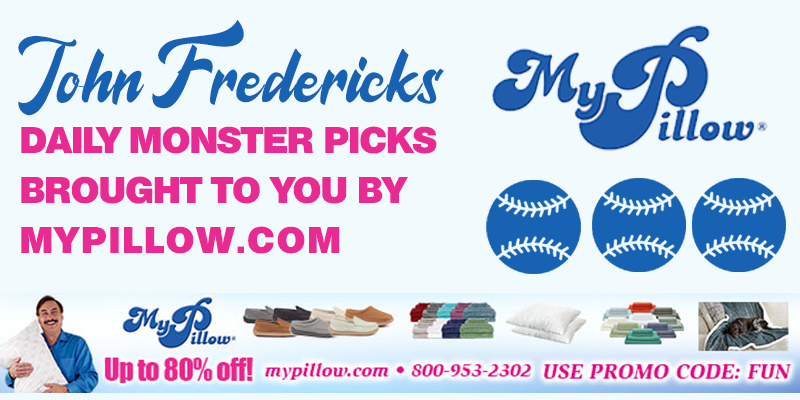 2023 MLB Godzilla Season Stats
117-87
Plus +$530
*Based on all wagers at $100 per game at money or run line odds as specified in Draft Kings. Note: If money line is -$150, we are laying $150 to win $100, etc.  If we take +$130 and we win, we win $130 for our $100. 
June 3, 2023
Oakland at Miami (-1.5 Runs, EVEN) 
Yikes. The A's got shut out again last night. Their combined road ERA is 8.75. Another losing streak on the road on is about to unfold. 
Pick: Miami (-1.5 Runs EVEN) 
Toronto (-115) at Mets 
The Jay's Jose Berrios has continued to pitch better and the bottom line is the Mets are this year NL version of the PODS—beat up the bad teams, struggle against the good teams. 
The Blue Jays lineup is relentless and they match up well here. The Mets Tyler McGill got lit up last week, not making it out of the fourth inning in Colorado. 
Toronto has averaged five runs per game on the road this season hitting .265 as a team. They have also averaged 4.7 runs per game in interleague play. Nice numbers. 
Pick: Jays (-115) 
Pick: Cleveland at Twinkies (-135) 
The Guardians can't hit a watermelon with a tennis racket on the road this year. I like the season Sonny Gray is putting together for the Twins: 4-0 with a 1.94 ERA and 1.19 WHIP with 70k's in 60 innings. 
Cleveland's punch and Judy's lineup is no match here for Gray. 
Pick: Twins (-135) 

Yanks (-110) at Dodgers
I only troll four pitchers this season: Cole, Valdez, Strohman and McClanahan. 
Did I say Cole? He goes tonight. 
Pick: Gerrit Cole and the Yanks (-110) 
Cubs (+150) at San Diego 
Yu Darvish has been inconsistent and the PODS are becoming the biggest bust since the New Coke. This team is the worst team per dollar spent in the MLB. You can't buy culture. The pressure is mounting on the Padres and Bob Melvin is about to go. Cubs are a crap shoot on any given night so I'll take the price. 
Pick: Cubs (+150)
Braves at D-Backs (+190) 
Let me get this straight: I get $190 to $100 on a first place team that's won six in a row, eight of 11, at home—against a team that almost got swept by Oakland and has dropped five of six? Who's pitching for Atlanta, Sandy Koufax? Beam me up Scotty! Sign me up! 
Pick D-Backs (+190)