John Fredericks: Best MLB Moneyline Wagers for Saturday, May 13
JOHN FREDERICKS: BEST MLB MONEYLINE WAGERS FOR SATURDAY, MAY 13
Godzilla MLB Record 2023  
77-50 
+$995 for the Season   
 *Based on all wagers at $100 per game at money or run line odds as specified in Draft Kings. Note: If money line is -$150, we are laying $150 to win $100, etc.  If we take +$130 and we win, we win $130 for our $100. 
May 13 2023 
Folks, we are on a 10 game win streak! Need I say more? We ran the table last night at 5-0. Let's get right to it!  
That puts us 77-50 and up +$995 peaches for the season. Godzilla goes berserk!  
The Dodgers are finally playing the kind of baseball we all thought they would. In the infamous words of the late, great Dennis Green: "They are who we thought they were."  
Joe Musgrove is yet to go six-innings in any game this season. On the flip side, Jose Urias has been rounding into top form. We all know he's got great stuff, maybe he puts it all together tonight.  
Pick: Dodgers (-155)  
Pirates at O's (-170) 
Don't look now, but the Birds are only four games back of 30-10 Tampa, which is off to the hottest start since the 30-5 Detroit Tigers in 1984.  
The Pirates are losing every day. Pittsburgh has dropped three in a row and 12 of their last 13 games. Yikes.  
Pick: O's (-170)  
Astros (+115) at Chi-Sox  
The White Sox nightmare season continues. Their bullpen has been atrocious, it's like trying to put a fire out with kindling wood. They go from bad to worse. Chicago's starter Dylan Cease has not thrown well since his opening gem against these same Astros. 
Houston has won three straight and they are trying to hold it together until Altuve, Brantley, McCullers, McCormick and Urquidy get back. Of more concern is Jose Abreu, who looks downright lost at the plate right now. Having said that, Houston as a road dog against this sorry bunch is a decent value.  
Pick: Astros (+115)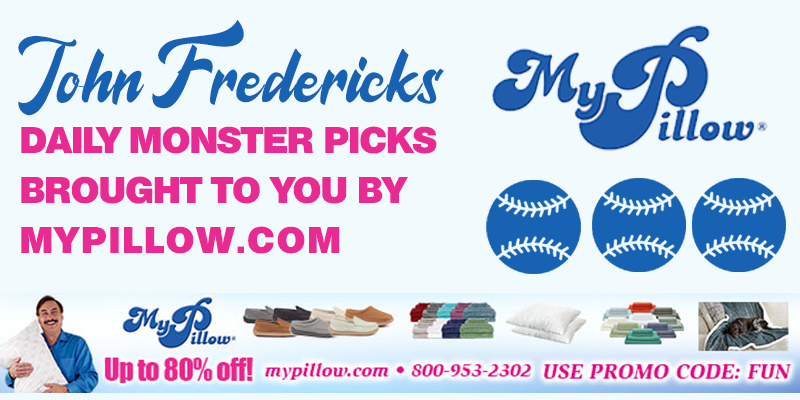 Tampa (-140) at Yankees  
This Rays team is relentless. They blew a tough game in the eighth last night, after taking the lead in the top of the inning. They were on the verge of beating Garret Cole two starts in a row.  
Now the Rays trot out Shane McClanahan: 7-0, 1.76 ERA, 1.13 WHIP, 58 K's in 46 innings. Good luck beating him today.  
 I don't troll pitchers, except McClanahan, Valdez, Cole and Kershaw. I troll them like a heart-throb groupie.  
Pick: Tamp Bay (-140)  
Cards at Bo-Sox (-130)  
St. Louis' opponents have averaged 5.4 runs per game against them over their last seven games, while hitting .272 as a team with an on-base percentage .351. That's a lot of baserunners at Fenway  
On the other side, the Red Sox average 6.2 runs per game at home this season hitting .296 as a team with an on base percentage of .356.  
Boston also has the superior bullpen. The Cardinals are just not that good.  
Pick: Boston (-130)  
Phillies at Rocks (11.5 Runs, Under -110)  
This is just too many runs. Maybe the Phillies rook starter shoves.  
Pick: Under 11.5 runs (-110)