John Fredericks: Best MLB Moneyline Wagers for Monday, May 8
JOHN FREDERICKS: BEST MLB MONEYLINE WAGERS FOR MONDAY, MAY 8 -After seeing Garrett Cole blow a 6-0 lead and losing two other games in extra-innings, I am glad Sunday is in the rear view mirror! Ugh. I took it on the chin for -$360 Pina Coladas, dropping me to + $65 melons for the season. Good news: it's May 8 and we are still in the black!  
Let's move on to Manic Monday.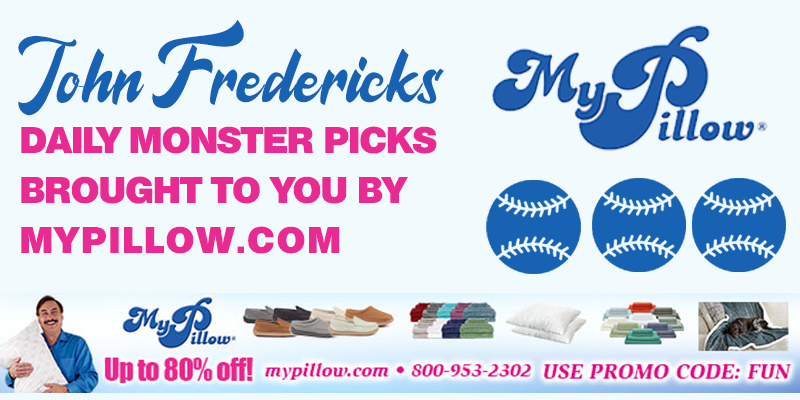 Godzilla MLB Record 2023 
65-48
+$65 for the Season  
*Based on all wagers at $100 per game at money or run line odds as specified in Draft Kings. Note: If money line is -$150, we are laying $150 to win $100, etc. 
 If we take +$130 and we win, we win $130 for our $100.
May 8, 2023
Rockies (+158) at Pittsburgh
The wheels have come off the Pirates, they just got blown out of PNC Park by the Jays and they've now dropped seven straight. Losing is no fun. Here's the downside: I'm oh- for-Colorado.
I have not won a bet on or against the Rockies since they had Dante Bichete in like 1997. One of these streaks has to end tonight!  
Pick: Rockies (+158) 
Cards at Cubs (-125) 
Vegas loves the Red-Birds. News-Flash: they stink this season!  
Their pitching is terrible and their manager is drowning. St. Louis' Miles Mikolas has been batted around like a cat-toy this season, giving up seven doctor longballs to complement his 5.79 ERA.  
Mark of a lousy team: Cards are 3-13 in their last 16 games following a win.  
Poor Cubbies leave more men in scoring position than Mickey Rooney leaves wives. The Cubs get no respect from the wise guys.  
Enter Marcus Stroman– to get a win — as he's been electric so far, sporting a 2.18 ERA. Chicago is 4-1 in last five games at Wrigley.  
Pick: Cubs (-125) 

Oakland at Yankees (-190) 
Oh please. This Yankees bunch can't keep losing like this, can they?  
While Nester Cortes has struggled on the road this season, he loves home cooking: ERA is 3.00 with opponents hitting .242 against him with 17 punchouts and just two walks.  
Oakland has hit just .210 against lefty starters this season while averaging 3.3 runs per game.  
Get this: their opponents have averaged 8.1 runs a game when their opponents start a southpaw! I thought I'd throw in that utterly useless statistic to make me look well informed and you'll be like, whoa, Godzilla does his homework!  
Not really, the A's just suck.  
All right, Jack Fredericks, my editor, says I need to submit at least 300 words per column or he relegates my picks to Twitter– so I'll throw in some meaningless statistics that have no bearing on anything to fill up space:  
 

Oakland's bullpen has an ERA of 6.70 and a WHIP of 1.73. 

 

 

New York has one of the best bullpens in MLB this season, with an ERA of just 2.45 at home and opponents have averaged just 3.2 runs per game against them at home this season, while hitting .212 against them as a team. 

 
None of this amounts to a hill of beans but this is what all the other loser MLB picker wise guys do on their Vegas pay to play sites.  
You know why this doesn't matter? New York spent their whole bullpen yesterday in Tampa trying to win a game where they blew a 6-0 lead.  
So, it's all nonsense, but I got to 300 words!  
Pick: Yankees (-190)