John Fredericks: Best MLB Moneyline Wagers for Friday, May 19
JOHN FREDERICKS: BEST MLB MONEYLINE WAGERS FOR FRIDAY, MAY 19 – We took a couple days off and went dark to regroup! Now we are back on it with some doozies tonight! We need to get over +$2k by Sunday!
90-60
+$950 for the Season  
*Based on all wagers at $100 per game at money or run line odds as specified in Draft Kings. Note: If money line is -$150, we are laying $150 to win $100, etc.  If we take +$130 and we win, we win $130 for our $100.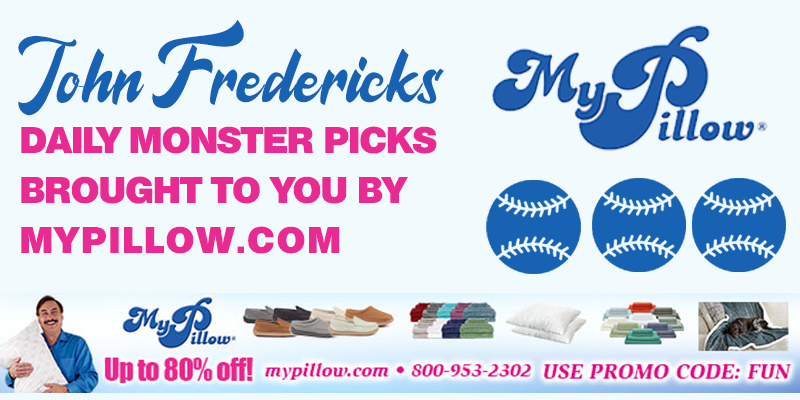 May 19 2023 
Oakland at Houston (-1.5 Runs -120)  
Houston is coming off a sweep of Chicago with a stunning four-run ninth inning come from behind win on Wednesday. So they have momentum, winning five in a row. Add to this the return of Jose Altuve tonight and Minute-Maid will be rocking!
Any time we can get the defending champions at this price against Oakland we just pound them. The Astros have beaten the A's six of their last seven home games.
Pick: Houston (-1.5 Runs, -120)  
Miami (+180) at Giants  
I can't believe I'm getting +180 on DK with Sandy Alcantara.
Yes, he got lit up like a Christmas pin-ball machine last start but this is an All-Star caliber starter.
The Giants have hit just .244 against Alcantara with a paltry on base percentage of .299.
On the flip, San Fran's Italian Stallion Anthony DeSclafini has allowed 15 hits and eight earned runs over his last two starts. The Marlins love to hit against him, going .339 against  lifetime with a whopping on-base percentage of .371.
Opponents have averaged 4.9 runs per game against San Francisco this season hitting .264 against them and hitting .275 against them in night games.
The Giants' bull-pen is a sieve with an ERA of 5.65.
Did you happen notice the Marlins have won four-straight? I did!
Pick: Miami (+180)  
Brewers (+230) at Tampa Bay
So the Rays have lost two straight and Shane McClanahan got toasted by the Yankees – coughing up a six run lead.
Milwaukee is in first place in the NL Central and I'm getting plus +$230?
Don't look a gift horse in the mouth! This is a value play based on Tampa's pats winning. Don't fall for it!
Pick: Brewers (+230)