The Godzilla Conundrum
John: I broke out of the doldrums last week, going 8-5-1, putting me at 25-31-2, a mere 6 games back. This is the week I get back to .500 ATS. The winners are coming in huge batches! I'm about to get smoking HOT for NFL Week 5! 
More good news: I met my column deadline this week so I don't have to have hear any more whining from my boys! I miss one week's deadline and I could hear the squealing from Mississippi! 
…And Nate still hasn't learned to post his own stuff on Godzilla Wins! 
I'm like,  "Hey boys — I run a business!" 
I'm teaching my professional educator sons how to be entrepreneurs – its sweat equity! Not easy! But we are getting there. Millennials want instant gratification. Boomers get the long game. It's a generational thing. 
Our site is rocking—Jack is the editor and the content is AWESOME! This thing is going to be HUUUGE! Check it out: here.
Bet Against the Godzilla
Jack: The Godzilla's introduction is a long way of saying that he's 25-31 after four weeks. And he lost Thursday Night's game. He sucks at this. 
The Colts also suck. On Tuesday, I wanted to take the Colts money line, because I had a feeling they'd do something dumb like win. Then I looked at all the metrics and decided to write five paragraphs about how the Broncos were going to cover. Two minutes before the game, the entire universe took the points total under so I decided to fade the public and take the over. The game was 6-3 when I shut it off in a furious rage. So I probably suck too. Follow my picks.
Only Winners
Nate: Ho-hum, cashed another winner on Thursday, unlike these other sadsacks in the column. Just gotta keep rolling through this season. Jack and I have been especially strong in the early going. Let's keep it up. 
Week 5: Here we go! 
Sunday October 9 
All odds courtesy of DraftKings as of 10/7.
Giants at Pack (-8) (o/u 41) 
Kickoff: 9:30 AM EST
John: I went against my better judgment last week in London and got burned like an over-fried fish and chip. I lost by a ½ point, after telling you these games are historically close. Fool me once, shame on me, fool me twice and I'm too stupid to have a job. This is another game where Rodgers is generally disinterested, doing us a favor that he's even playing. The most fun thing to watch is his facial expressions when his rook receivers run the wrong routes! Priceless! I'll bet the dog here as a bored Rodgers goes through the motions in the morning. 
The Giants are not that good – but at least they play with heart. Pick: Giants +8. 
Jack: Our friends at Football Outsiders can give us a good glimpse into this game. The Giants are one of the biggest frauds in the NFL. They rank near the bottom in total DVOA. Their run defense is atrocious. The offensive line might make you jealous for the Colts. They have a weak QB who makes too many mistakes. They shouldn't be 3-1.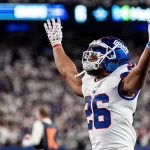 However, they rank 7th in overall passing defense and they can run the ball well. Saquon Barkley ranks 13th in DYAR, which means he's valuable to the Giants, but not the whole picture. We know the Giants want to run the ball and this could be a problem for the Packers, who rank 28th in DVOA for rushing defense. 
If Daniel Jones can stay out of his own way and the Giants can control the clock with Barkley, they can limit Rodgers' opportunities to score quickly and keep the game within eight. I'm with the Godzilla here. Pick: Giants +8.
Nate: This game is a perfect opportunity for a teaser. A teaser is essentially a parlay, but instead of paying 2.5/1, it pays -120 at both places. Why would you take those odds, you might ask? Well, the most common teaser is six points. So, in this case, by teasing the Packers, we reduce the point spread from -8 to -2 which crosses us through the key numbers of 3 and 7. This is the ideal way to play a teaser when you can cross through those two numbers.
Now that I've spent all this time explaining it, I'll spare you the runaround on why to bet it. Packers are a better team and favorites win in London. At -2, you're essentially betting that the Packers will win. Take them with Jacksonville because the teaser moves through 3 and 7 on that game as well. Pick: 6-pt. teaser GB -2/ Jax -1.
Steelers at Bills -14 (o/u 45.5)
Kickoff: 1:00 pm EST
John: Check this out: the Steelers are the last team since the AFL-NFL merger to ever be a 14-point underdog. This is deserved, as this team is putrid. They had to bench Mitchy T last week, to no avail. Now they go on the road to a rather surly Buffalo bunch. Two weeks ago Buffalo looked like a 17-0. They came within one dumb call from Harbaugh to being 2-2. I think they take out their frustration on a hapless Steelers team with no offense. If you don't score, you're not likely to cover. 
Pick: Bills -14.
Nate: This feels like a probable blowout. This is the biggest underdog spot of Tomlin's career and the team looks like a mess. Bills probably roll here, but I worry about an emotional spark from the Steelers that leaves the backdoor open. The only way I would want to bet this is if the Steelers are feisty and hop out with an early lead, then it's time to hammer the Bills live with a reduced spread. As it stands now, laying that many points in the NFL is against my religion. No Pick.
ACS (Atlanta Clown Show) at Tampa Bay (-10) (o/u 46)
Kickoff: 1:00 pm EST
John: Bring in the clowns! The Maestro and his dancing Pomerons are playing for first place in the NFC South after game 4! Plus they are 4-0 ATS. Bucs have a plethora of injuries to deal with, and even though the Clowns are without their star RB Cordarrelle Patterson, they have capable backups. This Falcons team hangs around games and I like the points here. The Bucs will be ahead by 16 with 2:00 minutes left and the Dirty Birds score a garbage touchdown with 8 seconds left on a fourth and goal at the 7 to give me a back-door cover. Perfect. Pick: ACS +10.
Jack: This line is influenced by two major injuries for the Falcons: Codarrelle Patterson (RB) and Kyle Pitts (TE). Patterson ranks 2nd in DYAR among running backs and Pitts ranks 12th in DYAR for tight ends. These are the two most important offensive weapons for the Atlanta Falcons and they're both out with injuries. Who scores for this team? The Bucs defense is still nasty and Mike Evans is healthy. He clocks in as the second most important WR in terms of DYAR in the league.
How about tempo? The Bucs rank fourth in seconds/play (26.15) so they like to move fast. The Falcons are a bit slower at 28.11 seconds/play, which ranks 17th. Here's the stat I love: the Bucs slow it down to 29.82 seconds/play when they get up by more than a touchdown. I think they slow it down as soon as they're up big and the under is a safe bet. You can root for the backdoor cover if you want, but the Falcons are going to struggle to score. Pick: Under Total Points +/- 46.
Kyle Pitts just being Kyle Pitts.#ATLvsNYJ || #DirtyBirds pic.twitter.com/14CPjE7WOw

— Atlanta Falcons (@AtlantaFalcons) August 23, 2022
Bolts at Browns (+2) (o/u 47)
Kickoff: 1:00 pm EST
John: Herbert is back. The Bolts are back. The Browns are a mess as usual, and as unpredictable as ever. This is the third road game and second straight for the Chargers, but they find a way. Cleveland's off field shenanigans never seem to cease. Although I love their mid-field logo, the Chargers move the ball at will. Pick: Bolts -2.
Fish at Jets (+3.5) (o/u 45.5) 
Kickoff: 1:00 pm EST
John: I'm too upset at Miami for letting Tua play with that concussion to ever bet them again with Teddy Bridgewater. 
So I'm going with the Jets on top of Jimmy Hoffa's grave. No one will bet the Jets but me. That's why I'm consistently up big when the Super Bowl bell rings. This is Zach Wilson's day. The concussion protocol God's will not be smiling on the fish. The grim reaper cometh.Pick: Jets +3.5.
Nate: I love the Dolphins here and I love them even more if you can find -3 somewhere. The Jets won a pretty fluky game last week and I don't think the market is respecting Teddy Bridgewater.
People are giving all the credit to Tua for leading this offense, but I think the key for them has been that Waddle and Hill just get open a ton because they are really, really good.
The Jets secondary is trash, and Teddy Bridgewater is a very solid backup. Don't buy into the hype for the Jets, and don't discount the Dolphins with Teddy under center. This is my favorite play of the week. Pick: Dolphins -3.5
Bears at Vikings (-7.5) (o/u 44)
Kickoff: 1:00 pm EST
John: Chicago is pathetic. They have a quarterback who the coaches won't let throw the ball down the field. They don't score any points. The Vikes served up another crap show in London. As I've said, they manage games to the opponent. One of these home games they light up the tote-board. Difference is this season they are winning the close games. Cousins needs a blow-out. Pick: Vikes -7.5.
Texans at Jags (-7) (o/u 43.5)
Kickoff: 1:00 pm EST
John: Well, here we are. Week 5 and Jacksonville actually has a meaningful home game after so many years of futility. They are tied with the Titans for the division lead. Trevor Lawrence has matured, and their offense is potent. 
Houston, meanwhile is winless and clueless. Davis Mills is a game away from the practice squad. 
Two teams heading in opposite directions. 
I went to a lot of JAGS games when I worked for the Daytona Beach News Journal when Tom Coughlin was the coach. The fans back then were great, and I actually interviewed Coughlin twice. Back then we did something called the Football Dunkel Index. Our senior editor was Dick Dunkel, the founder of it. We'd have dinner at his home every Wednesday night reviewing our power ratings. This was before the internet, when a sports page mattered. Old school. The kids today don't even know what a box score is. 
This one's for you Dick– a great iconic newspaper editor. BTW, we had great local news coverage in Daytona Beach before the hedge fund gangster bankster weasels bought it and gutted the newsroom. Pick: Jags -7.
Nate: Another Sunday in the NFL, another day to root for my literal pile of Jags futures bets. I'll be teasing them with GB (read the GB/NYG breakdown for the rationale). If you're looking to play this game on the spread or total rather than tease Jacksonville, I would look at the Texans and the under. After Trevor Lawrence's disaster last week, I wouldn't be surprised to see a more conservative effort against a clearly worse team in the Texans. Low scoring means that the Texans might just be able to hang around and sneak through the backdoor getting 7 points. PIck: 6-pt. teaser GB -2/Jags -1
"It's a good problem to have."

Coach Pederson on @jamalagnew's emergence and spreading the ball to our playmakers. pic.twitter.com/Uga1sfgu6Q

— Jacksonville Jaguars (@Jaguars) October 7, 2022
Lions at Pats (-3) (o/u 45.5)
Kickoff: 1:00 pm EST
John: OMG, the Lions defense is a cross between swiss cheese and a spaghetti strainer. I could play quarterback and score on this team. The Pats will win this game at home, as the real Lions showed up last week. Watching the Pats defense consistently harass Rodgers last week was truly impressive. I like Billy B and this defense at home, and with disaster called the Detroit defense I have no fear of laying points. Pick: Pats – 3.
Jack: Whenever the Godzilla starts off analysis with "OMG," you know his pick is trash. Yes, the Lions defense has been bad. They rank 32nd in DVOA for run defense. They give up 165 yards per game on average on the ground. Want some more good news? The Patriots' offensive line is considered one of the best in the league. Why? Because they are the most powerful offensive line in the run game and allow their running backs to get to the second level. Damien Harris is going to eat on Sunday. He's going to look like Barry Sanders. Those all point to a Patriots cover.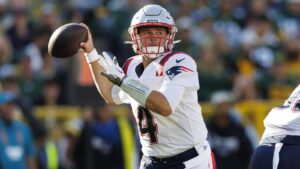 The problem? The Patriots have to play Bailey Zappe. Last week, we urged you to take the Lions at pick 'em, because we figured the line would move and you'd have to lay points against the Fighting Zappes. But then the Lions defense looked anemic in Week 4 and the Pats covered in a big primetime game and the line moved the other way. Take the 3. Bailey Zappe isn't blowing anyone out. Pick: Lions +3.
Nate: The Patriots guard secrets more closely than the CIA, and who knows when Mac Jones will be back. Based on his injury, I suspect he's still out and if he does play, he's probably hobbled. This isn't the type of offense that is built to expose a very bad Lions defense. Lions have their own question marks with injuries, but I love getting them at +3. This is probably my second favorite play of the week. Pick: Lions +3
Titans at Washington What-Evers (-2) (o/u 43)
Kickoff: 1:00 pm EST 
John: I love the Titans on the road playing a declining Washington team with Carson Wentz struggling mightily. The King got back on track last week with a vengeance and Tannehill is playing error free football. Their O-line is coming together – and coming to grips with Taylor Lewan's season ending –and maybe career ending injury. With rookie Treylon Burks possibly out with a toe injury, expect a steady dose of Derrick Henry. 
Center Ben Jones may see limited action, which is my major concern. The Titans need this game to keep rolling, and The What-Evers are a collapsing franchise. 
The game opened at 2.5 and got bet down to 1 in Vegas last night, before going to 2. Vegas Wise Guys have no respect for Tennessee, based on their four consecutive second half disasters. Vrable figures it out this week. 
Wentz has been sacked 17 times this season, has thrown three picks and has two intentional groundings. Wentz is tough, he likes to hold the ball. This is the best Titans defensive scenario. Pick: Titans -2.
Hawks at Saints (-5) (o/u 45)
Kickoff 1:00 pm EST
John: Why waste a lot of time writing? I am taking Geno plus 5 on the road. Why not? The Saints don't score. You have to score points to cover spreads. I can go on and on, but Seattle has played three of four teams tougher than expected. Numbers don't lie. Pick: Seahawks +5.
Nate: Geno Smith is an elite quarterback per basically any advanced metric you look at, and I talked about him in my column. The Saints have a lot of injury question marks on offense, which is troubling.
With so many unknowns for the Saints and a public that is slow to embrace the possibility that the Seahawks might actually be an O.K. team, I think this is a good spot to take the Seahawks as a 'dog. Pick: Seahawks +5
Through 4 weeks, Geno Smith is 5th in epa/p, 4th in success-rate, 1st in CPOE.

His efficiency remaining stable with his ADOT climbing (currently 16th at 7.9) is also a great sign for the offense's season long prospects. If the OL continues to hold up… pic.twitter.com/j5ts8I7hfJ

— Irreversibly Genopilled (@cmikesspinmove) October 3, 2022
Niners at Panthers (+6.5) (o/u 39.5)
Kickoff: 4:05 pm EST
John I can't bet Baker Mayfield – he's not an NFL quarterback. I'll go with that SF suffocating defense we saw Monday night. Charlotte is a disaster and their head coach is out by Halloween week. This game should be 8 or 9, not 6.  Pick: Niners -6.5
Jack: This spread is difficult because the Panthers don't score, but neither do the Niners. Carolina doesn't get a ton of respect for their defense, but they are ranked 12th in total defensive DVOA and 10th in defensive DVOA against the rush. Baker might not score, but the defense usually keeps the Panthers in games long enough to cover. 
San Francisco is one of the slowest paced teams in terms of tempo (30.06 sec/play), which means that once they get a lead, they just hold on for dear life. 
The Panthers are middle of the pack in terms of running the football. I wish they'd do more of that so I can cover and hit the under. Let's root for a snooze. Pick: Panthers +6.5 and Under Total Points +/- 39.5.
Eagles at Cards (+5) (o/u 48.5)
Kickoff: 4:25 pm EST
John: Who can stop them? 
The Cardinals have the worst defense in the NFL. The Birds have the best offense in the NFL. The Eagles are playing great football on both sides of the ball, and they should win this one easily against a very suspect Cards bunch. I'll bet Philly until someone beats them. Might be awhile. Pick: Birds -5.
Cowboys at Rams (-5.5) (o/u 42) 
Kickoff: 4:25 pm EST
John: I'm taking the points. The Rams O-Line is a catastrophe. Who is going to stop Micah Parsons? This Cowboys unit leads the NFL in sacks and creating negative plays. How many times was old man Stafford sacked on Monday night? Try seven. What will change? Backup QB Cooper Rush lets his defense win games. Same scenario, different Sunday. Dallas wins the whole game. Pick: 'Boys +5.5.
Jack: The Rams have given up 16 sacks on the year, but Matthew Stafford still does a fairly nice job getting the ball out quickly. The question is if it will be enough against a nasty Cowboys defensive line. 
Most metrics put the Dallas defensive line at the absolute top. They've recorded 15 sacks. They create pressure on almost every passing play. They bend against the run, but rank 16th in 2nd level yards. Here's where they falter: open field tackles. They can't make an open field tackle, especially if the ball is in the hands of a player not named Matthew Stafford. 
I think McVay is probably smart enough to realize this and play dink-and-dunk, silly screen offense. If they can get the ball out quickly, they'll be able to score. The Rams defense doesn't give up a ton of points either and 5.5 points isn't too much to give up in a game like this. Pick: Rams -5.5
Nate: The Cowboys have been proving that they can win games, regardless of who is under center. Rams have looked out of sorts to start the season and most of their metrics suck. This might be a sucker/homer/square bet, but the Cowboys are rated 6th in efficiency per Football Outsiders, and the Rams rank 26th. I'll take the points with a team that seems to be rolling. I'll live with it if this is a trap. Pick: Cowboys +5.5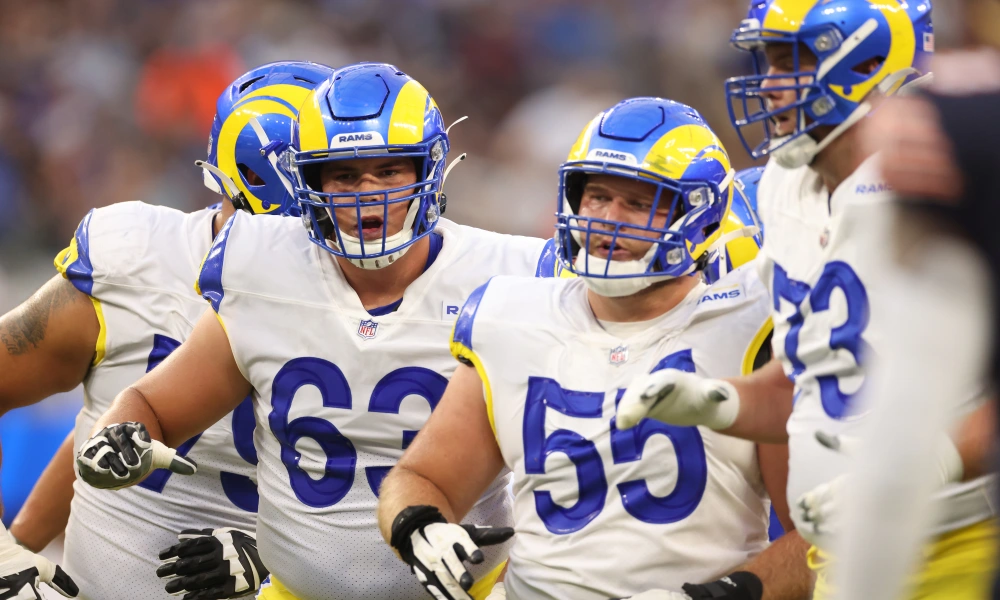 Bungles at Ravens (-3.5) (o/u 47.5)
Kickoff: 8:20 pm EST
John: Lamar Jackson is playing much, much better than Joey Burrow this season. The Ravens have underperformed on the win-loss column. They could easily be 4-0. But in the famous words of Big Tuna Bill Parcells: "You are what your record says you are." Jim Harbaugh has a five-game home losing streak. 
As long as Harbaugh keeps making insane calls at the end of games, and Ravens secondary takes a nap in the fourth quarter, I'm betting against them. Go ahead, prove me wrong. Losing becomes contagious. 
The bottom line: Baltimore is finding a myriad of ways to lose. The Bungles hang around in this one just long enough to pull it out. Ever notice how dreadful the Bungles look sometimes — and they seem to still be in the game? Pick: Bungles +3.5.
Jack: The Ravens are missing a few key players and this is a divisional rivalry in primetime. The Ravens have trailed in their two losses by a combined 14 seconds. That's great news for the Bengals who have just as much scoring power as the Dolphins and the Bills. The Bengals might be feeling the heat in the first half, but they'll rip off some quick TD's in the fourth quarter and cover this bad boy. Love the Bengals here. Pick: Bengals +3.5.
Raiders at Chiefs (-7) (o/u 51.5) 
Kickoff: Monday, 8;15 pm EST
John: Monday night at Arrowhead. Are you kidding me?  Sorry, Raiders. Prime time in Kansas City is not a good time to play the Chiefs. Plus, the Raiders are not stopping anybody these days. Arrowheads -7
Stay Tuned for the Week 6's Monday Night Game…
Good morning #BroncosCountry pic.twitter.com/WqQsi2IgyI

— Denver Broncos 365 (@DailyBroncos) October 7, 2022