Heat vs. Nuggets NBA Finals Game 2 Preview and Prediction
HEAT VS. NUGGETS NBA FINALS GAME 2 PREVIEW AND PREDICTION – Greetings basketball fans. Welcome back to our NBA playoffs coverage here at Godzilla Wins. The No. 8 seed Miami Heat will take on the No. 1 seed Denver Nuggets in Game 2 of the NBA Finals. 
Here is a look at which team has the edge in this matchup and why.
The Odds
Matchup

 

Open

 

Spread

 

Total

 

Moneyline

 

Miami Heat

(0-1 SU in Series)

 

O214.5

 

+8.5

O216

 

+300

Denver Nuggets

(1-0 SU in Series)

 

-9

-8.5

U216

-365

Tipoff
When:
Sunday, June 4, 2023 at 8:00 PM ET
Where:
Ball Arena, Denver, CO
TV:
ABC
Public Money: Heat, 52%
Public Bets: Nuggets, 54%
Odds Courtesy of
DraftKings
as of June 4, 2023
How We Got Here & Game 1 Recap
In the series opener, the well-rested Denver Nuggets prevailed over a Miami Heat squad that looked fatigued coming off a seven-game series in the eastern conference finals. Denver led by 17 points at the break (59-42) and jumped out to an 84-63 edge heading into the final frame.
At the start of the third and fourth quarters, Miami cut into the deficit and trailed by just nine points with 2:34 remaining. But as it had done all game, Denver had an answer and eventually went on to win 104-93. Nikola paced the Nuggets with – you guessed it – another triple-double that included 27 points, 10 rebounds, and 14 assists. I would also like to point out that he produced those 27 points on just 12 shot attempts, seven of which came in the fourth quarter. 
Meanwhile, Miami – who entered Game 1 as the best 3-point shooting team in the playoffs – could not throw the ball into the ocean.
Caleb Martin (1-for-7), Max Strus (0-for-10, and 0-for-9 from 3), and Duncan Robinson (1-for-6) shot a combined 2-for-23 from the field and two for 16 from beyond the arc. That equates to an eight percent conversion rate.
Not only that, but Jimmy Butler recorded a postseason low of 13 points on 6-for-14 shooting from the field. And Miami attempted just two free throws for the entire game, setting an NBA Finals record for the fewest attempts from the charity stripe.
One of the biggest takeaways from Game 1 is that Denver probably did not play its best game, but led by as many as 24 points and won the game by a double-digit margin. Miami is 0-7 in its last seven games against Denver and they will have to be more aggressive at both ends of the floor to avoid falling into an 0-2 hole heading back to Miami. 
Here are my picks in what is a pivotal Game 2 for the road team. 
The Picks
Over/Under
The over/under total opened at 216 points. That line has moved to 215.5. 
During these playoffs, the teams are averaging a combined 226.3 points per contest. Here are a few other noteworthy trends that suggest why going with the OVER could be the wise play.
The OVER total has prevailed four times in the last five games for Miami when they have played on two days of rest. 
The OVER is 6-2 for the Heat in their last eight road games against teams with a home winning percentage of .600. The Nuggets were 34-7 during the regular season (.829), and they have won all nine of the nine contests at home in the playoffs. 
The OVER total has hit 10 times for Miami in its last 14 road games. 
The OVER is 6-1 for Denver in its last seven games against teams with an overall winning record. Miami was 44-38 in the regular season and 12-7 in the playoffs. 
Finally, the OVER boasts a 5-1 in the last six meetings between these two teams and 4-1 in the last five matchups in Denver. 
Prediction: OVER 215.5 points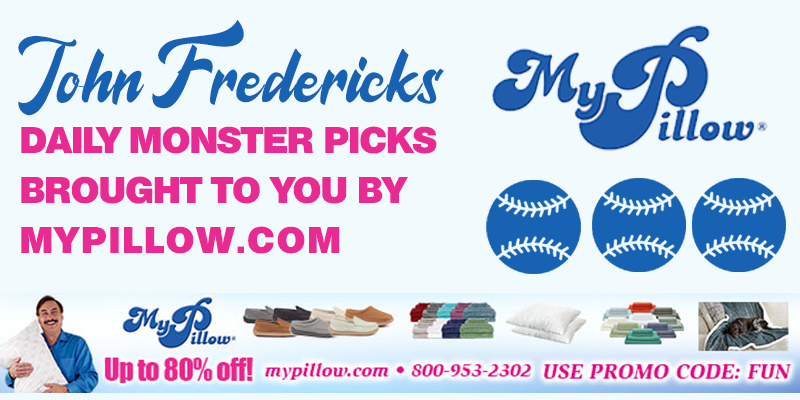 The Spread
The Nuggets opened as a consensus 10-point favorite for Game 2. That line has moved to (-8.5). 
The Heat are 6-2 against the spread following a SU loss and 6-2 ATS following an ATS loss. 
Miami is 11-4 ATS in their last 15 games against teams with a winning percentage of .600 or better. The 
Miami is 12-5 ATS in its last 17 games. And the team is 12-5 ATS in the last 17 games against teams with a straight-up winning record. The Nuggets' combined regular season and postseason record is 67-31 (.684).
Furthermore, Miami just missed hitting the spread in Game 1 despite Jimmy Butler posting a season-low and their 3-point shooters struggling. If Butler searches for his shot and puts pressure on the Nuggets' defense, the Heat should be able to cover the spread.
Prediction: Miami Heat (+8.5)
Player Prop Bet
For the second consecutive game, my key player to watch in Game 2 is Jimmy Butler (a.k.a. Jimmy Buckets). He currently has -110 odds of scoring more than 26.5 points and -120 odds of scoring less than 26.5 points. 
Although Butler's scoring output was pedestrian in Game 1 (13 points), he is averaging 27.6 points per contest during Miami's playoff run. Miami is 10-2 in the playoffs when Butler scores 25 points or more. And since I am banking on him having a different mentality in Game 2, I'm going with the OVER here. 
Prediction: Jimmy Butler OVER 26.5 points

James's Picks

Over 215.5 points

Miami Heat (+8.5)

PPB: Jimmy Butler OVER 26.5 points