UGA 27 – Tennessee 13
For years, my cousin from Louisville wanted to come to a Georgia game to experience an SEC football environment. Before the season began this year, I told him to come to the Tennessee game; it would be the best home game of the year. 
Neither of us expected it to be a #1 vs #3 contest, and certainly not with the Vols ranked #1. The atmosphere could not have been more electric. In the second half the skies opened up while Georgia stifled the Tennessee offense.
After forcing a turnover on downs, rain-soaked Dawg fans were going ballistic. Crowd noise hit over 130 decibels in what may have been the loudest game in Sanford Stadium history. Tennessee subsequently got 6 false start penalties. 
Slow Start
The Dawgs stumbled out of the gates. After a couple of strong runs by Kenny McIntosh,  Georgia subbed in Daijun Edwards who fumbled on his first carry. Georgia was on its back foot and gave Tennessee a short field to work with. Yet the defense held strong, and kept Tennessee to a field goal.
On the second drive, Stetson started the drive by hitting WR Arian Smith on a 52-yard bomb. After McIntosh hit 15 yards on a run, Stetson scrambled for a 12-yard touchdown by diving on the pylon. 
Later, Georgia kicker Bret Thorson kicked a 75-yard punt that went out of bounds on the 1. Georgia forced a safety that everyone in the stadium and at home could see, but the referees couldn't. Still, the Dawgs responded perfectly. WR Ladd McConkey pulled a double move to get wide open on the first play of the drive. QB Stetson Bennett hit him for a 37-yard touchdown.
The next drive, Bennett found McIntosh on a wheel route for a 49-yard gain, the longest catch of his career. Then, Bennett threw a perfect ball to WR Marcus Rosemy-Jacksaint in the back of the end zone to put the Dawgs up 21-3. Tennessee hit a field goal after an 11 play drive. On their next drive, it looked like the Vols offense was finding their rhythm. After moving 30 yards down field, Hendon Hooker launched a ball for the end zone. CB Kelee Ringo positioned himself perfectly, and brought in the interception. Georgia then went on to wind down the clock and kick and field goal just before half. 
Second Half
The second half didn't feature much scoring or offense from either side as the skies opened up. Tennessee fumbled and Georgia looked poised to shut the door on the game. Yet, RB Branson Robinson immediately fumbled the ball right back. 
In the 4th quarter, Tennessee got a consolation touchdown, and Georgia managed another field goal. The Bulldogs, looked to run clock and protect the ball in wet conditions, decided to run repeatedly into the teeth of the Vol defense. 
The Vols couldn't get much of anything going on offense, only managing about half of their average offensive production. The Dawgs knocked the Vols off of the top spot in a 27-13 win. Here's what I saw (from the stands).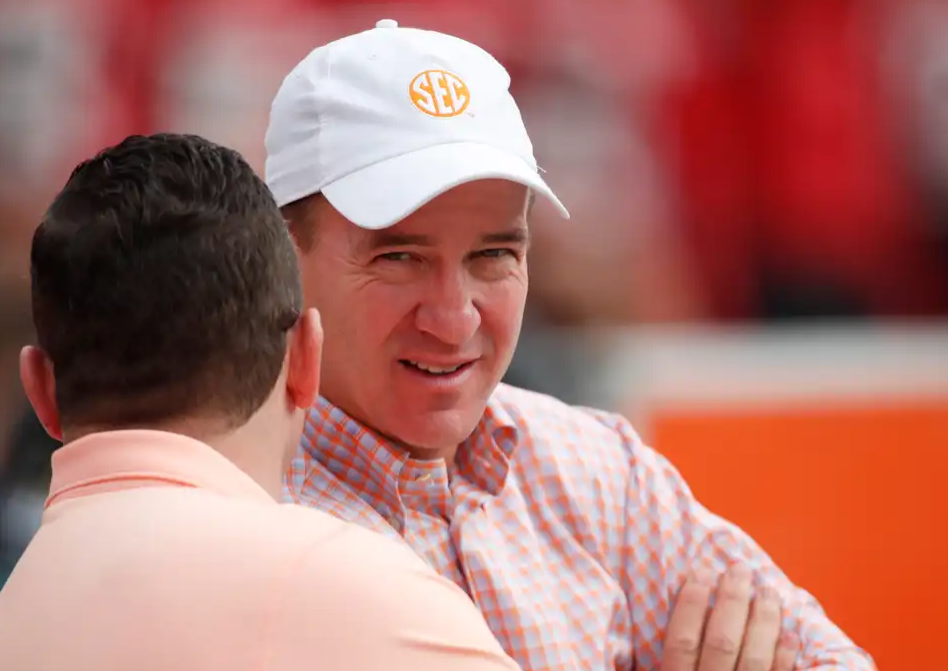 Things I Liked
Defensively, Georgia answered the call better than I could have imagined.
They finished the game with 6 sacks after recording 5 all season. 3 of those 5 came against Florida in the previous game. So, out of no where, and despite losing its sack leader, Georgia found a pass rush.
They perfectly balanced blitzing and dropping back. Hendon Hooker was hearing footsteps for the rest of the game after getting stripped in the end zone by Jalen Carter. In particular, Carter, who played a career high in snaps, DB Javon Bullard, and S Chris Smith had remarkable games. Bullard managed two sacks from the STAR position and finished with 7 tackles. Chris Smith seems to make plays that should improve his draft stock each week, and he made several key tackles in this one.
On the whole, Georgia tackled much better this week, only missing 8 after missing 16 against Florida. So, everything Georgia needed to do defensively, they did. Freshman Malaki Starks played a clean game as well. Just look at the numbers. Tennessee came in averaging 4.5 YPC, but managed 2.2 against Georgia. Tenn averaged over 6 touchdowns, but got 1 against UGA. Their 5.9 yards per pass attempt was over 5 yards below their average. 
Looking Downfield
Georgia took more shots downfield against Tennessee than they have in previous weeks. Stetson had over 200 yards passing in the first half. WR Ladd McConkey was the offensive player of the game with his 5 catches for 94 yards and a touchdown. He showed no signs of inconsistency in the biggest game so far. Georgia's offense has lacked explosive passing plays, but managed 3 in the first half, all to different targets. 
Stetson Bennett played with a chip on his shoulder. He plays his best football when he's angry, and after receiving hundreds of calls from Vol fans this week, Stetson made sure to let the Tennessee fans know he got their calls. After scoring the first two touchdowns, Stetson used his hand to put a phone to his ear in celebration.
An anonymous coach said that Georgia was liable to give up 50 points. He claimed  that they had no weapons on the outside offensively, and that they had no pass rush from their defensive line.
Then, Georgia gave up 13 to an elite offense, had receivers get open for long passes, and recorded 4 sacks from defensive linemen. Every doubt that people had, the Dawgs listened and answered with playing some of their best football. Kirby's recruiting machine was on display as player after player subbed in the game, but the standard of play was still met.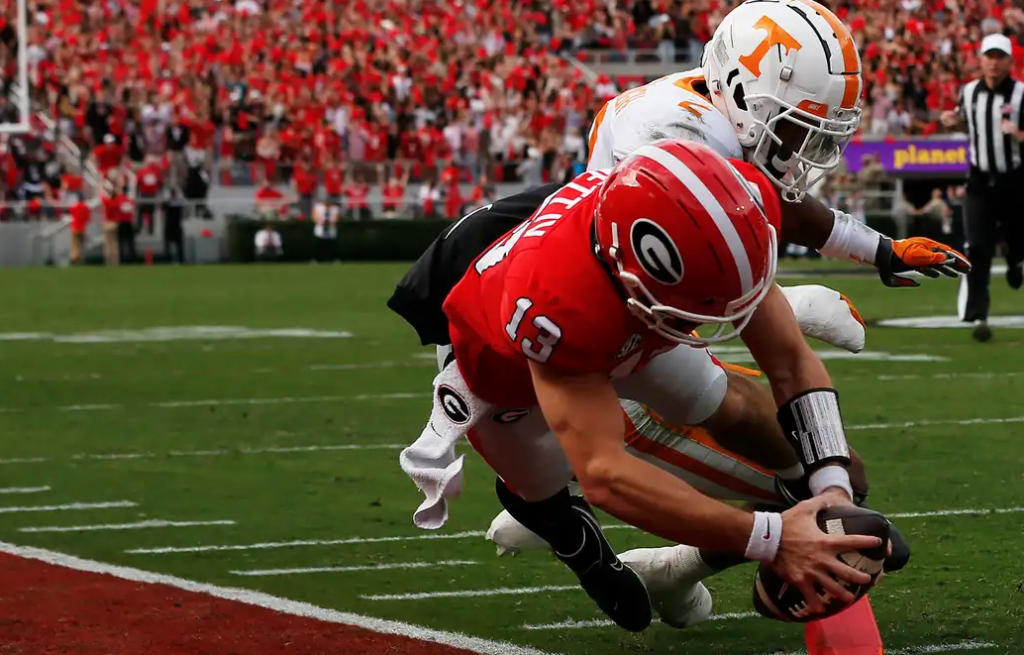 Things I Didn't Like
Injuries. Every. Single. Week. Georgia managed to lose a significant contributor in nearly every game this year. One of the reasons why I didn't predict that Georgia would win is because their defense was so banged up.
Well, they lost two more key players. Mykel Williams went down in the game with what looked like a leg injury, and back up linebacker Robert Beal, who filled in for the injured Nolan Smith, also left the game. His injury is unknown, but Coach Smart did mention that he was undergoing x-rays after the game. 
Georgia's offense did next to nothing in the second half. The weather turned agains them, and they called a conservative approach.
Without the threat of a pass, Tennessee moved it safeties to ten yards behind the line of scrimmage and never gave Georgia even moderate gains on the ground. A turnover would have been costly, but Todd Monken went far, far too conservative in his play calling in the second half. Georgia should have scored in the high 30s the way they were playing. 
Officiating
The Refs. Look, I'm sure Georgia had some calls go its way, but man did the refs miss some bad ones. I know I'm biased, but at times it felt like the refs were trying to keep the Vols in the game. Georgia got hit with a couple of phantom pass interference calls on 3rd down to extend drives. The safety review not only took forever, but was the wrong call. Add in some missed holding calls too. 
Tennessee did take away Georgia's biggest weapons on offense in tight ends Brock Bowers and Darnell Washington. Brock on had 3 catches and Washington had none. Bowers has shown he can dominate lesser opponents. We need to see him get his even when teams scheme around him. He also struggled blocking today as well. 
Turnovers. Georgia had 2 more turnovers in this game. That makes 5 in the last two. Georgia has to clean up their play and their running backs needs to take care of the ball much better.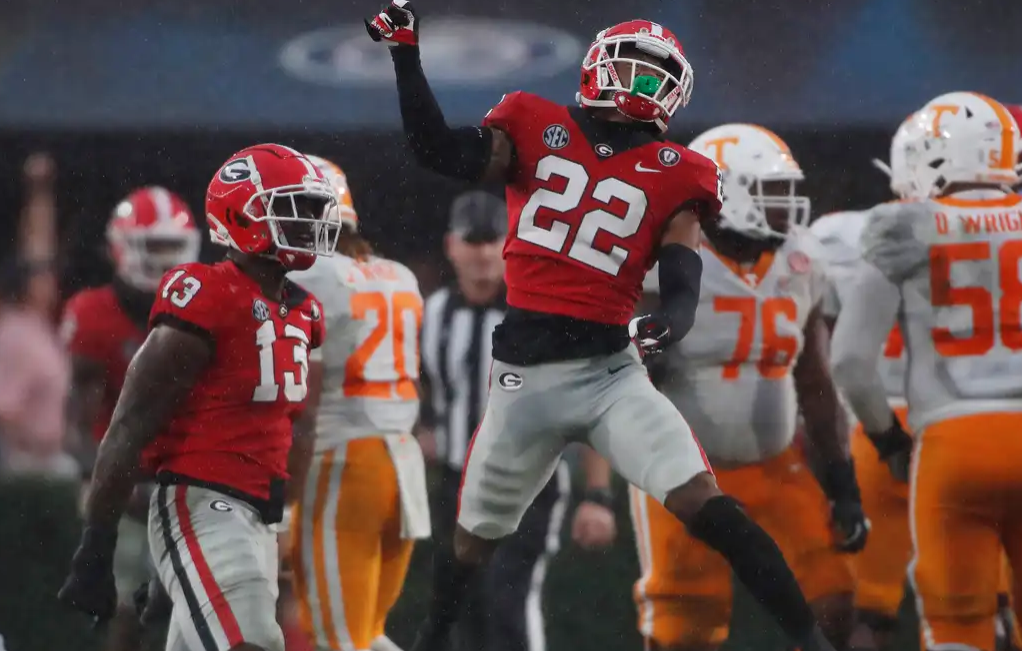 Additional Notes
Georgia's 6 sacks came from 5 different players. Jalen Carter got his first of the season, and had a monster game. 
UGA held Tennesee's run game to just under 100 yards. One of the keys of the game was Georgia stopping the run, and they did as well as I could have hoped. 
Hendon Hooker finished the game with 23/33 for 195 yards and an INT. He had 18 carries for 17 yards. Cedric Tillman had 7 catches for 68 yards and Jalin Hiatt had 6 for 63 yards. Georgia bottled up TENN's biggest playmakers. Hooker came into the game with 40 completions of 30+ yards. He had none against Georgia. 
Freshman safety Malaki Starks led the team with 10 tackles on the game. I expected his eye discipline to be poor at times in this game, but he played remarkably well.
Tyrion Ingram-Dawkins played more snaps today due to injuries. TID can flash, but also gives up plays. He had a huge fumble recover in the second half. Expect more of him as the year goes on. 
After the game Jalin Hiatt mentioned that Georgia was much more physical than Alabama. Music to my ears. A couple of plays stood out to me on this. One was a chip that Darnell Washington had on a TENN defensive player. He dropped his shoulder and pancaked him before running his route. Another came from LT Broderick Jones. On a swing pass to McConkey, Jones kicked out wide. He blew up a Vol defensive back and drove him into the ground on his block.
Georgia hit 132.6 decibels in crowd noise. Neyland Stadium's record, which was set against Alabama this year, is 125.4. 10,000 fewer fans in Sanford were louder than a game where the Vols rushed the field and tore down goal posts. Kirby doesn't lose at home and in large part it's because of the fans. As a Dawg fan, I know how obnoxious our fan base can be. But, you may not find a more disruptive one.
Georgia has not allowed a touchdown in the first quarter this year and only 9 points in total.
RB Kendall Milton returned from injury, but didn't do much. 
LG Devin Willock had his first career start. He gave up the one pressure TENN had in the game.
LB Marvin Jones Jr. a 5-star freshman, played a career high in snaps, mostly due to injuries.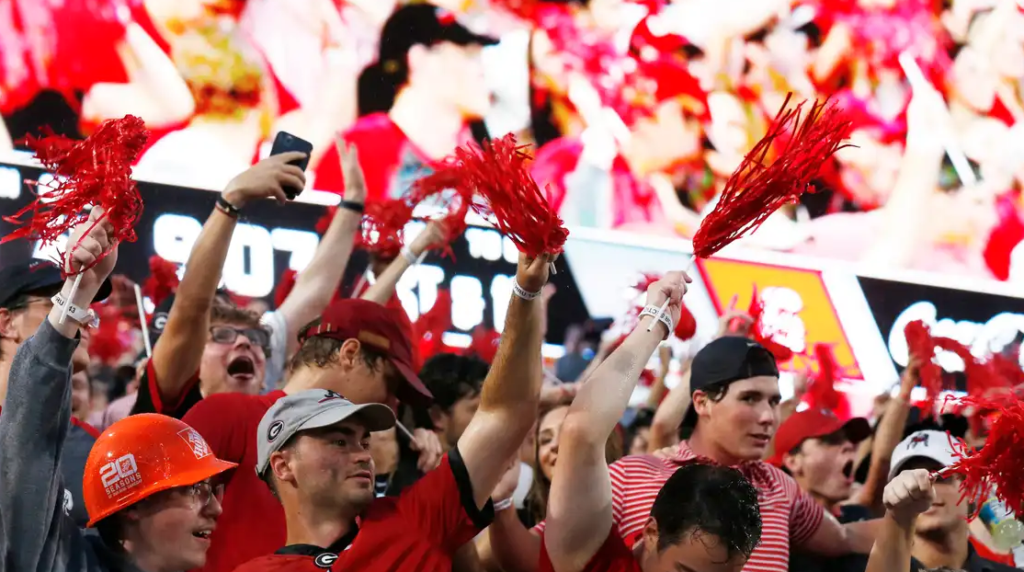 Final Thoughts
I was way off in my prediction which was *checks notes* Tennessee winning 41-31. Georgia's defense, despite losing so many players to the draft and several others to injury, managed a more dominant performance this year than last year.
The math doesn't add up, but maybe that's the Sanford Stadium effect. Offensively, Georgia was able to be explosive in ways they haven't shown much of the year. Stetson played great, and Georgia's offense should be feared.
At the beginning of the year, I thought this Georgia team could be special. Then, I lost belief they had what it took after a couple of lackluster performances and turnovers.
Georgia still may not have what it takes to repeat as champions, but I am consistently surprised by their resilience and the quality of the defense. From the coaching staff, to the players, to the fans, this week was an elite showing. 
Post-Game Presser