UGA 45- Miss. State 19
The Georgia Bulldogs clinched the SEC East division title on a cold Saturday night in Starkville, Mississippi.
The Dawgs had a nearly flawless first drive after they forced a State punt in their opening drive. WR Marcus Rosemy-Jacksaint had a couple early catches to get the offense going. TE Darnell Washington had the biggest play of the drive with a 30-yard catch to get the Dawgs in the red zone After a 12-yard run by Kenny McIntosh to the 1 yard line, the Dawgs were stifled on a couple run attempts. Then, a play-action pass led to a wide open Brock Bowers for a short touchdown throw.
Both offenses struggled for a stretch of the game and both teams punted. State turned it over on downs, and Stetson Bennett's arm was hit while trying to throw a deep ball. It came up well short of his target and was easily intercepted.
However, the Dawg defense forced three straight incompletions to force another punt. Then the Dawgs marched for a 14-play drive down to the Miss State 10-yard line. A mixture of short throws and runs found success, but they stalled out in the red zone and settled for a field goal.
State responded with their own 14 play drive that resulted in 3 points. Will Rogers and the air raid offense worked to perfection as they moved down the field and then were stopped inside the Georgia 5 yard line.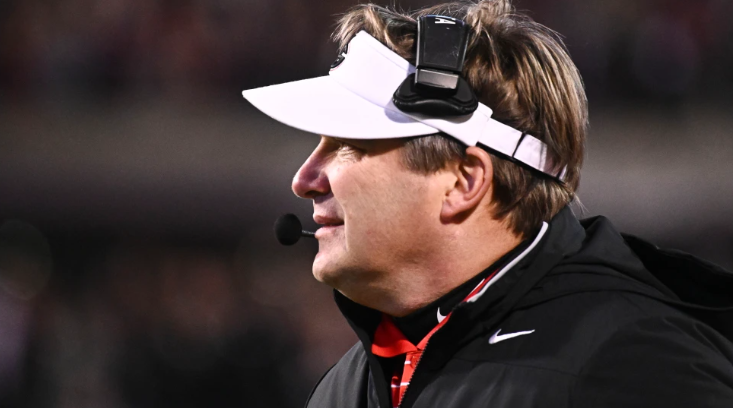 Playing with the Lead
Now up 10-3, the Dawgs relied on Stetson Bennett's legs and a couple of great catches from Kearis Jackson to move down the field. Bennett ran in it in after juking a linebacker in the open field very similar to how he did against South Carolina in week 2.
UGA mismanaged the remainder of the half. They gave up a big pass which resulted in a State field goal. Then, poor clock management led to a poor punt from Brett Thorson, which Zavion Thomas took 63 yards to the house for State. All of a sudden, the Dawgs were only up 17-12 after a failed two point conversion.
Floodgates
The Dawgs scored on the second play of the second half with an end around to WR Ladd McConkey, which he took 70 yards for a score. McConkey would score on the next drive as well. First, Jackson caught a 30 yard ball on 3rd down to keep the sticks moving. On the next 3rd down, McConkey drew a PI call on DB Emmanuel Forbes. Two plays later, Ladd caught a 17-yard throw over the middle of the field on a deep slant.
The game was now in hand for the Dawgs thanks for McConkey's performance. Georgia added a couple of scores with Darnell Washington finally getting his first touchdown of the season and RB Kendall Milton finishing the game strong with a 34-yard touchdown run. He looked as explosive as he has all year.
The Dawgs were far from perfect, but still came out comfortably on top. Here's what I saw.
Things I Liked
Welcome back, Ladd. WR Ladd McConkey had two scores and nearly a third in the game. The last two weeks, McConkey has given the UGA offense a major lift with some explosive plays. Despite flying under everyone's radar out of high school, he has done nothing but work hard and prove people wrong. His mid-season struggles seem to be well behind him with his performances the last two weeks. He led the team in receiving and rushing with 71 yards in the air and 70 on the ground.
TEs Brock Bowers and Darnell Washington each had nice games. Washington caught his first TD of the year in the second half and Bowers opened up the scoring. While Bowers was utilized more in the first half and Washington in the second, each made their presence felt throughout the game. Washington also had a key block on McConkey's touchdown run. Combined, they had 10 catches for 101 yards and 2 TDs.
DB Kamari Lassiter has taken his game to the next level. Last week, I failed to mention his performance, but he excelled against Tennessee. His maturity continued today. He broke up a 2-point conversion at the end of the first half, and finished with 3 tackles. He had a key stop on 4th down in the red zone, where he mad a huge open field tackle to end the drive.
There are a couple of defensive players who make a massive difference when they are on the field. The most obvious one is Jalen Carter. He is an absolute menace, especially on third downs. At the next level, LB Smael Mondon, is a difference-maker. As good as his counterpart is in Jamon Dumas-Johnson, Mondon has so much athleticism and can make plays all over the field. He led the team with 8 tackles today. The other plays is DB Javon Bullard, and I'll get to him later in my "Things I did not like section."
WR Kearis Jackson had a nice game for himself. As a senior, he has not been used a ton in the slot role this season. McConkey has taken the majority of those snaps. But, Jackson had several nice contested catches in the game in key situations.
The defense played well today, in particular on 3rd and 4th down. UGA held State to 3-14 on 3rd down and 0-3 on 4th down during the game. For an offense that runs differently than any other they face this year, the Dawgs were able to prevent State from finding hardly any success offensively.
Kirby is building not just a physically dominant team, but a superior culture at UGA. This was exemplified in the 4th quarter. Georgia has just stopped State and forced a punt. Back up receiver Jackson Meeks nearly blocked the punt, and ran by the punter who flailed and dropped to the ground. Meeks got a 15 yard penalty, despite replays showing he didn't touch the punter. As Kirby got on him on the sideline, he tapped his chest and could been seen saying, "That's on me, coach. That's on me." He took accountability even when the call was blown. That's the kind of player Kirby is trying to get into his program, not just the 4 and 5 star players.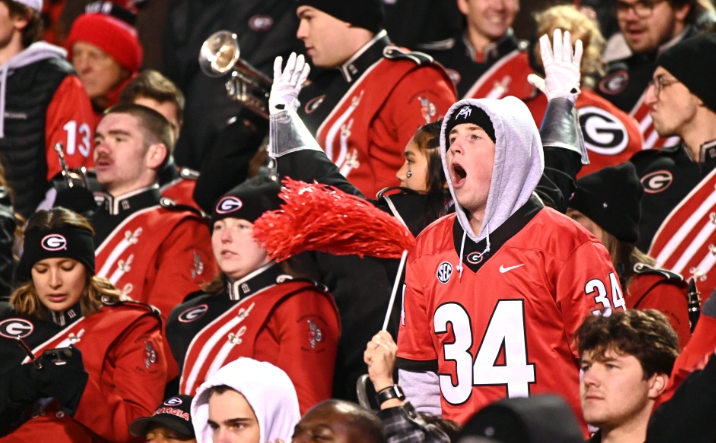 Things I Did Not Like
The running game was ineffective against State today. In many ways, State seemed to call plays that were dead set on stopping the run. For example, on the first touchdown of the game, State didn't have anyone covering receivers. They sent the house to stop the run and paid the price. LG Xavier Truss was back from injury but struggled mightily.
His counterpart, RG Tate Ratledge took a step backwards this game too after having a good game against Tennessee. 100 of the Dawgs 170 rushing yards came on 2 attempts. Yikes. The silver lining is that State nearly made Georgia one dimensional on offense and they Dawgs still scored 45. 
On the whole, Georgia was getting healthier going into this game. That was until DB Javon Bullard went out of the game with a leg injury. He was seen limping, came back into the game, but then said he could not go. He is a key player on the Dawg defense. While they can get by without him for the next couple games, they will need him for the SEC Championship and beyond. 
Georgia continues to turn the ball over at an alarming rate. They have a negative turnover ratio on the year. While both interceptions from Stetson weren't just from poor decision, he had a fumble that could have been lost and a couple throws that should have been picked off.
His turnover-worthy plays are going up rather than down as the season goes on. Again, the silver lining is that despite going -2 on turnovers, the Dawgs won by 26 points.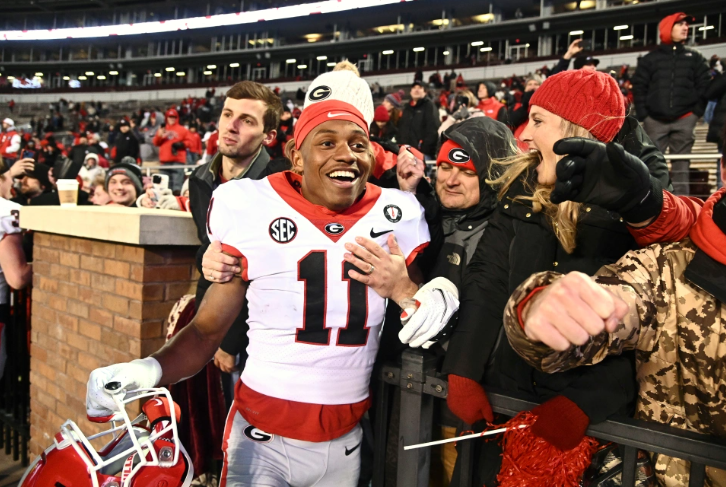 Final Thoughts
This Georgia team is remarkable. This week should have been a trap game. Believe it or not, before the season began, the ESPN FPI had this game as the game that Georgia was most likely to lose. They won easily, and are positioned for comfortable wins for their next two games against Kentucky and Georgia Tech. The offense runs through a former walk-on, an undesired receiver, and a couple of tight ends. The defense lost nearly everyone and still is formidable. They don't sack the QB, or tackle you for loss, or even force turnovers often. They just beat you. 
This Georgia team has put itself in dangerous situations repeatedly, and yet they continue to come out on top. They play their best when they are backed into a corner or when people doubt their ability to win. I don't know if Georgia will win it all or even the SEC this year, but the only team that's stopping Georgia is Georgia. IF, and this seems to be a pretty big IF, Georgia can protect the ball, they should steam roll their next two or three opponents.
Presser