Duke vs. Florida State Expert Pick and Prediction – October 21, 2023
DUKE VS. FLORIDA STATE EXPERT PICK AND PREDICTION – October 21, 2023 — The fact that this game means anything is a testament to what Mike Elko has done in Durham. There are currently three undefeated teams in the Atlantic Coast Conference, and two of them will take the field in Tallahassee on Saturday night.
According to history, the team that stays undefeated will be Florida State. Since the Seminoles joined the ACC in 1992, they've played Duke 19 times and the Blue Devils have won a grand total of none of them. Only once, the 2017 matchup in Durham, has Florida State won this game by less than 17 points.
And yet, this Duke team is clearly different. The Blue Devils were iffy against N.C. State without Riley Leonard at quarterback, but they got good play out of the defense and backup Henry Belin didn't lose the game for them. Duke beat State 24-3, keeping the Blue Devils in the hunt for an ACC championship.
Incredibly, this could be the last real test Florida State sees before it gets to the ACC Championship Game. The Seminoles don't play North Carolina or Louisville (a serious flaw in the no-division format), so Duke's the last decent team they'll see in the regular season in ACC play.
Outside of a two-week stretch where they nearly allowed Boston College to steal a win and escaped from Clemson, they've looked the part of an ACC champion. Can they make it 20-for-20 against the Blue Devils?
The Odds
Matchup
Open
Spread
Points
Moneyline
Duke

(5-1 SU, 4-2 ATS)

O49

+13.5

O49.5

+425

Florida State

(6-0 SU, 3-3 ATS) 

-13.5

-13.5

U49.5

-575

Kickoff
When:
Saturday, October 21st at 7:30 p.m. EDT
Where:
Doak Campbell Stadium, Tallahassee, Fla.
TV:
ABC
Public Bets:
56% on Duke
Public Money:
87% on Duke
Odds courtesy of DraftKings, as of October 18th, 2023.

Duke vs. Florida State In-Season Trends
There's a saying that defense travels much easier than offense. With Duke, that hasn't proven true lately, as the Blue Devils' past four games away from Durham have all seen the over cash. That trend might be misleading, given that the Blue Devils have played just one road game this year. Duke did cash the over that day, but it did so because its offense dropped 41 points on host Connecticut, nearly beating the 45-point total on its own.
Florida State has had no problem putting up large numbers in the Sunshine State for the past two seasons. The only team to hold the Seminoles under 28 points in Florida in the past two years was Wake Forest, and that came on Oct. 1, 2022. Since that day, the Seminoles have played eight games in either Tallahassee or Orlando, and they have scored at least four touchdowns in all of them.
Weather
With temperatures hitting 80 degrees earlier in the day and rain not part of the forecast, it's likely to be a good day for football. The temperature should fall a little by kickoff, but not to the low of 54.
The Difference-Makers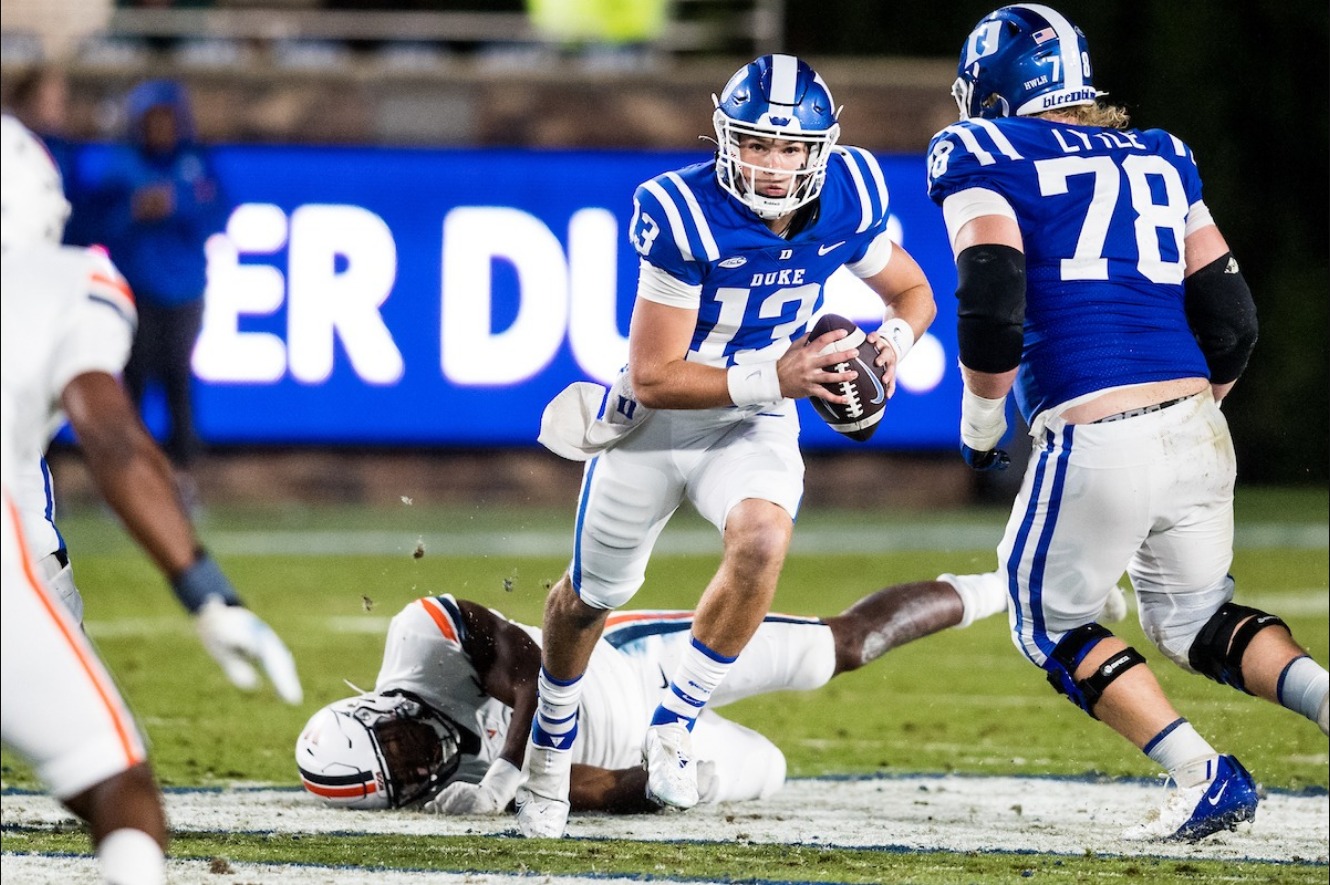 The line might be a hedge on who Duke's quarterback will be. If it's Riley Leonard, the Blue Devils should be able to hang around and keep the game close. If it's not, this spread is going to jump. Leonard gives Duke an edge on offense that Belin isn't experienced enough to offer at this point. Duke honestly counts more on Jordan Waters for touchdowns on the ground, but Leonard keeps defenses honest and gives Waters more room to move.
On the other side, Jordan Travis remains highly disciplined with the football, tossing just one interception on the season. With Trey Benson dominant at running the ball, Florida State hasn't really been stopped by anyone all season. The Seminoles won't beat themselves, and their attack requires teams to keep scoring to keep the pressure on them. It's tough to hang with that for four quarters, making this Duke's toughest test of the year.
The Pick
The line likely isn't something to mess with until we know more about Riley Leonard. If he doesn't play, jump on Florida State as soon as possible. If he will play, this line is probably a couple points above where it should be.
Florida State has risen to the challenge this season, but Duke marks the best team they've seen since the season opener. I think if Leonard plays, the Blue Devils find their way to the backdoor cover.
Dan's Picks  

 Duke +13.5   

 Over 49.5