By: Nate Perry (#NASCARNate)
All odds courtesy of DraftKings.
This article is written for entertainment purposes only. Must be 21 or older to gamble. If you or someone you know has a gambling problem, call the problem gambling helpline at 888-532-3500.  
Let us begin by pouring one out for futures that people (myself) may have made before the season started that have already been relegated to the trash heap. Jets and Jags: trash. Dak to lead the NFL in passing yards? Trash. T.J. Watt for DPOY after he looked like a complete beast through his first three quarters of play? Trash. Those were fun ones to just go ahead and clear off the to-do lists of things to watch. The Cowboys will be bad, but they will not drag me down with them. I have closed the book on them for this year. Dak has spared me the anguish of watching him get outgunned by 10 yards for the passing title in December by getting injured in the opening week. In a way, I'm thankful. 
T.J. Watt's interception on Joe Burrow! #Steelers #NFL pic.twitter.com/Fod0hEi9iq

— BlitzVideos✨ (@BlitzVideos) September 11, 2022
Are things going well? Really, it's pretty tough to say on the NFL front. Brian Robinson, Jr. was still up at 35/1 odds for Offensive Rookie of the Year when I found out that he might recover from his gunshot wounds faster than expected and be ready for action in about a month. I love a narrative, and I love a guy who will probably be getting a bunch of carries in Washington. Happy to have grabbed that line. But now he's down to 13/1 and hasn't played a snap of football yet. Do what you want. I'll just say this, I love every team in the NFC East right now that isn't the Cowboys. Or the Giants. Go Washington Congressman!
Let us find some things to look forward to this weekend.
Longshot Lover
This is probably just going to be a regular thing now. I have a sickness that demands to be fed with a certain number of longshots, or I will never find happiness. Enter NASCAR. Now, there are a lot of experts who will tell you that Kyle Busch is a killer at Bristol for this weekend's night race. And they're right, and that's the last I'll speak of him because his odds are 8/1 and that's incredibly boring. 
I want all the action with Ricky Stenhouse, Jr., Erik Jones, and Chris Buesher. These guys can all be had for between 50/1 and 125/1. So quit with the safe stuff and come throw some beer money at something fun. What you're looking for, often, in betting this sport is guys who perform well at particular tracks or at similar types of tracks. Those tracks are Dover and Nashville. Go ahead and bet these so I'll have someone to commiserate with when one of our guys is right in the running until his tire blows out on this rough track and causes an 11-car pileup that engulfs all of our other bets and forces us to switch the channel to the ever present Star Wars marathon on FX. You'll look back on betting NASCAR and think to yourself, that was a very boring three hours filled with about 17 minutes of extreme chaos and hope, then you will be looking for the routing number for your bank account to reload some cash directly to your sportsbook for next week. What do you have to lose? Money. You'll probably be chasing Sunday evening after following John's NFL picks anyways. #GodzillaPlaysLosers
Our @SunnyDelight Chevy was unreal fast yesterday! 💨

Had an absolute blast passing a ton of cars and battling for the lead. We have to figure out a way to keep air in the tires on the 1.5 mile tracks…. Got a few more left this year! #StenhouseJr #NASCAR #Kansas pic.twitter.com/MklQFuuwBf

— Ricky Stenhouse Jr. (@StenhouseJr) September 12, 2022
#NascarNate
Don't look now, but William Byron is second in the NASCAR Cup playoffs with a lot of opportunities coming up. What a damn time to be alive. Let's get this man to the top so I can cash my ticket and finally to my old lady to dinner. 
Free Tyrion Davis-Price
My hatred for the cowards at William Hill is at times only barely contained. As a West Coast guy, who is force fed much Bay Area nonsense about their teams, I wanted to bet Tyrion Davis-Price for Offensive Rookie of the Year after the Elijah Mitchell injury. What I should be looking at is a clear path to some playing time for a rookie in an offense that is excellent running the rock. Kyle Shanahan always finds a way for his running backs. But the cowards at William Hill do not have him on the board. I know he exists other places at north of 100/1, which is exactly why I'm complaining about this right now. William Hill is always doing this because they run a borderline monopoly in northern Nevada, and hate allowing bettors to have fun things to play with. Free Tyrion Davis-Price from betting exile, William Hill. I want to give you my money, so just give me some odds and take it. If he ends up winning this damn award, and I could never find odds, this column will be written from a hospital bed next season because I will need to be institutionalized. Or I'll just move out of state and give my action to DraftKings. Whatever. Know that I'll be jealous if you're holding a ticket on him.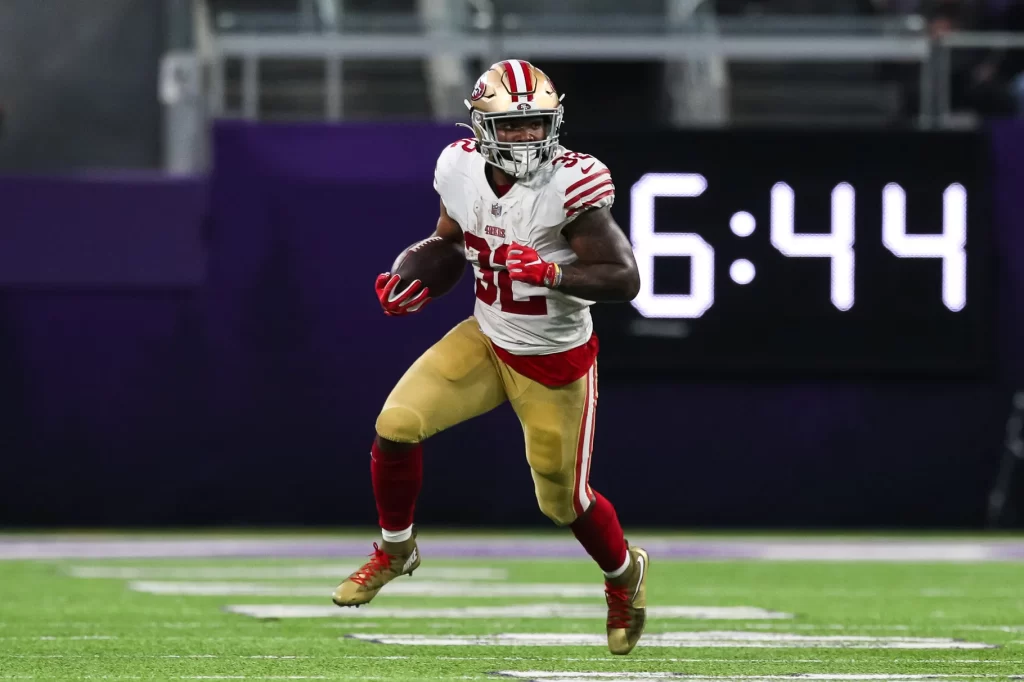 Braelon Watch 2022
I'll level with you, this bet is in trouble. Losing to Washington St. at home is just classic Badgers football. 17.5 point favorites and lose in a tight game. Braelon did his part adding over 100 yards of offense rushing and receiving, but the game itself was just a complete disaster. Multiple times throughout the game there was a sequence fit for some sort of slapstick routine in which multiple players turned it over without the whistle blowing. What a circus. In addition, it's tough to win a game while eating over 100 yards of penalties. Things do not bode well for us as we get closer to conference play. We need Braelon to step up big or this one is gonna be cooked. It's just like, how do you hold the ball for almost 40 minutes, outgain a team by 150 yards, and still lose? Tough week for our guy. Time to pad some stats against New Mexico State because OSU is looming large on the horizon after that. 
Give thanks
This is a tough one for me because I'm going to be out-of-state for a wedding somewhere that does not allow gambling. Fine, I'll just load up a bazillion different bets and sweat it out the old-fashioned way. No, I can't make live bets with all of you. Nor can I wake up from a cold sweat and throw more money down on Western Kentucky in the middle of the night on Friday. This weekend is about all of the healthy limits we place on ourselves, like emptying the account 48 hours before I even leave town in anticipation of a great weekend. Cheers, to everyone firing off live bets and last minute adds because you'll hate yourself if you don't, and monster parlays. I won't be, but I doubt I'll be having less fun. 
Tune in to the Godzilla Wins Radio Show – Saturday at 9:00 AM!
ADVERTISEMENT
Download 
DraftKings Sports-Book APP
 now and use PROMO CODE GODZILLA when you sign up! GODZILLA gives you the best deals in America!  Must be 21 or older, Virginia only. Bonus issued as free bets. 1 early win token is issued at opt-in, money line bets only. Deposit and wagering restrictions apply. Eligibility and terms at DraftKings.com/football-terms. If you or someone you know has a gambling problem, call the Virginia Problem Gambling Helpline at 888-532-3500.