Behind the Hedges
Read all of Brian's content here. 
"It's what we needed" declared Dawgs Coach Kirby Smart in a post-game interview after the Dawgs survived a sloppy showing against the Golden Flashes.
While a lot went well in the game, fans will focus on the three turnovers and a meager 17 point win against a 45 point underdog. The game started off well as the Dawgs gave Brock Bowers a jet sweep that he took 75 yards for a touchdown.
But a muffed punt, an interception, and a fumble occurred in quick succession, limiting the Dawgs and giving life to the Flashes. The Dawgs were always in control of the game, but never comfortable.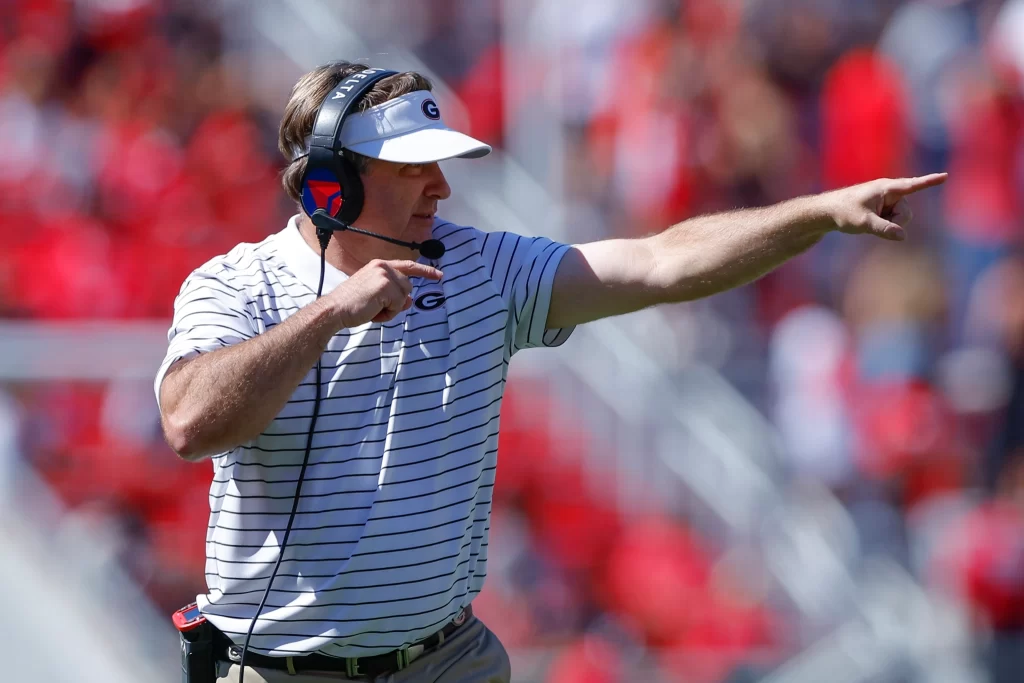 Things I Liked for the Dawgs
TE Brock Bowers has to be the most dynamic player in the nation. He led the Dawgs in rushing yards with 77 yards on the ground and 2 rushing touchdowns, scored on two jet sweeps, and ranked second on the team in receiving yards with 60 on 6 catches. The sophomore can do it all. 
Second play of the game. Brock Bowers is insane

— PFF College (@PFF_College) September 24, 2022
LB Jamon Dumas-Johnson had a great performance. He led the team with 6 solo tackles, 2 sacks, and 3 tackles for loss. He continues to improve each game. While he still makes mistakes, every game he makes one or two more plays than the previous game, flashing greatness. He's on a path to be another NFL linebacker. 
On the whole, the offense did exactly what you would expect. They racked up 529 yards of offense in a balanced attacked. 272 yards came through the air, with 257 on the ground. The Dawgs never punted. Either they score of they turned it over.
Third string RB Daijun Edwards was the best runner with the ball today. He averaged over 7 yards per carry and some may be calling for him to move up the depth chart with his performances this year. 
Break 'em out!#GoDawgs | @cpsmithdb pic.twitter.com/GgJVCuzZmK

— Georgia Football (@GeorgiaFootball) September 24, 2022
The Great Humbling
Georgia needed some humbling. Kent State is a decent team that presents unique offensive and defensive looks. The exposed UGA in a few areas defensively and forced the Dawgs to fight for 4 quarters. While Georgia continued to rotate in plenty of reserves, they needed to struggle and be brought down to earth.
I saw someone tweet this week if we should go ahead and give Georgia the next two national championships. Needless to say, Kent State is underrated, but also Georgia being brought down to earth can be a good thing, as Kirby indicated after the game. 
Freshman DL Bear Alexander played the most snaps of his career. He had some nice plays, including a key stop on 3rd down, a batted a ball down at the line, and even came in on offense as an extra blocker for Georgia's final touchdown. Alexander has the potential to be special and he's beginning to get enough reps to contribute.
Freshman Jalon Walker blocked a punt in the first half, which bounced out of the end zone for a safety. Walker has been turning heads in practice. He is a freak, who needs to learn the system to see the field. It was great to see him contribute on special teams. Speaking of special teams, kicker Jack Podlesny was perfect today, adding 3 more field goals to his season tally.
Things I Did Not Like
WR Ladd McConkey. This kid is about as impressive of a feel-good story as there is. He was a two star recruit that Georgia took at the end of its signing class. He has developed into one of the best receivers on the team and led the team in receiving yards this game.
However, he had a game that may haunt him for some time. He committed two turnovers on a muffed punt and a fumble on a bubble screen. To make matters worse, he dropped two touchdown passes: one in the end zone and the other while he was several yards ahead of the nearest defender.
Stetson gave him a beautiful ball that slipped through his hands. I believe Ladd will bounce back just fine, but he single-handedly kept Kent State in the game through his various errors. Thankfully, he had a typical second half in the game, and despite his errors, led the team in receiving.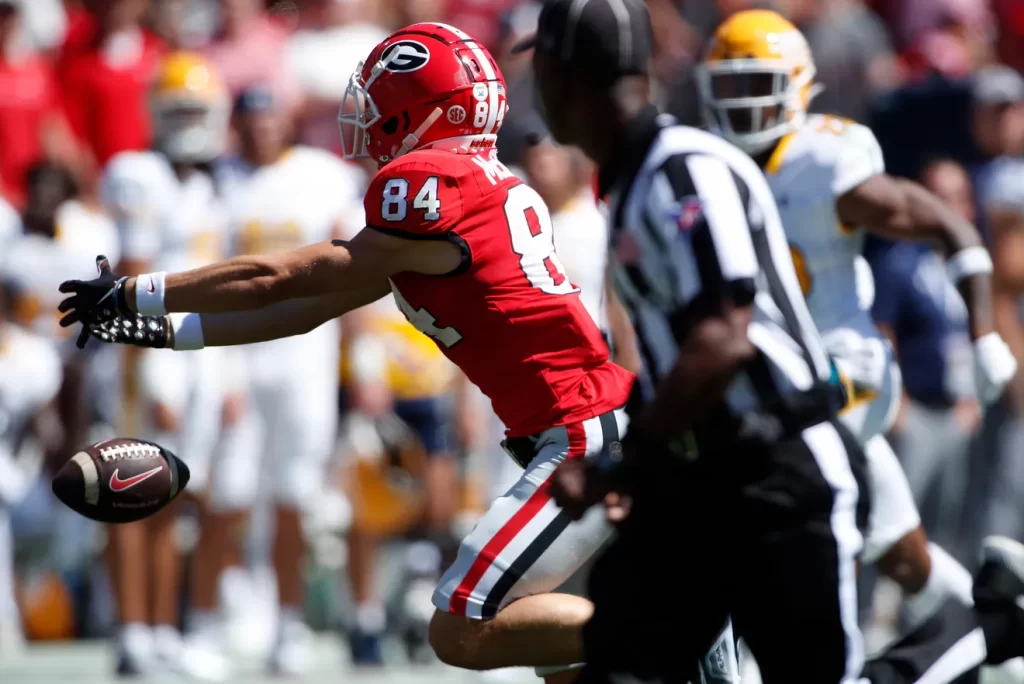 The Dawgs Injury Bug
Injuries. Georgia has a lot of banged up players. Aforementioned McConkey is dealing with a foot injury that limits him. Fellow receiver AD Mitchell did not play, and star defensive lineman Jalen Carter did not play either. RB Kenny McIntosh came in with a thigh contusion that was aggravated during the game. Brock Bowers was seen limping and DE Mykel Williams injured his thumb in the game. Georgia needs McIntosh to be healthy in particular, as they have already lost one running back to an ACL injury this year. 
Perimeter Woes for the Dawgs
Defensively, Kent State showed that Georgia can be blocked on the perimeter. CB Kamari Lassiter was manhandled on the Golden Flashes first touchdown pass. It allowed a bubble screen to go for a 56 yards into the end zone. On another screen CB Kelee Ringo was pancaked. Between those blocks and poor angles taken by the safeties, the defense has to improve in this area. 
UGA struggled to convert on third and short several times during the game. This is a recurring problem for the Dawgs. One of the problems is that RG Tate Ratledge is having a really up-and-down season. He can make some key blocks but also can get dog walked by opposing teams. Every game he has had plenty good and plenty bad. He gave up three pressures during the game. 
RB Kendal Milton was underwhelming once again. Apparently his hamstring is still not 100%, but his performances so far have left much to be desired. He isn't showing the speed or power that he ought to. Don't give up on him yet. I think he can still get healthy and put it together.  
Georgia gave up a first down on a fake punt for the second week in a row. Between that and the muffed punt, Georgia's special teams fell well short of the standard. 
Additional Notes
Pay attention to #22 DB Javon Bullard. He plays in the slot most of the time, is undersized and completely fearless. Unfortunately, he also just was charged with 7 misdemeanors after the game, so we don't know when we'll see him next on the field. 
Kent State had scoring drives of over 10 plays twice. Plus, the added a 50+ yard touchdown scoring play. It's unlike the Georgia defense to give up big plays, or to allow sustained drives against them. 
The Dawgs missed 8 tackles, the most since last year's SEC Championship
It was a good sign that TE Arik Gilbert and WR Arian Smith were dressed out. Smith is well ahead of schedule on his recovery. At one point, it was believed that he would be out for the season.
Final Thoughts on the Dawgs
I'm fluctuating back and forth between "Welp, Georgia is really going to struggle with Tennessee and probably lose" and "Thank goodness this happened now so Georgia stays locked in."
I'm trying to put things in perspective. Jack's Ole Miss Rebels barely outlasted Tulsa. Kentucky beat Northern Illinois by 8. Miami lost by two touchdowns to Middle Tennessee at home! Kansas State once again ruined Oklahoma's season.
College Football is beautiful because every week counts and every week we are seeing top teams lose.
As good as Georgia is, they are vulnerable too. This performance against a better team would have led to a loss. We will see over the next few weeks if this was indicative that Georgia is not as good as we thought, or if they will grow and develop into a stronger team. For now, my money is on the latter. 
Dawgs Presser