Back to Form
UGA 41 – Auburn 10
Read all of Brian's Coverage on the Dawgs here.
Georgia made it 6 straight wins over cross-divisional rivals Auburn Tigers with a 42-10 win in Athens on Saturday. The Dawgs demolished the Tigers in a major rout that launched Georgia back into the #1 spot on the NCAA college football rankings. 
The Dawgs started out slowly once again as their offense struggled to score points despite numerous mistakes from the Tigers.
QB Robbie Ashford was never able to get the Auburn offense going, mustering 13/38 for 165 yards and 1 TD passing. RB Tank Bigsby was bottled up all day, only managing 19 yards on 10 carries. For the first time in his career, he was held under 2 yards/carry. Except for a busted play and a turnover that handed Auburn the ball deep in Georgia territory, Auburn was unable to pose any sort of scoring threat during the game.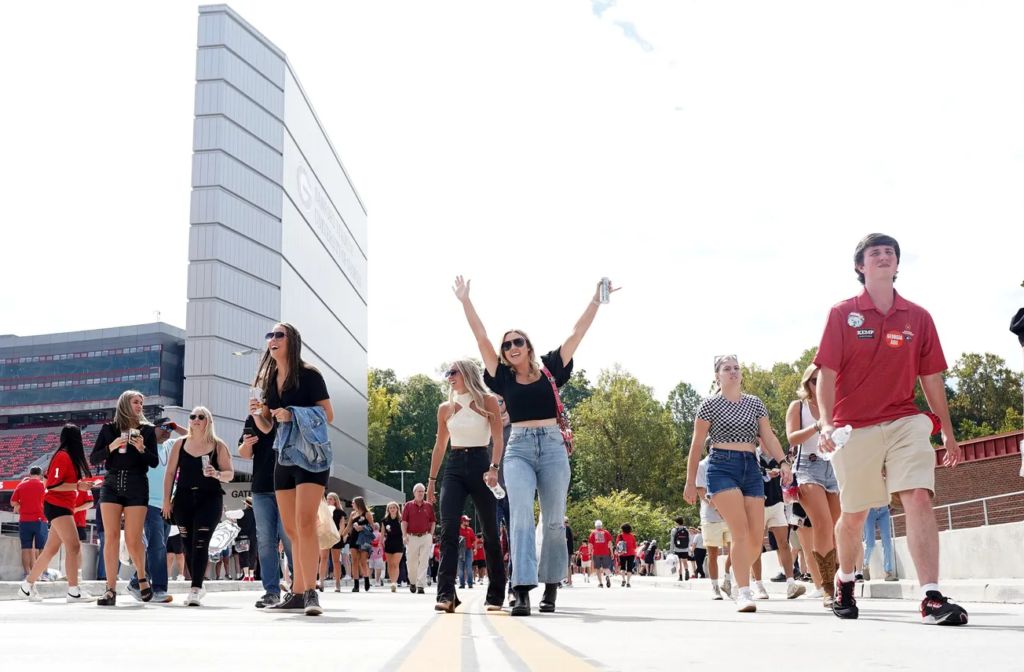 Dawgs Stutter on Offense
Georgia's offense continued its sluggish trend in the first half with many of the same issues as the previous two games. The offense was held to a 3 and out their first drive. They began the second drive with a muffed punt from Ladd McConkey that he fell on.
Later WR Marcus Rosemy-Jacksaint missed a key block that allowed Auburn to blow up a potentially big play before Stetson Bennet threw a ball high and behind to Ladd McConkey, resulting in another punt. Then, Georgia started to roll before a personal foul on TE Darnell Washington stopped them on a third down conversion. Kicker Jack Podlesny missed the subsequent field goal. 
Special Teams Dominance
When Georgia couldn't get anything going offensively, Auburn took it upon themselves to gift them some points. The Tigers were the third team to attempt a fake punt against Georgia this year, but this time OLB Nolan Smith made the tackle to prevent the conversion. Georgia, with the ball already in field goal range, began to rely on the run, which was prevalent through the game. Kenny McIntosh ran it in on a pitch to score, capping off a physically dominating drive for the Dawgs.
Special Teams helped spark the Dawgs again as Ladd McConkey broke free for a 38-yard return. Freshman RB Branson Robinson saw his first action of the game and broke an impressive run. Kenny Mac added a physical run before RB Daijun Edwards punched it in. Georgia went into half with a 14-0 lead.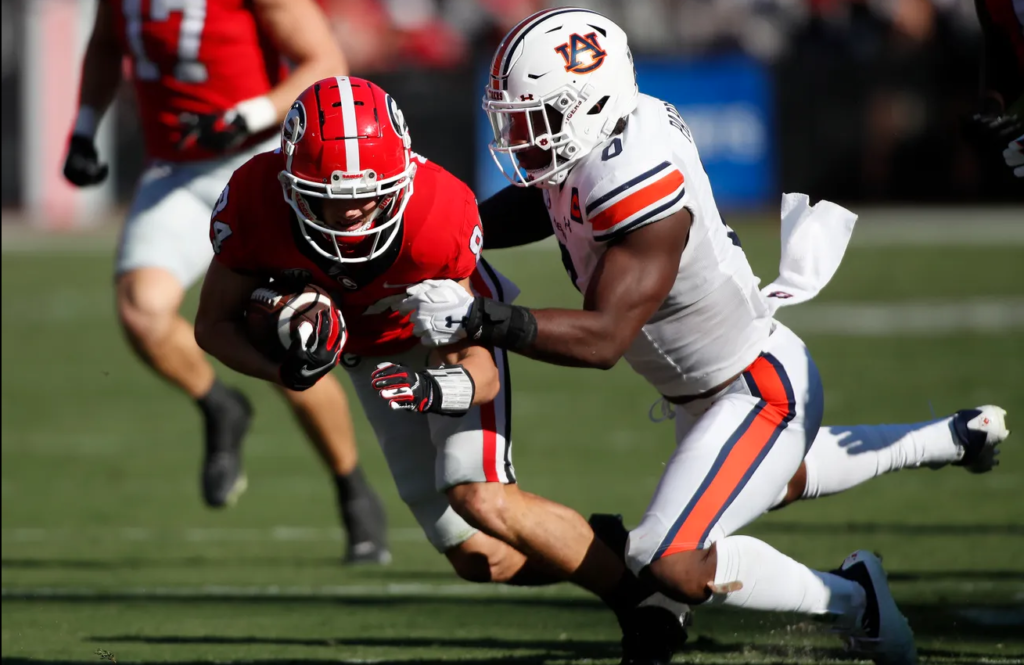 Dawgs Get Cooking in the Second Half
Things got ugly in the second half, where Stetson Bennett finally found his rhythm throwing the ball. After under 50 yards passing in the first half, Stetson looked like the Heisman-hopeful I declared him to be earlier in the year as the game wore on. After missing some throws early, Stetson broke loose for a 63-yard touchdown run. He threw the ball better while on the move, finishing the game with 22/32 with 208 yards. He has now gone 3 games without a passing touchdown. 
Branson Robinson and Daijun Edwards both had impressive performances. They combined for 24 carries, 181 yards, and 4 touchdowns. Edwards was responsible for 3 of those scores and would have had another if not for a penalty. Robinson looked like the most explosive back of the bunch, and is showing more promise as his freshman campaign continues. 
The Dawgs pulled away in a dominant second half performance, finishing off the Tigers 42-10. The Dawgs finished with 500 yards of offense while holding Auburn to 258 yards.
Things I Liked 
Georgia desperately needed to improve its red zone scoring. They went a perfect 5/5 scoring touchdowns in the red zone today. 
The Dawgs ran the ball at will today notching 8 runs of 10+ yards, four of 23 or more yards, while averaging over 7 yards/carry. Their 6 rushing touchdowns were distributed among 4 players.
Several times during the game, a running back would be held up by the Auburn defense, only for the offensive line to push the backer up another few yards.
The Dawgs physically dominated today. RB Branson Robinson looks like a future star for the Dawgs. He is the most explosive back that UGA has right now. I also want to commend Kenny McIntosh for being physical as well as agile in the run game this week. He's been more effective as a receiver than a runner, but today he had some hard fought yards in the running game.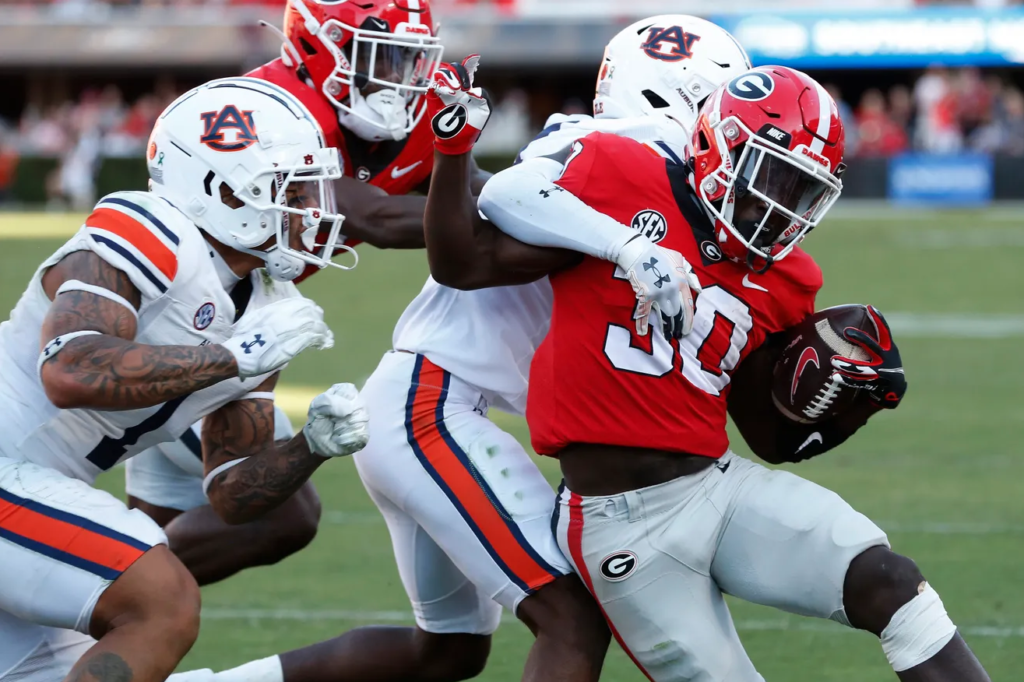 More Motivation
Georgia was called out by Auburn's center, who claimed the possibility of demolishing the UGA defensive front before the game. Despite missing Jalen Carter, the front four of Georgia were able to bring pressure against Robbie Ashford all day and bottle up the Auburn rushing attack. Auburn committed a plethora of false starts and holding penalties trying to stop the Dawgs. Cue the Michael Jordan meme: "And I took that personally." Kudos in particular to redshirt freshman Bear Alexander, who continues to get more reps and continues to flash his potential. 
Thanks Auburn! When Georgia started slow, Auburn decided to try and fake a punt deep in their own territory. When it failed, they handed Georgia points. Auburn's 10 penalties stymied their offense. Plus, Robby Ashford fumbled on a scramble despite being untouched from a Georgia defender. Auburn did plenty to hand Georgia this win.
Javon Bullard
Getting DB Javon Bullard back from suspension was incredibly important, especially for this game. Bullard, despite being under-sized for a typical SEC defender, is so physical and fearless in his play. He defends the run remarkably well, and still shows coverage skills from the star position. 
Things I Did Not Like
Injuries. Seriously?!? It seems like Georgia cannot catch a break when it comes to injuries this year.
Stetson Bennett is clearly not 100%, which may have contributed to his repeatedly throwing the ball too high for his receivers.
RB Kendal Milton is once again plagued by the injury bug, with a groin injury that took him out of the game early.
Darnell Washington also ended up in the tent for an injury, but managed to play.
While AD Mitchell was able to get in for a few snaps today, Coach Smart informed the media that he is battling a sprained thumb in addition to his sprained ankle. Georgia can become a different team if Mitchell, Arian Smith, Bennett, and Jalen Carter can all get healthy before playing Florida.
The First Half
Georgia's offense still had an inexplicably bad half of football. Auburn couldn't do anything, and Georgia really couldn't either.
Stetson Bennett couldn't move the ball through the air at all. In particular, Stetson has lost the touch he showed last year on his deep ball. He missed TE Brock Bowers and WR Ladd McConkey on deep throws despite both players being wide open. He was 5/15 on throws over 10 yards. While Georgia won easily, they also left at least 17 points off the board through missed throws and a missed field goal. This game should have been over in the first half, but the offense failed to execute once again in the first half.
Stetson Bennett once again looked lost for one half of the game before turning it on in the second half. He missed two wide open receivers for touchdowns. First he missed a throw to TE Brock Bowers which would have resulted in a touchdown and then he later missed an even more open Ladd McConkey for another score. He showed much better touch on his deep throws last season compared to this season. Georgia needs to connect on some of these big plays to take the top off of the defense. UGA should have put up at least 17 more points today, but Bennett held the Dawgs back. 
Brock Bowers and Bennett are not quite on the same page. Bowers caught 2 of his 5 targets. He's too good of a player to only get two touches in a game.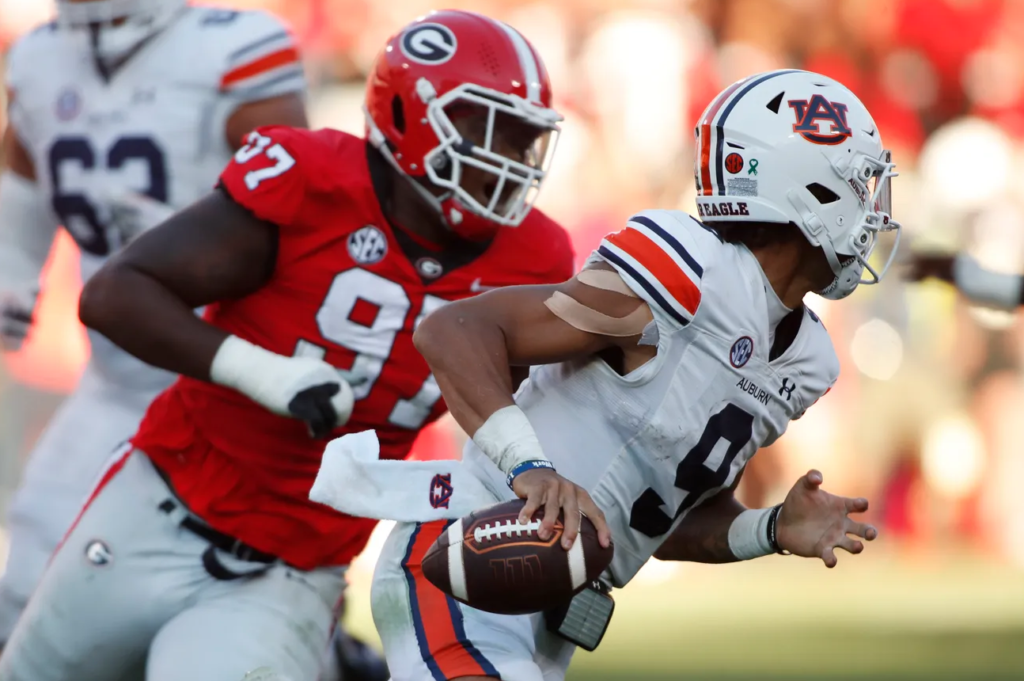 Additional Notes
LB Rian Davis got the start in place of Smael Mondon. Davis played well, but at times looked slow in tracking down Ashford. Xavian Sorey also got more playing time today instead of just being used on 3rd down packages. I didn't notice Trezman Marshall out there, so I think he is still dinged up as well. 
Auburn gave up 357 yards and 28 points in the second half. In their last 9 games against P5 opponents, they have been outscored 132-31. Auburn simply does not compete in the second half of games. 
Georgia averaged under 5 yards on screen plays. While these plays seemed to be effective early in the season, they longer are surprising teams. 
Freshman TE Oscar Delp caught a career high 3 passes, more than Brock Bowers and Darnell Washington. 
Auburn committed 5 false starts, 10 total penalties.
Georgia is averaging giving up 10.7 points per game this season. 
Final Thoughts
Auburn is a terrible football team.
I expected Ashford and Bigsby to cause the Georgia defense some issues, but was more blown away by how unremarkable their offense is. Their offensive line is so porous that it doesn't matter how talented they are in the skill positions.
The Dawgs should have finished this game in the first half, but once again failed to execute at a high level for long stretches of the game. Georgia needs to get healthy and needs to learn how to be explosive on offense.
While it was encouraging to see the offensive and defensive line improve their performances today, I'm not sure Auburn is a good gauge of performance. Coach Smart said after that game that he was proud of the resilience of his team but also is realistic that they have to improve. Georgia doesn't look like a top 5 team in the country right now despite their talent.
Two things will dictate Georgia's future: consistency on offense and team health. If Georgia can get healthy, and if Stetson and the offensive line can perform consistently, this team can achieve what it wants to.
If Georgia continues to stay injured and Stetson cannot find a rhythm, Georgia may lose one or even two games in their stretch of Florida-Tennessee-Mississippi State-Kentucky this is soon approaching. Georgia showed improvement this week and demolished a rival program that is trending the wrong direction. The Dawgs have two more weeks to get ready for the stretch of games that will define their season.
Watch Kirby's Presser Below