Bundesliga Picks: Matchweek 34
BUNDESLIGA PICKS: MATCHWEEK 34 – Just 90 minutes of the 2022/23 Bundesliga season remain, and in that time new legends and heroes will be born – potentially, none more so than ones in yellow and black, with Dortmund entering the finale just one win away from breaking Bayern's decade-long stranglehold on the Meisterschale.
Here's the lowdown on Dortmund's task ahead, and whether or not it will be as straightforward as many neutrals believe.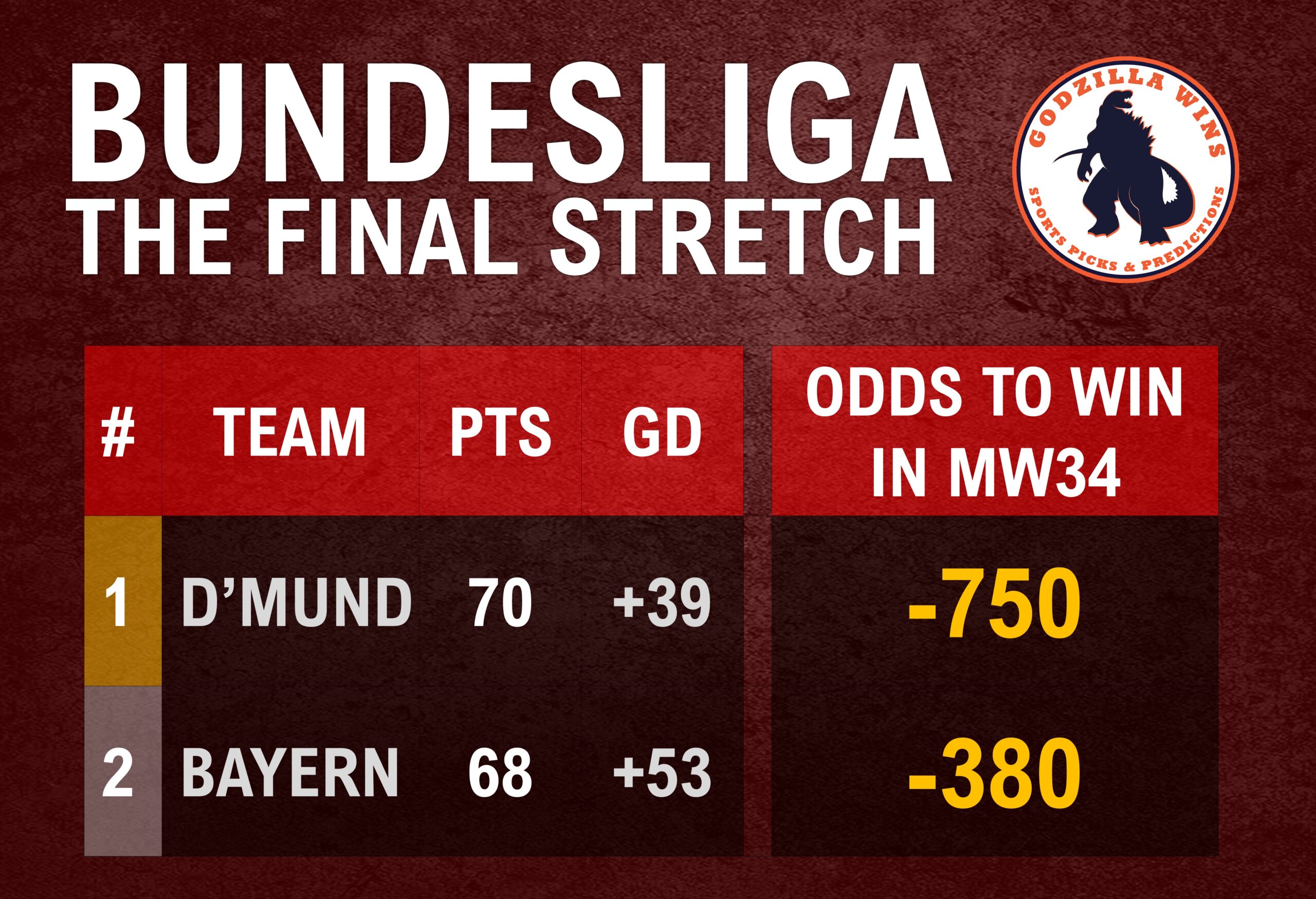 Borussia Dortmund (1st) vs Mainz (9th)
Date: Saturday, 05/27/2023 at 09:30 AM EST
Pitch: Borussia Dortmund – Signal Iduna Park, Dortmund, Germany
Current Bundesliga Form: | Dortmund (WWWDW) | Mainz (LLLLW) |
Last Bundesliga Match: | Augsburg 0-3 Dortmund | | Mainz 1-4 Stuttgart |
Head to Head
| | | | | |
| --- | --- | --- | --- | --- |
| Mainz | 1-2 | Dortmund | 01/25/2023 | Bundesliga |
| Mainz | 0-1 | Dortmund | 03/16/2022 | Bundesliga |
| Dortmund | 3-0 | Mainz | 10/16/2021 | Bundesliga |
| Mainz | 1-3 | Dortmund | 05/16/2021 | Bundesliga |
| Dortmund | 1-1 | Mainz | 01/16/2021 | Bundesliga |
Draft Kings Moneyline Odds: | HOME:
-75
0 | TIE: +
7
00 | AWAY: +
11
00 |
Prop Bet: | First Goal Interval: 21-30' (+390) | 
Tips
Five of Dortmund's last six wins have come by a 3+ goal margin.

Dortmund are currently on a run of 11 straight home victories.

The last three of those all saw Dortmund score inside the first 20 minutes.

Mainz have conceded 3+ goals in every match of their current losing run.

Each of Mainz's last four away games won/lost have seen the winner score exactly three times.
The Word
On the evidence of Mainz's last game above all others in recent times, it seems as though only Dortmund can beat themselves in this closing chapter of an incredible two-horse race.
Simply put, Mainz have been looking to next season for weeks now, having surely known deep down how much of a stretch it would be to finish in the top-six. Despite the raucous atmosphere the 05ers received in their final home game of the season, they were unable to build on a strong start and allowed underdogs Stuttgart to waltz through at will during a catastrophic closing half-hour.
Compare that to Dortmund, who dominated from the outset in Augsburg to win by the three-goal margin we called in last week's picks – albeit after much frustration in a goalless first half. There's nothing much more to say, and Dortmund are surely the lock of the season to finish the job.
Keep one eye on Sebastian Haller too, as he scored twice in matchweek 33, and looks set to cap a truly life-affirming 2023 that began with him beating testicular cancer, before doing his part over the spring months to put Der BVB in this glorious position.
PREDICTION: DORTMUND 3 – 1 MAINZ (+700)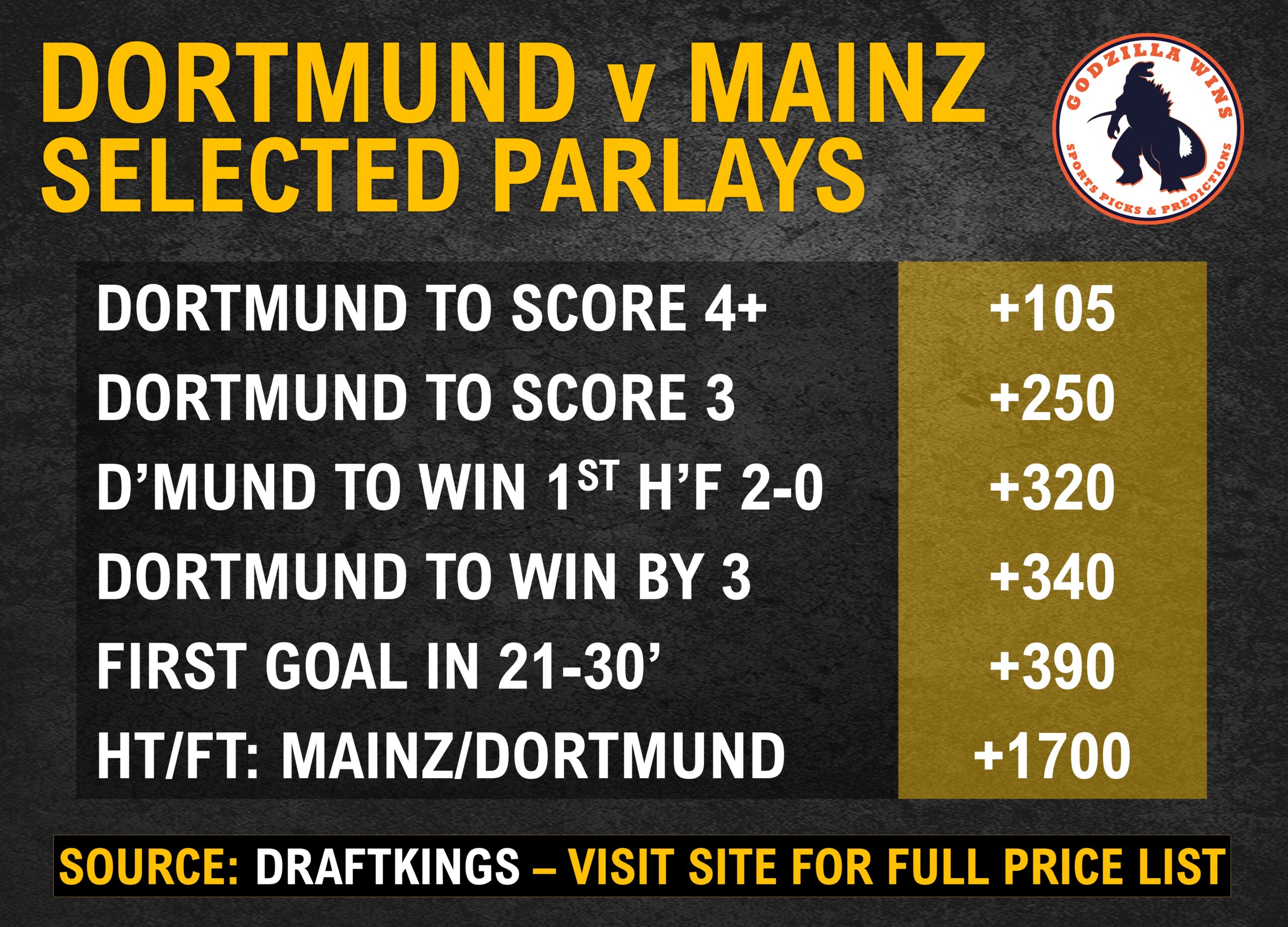 Union Berlin (4th) vs Werder Bremen (12th)
Date: Saturday, 05/27/2023 at 09:30 AM EST
Pitch: Union Berlin – Stadion An der Alten Försterei, Berlin, Germany
Current Bundesliga Form: | Union Berlin (LWLDW) | Werder Bremen (DLLLW) |
Last Bundesliga Match: | Hoffenheim 4-2 Union Berlin | | Werder Bremen 1-1 RB Leipzig |
Head to Head
| | | | | |
| --- | --- | --- | --- | --- |
| Werder Bremen | 1-2 | Union Berlin | 01/25/2023 | Bundesliga |
| Union Berlin | 3-1 | Werder Bremen | 04/24/2021 | Bundesliga |
| Werder Bremen | 0-2 | Union Berlin | 01/02/2021 | Bundesliga |
| Werder Bremen | 0-2 | Union Berlin | 02/08/2020 | Bundesliga |
| Union Berlin | 1-2 | Werder Bremen | 09/14/2019 | Bundesliga |
Draft Kings Moneyline Odds: | HOME:
-29
0 | TIE: +
37
0 | AWAY: +
65
0 |
Prop Bet: | 1st Half Tie & Under 1.5 Goals (+450) | 
Tips
None of Union's previous five matches have produced between 2-5 total goals.

Union haven't won both halves in any of their last nine home victories.

However, the four most recent of those saw Union beat a 1

st

or 2

nd

half handicap.

Werder Bremen's last five defeats have all ended 2-1.

The visitors have conceded exactly twice in each of their previous seven road trips.
The Word
Like Mainz, Werder Bremen are a team with nosediving form and nothing to play for but pride. Union will seal fourth place with a victory over the Green-White Army, while Freiburg travel to the home of Leipzig's DFB Pokal final opponents Frankfurt. Again, it would be ridiculous to assume that Frankfurt will simply roll over with squad places at stake.
Thus, the situation is firmly in Union's hands, though they will surely have taken a long look in the mirror at themselves, after conceding four times to lowly Hoffenheim in the penultimate round. But with Union now 19 games without a home defeat in any competition, expect normal service to resume and the 'Iron Ones' taking a fairytale place in next season's UEFA Champions League, just four years after making their Bundesliga debut.
PREDICTION: UNION BERLIN 2 – 0 WERDER BREMEN (+450)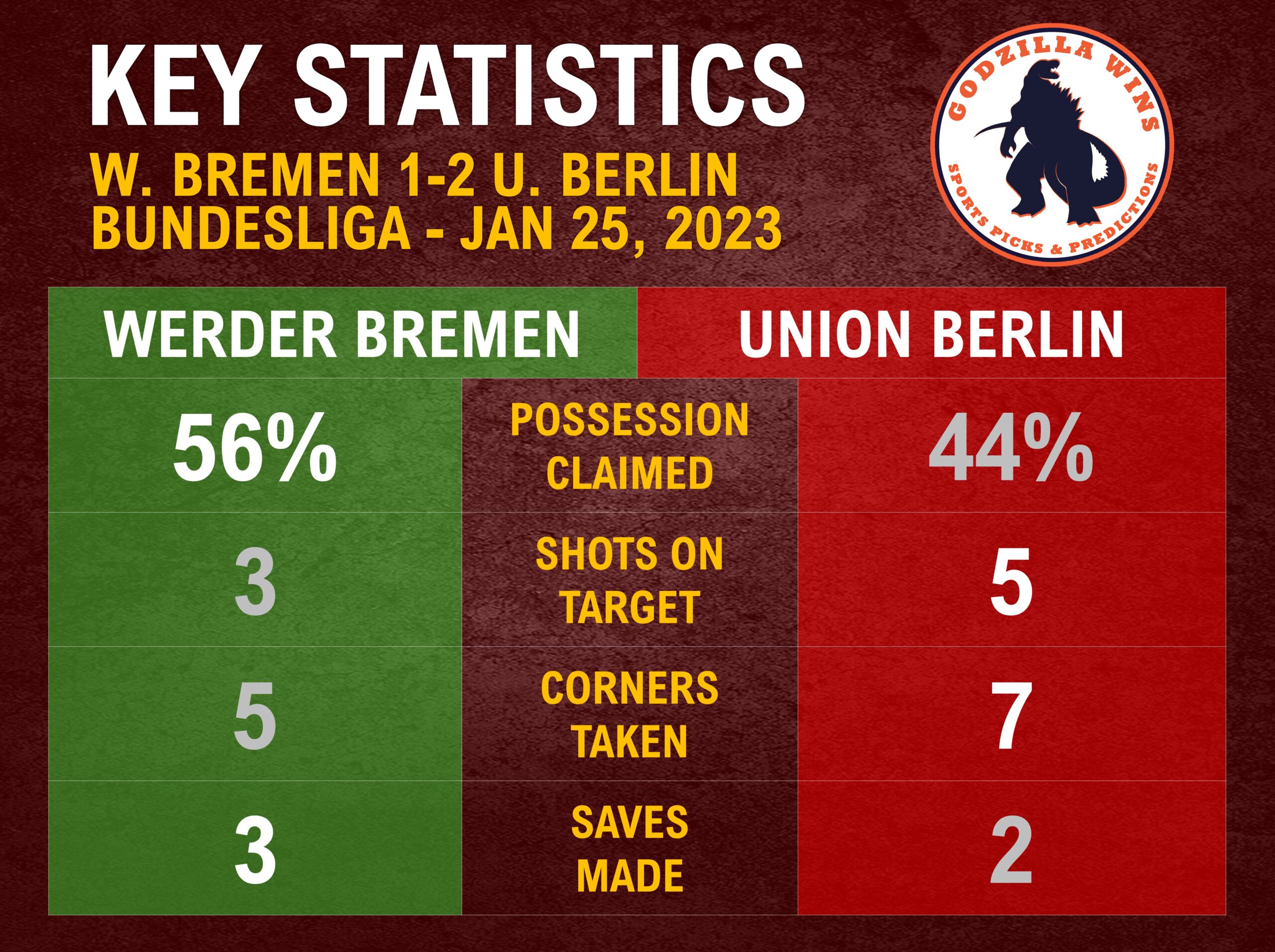 The Fight to Survive
As with most seasons, the final day is not without an almighty struggle at the bottom.
Hertha Berlin sealed their relegation fate last Saturday, after allowing Bochum to score an equaliser in the dying moments. The much-respected Olympiastadion outfit – once so proud and vastly superior to working-class counterparts Union – will play in the 2. Bundesliga next season, as a decade of decline and mismanagement finally delivers its catastrophic climax.
One of three others will join them in German football's underworld just after 11.30 AM EST on Saturday: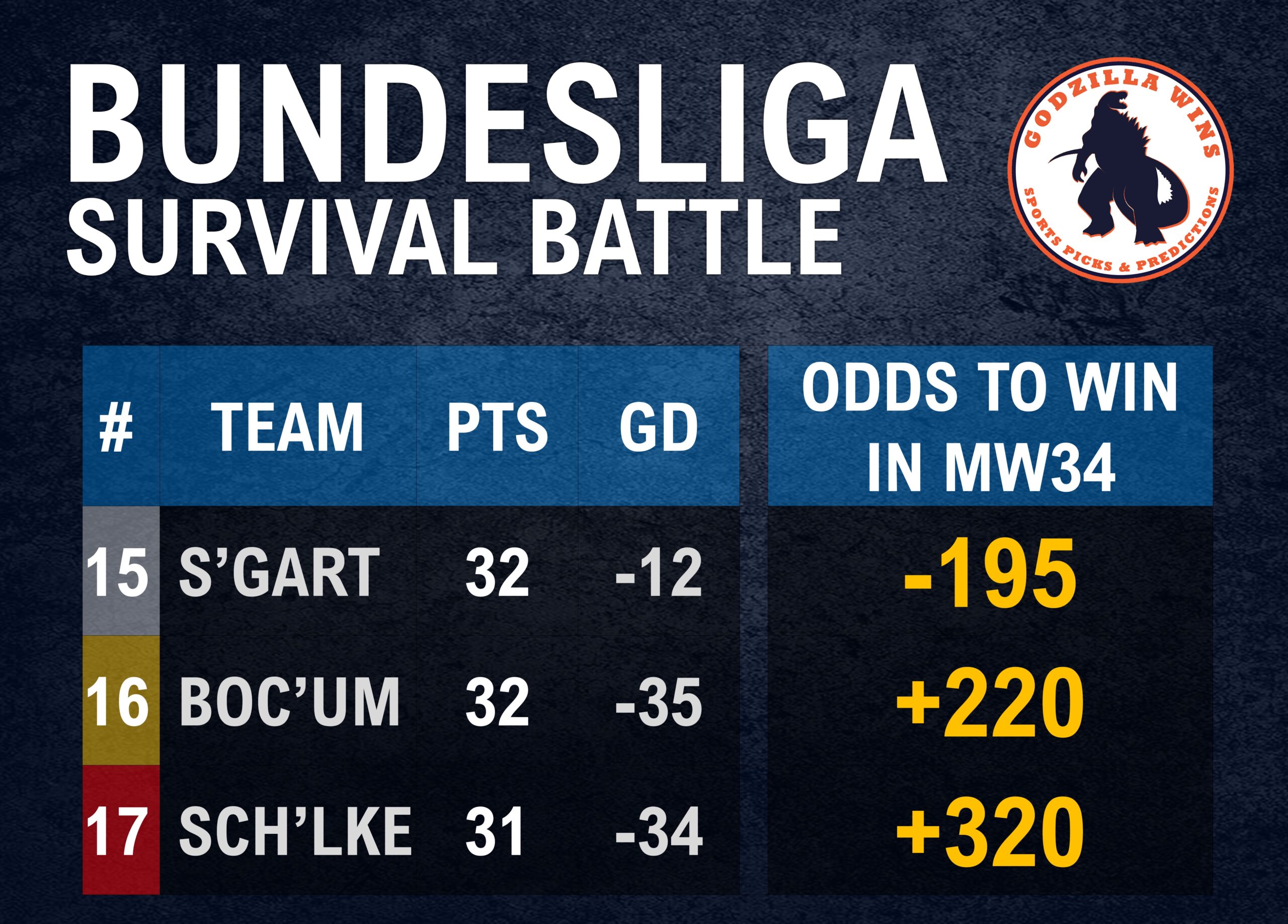 Schalke would only need a point to avoid this fate if Bochum were to lose, but the catch is that they face a free-scoring Leipzig side who demolished Bayern 3-1 in Bavaria last weekend. Of course, Leipzig might have every reason to ease off since they will finish third regardless, and have a DFB Pokal final to prepare for.
But that's not how the game works, and with plenty of competition for places in the starting XI for that cup showdown, expect Leipzig to do their professional duties and send Schalke back into the second tier just a year after escaping from it. That would leave two others to fight it out and avoid the limbo of 16th place – and a relegation playoff (in the form of a two-game series) against the 2. Bundesliga bronze medalists.
Stuttgart clearly hold all the cards in that respect, as Bochum must face a Leverkusen side wounded from their recent Europa League elimination. While home advantage means that a point is perfectly feasible for the Blues, Leverkusen know they must win to guarantee sixth place. But Stuttgart also finish on home turf, and that should make all the difference, given that Hoffenheim effectively sealed their own safety with a 4-2 drubbing of Union Berlin in their home finale.
And so this is our call for the final table, along with the full set of matchweek 34 predictions.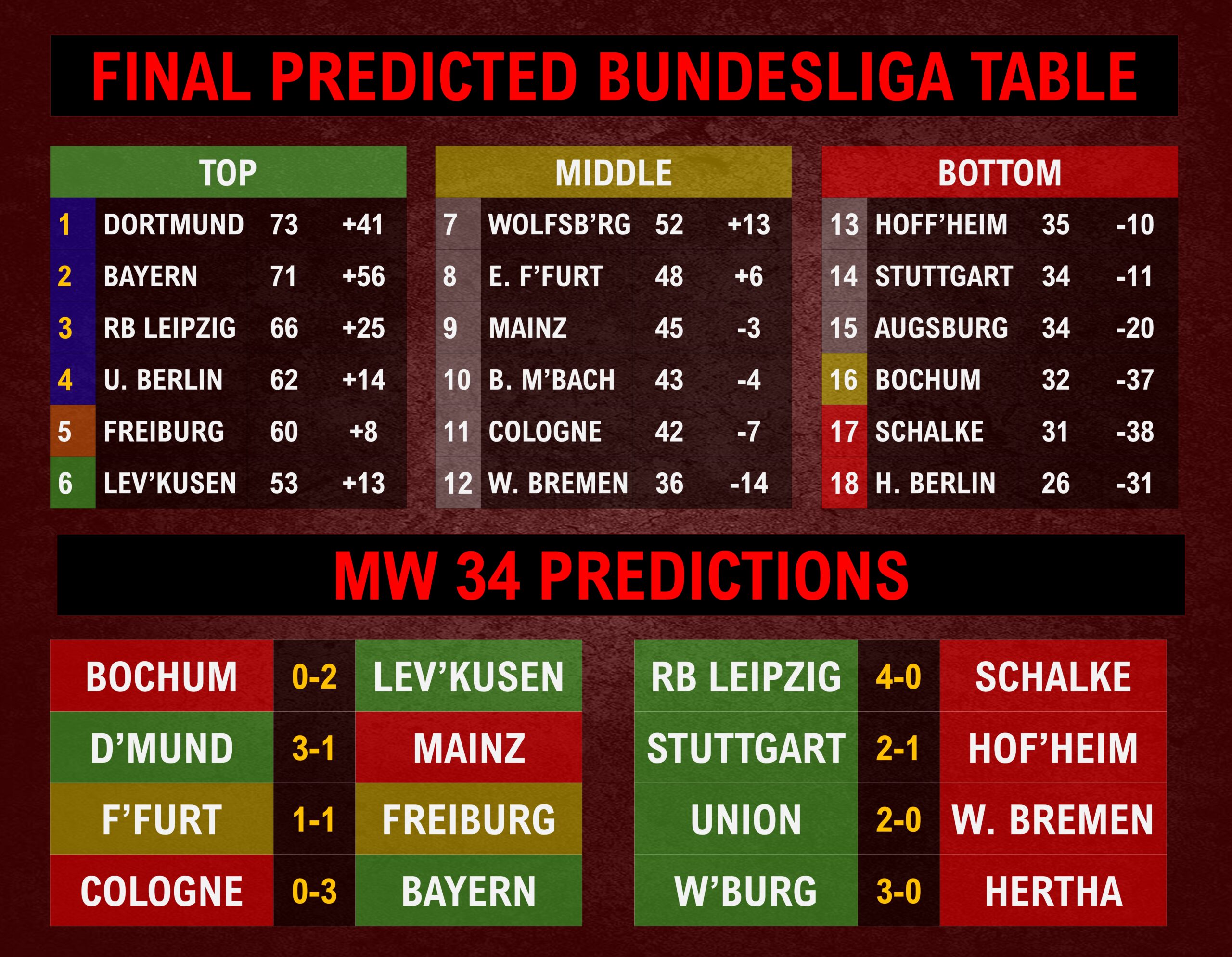 It's been a fantastic season overall, and from a personal standpoint, I'd like to thank anyone who has managed to drag themselves out of bed at the weekend to watch one of the most entertaining leagues in Europe. And I'd also particularly like to thank those who have been reading my predictions – from the spot on to the utterly laughable. It means everything.