UGA 55 – Vanderbilt 0
Start Well, Finish Strong
For the second year in a row, Georgia shut out Vanderbilt, regaining the form that they showed early in the season. With only 1 punt all day, Georgia was equally effective running and throwing the ball. In the first drive, QB Stetson Bennett was on fire, finally getting a passing touchdown after a 3 game drought. Bennett ended up 24/30 for 289 yards with 2 touchdowns. 
I mentioned in my preview that Vandy's secondary was poor. Well, Georgia had 8 receivers average 10+ yards/catch. In particular TE Darnell Washington had himself quite the game with 4 catches and 78 yards. He hauled in two impressive grabs, the first a one-handed snag that notched 34 yards, and another in heavy traffic. Freshman Dillon Bell scored a touchdown thrown from back up QB Carson Beck, while adding 4 more catches of his own. 
RB Kendall Milton was held out, but the Dawgs didn't miss a beat. Kenny McIntosh opened up the scoring for the day and was once again a threat both running and receiving. Daijun Edwards led the team with 49 yards on the ground, which doesn't sound like much. Keep in mind that was on 9 carries, and he was 1 of 7 players to run the ball in the game. 
Defensively, UGA posted their second shut-out of the season. They are the only team in the nation to have shut out two opponents. The defense held the 'Dores to 150 yards of offense, never allowing them in the red zone. QB AJ Swann couldn't get much going as he went 12/23 for 105 yards. As team, Vandy only managed 2 yards/carry. While the Dawgs only got 1 sack, they simply dominated on the defensive front, particularly at the line of scrimmage. I predicted that safety Chris Smith would get an interception. I was close as he picked up a fumble that was forced by DB Tykee Smith.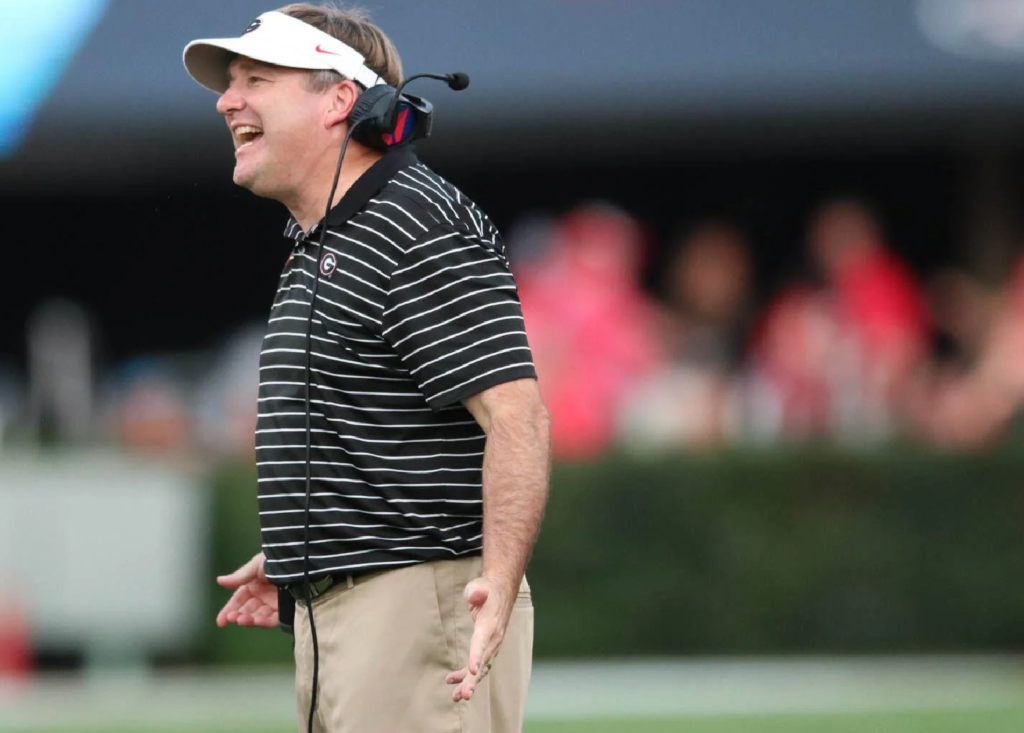 Things I Liked
The Big O. TE Darnell Washington is quickly becoming a leader of this team. Not only is he a dominant blocker, he is beginning to show he can catch as well as any tight end in the nation. Physically, no player is like him. While Brock Bowers is getting most of the attention, Washington has quietly put up better stats the last couple of weeks. Better still, Washington was the one who vocally stepped up when Georgia was struggling against Missouri. He's becoming elite in the locker room and on the field. 
Play action. For a couple games, Georgia was running its offense almost exclusively out of the shotgun. Stetson is certainly more comfortable there, but the offense went through cold spells. Now, Georgia, is back to running effectively, and incorporating the play action pass from plays under center. This has helped get Stetson moving out of the pocket and throwing in comfortable situations. Better still, Georgia began to work in wrinkles to plays they have run several times this year. Down the stretch, Georgia will need more wrinkles in their play calling.
Georgia scored a few "feel good" touchdowns in the second half. WR Dom Blaylock scored his first touchdown in three years after tearing his ACL twice. TE Arik Gilbert got in the game and scored his first touchdown for Georgia after missing last season and some of this season with personal issues. His teammates went wild, despite Georgia being up over 40 points. Walk-on running back Cash Jones took the ball 36-yards to score. See
Receivers Ladd McConkey and Kearis Jackson made plays on punt returns. McConkey averaged 10 yards on his returns, and Jackson averaged 14.5. 
Carson Beck came in during the end of the 3rd quarter and gave Georgia fans plenty of reasons to be excited for him to take the helm at QB next year. He went 8/11 for 98 yards and 2 TDs. While being known as a pocket passer, Beck was able to scramble for 13 yards, and has shown flashes of athleticism and mobility while doing mop up work this year. He seems to have great command of the offense and could be really solid next season or if called upon this season.
Freshman LB Jalon Walker has received a lot of praise in practices, but not a lot of time on the field. From what I have heard, Walker is a remarkable athlete, and Georgia is trying to determine the best position to use him in because of his versatility. He began to show what the hype is about this week, tying for second in tackles on the team. Keep your eye out for number 11, he's going to be an impact player in the future. 
Things I Didn't Like
I think he's okay, but WR Ladd McConkey stayed down after a catch during the game. It looked like an ankle or lower leg injury. He seemed to be okay, and Coach Smart said after the game that he could have gone back in. That was the same thing he said about AD Mitchell, who has barely played in 5 weeks. Georgia needs him healthy. 
CB Kelee Ringo has had an up-and-down season. He's considered Georgia's best corner, but he didn't look like it today. He let receivers get behind him multiple times, and while the stats won't show it, had a poor game. Ringo has to step up with Tennessee looming. If he gets beat against the Vols like he did against Vandy, Georgia will not win. 
I am sure that opposing teams are doing everything they can to keep the ball out of Brock Bower's hands, but we need to get him the ball more. The good news is that Georgia has moved the ball easily without much production from Bowers. However, there is no excuse for not getting him touches. 
Georgia continues to run low-percentage screen plays. OC Todd Monken has dialed up a specific one nearly every game. It has only succeed one time, in garbage time against Auburn. Todd, it's time to let it go.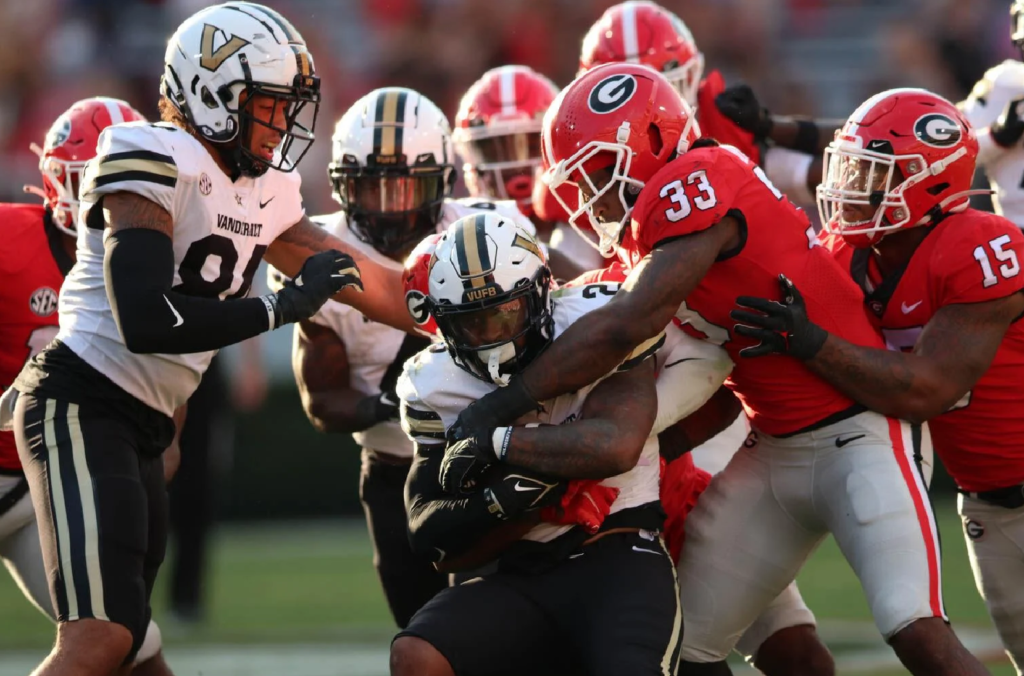 Musings
Georgia shut out an opponent in back-to-back seasons for the first time since 1980-81 against Kentucky. 
Georgia scored 55 or more points for the 7th time under Coach Smart. 
Georgia has +228 point differential so far this season.
Georgia out-gained Vandy 579-150.
Final Thoughts
Georgia did exactly what fans would have hoped for in this game. They started fast, stayed focused, and punished a weak team. Even better, they appear to have done so without major injury going into the bye week. Georgia continues to improve as the season goes on, but they will be tested by each of their next four opponents in unique ways. Georgia still needs to find consistency from the offensive line, prevent explosive plays, and get more consistent pressure from the front 4. 
For the third time in Kirby Smart's career, he has begun the season 7-0. The last two times his teams did so, they played in the national championship. If Georgia hopes to continue that streak, they have to survive the brutal stretch of conference games coming up. Get healthy, Dawgs. Florida and Tennessee are next.
Presser