By: Brian Butcher, Contributor
Samford at UGA (UGA -52), 4:00 PM EST
UGA, coming off of a blowout victory over the Oregon Ducks, has quite a different caliber match up this week: the Samford Bulldogs. These two teams last faced each other in 2017, when Samford came to Athens and left with a 42-14 loss. Once again Georgia is the heavy favorite to win, with ESPN's FPI giving them a 99.9% chance of victory. Let's look a little bit into the Samford Bulldogs before Saturday's game
Samford
Led by Head Coach Chris Hatcher, the Bulldogs are fresh off a 27-17 victory over Kennesaw State. Scoring 13 fourth quarter points, Samford was able to pull away from the Owls with two touchdowns scored by receiver Chandler Smith. Despite Smith's two late touchdowns, fellow Bulldog Kendall Watson led the team with 9 receptions for 187 yards and a pair of touchdowns himself. New quarterback Michael Hiers went 18 for 24 for 289 yards and 4 touchdowns in his first game. He also added a meager 9 yards on the ground on 7 attempts. Samford returns 4 of 5 starters along the offensive line. Hatcher's teams are known for throwing the ball frequently and playing at a fast tempo. Their style of play can be similar in elements to how the Dawgs approached Oregon last Saturday. They move quick and spread the defense out to do quick throws or open up running lanes. You may recall that Samford was able to put up 52 points against Florida last year. They did, however, still lose because they gave up 70, and the Gators responded by recording themselves dancing in the locker room perhaps because that victory moved them to a solid 5-5 record on the season. Maybe that's why ol' Dan works for ESPN now. So, yeah, defense is not Samford's strength. Expect Samford to score more points than Oregon did, but to give up at least as many.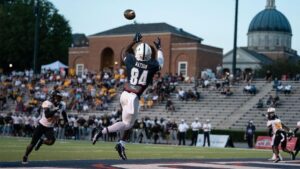 The Coaches
Chris Hatcher and Kirby Smart have a history together. Hatcher was the first coach to hire Smart at as his defensive backs coach when they worked for Valdosta State. He found Kirby from a recommendation from his defensive coordinator at the time, Will Muschamp. Now Muschamp serves as a Co-Defensive Coordinator for the Dawgs. These coaches have an immense amount of respect for one another. 
UGA
In what should be an easy game for UGA, what should fans be watching for? Keep an eye on a few things:
What does the run defense look like? Can it improve over last week's performance?
How is the conditioning of the team, especially the defense against an up-tempo offense?
What does the rotation look like at the guard position? Can Tate Ratledge retain his starting RG spot, or will Devon Willock take over?
Will Georgia's offense pass the ball as consistently as last week or will they revert back to a run dominant offense when they take a healthy lead?
How does LB Smael Mondon play after having, as Kirby called them, "WTF" moments against Oregon?
Does DE Mykel Williams start again? Kirby has said this is a week-to-week decision.
Malaki Starks. The kid could be truly special. He lined up everywhere in the secondary last week. How will the Dawgs continue to use him?
Back up QBs. Do Carson Beck and Brock Vandagriff have control over the offense? Are they taking the next step in their development?
I bet we see freshman running back Branson Robinson a good bit. Will he be a contributor this season?
Incredible play by FR Malaki Starks. Fantastic job of tracking and showing his ball skills pic.twitter.com/avqTY56h7r

— Billy M (@BillyM_91) September 3, 2022
Prediction
Georgia should be able to do just about whatever it wants offensively against Samford. It will come down to focus and execution. On what players and coaches call Bloody Tuesday this week, Coach Smart said the Dawgs had one of their worst practices of the year, lacking the intensity and physicality that the coaches desired to see. Even still, the Dawgs will roll in their home opener. Georgia is a 52 point favorite against Samford. If you beat Oregon by 46, the only reason you don't beat Samford by 52 is because your starting offense doesn't see the field in the second half and the back ups can't move the ball as efficiently. 
Dawgs win 56-13