UGA vs. Ohio State Postgame Analysis
 The Miss at Midnight 
UGA VS. OHIO STATE POSTGAME ANALYSIS – The Georgia Bulldogs came from behind in the final minutes of the Chick-Fil-A Peach Bowl to defeat the Ohio State Buckeyes.
As the clock struck midnight, Ohio State kicker Noah Ruggles pulled his game-winning field goal attempt wide left for the Dawgs to hold on to victory. Ohio State started quickly and lead for nearly the entirety of the game, but the Dawgs had the upper hand when it mattered most. 
I won't spend time recapping the game and all the scoring drives but instead will talk about the biggest moments and players in the game. 
Biggest Moments in a Wild Game
One of the biggest moments in the game came when Ohio State receiver Marvin Harrison Jr, who had carved up the UGA defense all game long, tried to catch a ball in the back of the end zone.
CJ Stroud lofted the ball way in the air, giving UGA DB Javon Bullard time to react and lower his shoulder into Harrison. Harrison dropped the ball and was concussed on the play, which was initially called for targeting before being overturned.
I think this was the correct call, but I certainly understand why Ohio State fans would disagree because it was so close.
Without Harrison, the Ohio State offense wasn't as effective, scoring only 6 points in the 4th quarter after his injury. Georgia went on to score 18. 
Two Timeouts
Two timeouts from Kirby Smart shifted the game.
The first came as UGA had stopped Ohio State on their own 30. Smart called time out just before Ohio State snapped the ball to Xavier Johnson on a fake.
Johnson would have easily converted the first down, but the refs blew it dead. Ohio State punted, and UGA scored on the next play, to draw within 3 points. Right before the final kick to win the game, Smart called a time out to ice Ruggles.
Who knows if it worked or not, but Ruggles did miss the kick. I couldn't help but think about Kirby's progression as a head coach in this game.
He has gone from calling a terrible fake punt in the 2018 SEC Championship which cost UGA the game, to calling a perfect time out to prevent a bad play.
Amazingly, Smart's timeout should have been unnecessary as Ohio State had 12 players on the field on the punt and the refs missed it.
C.J. Stroud
C.J. Stroud earned himself a ton of money in this game. He was nearly flawless in this game, making accurate throws and plays with his feet. Stroud finished 23/34 for 348 and 4 TDs.
He added 12 carries for 34 yards. His scrambles were effective, and he showed the ability to make NFL throws while on the move. Stroud did everything possible to help his team win.
For his last game in a Buckeye uniform, I cannot imagine a better performance to leave on.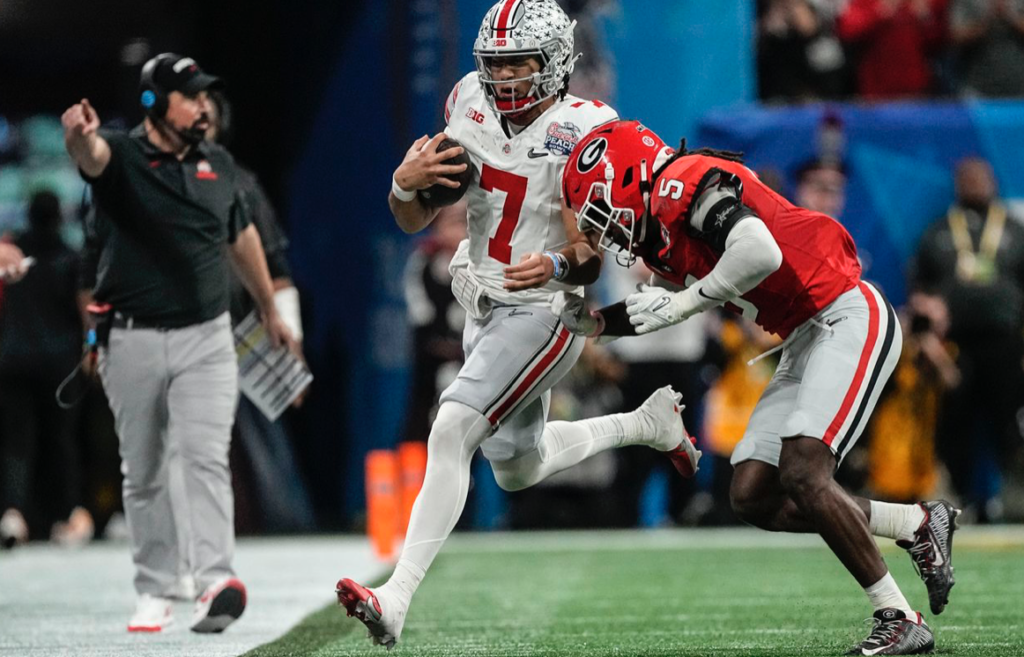 Stetson Bennett
The legend of Stetson Bennett continues to grow. Bennett's stats were solid for most of the game, despite him making a couple of egregious mistakes early in the game.
On UGA's first drive, Bennett kept a read option he should have handed off. He didn't get the first down and the hand off would have been an easy touchdown.
He also threw a poor interception when targeting Kenny McIntosh on a wheel route. Bennett thought McIntosh was cutting the route short, but instead, he continued to go deep. These two plays cost UGA 14 points in the game.
Even in the second half, Bennett almost went an entire quarter without completing a pass as UGA's play-calling became more conservative.
Then, in typical Stetson style, he had it when it mattered most. He threw for 190 yards in the 4th quarter, with pinpoint accurate throws to Brock Bowers and Kearis Jackson to set up the go-ahead touchdown to AD Mitchell. Stetson was up and down in this game, and didn't always take the easy throws given to him.
Yet, he was responsible for 4 touchdowns and his play was clutch. 
Fatigue
One of the surprising factors in this game was the fatigue by Georgia players.
The defense in particular looked gassed throughout the game, despite rotating in players heavily. Smael Mondon, Jalen Carter, and company were sucking wind for large segments of this game.
I kept saying, "I can't believe x player is out on this play." For example, Ohio State had a key 3rd and 2 in the red zone and Carter was on the side line.
I just don't get how UGA can't play their best interior linemen on a crucial down. I was reminded of the 2021 SEC Championship when UGA's defense was torched by Alabama. Star players like Jordan Davis and Kelee Ringo were woefully out of shape. UGA has to condition better. 
Injuries
Injuries were a major factor in this game for both sides. Ohio State lost Harrison when UGA had no answer for him.
Plus they lost their starting tight end, after coming in with a host of injuries on offense already. UGA found themselves in the same boat.
Darnell Washington left with a sprained ankle early in the game, Ladd McConkey is clearly not healthy, starting RT Warren McClendon didn't play, LG Xavier Truss was severely limited, and UGA almost ran out of defensive ends that were healthy by the end of the game with Chaz Chambliss, Robert Beal, and Mykel Williams all injured in the game.
True freshmen Oscar Delp and Marvin Jones Jr had to step up in Washington's and Chambliss' absence, respectively. Amarius Mims did a good job at the RT position, and Devon Willock filled in fine at LG.
As much as Kirk Herbstreit mentioned the injuries from Ohio State in the broadcast, the loss of Darnell Washington should have received more recognition for UGA. Our offense runs through him, literally in many instances. Losing him for this game and likely the national championship is a huge blow for the Dawgs.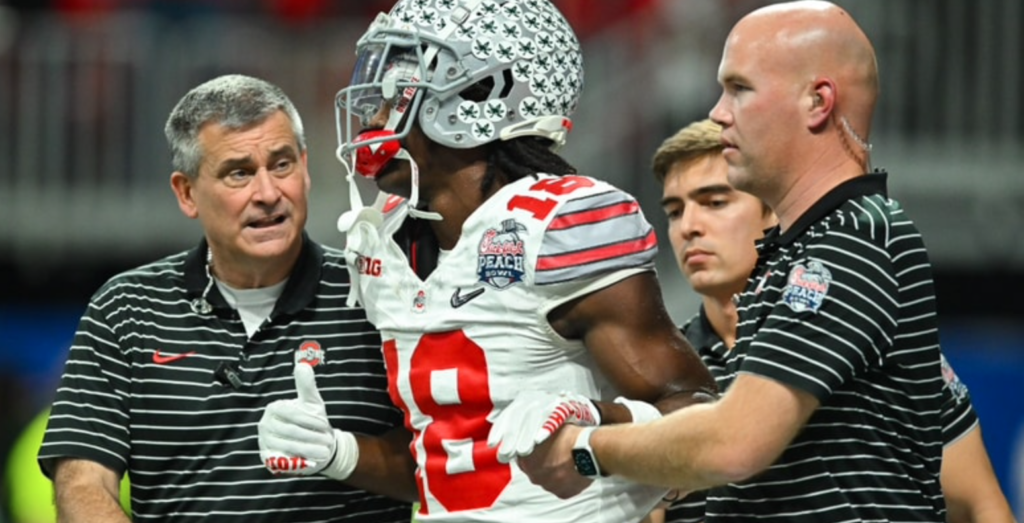 Arian Smith
WR Arian Smith led the Dawgs in receiving with 3 catches for 129 yards and a touchdown.
His 76 yard touchdown game late in the game as he torched an Ohio State DB, who fell down trying to keep up with Smith's speed.
All of his catches were important in the game, even his check-down catch for 7 yards. 
AD Mitchell
UGA's offense reaches another level with AD Mitchell on the field.
He makes big catches and provides a threat on the outside in the red zone to score.
Just as Mitchell scored against Oregon in Atlanta in the first game, he hauled in the winning touchdown on a beautiful route once again in Mercedes-Benz Stadium. I think they were scored in the same corner of the same end zone. 
Brock Bowers
TE Brock Bowers had one of the plays of the game with by impossibly converting a 4th down play.
With Georgia down 14 and near the red zone, Bowers caught a pass about a yard shy of the first down marker. He dove and reached over the line, and was initially called short.
Because he barely lifted his foot off the ground when it should have touched the boundary, he was in bounds while reaching over the line.
UGA was able to kick a field goal and begin their 4th quarter comeback. 
The Secondary
I truly thought that LSU's passing success against UGA was more of a let down from UGA and not an indication of a serious problem.
Ohio State proved it's a serious problem.
One really effective receiver can wreck this team. UGA was able to stop Tennessee because Hooker played no where near Stroud's level and Tennessee's offense only really target half the field while throwing.
Ohio State's offense is more sophisticated and UGA struggled. For those who say that Kelee Ringo is a 1st round player, I wonder if he has played himself out of the first round the last two games. He has talent, undeniably.
And, in his defense, UGA started the game giving Stroud entirely too much time to throw, so Ringo had to cover for like 6-7 seconds several times. He just couldn't do it. Neither could Kamari Lassiter or Malaki Starks.
It didn't matter who UGA put against Harrison, no one stopped him and UGA still rarely bracketed him in coverage until he had scored a couple touchdowns.
I would not have been nervous about facing TCU in the title game, but I've lost some trust in this defense's ability to get the job done when it has just put in the two worst defensive performances of the year in back-to-back games. 
Defensive Shifts
One of the other surprising things I saw in the game was UGA's late defensive calls and shifts on defense.
There were multiple plays where UGA was not set when the ball was snapped, or where the linebackers were making adjustments during the snap.
Both Smael Mondon and Jamon Dumas-Johnson struggled at times yesterday, and I think it was in part because they were thinking too much and not just playing ball.
For UGA to succeed against an offense as potent as TCU's, the linebackers will have to just play ball. Mondon and Dumas-Johnson will have very different roles against TCU than they did against Ohio State.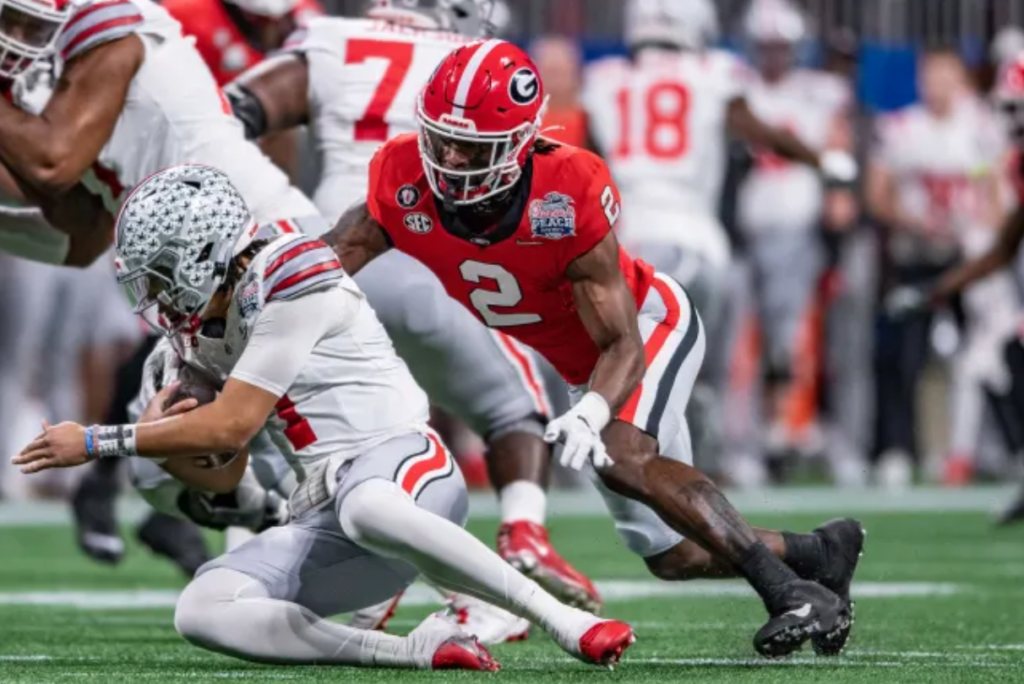 Overall Reaction
What an incredible day of playoff games! I expected Michigan to take care of business and they couldn't get out of their own way.
UGA played pretty poorly for significant stretches in this game, but had it when it mattered most.
Now the Miss at Midnight will be remembered for a long time. So will Stetson's final drive to win that game. 
The Dawgs are fortunate to be playing in the natty for the second year in a row, plain and simple. They should have lost, and I'm surprised by how poorly they performed.
Ohio State also played about as well as I could have imagined, especially CJ Stroud. I had accepted defeat about midway through the 3rd quarter, when UGA had its third straight scoreless drive and Ohio State was continuing to put up points.
Winning while being down in the 4th quarter by 14 is remarkable, and it's one of the most exciting UGA games I've ever watched. 
TCU
TCU was the team I wanted to face in this playoff.
Now, I'm not so sure.
UGA will limp into the playoff with a whole host of injuries on both sides of the ball. Their advantage? They've been here before, they know what it takes, and they simply have more talent.
However, UGA has shown that it can struggle against a 3-3-5 defense and it definitely can struggle against a good QB with an exceptional receiver.
TCU has those ingredients, and it's enough to potentially upset the Dawgs. Especially if UGA is missing 3-4 starters on offense and 1-2 on defense.
Stetson Bennett and Max Duggan have the same ability to just hit a different gear when their team needs them. Should be a great duel to watch.