By: Brian Butcher, Contributor
The Georgia Bulldogs face their first SEC match up and road test of the season in Week 3 against the South Carolina Gamecocks. The Dawgs have an offense that could give any defense in the country fits, and their defense has been surprisingly stout, as they'd only given up 3 points in their first 2 games. South Carolina is coming off of a 30-44 loss to Sam Pittman's 10th ranked Razorbacks and a meager 21 point win over Georgia State. Which means they have one more win over a Sunbelt Conference team than Texas A&M and Notre Dame. 
This game is shaping up similar to the Oregon game, with Carolina bringing in an athletic but problematic quarterback through the transfer portal. Spencer Rattler lost the Oklahoma starting job last season to Caleb Williams, and then left town after Lincoln Riley decided it would be more fun to live in a 17 million dollar home in Los Angeles than a 2 million dollar home in Norman. I get it. Head Coach Shane Beamer welcomed Rattler with open arms after watching quarterbacks Luke Doty, Jason Brown, and Zeb Noland lead the team to a 7-5 record last season. It's not great when winning the Duke's Mayo Bowl is an indicator that your program is on the rise. Here is what to watch for as the Dawgs take on the Gamecocks.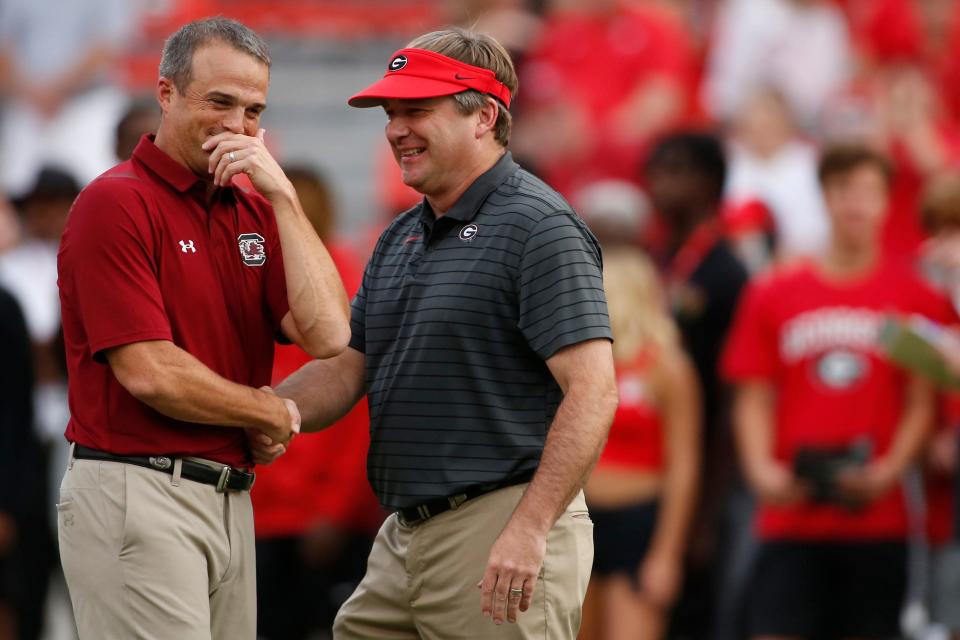 Offensively, UGA can move the ball almost at will. However, starting receiver AD Mitchell injured his ankle last Saturday and likely will not be ready to go against the Gamecocks. The Dawgs will miss his presence in the offense, but they should be just fine. Why? They may not have to throw the ball all game anyways. South Carolina ranks 129th in the nation in run defense, allowing nearly 250 yards on the ground each game. To make matters worse, they lost two starting defenders to season-ending injuries as Jordan Strachan and Mo Kaba suffered torn ACLs in last week's game. The one player who is a standout on the Carolina defense is All-SEC cornerback Cam Smith, left the game last week with an upper body injury. His status is uncertain against Georgia. Georgia's run game hasn't been its usual formidable self this season, but Kendal Milton looked pretty impressive last week. Look for him to have a great game on the ground while fellow back Kenny McIntosh picks on the replacement linebackers catching balls out of the backfield. Stetson Bennett should help this offense score a lot of points this week. If they execute, it can get ugly quickly. 
South Carolina did have some bright spots on offense last week. Rattler threw for 367 yards on one of the better defenses in the SEC. His favorite target was receiver Antwane Wells Jr, who caught 7 passes in Week 1 and another 8 for 189 against Arkansas. Wells went to a Fork Union Military Academy before transferring to James Madison and eventually South Carolina. Additionally, South Carolina has a running back who is a threat catching balls out of the backfield. Marshawn Lloyd had 72 yards last week despite only adding 23 on the ground. Carolina is only averaging around 60 yards rushing each game. But keep your eye on #0. He is South Carolina's go-to guy. The weakness for Carolina's offense comes from its offensive line. Despite their experience, they allowed 6 sacks last week. Rattler was under an immense amount of pressure throughout the game. So for South Carolina there are a few red flags: a bad offensive line, a lack of running game, a boom or bust quarterback, and an inability to stop the run. 
Feed MarShawn 🍽 pic.twitter.com/EY9GS8fsCs

— Gamecock Football (@GamecockFB) September 4, 2022
What South Carolina does not lack is effort. They never quit, despite being down last week to Arkansas. Rattler and the offense continued to fight until the end, and it appears that Shane Beamer is building a much better team culture for the Gamecocks. To win, South Carolina will have do what no one has been able to do so far which is force turnovers from the Dawgs. Plus, they can't turn it over themselves, which may be the bigger concern. Rattler threw an interception and fumbled three times last week. A home atmosphere and belief can fuel this team and keep the game competitive. However, turnovers could deflate the crowd, set up Georgia for easy scoring chances and make it nearly impossible for South Carolina to win. 
Prediction
This one is tough to predict, as Georgia has not been tested yet. UGA has won 4 of the last 5 against South Carolina, and the Gamecocks were able to score 17 even on last year's defense. I suspect Mitchell won't play, which means Georgia won't have a go-to player on the outside. However, South Carolina has too many problems to fix from the first two weeks in order to defeat the Dawgs. Rattler will make some big plays, but also make some mistakes and the Dawgs will end up winning 41-20.