By: Brian Butcher
Every week, our newest contributor and rabid Dawg fan, Brian Butcher, will break down all the UGA games in our newest column: Behind the Hedges. This is your first stop for the most comprehensive, feverish Georgia Bulldogs coverage you can get.
UGA vs Oregon, Sept. 2nd 3:30pm ABC
The defending national champions start their 2022-23 campaign in a similar fashion to last year's season opener. Last season, the Dawgs beat the Clemson Tigers 10-7 at a neutral site game in Charlotte, North Carolina. Chris Smith's pick 6 became one of the highlight plays of the season as the Dawgs defense showed how formidable it would be all year. The offense, led by current West Virginia QB JT Daniels, sputtered and struggled until they had to grind out the clock at the end of the game. Zamir White pounded Clemson on the final drive, which finished off the Tigers and began a historic season for the Bulldogs. 
This year the Dawgs again match up against a formidable opponent in Week 1 at a neutral site. The Dawgs set a record with having 15 players drafted by the NFL last season, and yet Kirby Smart has recruited in a way that allows for the Dawgs to still be one of the top teams in the nation despite their attrition from last year's team. The Ducks come off a 10-4 season that was highlighted with a win over Ohio State in Columbus while missing some key players. The Ducks ended up losing in the Alamo Bowl 47-32 to Oklahoma despite making a second-half surge against Sooners. 
Each team has swapped coaches. Former UGA defensive coordinator Dan Lanning now takes the helm at Oregon, while wide receiver coach and passing game coordinator Bryan McClendon made a lateral move to play the same role for Georgia. 
Match Ups
Offensively, Georgia returns an immense amount of talent from last year's roster. QB Stetson Bennett will lead the offense and will have spent the spring and fall repping with the first team for the first time in his career. A.D. Mitchell, Brock Bowers, Kearis Jackson, Ladd McConkey, and Darnell Washington all return as pass catchers for the Dawgs. Plus, Georgia returns three of their starting offensive linemen from last season, including both tackles. Even though the Dawgs sent their first two options to the NFL from last year's team, Kenny McIntosh and (if he can stay healthy) Kendal Milton provide a potent one-two punch from the backfield. This year's offense has the opportunity to set some records for the red and black. 
No team lost more talent on defense than Georgia. And yet, they still have potentially the best defensive player in America in Jalen Carter, and reload with a stable full of four and five star recruits. Linebacker will be the biggest question mark for the Dawgs, with sophomore Jamon Dumas-Johnson leading the way for the inside backers in his first career start. Carter, CB Kelee Ringo, OLB Nolan Smith, and S Chris Smith should have the Dawg defense playing well sooner than later. However, expect Oregon to exploit their youth at linebacker and at one of the corner positions.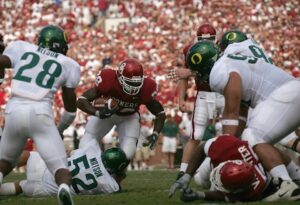 The Ducks boast a new OC in Kenny Dillingham and a new QB as well. Many assume that Auburn transfer Bo Nix will get the start for Oregon as Dillingham previously worked with him, but Lanning will not tip his hand for Kirby Smart any sooner than he absolutely has to. The good news for Dawg fans is that Smart's defenses have a history of containing Nix and forcing him to make poor decisions. The Ducks are down two running backs from last year's team, but brought in two through the transfer portal. Their backs could pose a threat out of the backfield against UGA's linebackers. Out wide, the Ducks have multiple threats at receiver. 6' 3" Chase Cota is a physical presence on the perimeter while Seven McGee is a threat in the slot. Perhaps most importantly, Oregon returns all five offensive linemen from last season. Can this experienced offensive line slow down the Georgia pass rush enough to give Nix time to distribute the ball? 
Oregon returns several playmakers on the defensive side of the ball despite losing Kayvon Thibodeaux to the NFL. Led by lead tackler and pre-season All-American Noah Sewell, the Ducks defense has the potential to wreak havoc on the Dawgs. Sewell was a recruit that Coach Smart sought after but failed to land, and now seems destined as a high draft pick next year. Oregon's defensive line is formidable as well. Defensive end Brandon Dorlus can cause issues alongside Georgia native Bradyn Swinson. The now healthy Justin Flowe is a fearsome pass rusher for the Ducks. Opponents averaged 27 points per game last season against Oregon, who had multiple players working through injuries throughout the year. The defense of this team ought to be its strength, especially its front 7. However, the secondary is considered a liability. 
Head Prediction:
Georgia has opened the season with slow offensive performances the last two years. There is no excuse for that to happen this year. However, they are breaking in enough new talent on defense against an experienced offensive line and a quarterback who can make explosive plays (sometimes for both teams). Ultimately, the Dawgs flat out have more talent than the Ducks who only have 1 player in ESPN's top 100 players compared to Georgia's 7. Depth will win out in a game that's close until the end. UGA 38-Oregon 24
Heart Prediction:
The toughest opponent on Georgia's schedule is Georgia. Unless UGA completely wets the bed, this game might be over by halftime. Remember how fearsome Michigan's front 7 was supposed to be? Yeah, Georgia scored on every drive in the first half against them, and most of that offense returns. Georgia is "rebuilding" this year, in the same way Coach Saban claims Alabama was rebuilding last year. Oregon's talent on the front seven can't mask a porous secondary that will get picked apart by Stetson Bennett. Towards the end of the game, Georgia physically dominates and ends up with around 500 yards of offense. UGA will give up a few big plays with their young defense, but don't worry, Bo Nix is still going to Bo Nix. 
Kirby Smart moves to 6-1 against the spread in season openers. Dawgs win big 42-17.