By: Brian Butcher, Contributor
In their home opener, the Georgia Bulldogs coasted to a 33 point victory over the Samford Bulldogs. This game went quite differently than I expected. The Georgia offense struggled, especially in the red zone, and the defense showed significant improvement over last week. Despite a slow start, the Dawgs made it to half time with a 30 point lead while holding Samford to under 100 yards of offense. In the second half, the Dawgs continued to settle for field goals, one of which the kicker missed. The fourth quarter was shorted after each team agreed to it, and the Dawgs finished with their first shut out of the season. Here's what I saw:
Things I Liked
Offensively, Georgia was able to move the ball at will. They racked up 479 yards of offense, led by 300 yards passing by Stetson Bennett. The running backs combined for 127 yards on the ground. Kendal Milton led the Dawgs with 15 carries for 85 yards. Daijun Edwards and Kenny McIntosh were not particularly effective running the ball, averaging 3.8 and 2.1 YPC respectively. 
Defensively, Georgia locked down the Samford offense the entire game. The Samford Bulldogs only amassed 128 total yards and three first downs. I don't care how bad the team you play is, giving up 3 first downs and holding a team to 13 rushing yards is truly impressive. The defense also forced a turnover when safety Dan Jackson hit Bulldogs QB Michael Hiers. LB Xavian Sorey came up with the recovery. 
QB Michael Hiers was hit hard multiple times by the Dawgs, who didn't get to hit Bo Nix much last week. DT Jalen Carter thumped Hiers, Zion Logue hit him forcing a fumble, ILB Jamon Dumas-Johnson applied pressure early by hitting Hiers as he threw. 
A few of young receivers made their presence felt in the game. Soph. Jackson Meeks had 3 catches for 31 yards after coming in early in the game. A freshman I've been hearing really positive things about had a breakout game as well. 6'1 Houston native Dillon Bell scored his first career touchdown to cap off his three catches. He flashed his ability to make defenders miss once he has the ball. De'Nylon Morrissette caught his first two passes as a Dawg as well. 
UGA once again spread the ball around. 11 different receivers caught passes in the first half alone, with 15 players catching a pass by the end of the game. 
Former 5 star offensive tackle Amarius Mims continues to see ample playing time. He entered the game in the first quarter in the right tackle position. Mims considered leaving the team through the transfer portal in the off-season due to a lack of playing time as a freshman. While he sits behind two stellar tackles in Broderick Jones and Warren McClendon, line coach Stacey Searels thinks he is worth rotating in early in games. He was on the field for UGA's first touchdown last week and I believe rotated in the first touchdown drive this week as well. 
Linebacker EJ Lightsey saw his first playing time after getting shot multiple times while working out at a park in Fitzgerald, GA. Seven months later, he's back playing football. Good for him. Speaking of linebackers, Smael Mondon led the team in tackles and added 1.5 tackles for loss. His consistency was much better in this game.
DB Tykee Smith got more reps in this game. He still is not 100% since tearing his ACL before last season. Freshman Javon Bullard has impressed in the first two games and should have gotten an interception in this one. Having more depth and talent in Smith's presence is a great thing. WR Dominick Blaylock also got his first catch since returning from his second ACL tear. 
TE Darnell Washington is worth watching whether he has the ball or not. He added another couple of catches today, but he bullied Samford the entire game. He pancaked multiple players or blocked them all the way out of bounds. He is shaping up to be a high draft pick. 
.@_Dwfootball11 is a big target!#GoDawgs pic.twitter.com/al5YFTIjeX

— Georgia Football (@GeorgiaFootball) September 10, 2022
Things I Didn't Like
This season Kirby has preached "Standards don't need motivation." Well, maybe they do. Stetson Bennett's stat line looked fine, but his execution was not his best. He missed multiple receivers, costing touchdowns and easy yardage. Twice he threw the ball into the ground on bubble screens. Worst of all, he scrambled around resulting in a 17 yard loss, pushing Georgia outside of kicker Jack Podlesny's range. He missed the subsequent field goal. Bennett didn't play to the standard, and it cost his team points. He wasn't alone. On that 17 yard loss, part of the problem was the receivers looked lost on the play. Additionally, Georgia wanted to go for it on 4th and short but a false start backed them up and cost them the opportunity. Field goal ensued. The Dawgs lacked focus on offense, which led to failing to convert frequently in the red zone. They ended up settling for 4 field goals. Gross. 
How on earth do you only score 3 points in the second half against Samford?
#1 Receiver AD Mitchell went out early in the game with an ankle injury. It does appear to be minor, but not what you want to see. Kirby said he could have returned to the game but they held him out. 
RB Kenny McIntosh was UGA's leading receiver for the second week in a row. While I love that he is a threat to catch out of the backfield, I don't love that the Dawgs can't get a true pass catcher more yards.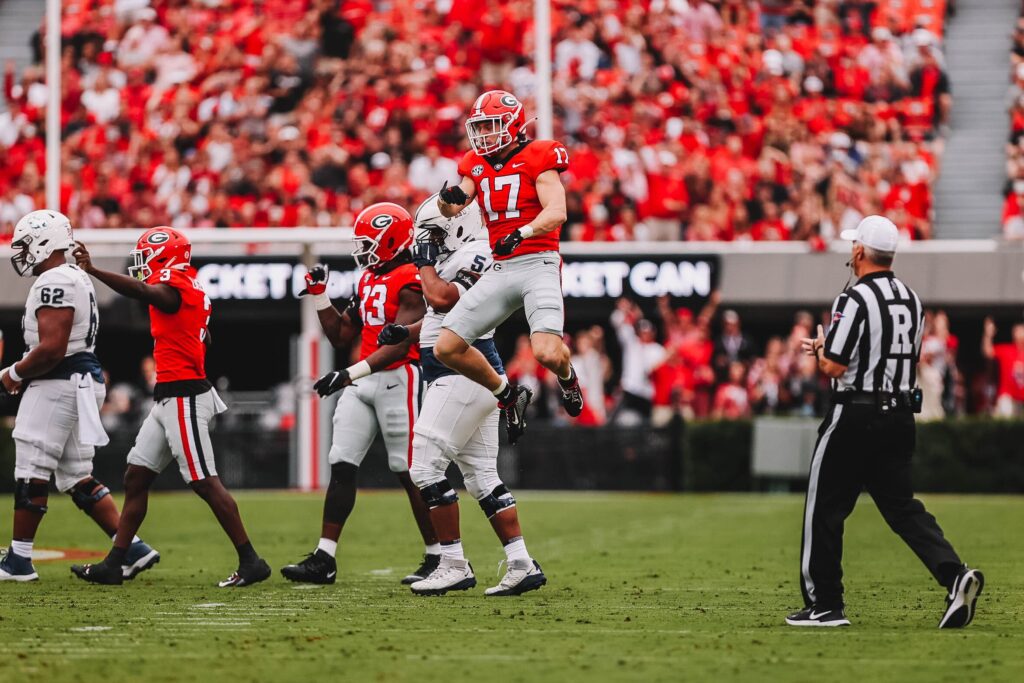 Other Notes
Through two games, the Georgia defense has allowed 3 points and fewer than 500 yards. They only have 1 sack. 
Georgia continues to rotate in players at a rate that is hard to fathom. I have to believe there probably is not another program in the country rotating players like Georgia right now. That's how you get 15 players catching passes. I expected the second and third string players to get plenty of reps in the game. I just didn't expect to see that in the first quarter. On defense, 25 players made a tackle. The offensive line shuffles a good bit. Warren Ericson, who started last year at right guard got significant reps at center today. RG Tate Ratledge started again, but once again Devin Willock rotated in. 
Freshman DE Mykel Williams continues to stand out. He recorded his first sack and should have had another. Smart on Williams, "He's a kid that just works. You look out there on Sunday, and he's out there hitting a sled, running. It pays off like it did today."
Kirby is now 0-7 against the spread when Georgia is favored by more than 38 points. 
CB Daylen Everette was the first corner to rotate in behind starters Kamari Lassiter and Kelee Ringo. He finished with three tackles. Keep in mind that Nyland Green is still out with a hamstring injury though. 
At one point at the end of the game, Georgia had 10 true freshman on the field on defense. 
Final Thoughts
The crisp execution that Georgia displayed against Oregon was lacking this week. Still, the Dawgs moved the ball easily and shut out their opponent in dominant fashion. Perhaps a sloppy performance for Georgia going into its first away game of the year against South Carolina next week will lead to a better week of practice. In a week where Jimbo Fisher's Aggies put the "L" in NIL, Alabama needed the refs to bail them out again, and Notre Dame tried to set a record for the fastest team to go from top 10 to unranked, it was good Georgia had an uneventful Saturday. Playing at South Carolina at noon is not a game you can come out slow on offense. Kirby and OC Todd Monken will have the Dawg offense clicking on all cylinders again soon.