Bayern vs. Dortmund: Lowdown on the Showdown
BAYERN VS. DORTMUND: LOWDOWN ON THE SHOWDOWN – The Bundesliga season comprises of 306 matches, but on the evening of April 1, the 108th Klassiker between Bayern Munich and Borussia Dortmund bears all the hallmarks of being the one that decides everything.
Of course, nothing will be anywhere near decided next Saturday in mathematical terms, but Borussia Dortmund could put one hand on a first Bundesliga title in eleven years by beating Bayern Munich. They occupy pole position by a single point after demolishing Cologne as expected on March 18, the day before mid-table Bayer Leverkusen defied all our expectations by overcoming Bayern.
So just who could make a difference, and how confident are the likes of Draft Kings that Bayern can ward off the threat of Dortmund? That's all coming soon enough, but first we take a look back at how these Teutonic titans became such deadly enemies in German football's greatest rivalry.
September 9, 1967 – Two years after the inuaugural meeting, audiences witnessed one of the most entertaining Klassiker matches ever, as Dortmund ran out 6-3 victors.
How Three Decades of War Began
Most historians would argue that the real genesis of this rivalry stems from Dortmund's title win of 1994/95, when Bayern plummeted to a sixth-place finish – a depth they haven't hit since.
'Der BVB' won it again the following year as Bayern climbed to second, but the best was yet to come, as Dortmund triumphed over reigning European champions Juventus in the 1997 UEFA Champions League final at Bayern's old Olympiastadion.
The new millennium was distinctly kinder to Bayern though, and under the guidance of Ottmar Hitzfeld – the very man who guided Dortmund to that ultimate prize in 1997 – they wrested back their control of German football as expected.
But after several years that saw Dortmund fall away from the upper echelons, we flash forward to 2012, and then-manager Jürgen Klopp is showing that famous dazzling grin as he lifts the second of two quickfire Bundesliga titles.
Never ones to accept a proverbial changing of the wind, Bayern were back with a vengeance just a year later, not only romping to the Bundesliga title by an incredible 25-point margin, but also becoming the first German side to sweep every trophy in a single season.
Satisfyingly for 'Die Roten', that process culminated in them beating Dortmund at London's Wembley Stadium in the Champions League final, via a last-minute goal from Arjen Robben.
That has proven to be a truly devastating blow in hindsight – and it resonates even now, as Dortmund look back on three second-place finishes across the past five seasons alone.
As a small consolation, the margins of success have usually been comfortable for an unstoppable Bayern over the past decade, but the campaign ending in 2019 sticks out as a real miss for Dortmund, with just two points separating them in the final table.
Even if had Dortmund merely drawn at the Allianz Arena in that season's second Klassiker rather than collapsing to a 5-0 defeat, they instead would have lifted the grand prize four years ago.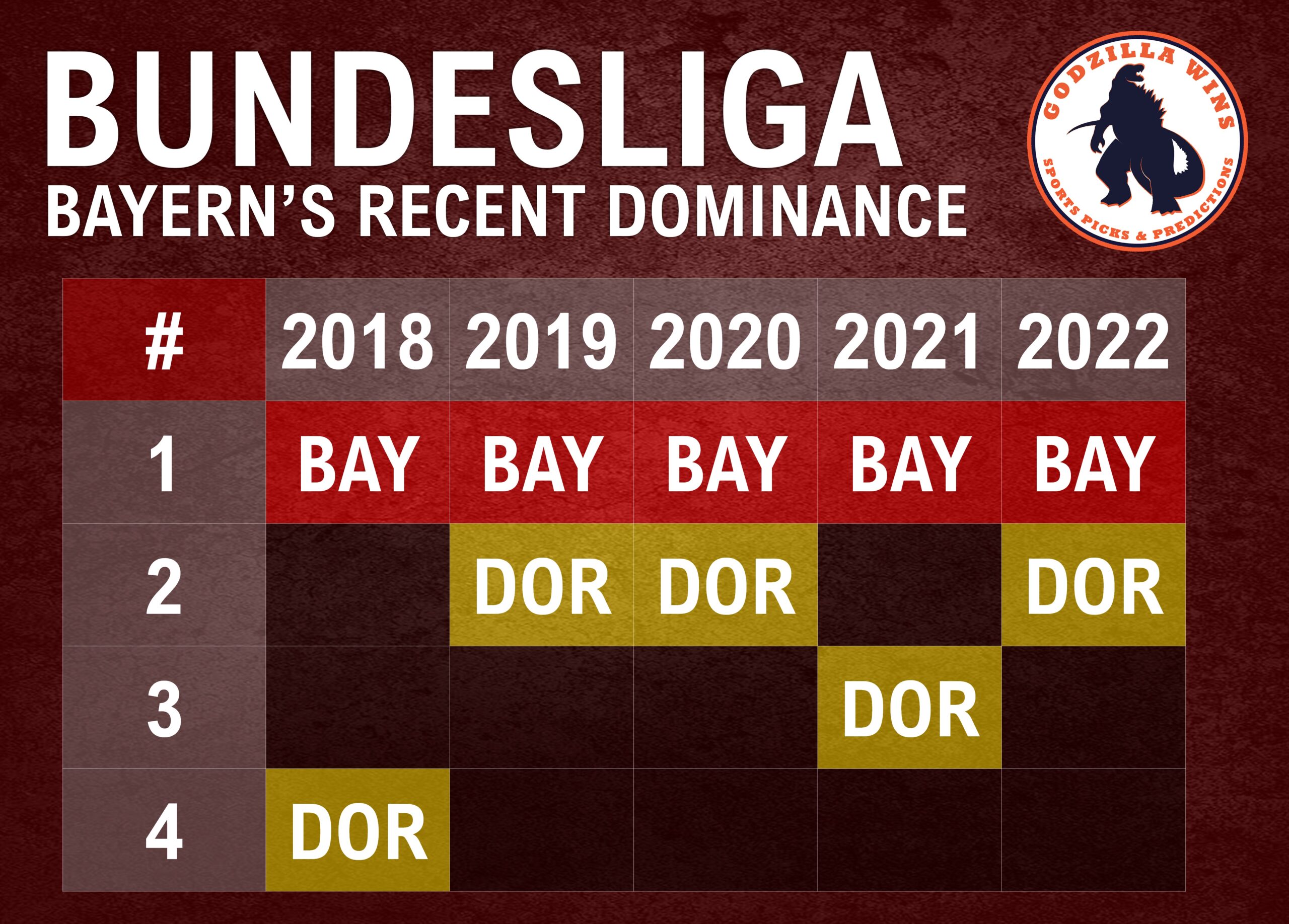 Success on the Road a Long Time Coming
April may be a month that starts with a day of pranks and japes, but it's also the month that marks nine years since Dortmund last won a league clash at the Allianz Arena – a towering scarlet mecca that strikes utter terror into visitors great and small.
Bayern's sheer might aside, Dortmund's chances of winning there in the interim have also been further hit by an exodus of talent. This is partly down to a club culture for buying low and selling high that has developed over the past decade, with last summer seeing the most prominent example yet, as Norwegian prodigy Erling Haaland joined Manchester City.
Arguably though, what still really bugs many Dortmund fans even now is the key defections there were to Bayern back in the mid-2010s, as Jürgen Klopp was increasingly linked to pastures new before finally joining Liverpool in October 2015.
The departures of Mario Götze and Robert Lewandowski, in 2013 and 2014 respectively, leave a particularly sour taste, especially with the latter being top scorer in six of the previous seven Bundesliga seasons. During 2020/21, the Polish hitman also hit 41 league goals to break Gerd Müller's existing record, en-route to becoming only the second man to join the Bundesliga's exclusive '300 goals club' after said icon.
Thankfully for Dortmund, however, he's at Barcelona now.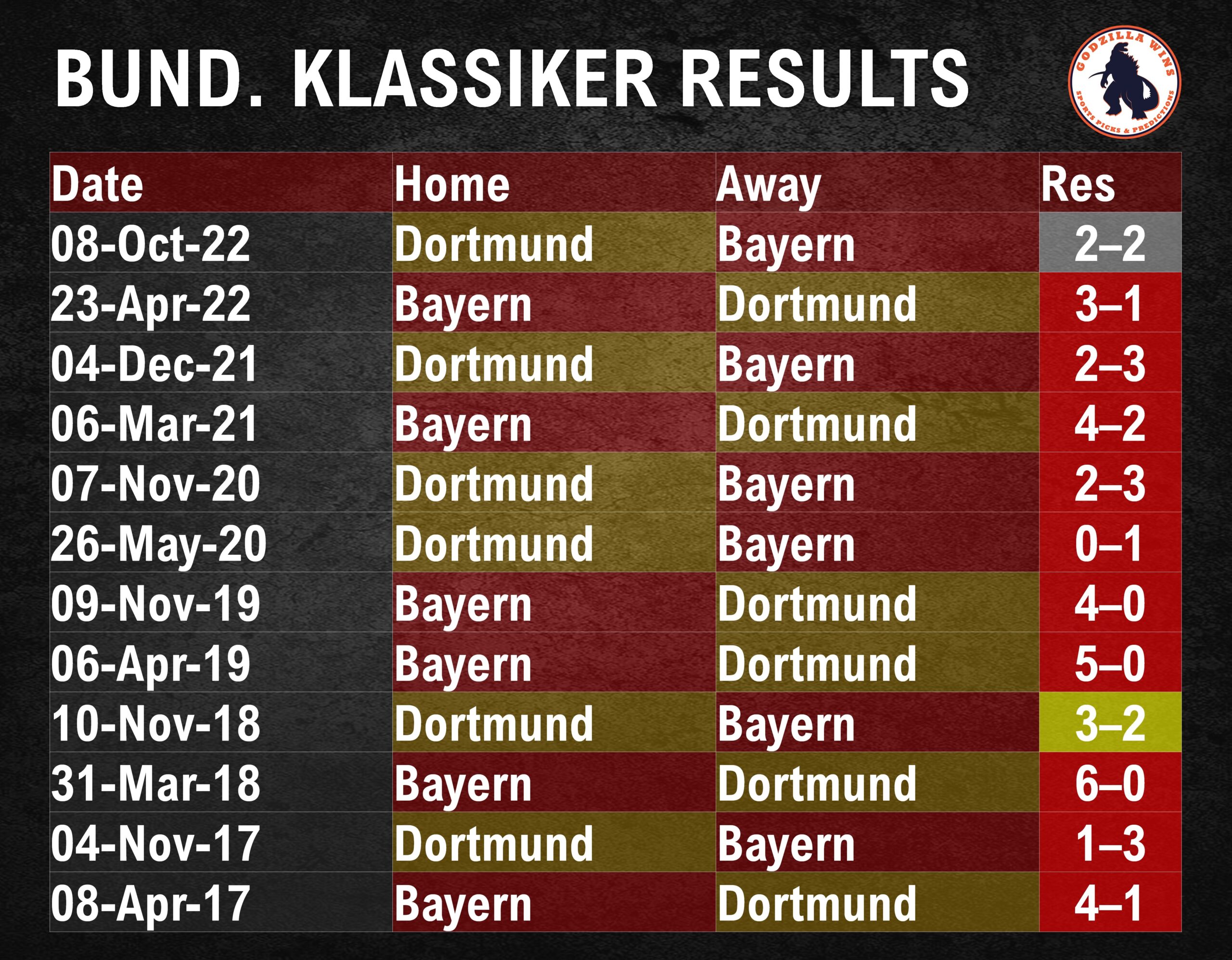 Veterans Could be Key to Success
As for this April's showdown, all Dortmund can do is stay true to themselves, as trying anything unfamiliar or particularly daring against Bayern is simply asking for trouble. One thing we can say is that a clean sheet is probably out of the question, given that Bayern have scored an average of exactly 4.43 goals per game across their last seven Bundesliga Klassiker fixtures at home.
Bayern are also too good to be simply outscored, making experience a crucial differentiating factor. In turn, it's fair to say that a lot will hinge on the performance of Dortmund's Marco Reus. At 33, he's had more Klassiker battles than Ric Flair has had comebacks. And he's enjoyed some excellent form lately, not only hitting the target twice against Cologne last weekend, but also providing the sort of visionary passes that only pure learning can provide.
Also 33 years of age, and vastly experienced in winning Klassiker duels is Bayern's Thomas Müller, whose somewhat early substitution in the defeat to Leverkusen was undoubtedly a major factor in a potentially devastating loss. Skills in possession aside, his ability to switch between playmaker and predator in the blink of an eye makes him a dangerous foe.
On the big day itself, the effectiveness of his chemistry with Serge Gnabry – the highest-scoring man on Bayern's latest active roster – will also be massive in terms of how moves are constructed. In an ideal scenario for Bayern, Müller's positional sense could give the Frenchman vital time to evade his markers and make runs into the center if his hold up play proves effective.
Another elder statesman, 34-year-old Anthony Modeste, got a goal and assist in October's duel, which ended 2-2 after Dortmund went 2-0 down, making it the fifth successive Bundesliga 'Klassiker' to produce 4+ goals.
Bayern v Dortmund: Key Prices
While it's difficult to look beyond the record of brutality Bayern enjoy in home league battles against Dortmund, they remain in a state of flux over the fitness of their leading league scorers Jamal Musiala and Eric Maxim Choupo-Moting, both of whom are slated for a return in 'early April'. But even if that potent duo can make good progress over the current international break, they are unlikely to be truly match-fit until later in the month.
The absence of usual first-choice goalkeeper Manuel Neuer is also a continuing major factor in Bayern's inability to surge ahead as normal, leading to Dortmund's possible goal times being given more attention than they usually get prior to a road trip to the Allianz Arena. Speaking of which, they have a habit of striking early, with a win at Werder Bremen in mid-February being the sole occasion this year that 'Der BVB' have not scored in the first half of a league game.
Unfortunately for Dortmund, Bayern also have a penchant for netting before the interval, doing so in each of their previous eight league matches. It also seems like we can't cover Bayern without some mention of their long-standing run of home games unbeaten in the German top-flight.
With eleven goals across their last three Bundesliga home battles, that streak now stands at 19 games spanning back all the way to February 2022. This only underlines their status as favorites, and subsequently, there is no shortage of team parlays pertaining to Bayern already: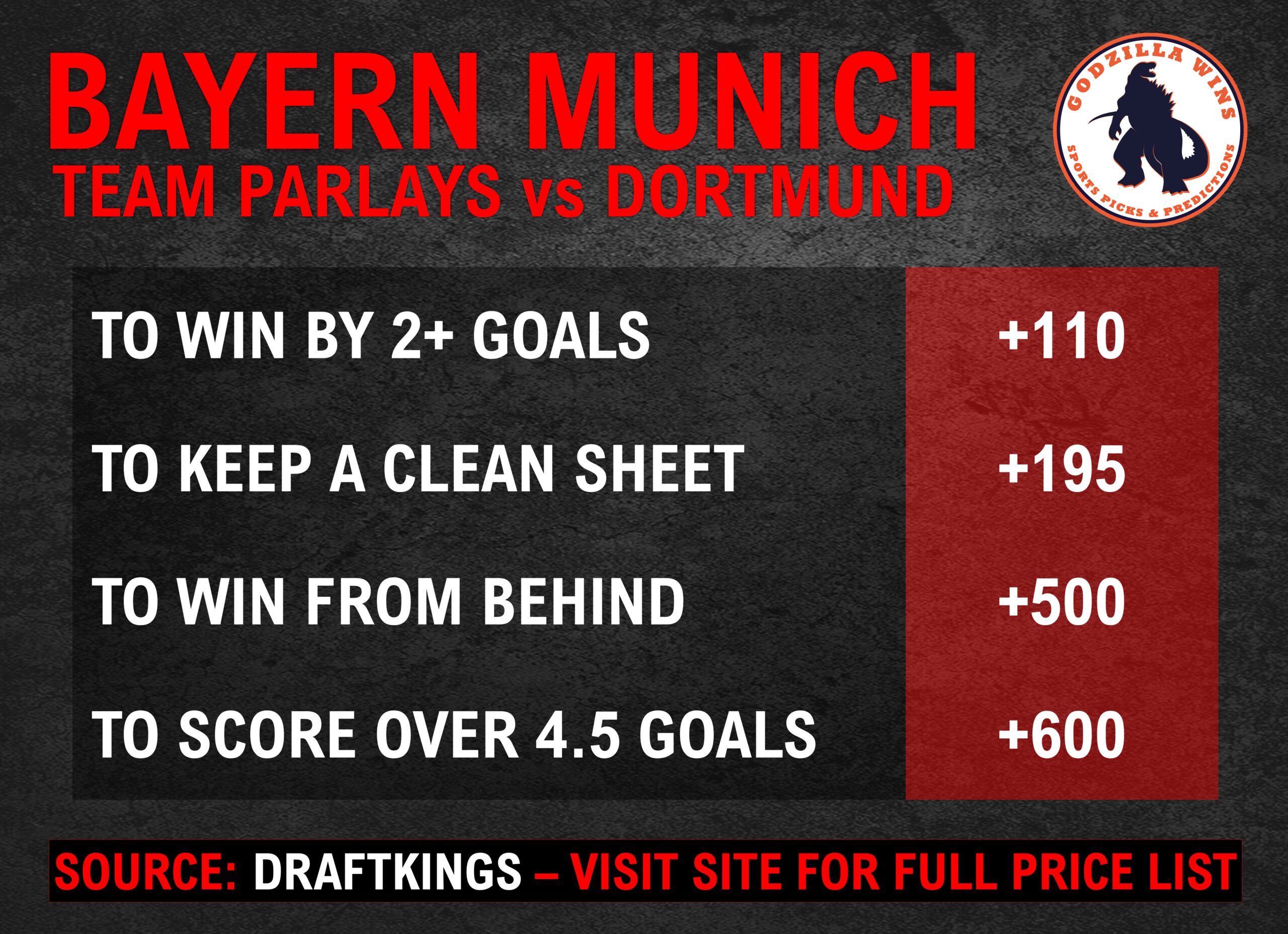 Prediction
Fans can (and mostly will) have every confidence that this game will smash through the '2.5 Goals' line. With both teams scoring looking like an unmissable parlay to go alongside it. As for the scoreline, 2-1 either way or a 2-2 draw seems to leap out.
Meanwhile, a Dortmund/Draw result in the HT/FT market is set to gain a lot of attention for those fancying Dortmund to defy the odds and take something from the heart of Bavaria.
Prices correct as of March 23, 2023.