Women's World Cup Prediction: United States vs Vietnam Women – July 21, 2023
UNITED STATES VS VIETNAM WOMEN EXPERT PICK AND PREDICTION – July 21, 2023 — Rich in potential ridiculousness, this is exactly the kind of matchup that some feared might happen when the Women's World Cup expanded to 32 teams.
Simply put, Vietnam is nowhere near the quality of the two-time defending world champion United States. In a group that includes Portugal and the Netherlands, Vietnam could end the tournament with a very lopsided negative goal difference.
Four years ago, the USWNT faced Thailand in its opening match and scored a 13-0 win over the outclassed Asian nation, which was making its Women's World Cup debut.
Unquestionably the weakest side in the group, Vietnam now plays the role of Thailand. Is a new record in store, or can Vietnam claim a moral victory in the ultimate baptism of fire?

United States vs Vietnam Women – Match Preview
When: Friday, July 21st at 9 p.m. EDT
Where: Eden Park, Auckland, New Zealand
Spread: United States -5.5/Vietnam +5.5
Scouting United States
Expect the United States to use this match to try to see who besides Alex Morgan can play up top if needed. This is a match where there's virtually no way the Americans can lose, so they'd be wise to use this opportunity to experiment. A huge winning margin for the USWNT also allows them to dictate the pace of their remaining two group games.
In a match like this, the score really might be whatever the U.S. wants it to be. Traditionally, the Americans tended to ease into their tournaments with a pedestrian showing in the first match, but that was in the days of the 16-team format.
Back then, almost every team had a reasonable shot to win each match, and the U.S. knew they'd be pushed almost immediately. Not so here, and I expect particularly intense pressing on the wings from Sophia Smith and Trinity Rodman. Though new to the World Cup, they couldn't have dared hope for an easier introduction to the competition.
Depending on how much license Smith gets to roam across the final third, this is also a golden opportunity for her to get further towards a one-in-two hit rate for the USWNT – or even exceed it if Vietnam have a truly rotten debut.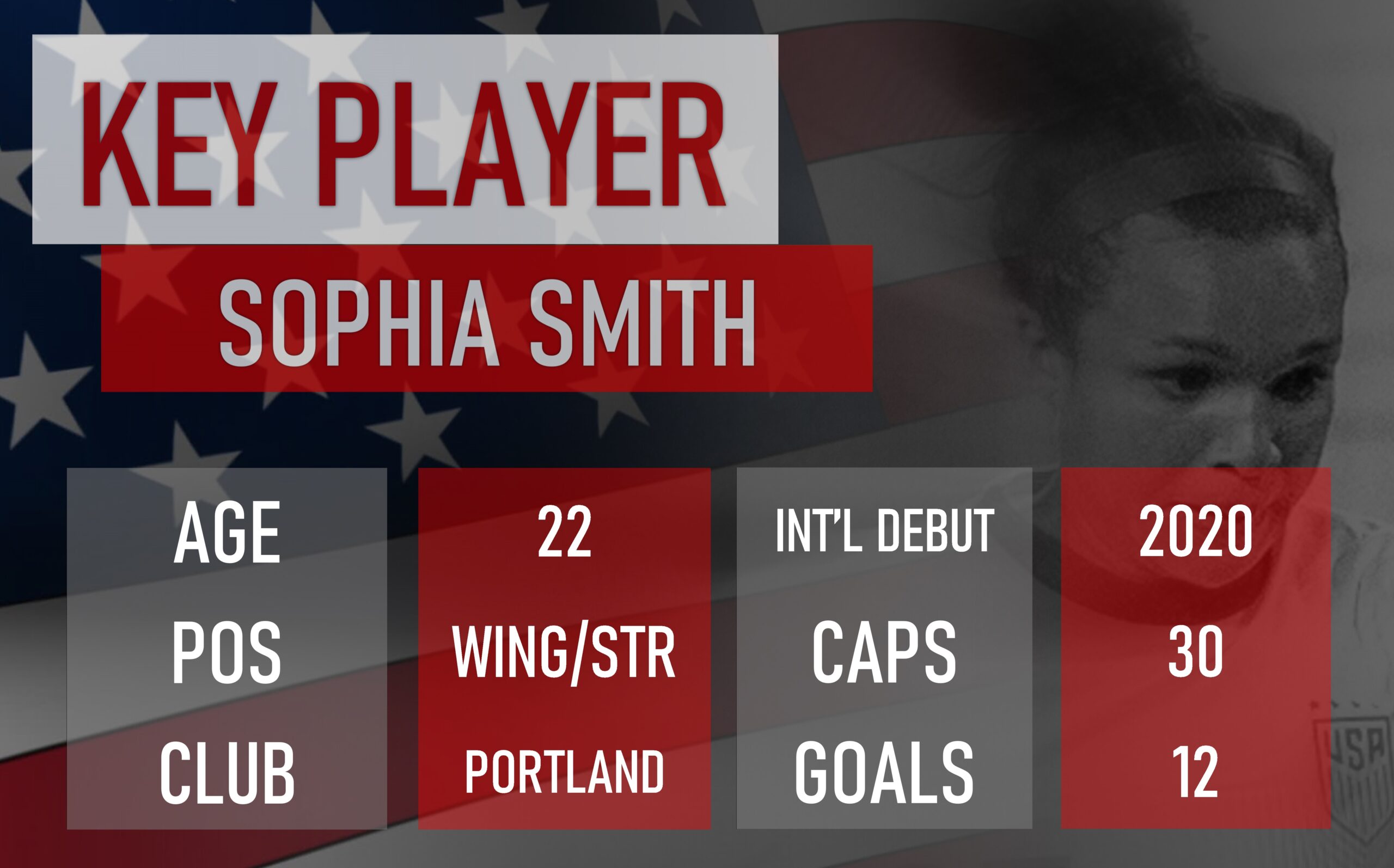 Both her and Rodman are young, reliable scorers for their respective NWSL sides, and will capitalize on any unwise attempts from Vietnam to over-mark Morgan. Ultimately, this match is mostly about making a statement, and building confidence before facing the Netherlands.
As for Morgan herself, she has a good chance to use this match as a gateway to the Golden Boot. She just missed it in 2019, as she scored six goals and lost it on a tiebreaker to teammate Megan Rapinoe. If she gets rolling early, there won't be much Vietnam can do to stop her.
Scouting Vietnam
Vietnam is a tough side to scout because most of its players compete in the Vietnamese domestic league. Captain Huỳnh Như is the only squad player to ply her trade in a major nation (Portugal), and this represents a massive step up for Vietnamese soccer.
In previous competitive matches, that's not gone well. Vietnam's qualifying saw them lose by 3-0 to Japan and South Korea. And while they did keep the margin against Germany to 2-1, that was just a friendly.
It will be very difficult for Vietnam to keep this match close. The only player with more caps than Huỳnh is Nguyễn Thị Tuyết Dung. She goes into the tournament with 51 goals from an international career spanning back to 2011. But she also stands at just 1.55m, and could therefore find herself grossly outmatched on a physical level by the Americans.

United States vs Vietnam Women – Match Bets
Odds subject to change. Visit DraftKings for the latest prices.
United States -5.5 (-130)
This boils down to one thing: the United States knows that the Netherlands both do not fear them and finish with Vietnam. Every goal the Americans get here makes it easier for them to stay ahead of the Dutch, should the sides draw in their second match.
The United States cannot afford to take it easy on an overmatched Vietnam, because the Netherlands and Portugal certainly won't.
This group could come down to who drops the biggest number on the Golden Stars, which means the Americans will push for goals right up to FT.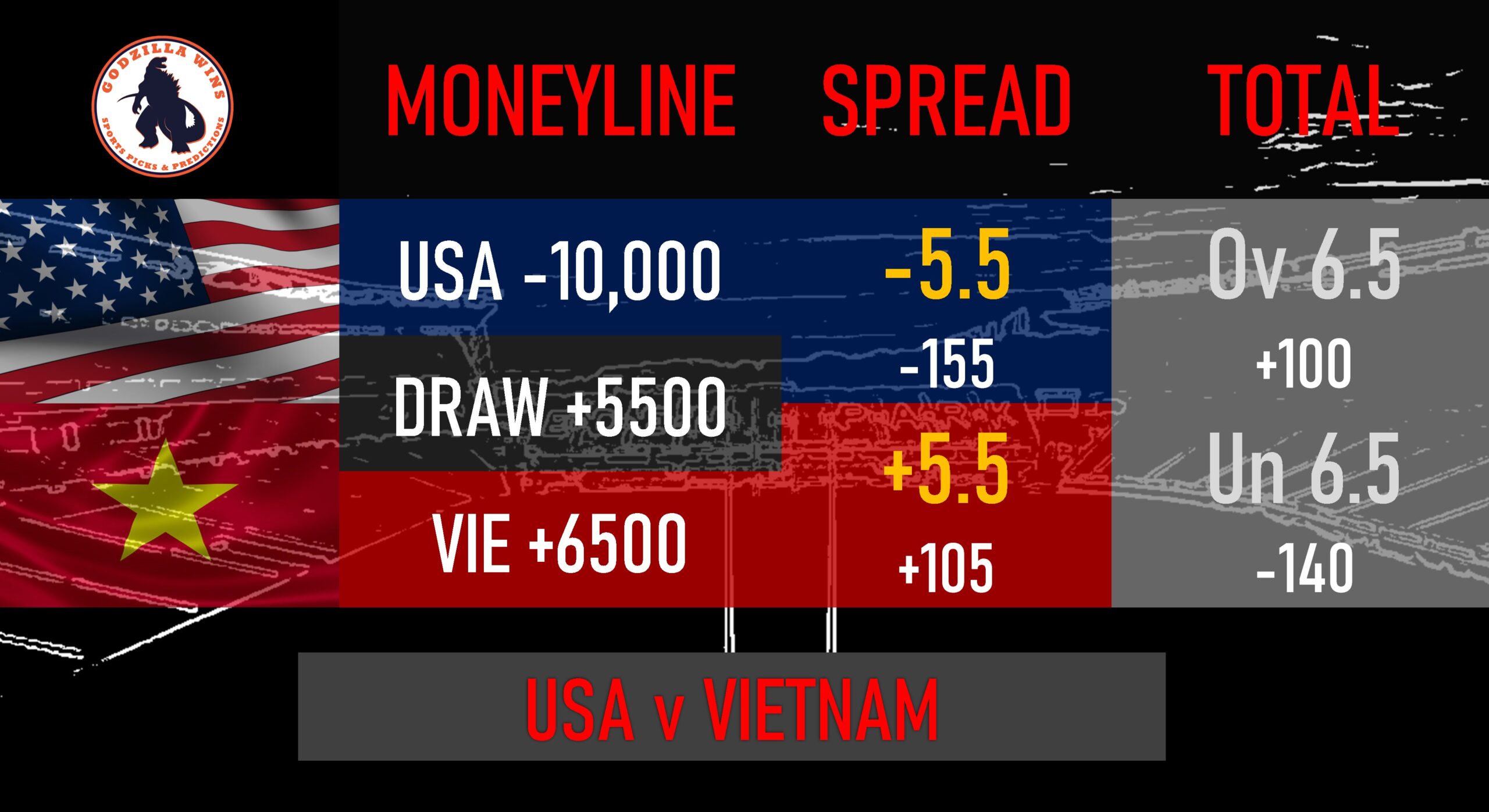 Over 6.5 (+110)
It's difficult to see Vietnam finding a goal. But it's more likely that the Vietnamese try to play positive. Only that way can they potentially scratch the giantess, rather than just going into a shell and accepting their fate.
Unlike some of the other minnows who might have a fleeting chance, Vietnam knows it stands no chance of getting out of the group.
The only way this tournament is a failure for them is if they leave without a point or a goal. As such, they'll likely try to find a marker, and they'll either succeed or leave things open for the Americans to pile on the misery.
Final Score
Make no mistake: the United States is not a full-strength side, due to injuries. That's likely to make the job difficult when the likes of Spain, Japan, England, France or Germany get involved. But Vietnam is nowhere near that level.
Even at less than full strength, the United States should score early and often. My call for the exact score is United States 7, Vietnam 0 (+650).
Dan's Picks

USA -5.5
Over 6.5
USA 7-0
See also: Dan's other picks for our featured 2023 FIFA Women's World Cup games.