Women's World Cup Prediction: Spain vs Costa Rica Women – July 21, 2023
WOMEN'S WORLD CUP PREDICTION: SPAIN VS COSTA RICA WOMEN – JULY 21, 2023 — Most women's soccer experts expect Spain to waltz into the knockout stage from Group C alongside Japan, but La Roja knows far too well how dangerous Costa Rica can be at the World Cup.
Eight years ago, Spain and Costa Rica met in their opening game at the 2015 Women's World Cup, with Las Ticas scoring a surprising draw against the European favorites. Two matches later, Spain's World Cup was over, as they finished bottom of the group.
That shouldn't happen again this time around. The Spaniards have been improving every tournament, and will now compete as a genuine World Cup contender. With no further ado, here are the current odds and spread for their opening test in Wellington:
Spain vs Costa Rica Women – Match Preview
When: Friday, July 21st at 3:30 a.m. EDT
Where: Wellington Regional Stadium, Wellington, New Zealand
Spread: Spain -4.5/Costa Rica +4.5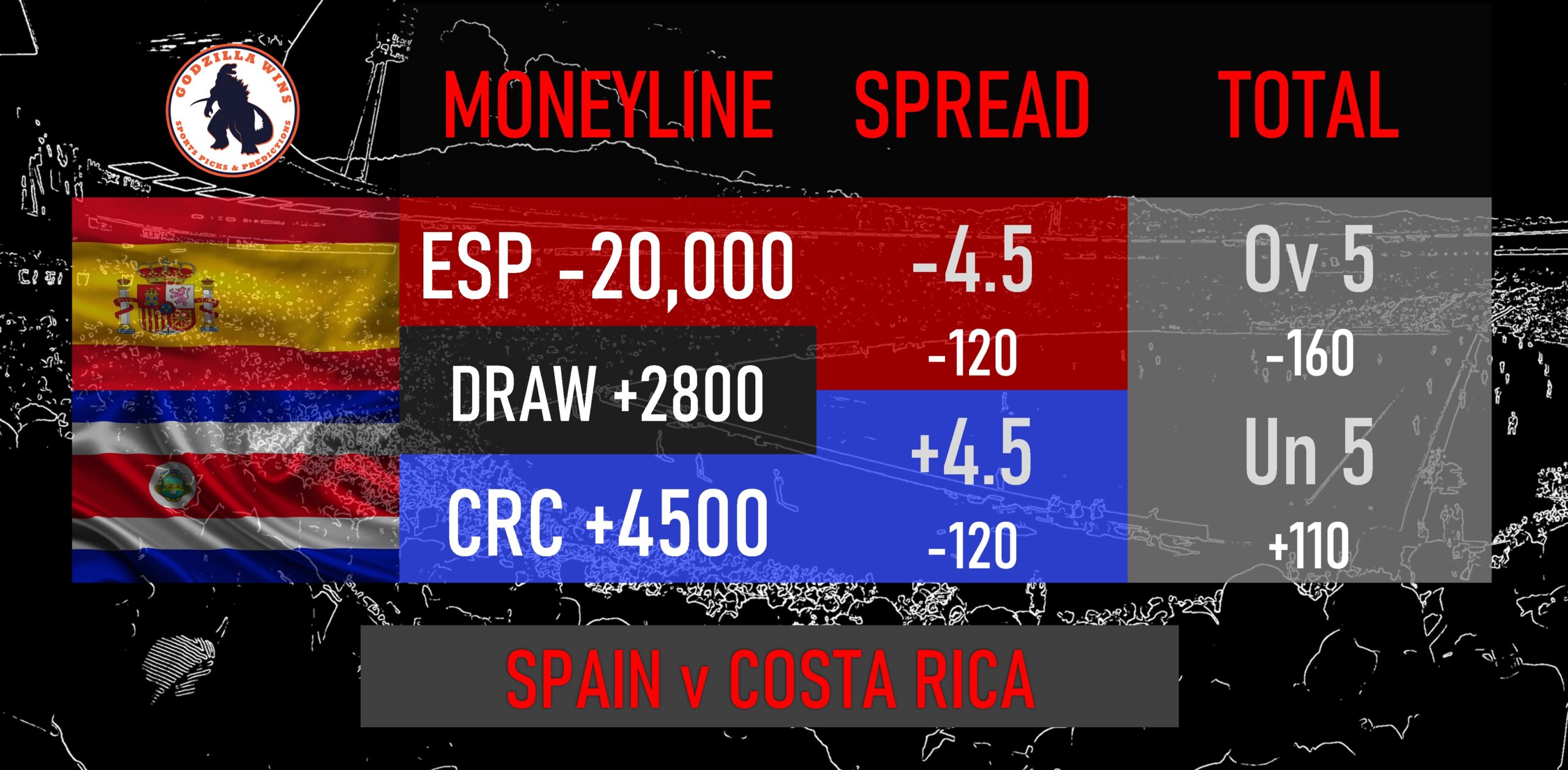 Scouting Spain
Spain comes in boasting a 10-1-1 mark in its past 12 matches, and that includes a 2-0 triumph over the United States last year. However, Spain aren't likely to be anywhere near satisfied with a repeat of that. With Japan opening with Zambia, the weakest side in the tournament on paper, Spain needs to put up a big number.
Doing so would give Spain the best possible chance of being favored by the goals-based tiebreaking criteria if it enters the equation. The winner of Group C likely avoids the United States until the semifinals, while the runner-up probably sees the Americans in the quarters.
As for Spain's A-listers, there's a reason why Barcelona has gone 58-1-1 over the past two seasons in the Spanish league: Alexia Putellas. At 29, she's clearly established herself as the best player in the women's game and is now in her prime. The world saw a few flashes of what she could do at her first two World Cups, and this needs to be her tournament if Spain is to challenge for the title.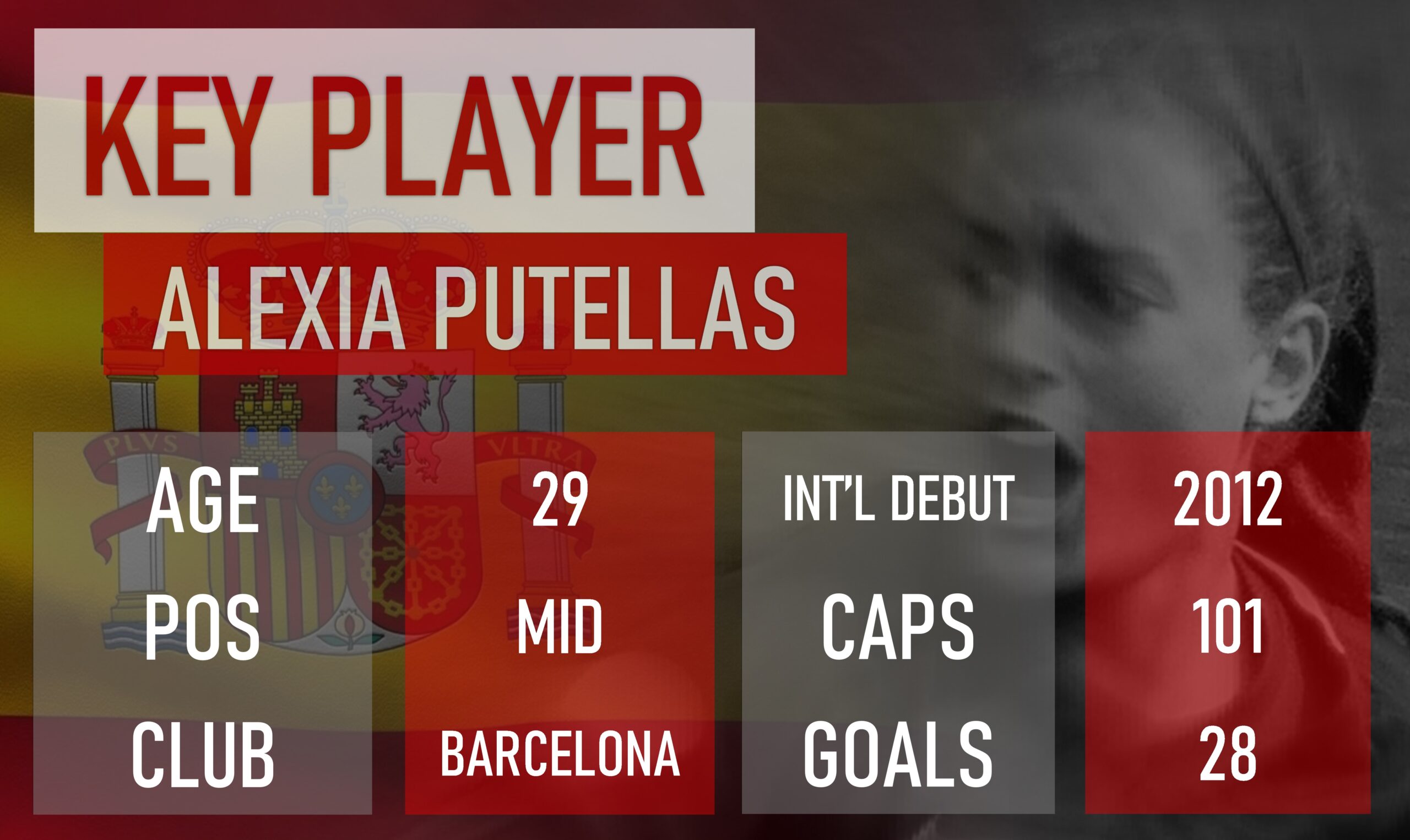 Of course, Barcelona wouldn't have won two of the past three Champions League crowns if Putellas was a one-woman show. Teammate Aitana Bonmati is the Robin to her Batman, and one of the most technically sound players in the world. Both Bonmati and Putellas can score or set someone up, while they've got another top weapon up top in forward Jennifer Hermoso.
Hermoso used to be the finisher at Barcelona, but she's since moved to Mexico for her club soccer. At 33, this is likely her last World Cup given what Spain has coming down the pipeline, and all three represent a nightmare for any defense to stop.
Scouting Costa Rica
Conversely, Costa Rica comes into this tournament in very poor form, fuelling fears that the Central American nation will repeat the winless WWC debut of 2015. Indeed, Las Ticas have won just twice in 17 matches, and the wins were over the Philippines and Haiti. While both qualified for the World Cup, neither are anywhere near Spain's class as a side.
The big question for Costa Rica: how will Las Ticas play without Shirley Cruz? Cruz was left out of the pre-World Cup plans despite being Costa Rica's second-best all-time scorer, and coach Amelia Valverde has opted to mostly focus on youth. Over half the squad is under 25, and most of these players compete for sides in their native country.
Midfielder Raquel Rodriguez (currently with Portland in the NWSL) and Bordeaux's Melissa Herrera are the anomalies in that regard. As the only members of the squad to regularly see world-class competition, they'll have to step up if Costa Rica is to have a chance to survive the group stage at the second-ever attempt.

Spain vs Costa Rica Women – Match Bets
Odds subject to change. Visit DraftKings for the latest prices.
Costa Rica +4.5 (-110)
There's an old saying in soccer that you can't win a group in your first match, but you can lose it. Costa Rica's goal here is to give itself a chance to survive the group stage, which means keeping the margin of defeat respectable. Japan isn't as likely to drop a big number on the scoresheet as Spain, so Costa Rica has every incentive to 'park the bus' and try to avoid killing its goal difference in the first match.
A 2-0 loss would mean Costa Rica still has a chance to work its way out of the group stage. Beyond that, their chances of reaching the knockouts start to dive drastically.
Spain and Under 3.5 (+180)
This is about the only other bet on the board worth trying, unless you think Spain will exceed five goals in this match. Spain to win with a shutout sits at an unthinkable -3000, which alludes clearly to just how strong Spain is at both ends of the pitch. La Roja should win comfortably, but five goals might be a little much with a side that needs to keep the margin within reason.
Final Score
As good as the Spanish look, Costa Rica isn't completely helpless in this situation. It's likely to be a good outcome for the Spaniards, but a side that's capable of holding a full-strength United States side to a mere 3-0 margin is certainly capable of doing the same against Spain.
Spain shouldn't have any issues here, but nor should this be an embarrassment for Costa Rica. I'm backing a scoreline of Spain 3, Costa Rica 0, which is currently available at +500.
Dan's Picks

Spain and Under 3.5
Costa Rica +4.5
Spain 3-0
See also: Dan's picks for our featured 2023 FIFA Women's World Cup games.