UFC Vegas 78: Luque vs Dos Anjos – Main Event Prediction
UFC VEGAS 78: LUQUE VS DOS ANJOS – MAIN EVENT PREDICTION – This weekend, a UFC legend adds another legit name to his already lengthy resume of fights. Not many have faced the likes of Khabib Nurmagomedov, Nate Diaz, Kamaru Usman, Colby Covington, Tony Ferguson, Robbie Lawler, Leon Edwards, and Eddie Alvarez in their career. Rafael dos Anjos has done just that.
Dos Anjos now eyes another run in the welterweight division, just two months before his 39th birthday. Meanwhile, Vicente Luque looks to avoid his first three-fight losing streak after spending a year on the sidelines.
Will Luque make good on snapping his two-fight losing streak? Or will RDA add another high-level scalp to his resume? Read on to see how these welterweights match up and if there is a betting angle to take advantage of.
UFC Vegas 78: Luque vs Dos Anjos – Tale of the Tape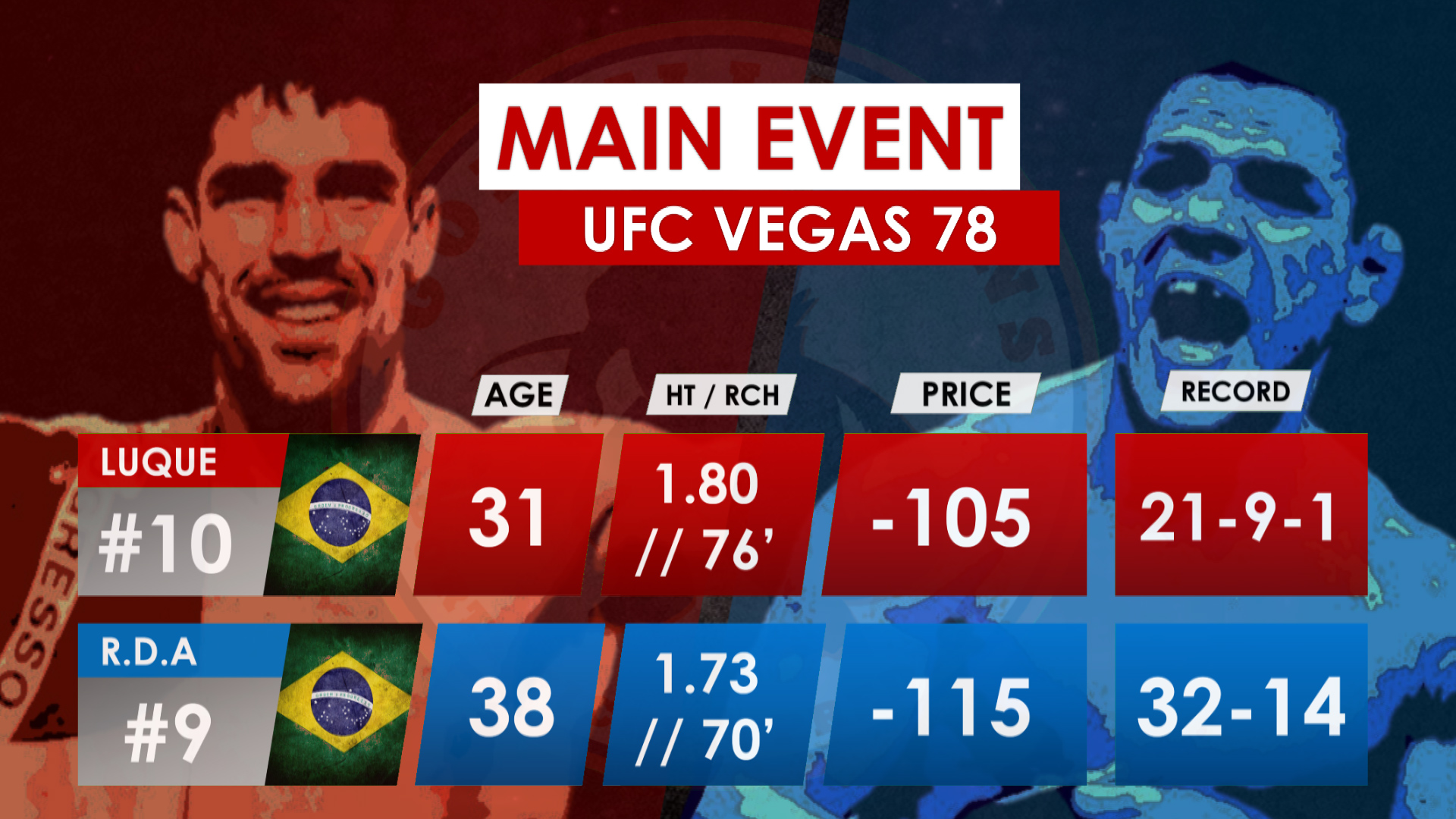 Odds courtesy of DraftKings.
Vicente Luque
From 2017 to 2021, we saw Luque go on a 10-1 run with his long defeat coming to Stephen Thompson. We saw Luque evolve into a fan favorite, especially with the entertaining way he competed. Unfortunately, over his last two fights he has come up short against guys that can put together a better technical game plan than his war-like approach.
Belal Muhammad was able to mix in five takedowns and 7.5 minutes of control time in their main event fight back in April 2022 to get his hand raised by decision. Then in August, Geoff Neal was able to use his superior technical striking to light up Luque and finish him in the third round.
At his best, Luque normally stalks his opponents with mean leg kicks and nasty striking combinations. He is also very proficient with grappling, which is how he was able to secure five submission wins in the UFC. He loves the front choke series, mainly the D'Arce choke. His striking is what made him a fan favorite, though, and the clear willingness to exchange fire with his opponents despite a speed disadvantage.
His durability normally held up in those situations too, allowing him to dish out maximum damage. It appears that trait of his is starting to falter, however, leading to his recent losses.

Rafael dos Anjos
You won't find many with a resume as deep as dos Anjos, especially from the names I listed earlier in this article. Through 15 years with the promotion, RDA has put together a 21-12 record with his most recent losses coming against the best the lightweight and welterweight divisions have to offer. During that time, he captured the lightweight title and defended it once before losing it to Eddie Alvarez.
He even managed to get a crack at the interim welterweight title, but came up short against Colby Covington. He is 3-1 over his last four fights, showcasing he still has what it takes to hang with some of the best that the UFC has to offer. RDA operates with such a flawless mixed martial arts game, and his ability to blend his striking and grappling together is what makes him elite.
Note how he pushes Felder back with combinations and strikes. He then changes levels at the perfect time to ground him and land significant damage from top position. It was a thing of beauty.
RDA is a high-level BJJ black belt and has some of the best striking in the division too. Although he is usually at a size disadvantage in the welterweight division, his skills allow him to be competitive and still get his hand raised.

The Pick
Rafael dos Anjos (-115)
The big talking point going into this fight is the fact that Luque required an exemption from doctors to compete due to a brain bleed he suffered due to his last fight against Geoff Neal.
That's a big concern, especially on the diminishing durability of Luque. Luque could end up having the better of the striking exchanges in this fight, but I expect RDA to mix everything up well enough to cause Luque issues.
I think Luque needs an early finish to get his hand raised this weekend, otherwise dos Anjos can do what he needs in any realm of this fight to win. I expect dos Anjos to mix his striking and grappling together well enough to cause Luque issues here, allowing dos Anjos to pull away the deeper the fight goes.
We could see RDA replicate what Muhammad was successful with against Luque. I like the line on RDA straight up too.