UFC San Antonio: Three Best Moneyline Bets
UFC SAN ANTONIO:  THREE BEST MONEYLINE BETS – UFC San Antonio promises to give us maximum value in the undercard. I've outlined my main event prediction for Marlon Vera vs. Cory Sandhagen here and Trent has you covered with this best prop bets for the main event.
Now it's time to turn our attention to the undercard for UFC San Antonio: Three Best Moneyline Bets.
Manuel Torres (13-2) vs Trey Ogden (16-5)
Coming off of an emphatic UFC debut by knocking out slugger Frank Camacho, Torres hopes to follow that performance up with another knockout this weekend.
This prospect is a heavy hitter, but that's really where the buck stops. He overextends on his punches because of the power in which he throws. He leaves himself to be countered and taken down, luckily for him his last two opponents were unable to do so.
He still needs more high level experience if he hopes to achieve more success at this level. His two losses have come by submission and when you see the tape of him mixing it up on the mat, you see why.
His credentials state he is a purple belt in Brazilian jiu jitsu, but I think that part of his game will be exploited most at this level, as well as his cardio which seems to deplete quickly when he throws big shots the way he does early in fights.
No Love for Ogden
Ogden didn't garner much love from the public after losing his UFC debut to Jordan Leavitt. However, he bounced back very well by pulling off an upset as a +300 underdog in his last fight. He is a solid all-around fighter with decent power in his hands, but shows his best work when he takes fighters to the mat and utilizes his Brazilian jiu jitsu black belt.
Ogden is a strong wrestler and he has shown a solid fight IQ in his last fight with combination striking and movement. I know for a fact that he is an intelligent fighter in the aspect that he studies his opponents diligently and looks for ways to exploit their weaknesses.
It mystifies my how many fighters don't take this approach and we saw it pay off for Ogden in a big spot in his last fight.
Don't Take the Chalk
I think people will quickly realize they messed up when they take the chalk on Torres here. I can't recall the last time I felt this confident in an underdog.
Knowing Ogden has done his research and knows how he can take advantage of this one-dimensional fighter has my foaming at the mouth to cash this ticket.
I believe he can remain safe enough in the striking realm until he is able to change levels, get this fight to the ground, and twist Torres up into a pretzel. Take a shot on the submission prop at +350 if you're feeling a little risky too, but the moneyline is more than enough at the current line.
The Pick: Trey Ogden +125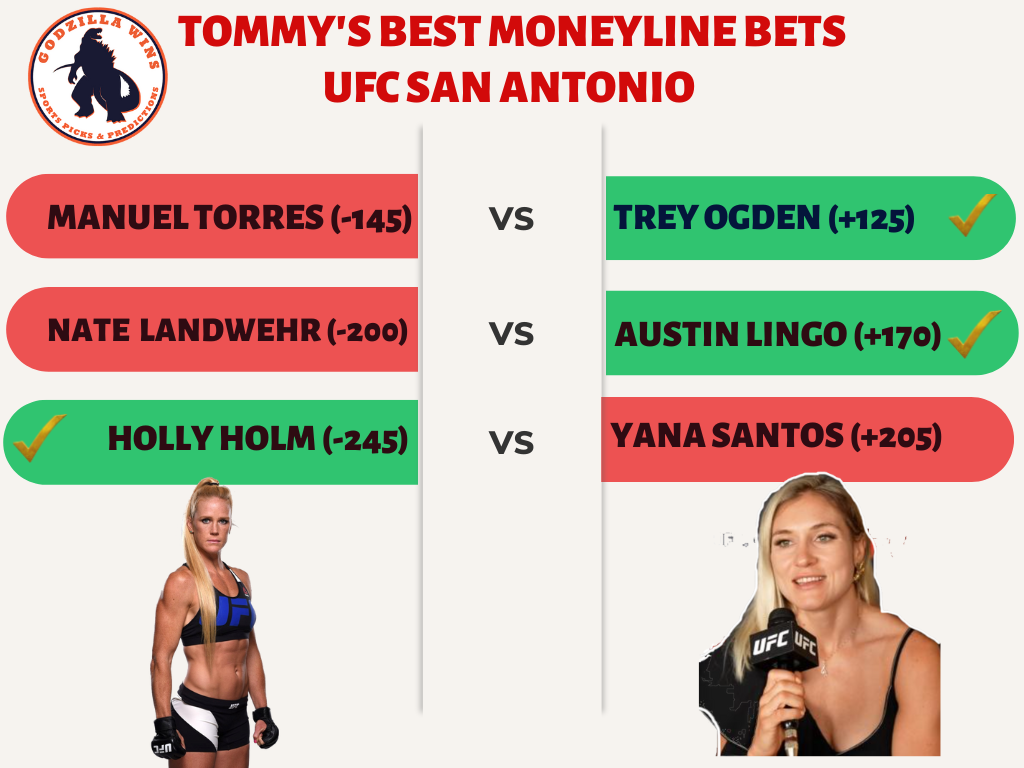 Nate Landwehr (16-4) vs Austin Lingo (9-1)
Another fighter coming off of an upset victory in their last fight as a +300 underdog, Landwehr looks to win his third fight in a row this weekend.
There is a reason the UFC always looks to put him in the middle of a main card in front of a crowd. This man always puts on a show whether he gets his hand raised or not. He is a complete psychopath in the cage and will shy away from getting a finish just to play to the crowd some more.
Landwehr has a relentless striking style that includes crashing the pocket with big looping strikes. He is capable of blending in wrestling behind those strikes and has an underrated submission game as well.
Through his 20-fight professional career, Landwehr has garnered a ton of experience over seas fighting high level opponents in Russia.
It hasn't worked out for the best thus far in the UFC, but he is finally riding a winning streak in the Octagon and you've got to assume his confidence is sky high. The flaw in his game seems to be his durability as both of his losses in the UFC have come by knockout and even in his wins he has been hurt pretty badly before rallying back.
Lingo's on the Couch
Lingo has been relatively inactive over the last couple of years as his last fight took place in August 2021. That night he battled back from a rough first round and out-boxed his opponent on route to a decision victory.
That is the gist of Lingo's game. He is a hard-nosed, durable striker that likes to stay in his opponent's face and pressure them with combinations.
Training with the high level coach Sayif Saud, I think they have worked out his game perfectly to take advantage of his strengths. The ground game is likely the weakest part of his game, but I'm certain he has drilled takedown defense and get ups endlessly so he can flourish in the realm he is strongest.
With only one loss through 10 professional fights, he still has plenty of room to grow at 28 years old.
Betting Public Pendulum Swings
Even if Landwehr wins, I think this fight is a perfect example of how much of a pendulum the betting public brings to the odds.
Everyone and their mother was looking to fade Landwehr in his last fight which is why he was a +300 underdog, but now after he pulls off the upset he's almost a 3-to-1 favorite over Lingo.
Lingo has just as much knockout power as Onama, but Lingo lacks the hype that Onama had going into that fight. I think the realistic line here should have Landwehr closer to -150 given the grappling advantages he'll have in this fight.
However, I think Landwehr will look to strike and put on a show for the San Antonio crowd and that could get him into trouble against the hard-hitting combination style of Lingo. I'm going to take a shot on the underdog here to produce an upset by a big knockout.
The Pick: Austin Lingo +170

Holly Holm (14-6) vs Yana Santos (14-6)
At 41-years old, Holm just signed another six-fight deal with the UFC, which all but guarantees she'll be ending her mixed martial arts career on the biggest stage.
Many would shy away from backing a 40+ year old fighter, but Holm is a big exception. She has been in tremendous shape throughout her career which has created the longevity that we are currently witnessing.
She is one of the most tested athletes by USADA, because of the accusations out there and the fact that she comes up as "suspicious" when given the eye test. However, she has yet to fail any drug test. Ever. That further drives home the point how well she looks after her health and fitness.
She has moved away from utilizing her striking background to win her MMA fights. She used to use great footwork, speed, and combination striking to dismantle her opponents.
Now she prefers to use her strength and overwhelm her opponents in the clinch and drag them to the mat. She has great cardio to keep it up for 25 minutes if she needs to. She will still strike when needed, but that also allows her to set up her entries very well and makes it hard for opponents to get a read on her.
Santos' Determination
Santos is coming back from giving birth back in April. Her last fight came in July 2021, which was a loss to Irene Aldana. After  that fight she had a lot of life changes, which included getting married to former UFC fighter, Thiago Santos, and having a child with him.
It's crazy to me that she is coming back less than a year after giving birth, but having kids ain't cheap!
Regardless, she is a veteran of the game with decent all around skills. She can strike, she can grapple, but she will always come up short against the top of the division.
It seems like she doesn't have that extra gear needed to overcome the skill gap. Her win over Ketlen Vieira could have an asterisk beside it considering Vieira missed weight egregiously and looked very flat in their fight.
Santos pretty much won that fight off of her back because Vieira was too gassed to land any damage even after landing takedowns in that fight. I think Santos is capable of wins at this level, but this may be too high of a jump in competition after such big life events and a lay off.
The Pick
I think this is a great fight for Holm to bounce back in. I think her combination of a striking advantage and strength advantage in the clinch will allow her to dictate where this fight takes place.
Many will be scared of the age discrepancy here, but like I stated in Holm's background, she is unlike any other 41-year old fighter.
Look for Holm to bully her way into the clinch after landing some great shots from distance and control the majority of this fight. If the moneyline is too chalky for you, her decision prop at -120 isn't too shabby either. 
The Pick: Holly Holm -245