UFC NASHVILLE DRAFT – DFS LINEUP – There are two mainstays to play DFS for MMA; DraftKings and FanDuel. Each has its own scoring rules and variations, but they are similar. Here are DraftKings' scoring rules and FanDuel's scoring rules. I will always list fighters I think should be selected as MVP at the top and will use DraftKings budget to model my projections.
UFC Nashville Draft – MVP Pick
Tatiana Suarez $9,500
Tatiana Suarez returned from a three-year layoff in February and won via submission over Montana De La Rosa. She is undefeated and a terrifying matchup for anyone in the division. Suarez faces Jessica Andrade, who has been bouncing between divisions but staying active.
Andrade has fought three times this year and is 1-2 thus far. Her loss against Erin Blanchfield tells how this fight likely goes. Suarez averages 6.12 takedowns per 15 minutes and is dominant on the mat. It is only a matter of time before Andrade gets taken down and finished.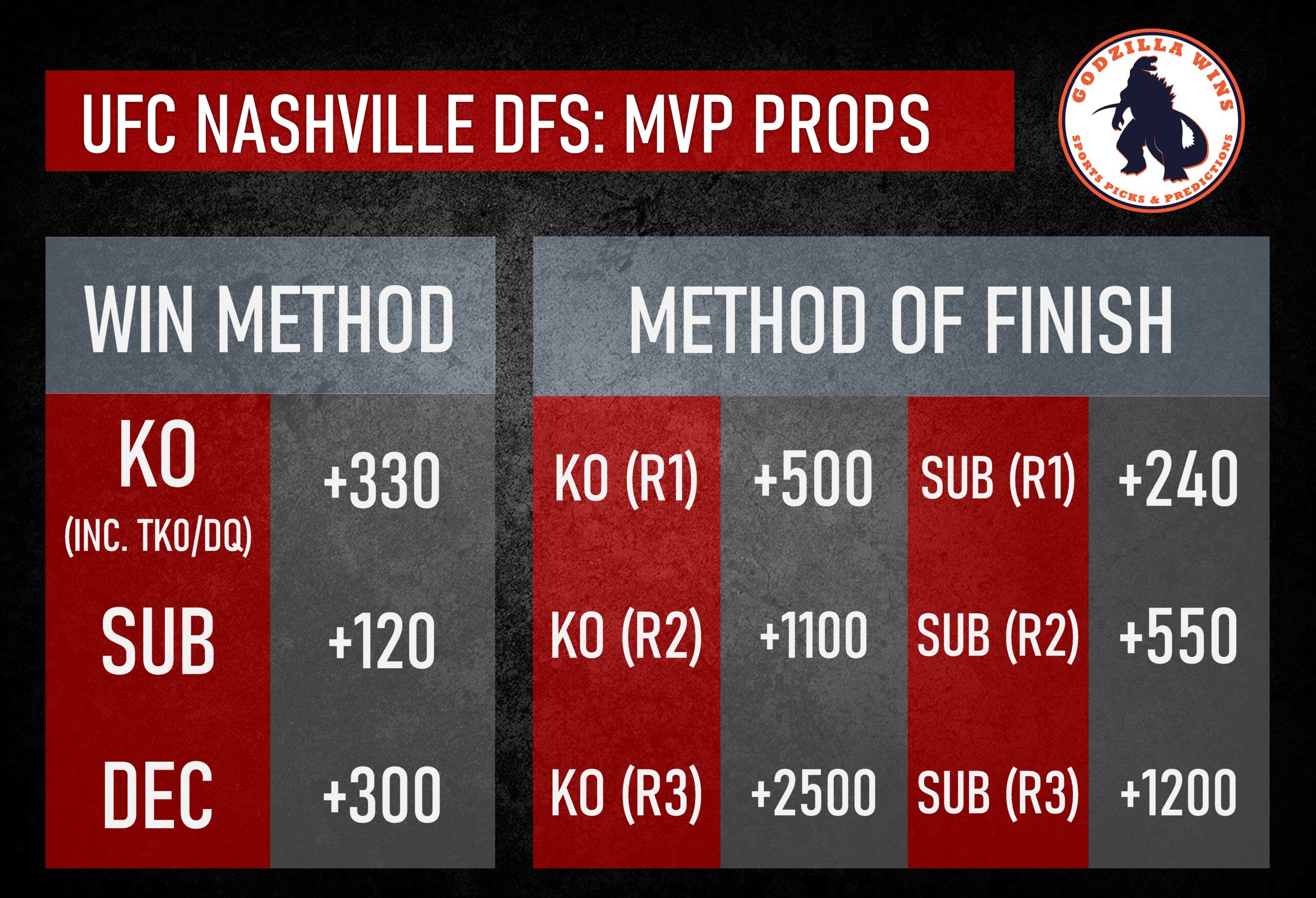 Other Picks
Kyler Phillips $9,000
Kyler Phillips is an impressive prospect in the bantamweight division. He beat Song Yadong via decision but lost to Raulian Paiva via decision. Phillips is making his 2023 debut against Raoni Barcelos, who has been around for a while. The 36-year-old has been fighting for the promotion since 2018 but has run into trouble as he climbs in the rankings.
Barcelos is there to be hit and is getting older and likely slower. Phillips will have a speed advantage and a five-inch reach advantage. He should be able to finish Barcelos from range.
Tanner Boser $8,700
Tanner Boser lost his light heavyweight debut against Ion Cutelaba via knockout but has a solid matchup against Aleksa Camur. Boser is 1-4 in his last five fights but is a talented fighter. He was slightly small at heavyweight and used his speed and cardio to his advantage.
In this weight class, it is a little different. Camur is 6-2 as a professional and is much less experienced than Boser. It should give Boser an advantage, along with the defensive striking of Camur. Camur is not afraid to exchange strikes and sometimes puts himself in dangerous situations. Boser should be able to land something heavy in one of these exchanges.

Dustin Jacoby $7,800
Kennedy Nzechukwu is hard to fight due to his length in the light heavyweight division. Dustin Jacoby will have to earn this victory and overcome a seven-inch reach disadvantage.
Jacoby does have better technique on his side, though. He is a talented kickboxer who has been around the sport for a while. He first fought in the UFC in 2011 as a middleweight and then competed in kickboxing for some time. Jacoby should be able to hit Nzechukwu and potentially put him out cold.
Ode Osbourne $7,600
In the opening fight, Ode Osbourne is taking on Assu Almabayev, who is making his debut in the UFC. Almbayev is a grappler with solid experience. He is 17-2 as a professional but has not faced someone like Osbourne.
Osbourne has power for the flyweight division and can scramble well enough to keep this fight standing. Unless he puts himself in a dangerous situation, he should come out on top of the debutante.

Cody Durden $7,400
Jake Hadley will have his hands full on Saturday night. Cody Durden is not the most polished fighter on the roster, but he is tough and never quits on himself. Meanwhile, Durden is a wrestler who dominates control time on the mat. He averages 5.73 takedowns per 15 minutes and has landed four or more takedowns in three of his four UFC victories.
Hadley has only defended 37% of takedowns in the UFC. Durden has the style to beat Hadley, either by submission or decision.