UFC 291: Poirier vs Gaethje Main Event Prediction
UFC 291: POIRIER VS GAETHJE MAIN EVENT PREDICTION – This weekend, the BMF title will be on the line for the second time in promotional history. Back in November 2019, the inaugural title was put on the line at UFC 244. That night saw Jorge Masvidal batter Nate Diaz over three rounds and get his hand raised after a cut to Diaz. Masvidal will be there this weekend to present the BMF title to the main event winner.
The main event itself just so happens to be a rematch from a classic that took place in 2018: Dustin Poirer vs Justin Gaethje. The 34-year-old Dustin Poirier looks to get a winning streak going to get back into the title picture. In opposition, Justin Gaethje is hoping to follow up his underdog performance over Rafael Fiziev by exacting revenge on his 2018 loss to Poirier.
Will Poirier come through once again and emphatically slam shut the rivalry with Gaethje? Or will Gaethje even the score while earning the BMF title?
Read on to see how these two match up and what the best way to make some money from it is. All odds shown are courtesy of DraftKings, and valid as of July 27, 2023.

UFC 291: Poirier vs Gaethje – Tale of the Tape
Dustin Poirier
It's been a long and storied career thus far for Poirier through his past 12 years with the promotion. The pinnacle of his career so far is, arguably, the night he won the interim lightweight title against Max Holloway back in 2019. The fight itself was an all-time classic.
In years to come, people will remember Poirier for entertainment value rather than gold and titles. He is a great individual outside of it too with the charity he runs, but it's how much of a flare his name adds to upcoming fight cards.
That's why the UFC pays him handsomely and he doesn't need to fight as often anymore. He mainly fights others with name value at this stage in his career, rarely giving up-and-comers an opportunity given the lose-lose situation for himself.
You can point to many things in Poirier's game that have made him successful, but I think it's his willingness to take damage so he can dish out just as much, if not more. His boxing is very crisp and slick, especially with the combinations he throws in.
In particular, his performances against Dan Hooker and Max Holloway were amazing. He ate damage in that fight, but he was the one marching forward for the most part, dictating the pace and landing the more damaging blows. Poirier's Brazilian jiu jitsu is very high level too, especially when you see him latch onto chokes.
There are many gems from earlier in his UFC career where you see just how much potential he had. Although he's never been an undisputed UFC champion, it's safe to say he's reached his potential.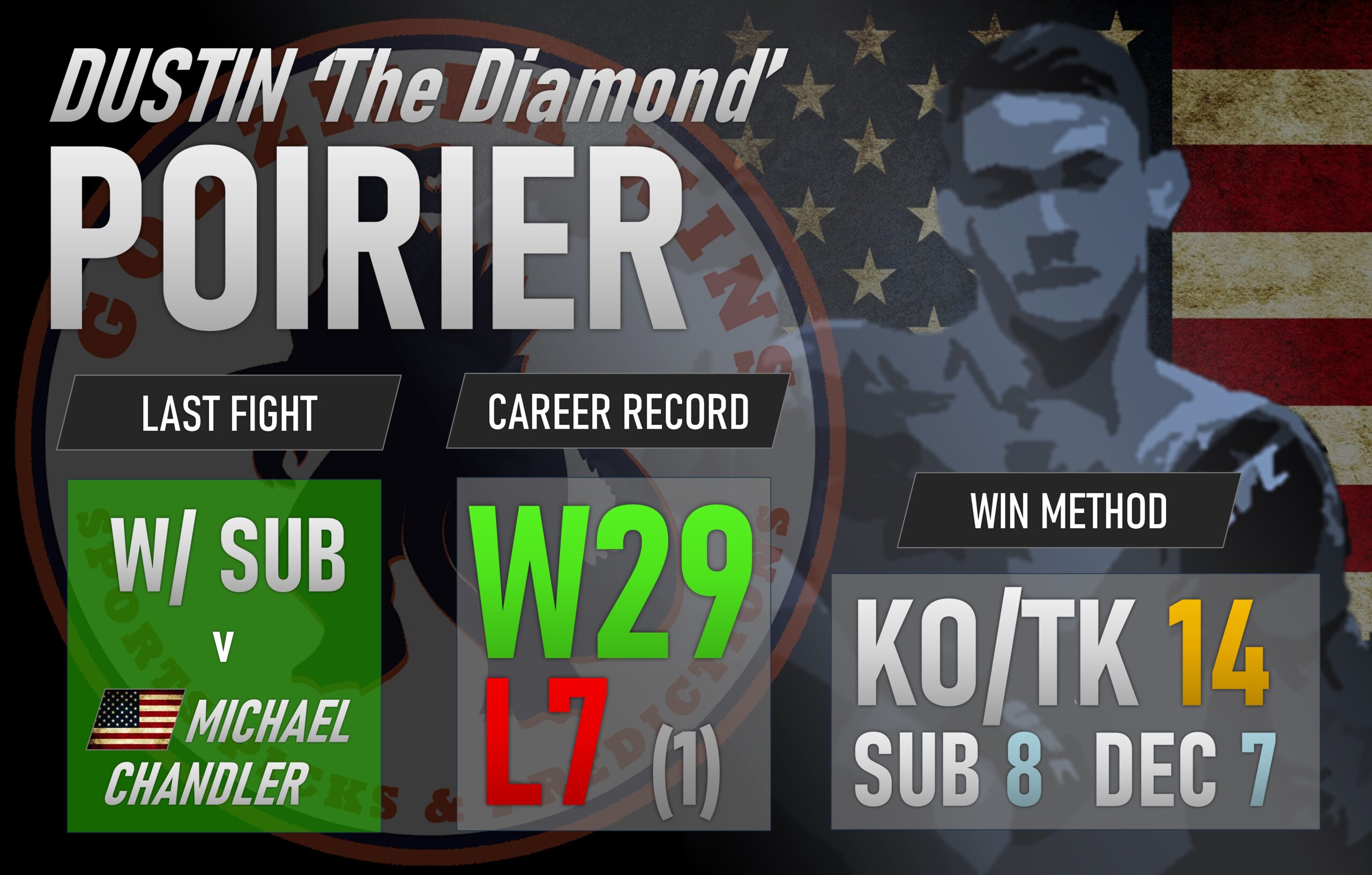 Justin Gaethje
Similar to his counterpart this weekend, Gaethje was a former interim lightweight champion but never managed to unify the titles to become undisputed. The lore of Gaethje from his WSOF days followed him into the UFC, especially in his first fight, where he took big damage from Michael Johnson early. However, he managed to battle back and win that fight in that second round.
His best run in the UFC was his four-fight winning streak from 2019 to 2020, which culminated in his interim title-winning effort against Tony Ferguson in the UFC's return from the pandemic. He has exchanged wins and losses over his last four fights, with the two losses coming in title fights. Most recently, he took on a hot up and comer in Fiziev. He put on a veteran lesson that night as nearly a 2-to-1 underdog.
Gaethje's pressure, power, and cardio has always been what people feared about him. His durability is a huge asset too, as are leg kicks. These normally slow his opponents down so he can get to work with his punches and look for knockouts.
At his best he looks like what he showcased in the Tony Ferguson fight, producing boxing combinations and leg kicks with a ton of pressure. Yet, at 34 years old, the damage he's previously suffered may well come back to haunt him soon. It's held up well thus far, but it's something to clearly worry about.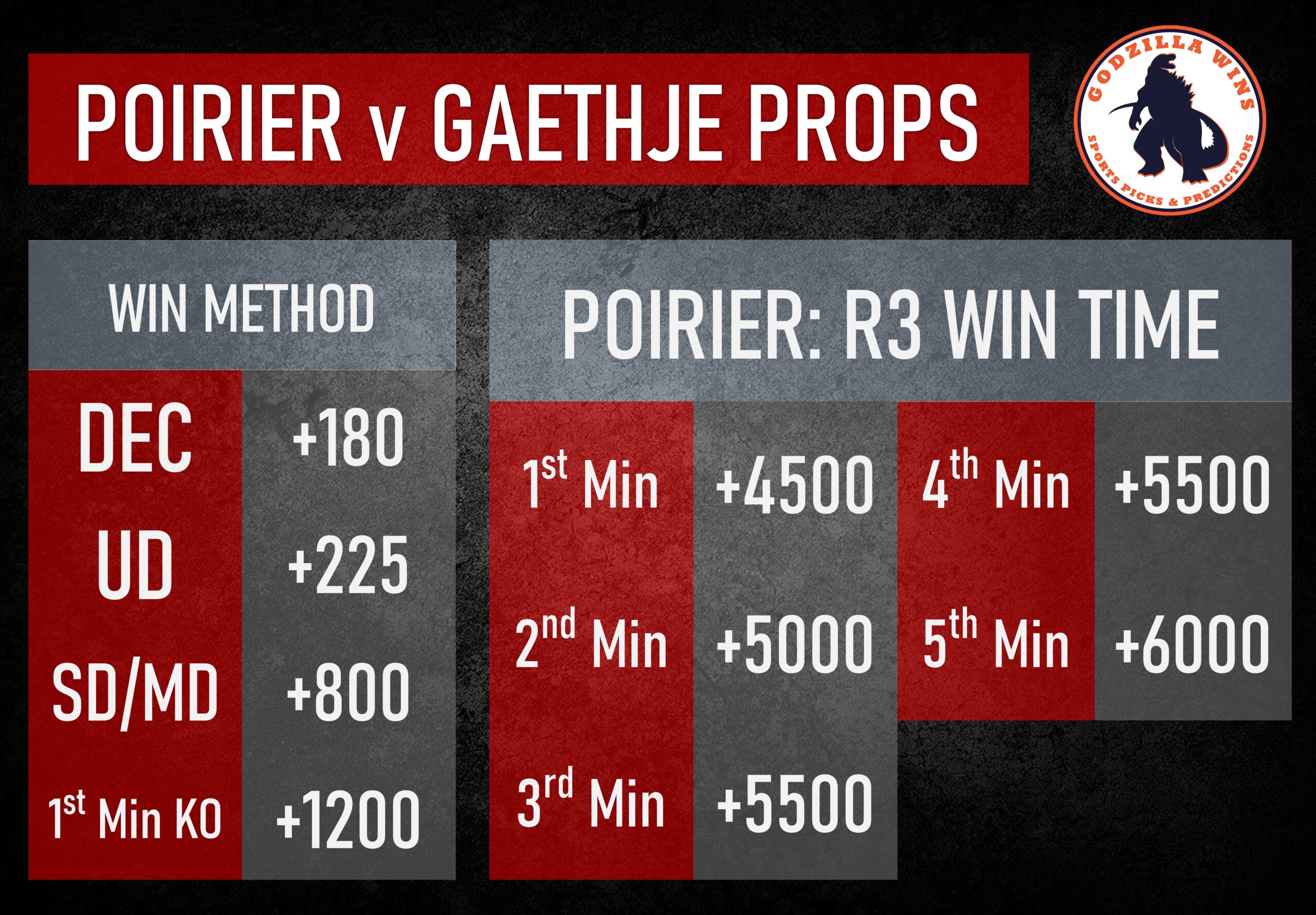 The Pick
The last time these two fought two judges had Poirier up 29-28 going into the fourth round which is when Poirier found the finish. It was an absolute slugfest, with Gaethje shutting down all five of Poirier's takedowns.
However, he was still getting the better of Gaethje with his punches, even while eating the hellacious leg kicks. It was clearly taking a toll on Poirier's movement, but Poirier's damage was taking a higher toll on Gaethje's durability.
I suspect we will see a similar match play out this time, with Poirier's boxing being too much for Gaethje. I like violence here as well, but only from about the 3.5 round mark and higher. The widely available total is set at 2.5 and I think we'll see this trickle around that mark.
If you're okay with eating chalk, choosing 'NO' for the Decision result prop is not a bad idea around that -260 spot. Regardless, I expect Poirier to find the knockout in round three or four, like their initial meeting.
PREDICTION: Dustin Poirier -140