The Harris English Conundrum
CASCILLA, Mississippi – I have a disease. It's called the Harris English Conundrum and I'm patient zero.
Every Wednesday I look at English's odds as outright winner for the week's prospective tournament. I scour the odds tables in Tunica for the other, more polished, more pronounced golf veterans. We all know the names. Rahm, Scheffeler, Cantlay, McIlroy. Golfers with serious wins in big tournaments. Ice cold closers who can sink a putt from 15 feet with a tricky break to secure a chance to take the solo lead on Sunday coming down the 18th.
There are plenty of those golfers on the PGA Tour right now. Harris English isn't one of them.
But he could be.
The Specs
English boasts a 6'4″ frame, a flaming hot putter, and years of experience on the PGA Tour. He has four wins on the PGA Tour, five finishes as the runner up, and five third place finishes. He's played in 306 events and has 43 top 10 finishes. He can threaten the leaderboard on any given tournament.
He graduated from UGA, where the collegiate golf program consistently produces top-tier talent on the world's premiere tour. Think Russell Henley, Chris Kirk, Keith Mitchell, Sepp Straka, Kevin Kisner, and Brian Harmon.
Patrick Reed attended the program as well, before his not-so-graceful exit under the auspices of unsportsmanlike conduct.
The Stats
English has always made his money on the strength of his putter. For the 2022-2023 season so far, English ranks 6th for strokes gained putting. He's 1st on the tour in longest putts (100′), 4th in total hole outs (11), and 5th in putts per round for the first round (27.21).
English is not as good off-the-tee, where he is 183rd in stroke gained (-.457). He also struggles in strokes gained approach to the green as well, where he ranks 110th on tour. As we mentioned on Clubhouse Picks this week, English's approach game will be under plenty of stress this week. TPC Sawgrass requires a level of precision on the approach in order to be successful.
Approach Play at TPC
Players don't necessarily have to be strong off the tee (which English is not), but they need to be able to perform well on approach in order to land in a good position on the green and set up for an easier putt. If English can get his approach game under control, he can utilize his hot putter in order to stay competitive at the Players. This will have to be his strategy.
Another angle that could prove to be important at the Players this weekend is bogey avoidance. TPC Sawgrass boasts water on 17 out of 18 holes. The course poses many challenges for golfers who like to be aggressive. The ability to recover from a hazard or a bad approach shot and avoid a bogey will be key this weekend. English ranks 62nd in bogey avoidance this year. That's not terrific, but I've seen worse.
We need English to get on the green quickly and use that putter. A bad weekend would be characterized by English standing in the drop zone of measuring his lie in the sand. (I was too afraid to look at his sand percentage stats.)
2023 Finishes
English's finishes in 2023 have been mercurial. For English-heads, it's been a difficult road, but we stand firm that our guy can turn it around. The Arnold Palmer Invitational looks like a great starting point for English.
Here are English's finishes the 2022-2023 season.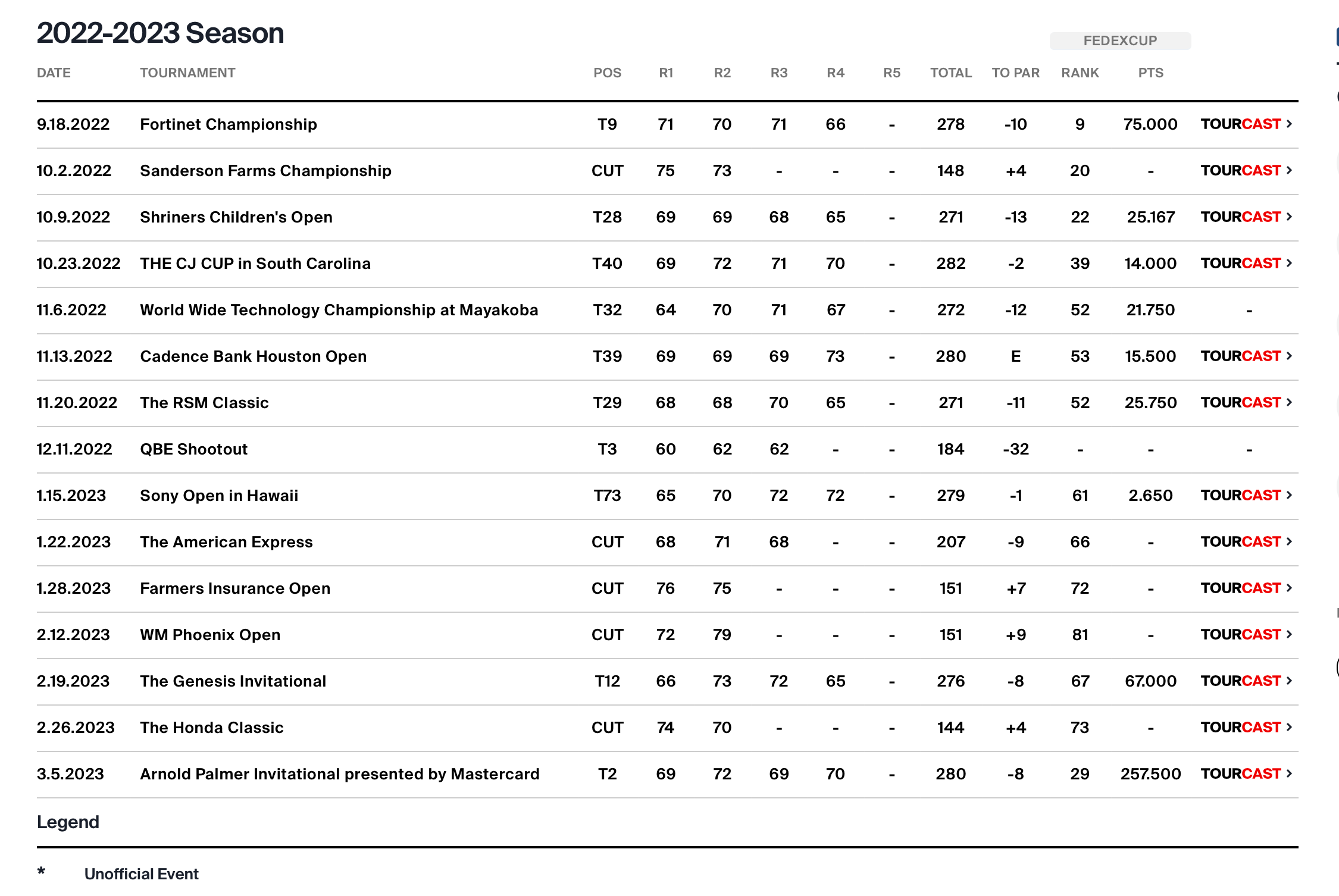 English missed a slew of cuts in January, including many elevated events like the Genesis Invitational, WM Phoenix Open, and other competitive events like the Farmers Insurance Open and the American Express.
Last week at the API looked like the Harris English we love to see. He placed T2 after a strong weekend at a difficult course in a crowded field. English gained 1.88 strokes putting at the 2023 Arnold Palmer Invitational, which placed him 1st in the field by nearly .40 strokes gained. 
English also gained 0.57 strokes in his approach and 0.72 strokes in tee-to-green at the API. Bay Hill is not a great comparison for TPC Sawgrass, but it's a notoriously difficult course and the numbers for English are much more encouraging than his struggles at some of the other elevated events this year.
TPC Sawgrass
One of the most important aspects for consideration when handicapping the Players is past success at TPC Sawgrass. The course is so idiosyncratic that players who have had positive experiences playing at the course in years past often continue their success year after year.
Players who have won the tournament in the past are going to be favorites for this week, even if that win happened in 2004, like it did for Adam Scott.
English has yet to find much success at TPC Sawgrass. Here are his career finishes:
2019 – CUT
2018 – CUT
2017 – CUT
2016 – CUT
2015 – CUT
2014 – CUT
2013 – T33
2012 – T64
Prior to 2012, English played on the Korn Ferry Tour and did not qualify for the Players Championship.
Even in his most prolific years in terms of wins — 2013 (FedEx St. Jude Classic), 2014 (OHL Classic at Mayakoba), and 2021 (Sentry Tournament of Champions, Travelers Championship) — English has only made the cut once  at the Players in those three years.
English doesn't play well at TPC Sawgrass. The course doesn't suit his game and he's priced appropriately, even after a T2 last week at the API.
Armed with all this information, I still bet English this week.
The Odds
English's odds for the tournament are thus: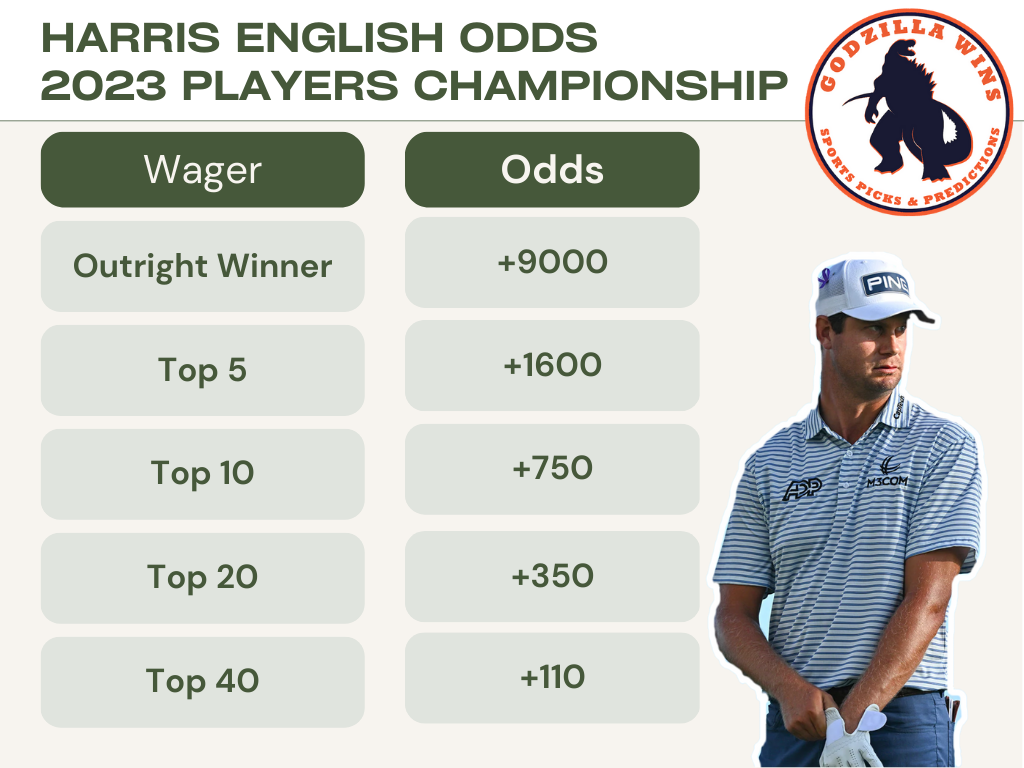 The smart money would be on English to miss the cut, considering his failure to make a cut at the Players since 2013. However, DraftKings is not offering a price on English to miss the cut. Truthfully, I'd set that line at -700, so I'm not sure it would be a good investment.
The English Conundrum continues. He played to his potential last week at Bay Hill and his numbers on approach look much better than when he missed a bunch of cuts in January. When he does make the cut this year, he's putting well enough to keep him in contention. That's why I like him to finish in the top 20 this week at the Players Championship.
Sure, he's never done it before, but we have to believe he'll break through at TPC one year. I'm hoping he continues his success this week at the Players.
Jack's Pick: Harris English to Finish Top 20 (+350)